Flexible Pipe Market
Flexible Pipe Market Analysis By Raw Material (High-density Polyethylene, Polyamides, Polyvinylidene Fluoride), By Type (Risers, Jumpers, Fluid Transfer Lines), By Application (Offshore, Onshore) and By Region - Global Market Report (2023 to 2033)
Analysis of Flexible Pipe Market Covering 30+ Countries Including Analysis of US, Canada, UK, Germany, France, Nordics, GCC countries, Japan, Korea and many more
Flexible Pipe Market Outlook (2023 to 2033)
Newly released data by Fact.MR, a market research and competitive intelligence provider, reveals that the global flexible pipe market size is valued at US$ 1.08 billion in 2023 and is projected to reach US$ 1.73 billion by 2033, expanding at a CAGR of 4.8% from 2023 to 2033.
The market has expanded and evolved steadily in recent years, moving beyond its conventional use in the oil & gas industry to include a wider range of applications. The market is the epitome of creativity and versatility, revolutionizing the way fluids and gasses are transported across many sectors.
Innovation, sustainability, and the need for adaptable solutions that can satisfy the ever-changing demands of a world growing more environmentally conscious are driving a dramatic shift in the global pipe industry. This market has developed into a vibrant ecosystem that is still transforming and sustainably influencing industries all around the world. Through the development of distinctive materials, formation of strategic alliances, and targeting of specific applications, start-ups are discovering opportunities for innovation and gaining a foothold in providing flexible pipes for the chemical industry.
Key Market Growth Drivers
Continuous innovation in production techniques and materials has been essential to market expansion. Due to these developments, flexible pipes are now more durable, flexible, and suited for a wider range of applications.
They are very cost-effective, especially for subsea and offshore projects. Their versatility streamlines logistics and lessens the need for heavy-lifting equipment, while their lightweight design lowers the cost of installation and shipping.
Throughout their lifespan, they require less maintenance and replacement because they are designed to withstand tough environments.
In addition to lowering potential liabilities and enhancing the reputation of a company, their use of recyclable materials aligns with rising environmental consciousness.
Because of its adaptability, inventory management is streamlined, and capital expenditures for companies in a variety of industries is decreased.
With many countries and market segments displaying unique characteristics, it is clear that the market is still reinventing itself and providing solutions that fit the changing needs of an economical and sustainable future.
Report Attributes
Details
Flexible Pipe Market Size (2022A)
US$ 1.03 Billion
Estimated Market Value (2023E)
US$ 1.08 Billion
Forecasted Market Value (2033F)
US$ 1.73 Billion
Global Market Growth Rate (2023 to 2033)
4.8% CAGR
Asia Pacific Market Share (2022)
40%
Offshore Segment Share (2022)
61.2%
High-density Polyethylene Segment Growth Rate
(2023 to 2033)
4.95% CAGR
Key Companies Profiled

National Oilwell Varco (NOV)
GE Oil & Gas Corporation
TechnipFMC PLC
The Prysmian Group
Shawcor Ltd
Magma Global Ltd.
FlexSteel Pipeline Technologies, Inc.
ContiTech AG
Pipelife Nederland B.V.
Airborne Oil & Gas
Baker Hughes Company
Prysmian Group
Chevron Corporation
ExxonMobil Corporation
Total S.A.
BP PLC
Royal Dutch Shell PLC
Don't Need a Global Report?
save 40%! on Country & Region specific reports
Why is Popularity of Flexible Pipe Solutions Rising Steadily?
"High Sales of Flexible Pipe Systems Driven by Their Durability and Longevity"
Flexible pipes are crucial in industries such as oil and gas, subsea flexible pipe operations, and renewable energy since they are made to endure the most extreme circumstances. The longevity for oil and gas guarantees a steady and dependable flow of resources, which is essential to the success of the industry, where uninterrupted operations are important.
Fewer replacements are needed to save money and cause less damage to the environment, which is in line with sustainability objectives. In the eco-conscious world of today, the longer lifespan of these pipes translates into less wasteful material use and a lower risk of environmental damage. They are a great option for a variety of applications due to their endurance and durability, which also save operating costs, provide a significant return on investment, and encourage eco-friendly activities.
"Use of Advanced Composite Materials Boosting Durability and Corrosion Resistance of Pipes"
The strength, flexibility, and performance of flexible pipes have been greatly improved by the introduction of state-of-the-art materials and production procedures as a result of continuous research and development activities. The pipes are now more adaptable than ever owing to these advancements, which allow them to be used in a wider range of applications. For example, the use of sophisticated composite materials has boosted the overall durability and resistance to corrosion of pipes, enabling them to endure harsh circumstances in submerged and offshore locations.
They are consequently becoming more dependable and versatile and are becoming more popular in the telecommunications industry, subsea applications, and renewable energy generation. The constant advancements in technology ensure that flexible pipes continue to be at the forefront of contemporary industrial solutions, meeting the constantly shifting requirements of many industries and fostering their expansion into new markets worldwide.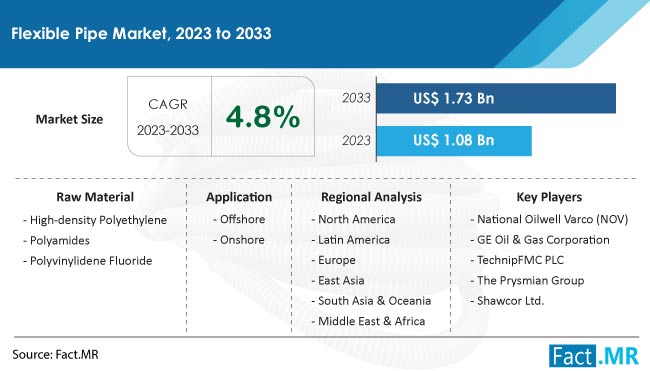 What are the Issues Affecting the Growth of the Flexible Pipe Market?
"Need for Adherence to Complex and Continually Evolving Regulations"
Compliance with the various national and regional regulations governing flexible pipes can be difficult and expensive. The cost of regulatory compliance can be prohibitive for start-ups, in particular, taking up vital time and resources. Regulatory hurdles create some significant challenges, one of which is the demand for thorough testing and certification.
They are widely used in sensitive applications such as oil and gas, subsea operations, and renewable energy. They must meet stringent safety and quality standards to preserve the reliability of the systems they are a part of. Both established businesses and start-ups may find it difficult to enter or grow their market due to the length of the regulatory approval procedure.
The ambiguous and inconsistent nature of regulatory timelines may also make it challenging for start-ups to secure funding, as potential investors can be wary of long wait times for revenue generation and market entry. Although these rules help uphold standards for quality and safety, they can also obstruct the prompt creation and implementation of creative solutions, which can have an impact on the ability of a company to compete and expand in this fast-paced industry by capitalizing on the opportunities in the flexible pipe market.
More Insights, Lesser Cost (-50% off)
Insights on import/export production,
pricing analysis, and more – Only @ Fact.MR
How can Start-ups Navigate through the Emerging Trends in the Flexible Pipe Market?
"Emphasis on Sustainability and Regulatory Compliance"
Start-ups can provide distinctive and affordable solutions that address certain industrial demands by creating new materials and production techniques to differentiate themselves from established market players, thereby enabling them to target specialized markets where their inventions can have a big impact. Stressing the environmental friendliness of their goods and production methods satisfies consumer demand for ecologically friendly items.
Exhibiting a dedication to sustainability can serve as a strong selling point. Beyond the conventional oil and gas business, start-ups can investigate a variety of applications and industry sectors. Start-ups can expand their market reach and lessen their reliance on a particular industry, by lowering risks and finding new prospects in renewable energy, subsea applications, or developing sectors. Non-compliance with local and industry rules can hinder market accessibility and product acceptability. As a result, retaining expertise and following these standards is essential for long-term success in the flexible pipe industry.
Country-wise Insights
Flexible pipe manufacturers must consider investing in countries such as Canada, Brazil, the United Kingdom, and Norway apart from investing in Asia Pacific and increasing their revenue potential. North America accounted for 33% of the global flexible pipe market share in 2022.
What is Pushing Demand for Flexible Pipes in the United States?
"Substantial Investments in R&D to Enhance Versatility of Flexible Pipes"
The United States held a leading market share in North America in 2022, and the market is predicted to expand at 4.9% CAGR through 2033. North America accounted for 38% share of the global market in 2022.
The considerable presence of the country in offshore oil and gas exploration and production generates a significant need for flexible pipes. They are essential for transporting hydrocarbons from the seabed to production platforms as the industry extends its offshore activities due to their resistance to corrosion and adaptability to severe underwater environments.
The United States is known for its technological innovation and R&D investments, which have resulted in the development of complex materials and flexible pipe manufacturing techniques. These developments are moving the market forward by boosting the durability, performance, and versatility of the pipes. The country's dedication to sustainability fits with worldwide trends toward environmental responsibility, making it a more appealing option for ecologically responsible solutions.
How is Demand for Flexible Pipe Technology Shaping Up in China?
"Rapid Industrialization, Infrastructural Expansion, and Rising Energy Consumption"
Asia Pacific held a market share of 40.8% in 2022, with China projected to expand at a steady 4.8% CAGR from 2023 to 2033. The rise of China as the most populous country in the world and a global economic powerhouse is largely due to the growing appetite for energy resources, particularly in offshore and deep-sea areas. The country's ongoing investment in offshore exploration, especially offshore oil and gas activities, significantly adds to the expanding demand for flexible pipes.
Strong emphasis of China on renewable energy projects, such as offshore wind farms and wave energy efforts, boosts the demand for long-lasting, adaptable piping solutions. With cost-effective production and a powerful domestic market, China has emerged as a primary hub for flexible pipe manufacturing, giving it a competitive edge.
The persistent commitment to sustainable development and growing emphasis on environmentally friendly solutions not only fuels the flexible pipe industry in China but also emphasizes the necessity of innovation and adaptability in meeting the expanding energy and infrastructure needs of the world.
Know thy Competitors
Competitive landscape highlights only certain players
Complete list available upon request
Category-wise Insights
Key suppliers are focusing on acquiring raw materials used in making high-pressure flexible pipes to maximize their revenue generation potential. The high-density polyethylene (HDPE) pipe segment is projected to advance at a CAGR of 4.95% through 2033.
Which Flexible Pipe Applications Hold Leading Shares of the Global Market?
"Extensive Use of Flexible Pipes in Mining, Aquaculture, Telecommunications, and Oil & Gas"
The offshore segment held 61.2% market share in 2022 and is anticipated to expand at a CAGR of 4.8% during the forecast period.
Oil exploration and production with the help of offshore pipelines has increased in recent years, with deep-sea drilling and subsea oil and gas operations becoming common. They have shown to be indispensable in these environments, owing to their adaptability to the dynamic and frequently harsh seabed conditions. Their adaptability allows them to fit the varied geometries and movements associated with offshore installations, enabling a dependable and efficient flow of hydrocarbons from the bottom to the surface.
The low weight of flexible pipes corresponds to lower installation and transportation costs, which is critical in the cost-conscious offshore business. It's corrosion resistance in extremely salty marine environments provides endurance and durability, lowering maintenance and replacement costs during the life of offshore operations. The popularity of the offshore segment is bolstered by the growing trend toward renewable energy sources, such as offshore wind and wave energy projects.
Offshore mining, aquaculture, and telecommunications all rely significantly on flexible pipes to fulfill their specific requirements. For marine applications they are used in the offshore mining industry to harvest minerals and commodities from the ocean floor. They enable the maintenance of underwater fish farms and buildings in aquaculture, and they assist in the deployment of cables and data transmission in the subsea environment in telecommunications.
Competitive Landscape
The competitive landscape of the flexible pipe market is defined by a mix of established industry leaders and potential disruptors. With their substantial experience, powerful infrastructure, and strong footing in the oil and gas industry, key players such as TechnipFMC, Prysmian Group, National Oilwell Varco, and Magma Global have long dominated the scene.
To stay at the forefront of innovation, these market leaders continually engage in research and development, pushing the boundaries of materials and manufacturing methods. Their comprehensive solutions are suitable for a wide range of applications, including offshore oil and gas, renewable energy projects, and subsea operations.
Baker Hughes, a GE firm (BHGE), unveiled a new technology and undersea development method in January 2019 to cut costs and enhance the productivity of offshore oil and gas projects.
Segmentation of Flexible Pipe Market Research
By Raw Material :

High-density Polyethylene
Polyamides
Polyvinylidene
Others

By Type :

Risers
Jumpers
Fluid Transfer Lines

By Application :

By Region :

North America
Europe
Latin America
East Asia
South Asia & Oceania
Middle East & Africa
- FAQs -
Worldwide sales of flexible pipes have reached US$ 1.08 billion in 2023.
The offshore segment accounted for 61.2% share of the flexible pipe market in 2022.
Demand for flexible pipes is forecasted to reach a market value of US$ 1.73 billion by 2033-end.
Sales of flexible pipes are forecasted to rise at a CAGR of 4.8% through 2033.
The high-density polyethylene segment is projected to expand at a CAGR of 4.9% over the forecast period.