Steel Pipe Coatings Market Outlook
The global steel pipe coatings business analysis by Fact.MR showcases the image of strong market growth of solvent-based pipe coatings on the back of rapid developments in pipe coatings. The global steel pipe coatings business was pegged at over US$ 7.8 Bn in 2020, with consumption at 3.6 Bn litres.
The global market is expected to be valued over US$ 8.1 Bn by 2021-end. Price growth of fusion bonded epoxy coating material has played a significant role in terms of increase in total market value.
Don't Need a Global Report?
Save 40% on Country & Region specific reports
Consumption Analysis of Steel Pipe Coatings from 2016 to 2020 Vs Future Market Outlook for 2021 to 2031
According to the steel pipe coatings industry analysis by Fact.MR, a market research and competitive intelligence provider, market value of steel pipe coatings increased at a CAGR of 1.9% historically from 2016 to 2020. Countries such as the China, the U.S., Japan, India, Germany, and Russia held a noteworthy share in the market globally, holding over 35% of demand in 2020.
Growing concerns of end users towards cost reduction in pipeline integrity management increase the requirement of steel pipe coatings. The market for steel pipe coatings is prognosticated to expand at a CAGR of 4.7% over the forecast period of 2021-2031.
The steel pipe coatings market saw a substantial decrease in growth in 2020 with worldwide revenues down 1.4% year-on-year. Steel pipe coating revenue will grow 1.6X from 2021 to 2031, reaching nearly US$ 12.8 Bn by 2031.
Demand for solvent-based steel pipe coatings to accelerate at the highest pace.
Five leading manufacturers of steel pipe coatings held approx. 43% market share in 2020.
Although demand was disrupted due to COVID-19 pandemic, still, by looking into the reviving growth of end-use industries, especially oil & gas, the market is expected to show significant growth potential over the coming years.
More Insights, Lesser Cost (-50% off)
Insights on import/export production,
pricing analysis, and more – Only @ Fact.MR
How is Growing Marine Infrastructure Triggering Demand for Steel Pipe Coatings?
Laying down submarine cables and pipelines is often challenging. The layout and planning of submarine cables and pipelines depends on the depth of the water and potential hazards and risks associated with it. This requires careful planning throughout the excavation process for efficient work proceedings.
Most of the marine infrastructure is hidden deep under the sea, which plays a vital role in the effective operation of offshore energy and communication systems. These offshore platforms, submarine structures, pipelines, mooring facilities, and cable lines have laid a solid foundation for offshore activities such as oil & gas, wind energy, tidal energy, and telecom.
The design of submarine cables and pipelines faces extraordinary challenges. Steel pipe coatings not only deliver anti-corrosion assistance, but along with that, they also deliver efficient flow control in the pipeline. Marine transport is considered one of the convenient ways of long-distance transport. With growth of the marine industry, marine pipeline infrastructure is also increasing, which leads to an increase in the requirement for steel pipe coatings.
It has been observed that steel pipe coating consumption increased at a CAGR 1.4% during 2016-2020, and the industry is expected to consume more than 3.7 Bn litres by 2021-end.
Know thy Competitors
Competitive landscape highlights only certain players
Complete list available upon request
What are the Key Opportunities for Steel Pipe Coating Manufacturers?
Demand from end-use industries in developing economies for high volume sales of steel pipe coatings is increasing. Almost every manufacturer operating in Asian countries is more or less generating healthy revenue from all operations.
Growing demand for pipeline infrastructure from oil & gas, marine, and construction industries has driven the sales of steel pipe coatings in Asian countries, including China, Japan, India, and South Korea.
With technological advancements throughout the globe, demand for products with higher specifications and properties is increasing. Companies are looking for better research & development facilities to make their product lines stand out from the conventional products in the market.
Companies manufacturing coatings are thus focusing on collaborations with associated market players to strengthen research & development, which increase the chances for future growth possibilities.
What are the Restraints being Faced by Steel Pipe Coating Suppliers?
Unstable and disrupted steel pipe supply has extensive implications for steel pipe coating manufacturers and suppliers. From increase in manufacturing costs to rising raw material prices, unsought barriers are subverting the supply chains and making it arduous for manufacturers to maintain continuation in profit generation.
Supply of raw materials is becoming increasingly difficult to secure. The volatility of commodity prices also may not be just a temporary phenomenon, and it is solely dependent on manufacturers to absorb extra costs, find new ways to reduce expenses, or pass on the increasing price to customers who are already disinclined to spend more.
Manufacturers with a proactive nature in addressing the fluctuations in raw material costs could will able to manage the loss in an efficient manner.
Manufacturers must shift towards a circular economy from a linear economy, where one industry's waste becomes raw material for another industry. Effective collaboration with customers and suppliers can keep used components, materials and products in circulation, which reduces the cost of the raw materials to a sizeable extent.
Which Region Offers the Largest Opportunity for Sales of Steel Pipe Coatings?
East Asia is expected to account for over 35% steel pipe coating demand throughout the analysis period. In 2020, demand in China shrank 1.7% year-on-year owing to the COVID-19 pandemic. Despite the downfall across China, total demand for steel pipe coatings reached 939 Mn litres in 2020.
North America and Europe accounted for over 40% of the total market value, and these markets are expected to expand at CAGRs of 3.6% and 3.5%, respectively.
The region of South Asia & Oceania is still open for investments due to emerging demand and comparatively lesser number of manufacturers. The region has the potential to capture more than 16% of the market share by 2031.
The Middle East and Africa region is still in a development state. By looking into oil & gas statistics, especially in GCC countries, and growing economic activities in African countries, the region is also considered as one of the emerging markets for steel pipe coatings.
The Middle East and Africa market has shown moderate growth from 2016-2020 and is expected to reach US$ 521 Mn by 2031.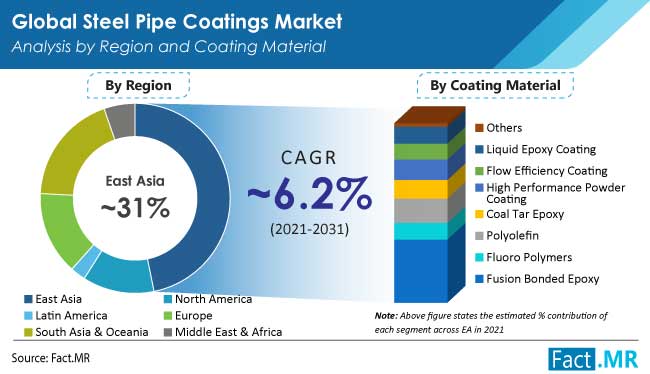 Country-wise Analysis
Why is the U.S. a Global Heavyweight for Steel Pipe Coating Demand?
The market in the U.S. grew 1.7% from 2016-2020, and is expected to reach US$ 2.1 Bn by 2031. The country has a high number of consumers for steel pipes in the oil & gas sector. The U.S. alone accounts for over 25% of steel pipes utilized in the oil & gas industry.
Additionally, there is widespread presence of leading market players with high volume production. In 2020, the U.S. accounted for over 18% of the global market share and more than 76% of the North American market share.
Owing to extensive spending in the oil & gas sector, the country will continue to enjoy this high position in the global market in terms of consumption and production.
How is India's Growing Prosperity Expected to Boost Adoption of Steel Pipe Coatings?
India is known for its large petroleum refinery capacity, with the Jamnagar Refinery owned by Reliance Industries, and is considered as one of the largest refineries across the globe with a production capacity of 1.24 Mn barrels per day. This necessitates oil transportation from pipes that are resilient from corrosion and have a long life.
Besides, growing city gas distribution projects in India is leading to growth in pipeline demand in the country. This is anticipated to cascade the demand, not only for steel pipes for distribution, but also for external pipe coating solutions.
Apart from the oil & gas industry, rapid construction of water treatment facilities and extensive construction activities are fuelling demand for steel pipe coatings in the country.
How Has Steel Pipe Coating Sales Been Shaping Up across Established & Emerging Markets?
China: China is a prominent market for steel pipe coatings, both in terms of production and consumption. The fast-growing oil & gas, water transportation, and automotive industries are increasing consumption of steel pipe coatings in the country. Additionally, the county is self-sufficient in terms of steel pipe production, and is considered as one of the highest exporters of crude steel as well.
United States: Considering the top 10 manufacturers, more than 5 started their operations from the U.S. Owing to the shale gas revolution in the country, utilization of steel pipes has increased, which, in turn, increases demand for steel pipe coatings.
Russia: Russia is one of the largest producers of crude oil across the globe, and the country is also rated amongst the highest for fuel consumption. Russia accounted for over 22% of European steel pipe coating demand in 2020, and is expected to reach US$ 576 Mn by 2031-end.
Germany: Consumption of steel pipe coatings in Germany has gained traction in water transportation. BASF coatings is one of the market leaders in Germany. Over 15% revenue generated by coating manufacturers in Germany comes from steel pipe coating sales.
Australia: Australia is also one of the emerging markets for steel pipe coatings. The country witnessed over 82 Mn litres of consumption in 2020. In terms of value, this market is projected to expand at a CAGR of 5.1% through 2031.
Category-wise Insights
Why are Fusion Bonded Epoxy Coatings Highly Demanded across the World?
Fusion bonded epoxy coatings captured over 35% of the market value share in 2020, and demand is expected to rise at a CAGR of 4.8% during the forecast period.
Coatings can be done on both, internal and external parts of the pipeline. Internal coating is responsible for the efficient flow of the liquid, fluid, gas, etc. transported by the pipeline and simultaneously to prevent corrosion. External coatings are done for the prevention of natural erosion and corrosion caused by water, soil and air.
Fusion bonded epoxy materials have proven to be the best for interior coating of steel pipes carrying corrosive fluids containing sulphur, sand or other reactive elements. Among fusion bonded epoxy materials, powder-based epoxy is more in demand in the market, owing to its better durability, and offers environmental benefits due to the absence of any solvents or VOCs in coatings.
Why are 350 - 600 Steel Pipes So Popular?
Revenue from steel pipe coatings for pipe diameters between DN 350 - DN 600 is expected to increase at a CAGR of over 5% during the decade. This pipe diameter suits both, small as well as larger construction projects, from the oil and gas industry to automotive end-use the utilization of small-diameter steel pipe is promising.
Consumption of steel pipe coatings in small-diameter steel pipes (DN 350-DN600) was over 807 Mn litres globally, and by looking into the promising market acceptance, consumption will reach over 1.3 Bn litres by 2031-end.
Which End Use of Steel Pipe Coatings Holds Most Revenue Potential?
Oil & Gas holds the highest market share from the past half-decade. In terms of volume, consumption of steel pipe coatings in the oil & gas industry was over 1.2 Bn litres in 2020.
Water transportation end use accounted for 24% market value share in 2020, and is expected to reach US$ 1.9 Bn by 2021-end.
Marine, automotive, and aerospace end-use industries totalled around US$ 3 Bn revenue for stainless steel pipe coatings in 2020, according to the annual market analysis conducted by Fact.MR. Together, these three end-use industries correspond to over 38% of global steel pipe coating demand.
How Has COVID-19 Impacted Revenue Generation from Steel Pipe Coatings?
COVID-19 has highly impacted demand for steel pipe coatings, and the market lost nearly 15% revenue in 2020. COVID-19 is expected to have a short-term negative impact on the market owing to economic uncertainty.
A negative impact on the market was due to postponement of oil & gas operations, construction projects, freezing manufacturing growth, etc. Net impact on the market was high, which contracted 1.4% in 2020 as compared to previous projections.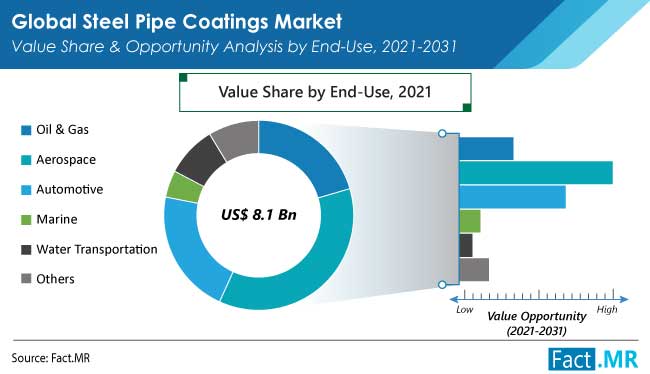 Competitive Landscape
Majority of companies discussed in the report have focused on product launches and expanding their manufacturing units in developing regions. Strategies include innovation, collaborations with key players, partnerships, strategic alliances, and strengthening of regional and global distribution networks.
Some of the key developments are:
On 1st April 2020, AkzoNobel acquired a leading Mauritius-based paints and coatings company Mauvilac Industries Limited. The complete acquisition helps the company strengthen its distribution network across Europe and Africa.
In January 2021, AkzoNobel signed an agreement with Guangdong Water to supply powder coatings for a landmark water pipeline in China.
In February 2021, Arkema acquired Poliplas, a leader in hybrid-technology sealants and adhesives. The acquisition reinforce its presence in the Brazilian fast-growing construction adhesives market.
On 5th May 2021, Axalta completed the expansion of its waterborne coatings plant in Shanghai, China. Expansion of the plant was done looking into the growing demand for sustainable coating solutions for commercial and industrial markets in China and the Asia Pacific region.
Demand for solvent-free steel pipe coatings is set to be higher than that of demand for solvent-based steel pipe coatings, over the years to come. Also, demand for steel pipe coating machines is also seeing a rise.
Similarly, other recent developments related to top steel pipe coating companies have been tracked by the team at Fact.MR, which are available in the full report.
Steel Pipe Coatings Market Report Scope
Attribute

Details

Forecast Period

2021-2031

Historical Data Available for

2016-2020

Market Analysis

Mn Litres for Volume and US$ Mn for Value

Key Regions Covered

North America
Latin America
Europe
East Asia
South Asia
Oceania
MEA

Key Market Segments Covered

United States
Canada
Brazil
Mexico
Germany
U.K.
France
Spain
Italy
Russia
China
Japan
South Korea
India
Australia
New Zealand
ASEAN
South Africa
GCC Countries

Key Market Segments Covered

Pipe Diameter
Solution
Coating Material
Application Area
End-use Industry
Region

Key Companies Profiled

Sherwin-Williams
PPG
Akzo Nobel
3M
Axalta
Arkema
Shawcor
L B Foster
Mülheim Pipecoatings
Bayou Companies
Critical Process Systems Group
Metalcoating Revestimentos Ltda.
Sub-One Systems
Womble Company
North Point
PHOENIX INTERNATIONAL A/S
Seal For Life
TMK
Chugoku Marine Paints
Denso Group
SME Business Services Ltd
Vaibhavi Enterprises

Pricing

Available upon Request
Market Segments Covered in Steel Pipe Coatings Industry Research
By Pipe Diameter

DN 350 - DN 600 Steel Pipes
DN 700 - DN 1000 Steel Pipes
DN 1200 - DN 2000 Steel Pipes
DN 2000 - DN3000 Steel Pipes
DN 3000 & Above Steel Pipes

By Solution

Solvent-free Steel Pipe Coatings
Solvent-based Steel Pipe Coatings

By Coating Material

Fusion Bonded Epoxies
Fluoropolymer Steel Pipe Coatings
Polyolefin Steel Pipe Coatings

Polyethylene
Polypropylene

Coal Tar Epoxies
Epoxy Coated Steel Pipes
High Performance Powder Steel Pipe Coatings
Flow Efficiency Steel Pipe Coatings
Liquid Epoxy Steel Pipe Coatings
Others

By Application Area

Internal Steel Pipe Coatings
External Steel Pipe Coatings

By End-use Industry

Steel Pipe Coatings for Oil & Gas Industry
Steel Pipe Coatings for Aerospace Industry
Steel Pipe Coatings for Automotive Industry
Steel Pipe Coatings for Marine Industry
Steel Pipe Coatings for Water Transportation Industry
Others