Low Code Development Market
Low Code Development Market Growth to Spur Owing to Disruption in Software and Application Development Industry during 2021-2031
FACT6942MR
Disruption Awaiting Software and Application Development Industry with Low Code Development Technology
As per market estimates by Fact.MR, a market research and competitive intelligence provider, in 2021, low code development has witnessed growth of little over 22% as compared to 2020, to reach a valuation of US$ 13.8 Bn.
The software and application development industry is at the verge of disruption with low code development technology taking center stage. Market players are struggling to choose a reliable solution that is an alternative to traditional coding.
The solution that has emerged to fulfil the specific requirements of industry is low code development platforms. Also termed as the future of technology, low code development is intended to revolutionize the domain of developing full-fledged software.
The market is expected to offer absolute dollar opportunity of US$ 2.5 Bn in 2021 over 2020. According to forecasts, the low code development market is slated to be worth US$ 187 Bn by 2031.
Low code development platforms are offering SMEs the sense of flexibility to develop custom applications with nominal coding and minimal cost as compared to conventional coding, empowerment of millions of SMEs to take a lead for allowing ideas to turn in reality.
By 2023, over 50% of SMEs will be on the verge of adopting low code or no code as their as premeditated application platform, wherein, low code will contribute to more than 65% of application development by 2024.
The pressure to respond dynamically has hindered the efficiency of digital solutions, which, in turn, has accelerated the adoption of no code or low code. Despite having the most advanced development tools and access to tech talents, companies with deep pockets are facing fierce competition. Low code development platforms have opened the gates for organizations of any size to reach the industry benchmark in application development.
The average incurring cost for developing an application is more than US$ 150 K while considering its complexity, and can surpass US$ 300 K. Moreover, nearly two-third of the apps developed take over 3 months to go live, out of which, 40% take around 6 months.
Owing to lower cost and nominal lead time, low code development platforms have become the go-to platforms, wherein, hastening business revolution will be the driving force with nearly 50% of influence for growth.
Rather than being concerned about digital disruption in a pandemic world and the resulting pressures, IT professionals have a more positive reaction, as 58% state that their organisation is excited by digital acceleration, which has created a new urgency for faster and more collaborative development.
This app development is heavily reliant on low code. Low code is already in use in more than 75% enterprises, and close to 65% of IT professionals term it as their go-to work-around development solution. 60% of low code projects involve collaboration between IT and business departments, and a quarter report fewer instances of shadow IT than before.
Competition is rigid as market frontrunners have stiff rivalry among themselves. Even as firms struggle to resource software engineers, it is estimated that over 500 Mn new apps will be developed in the next half decade, more than the entire amount of apps built in the previous 40 years.
The aforementioned factors makes it clearly evident that low code development platforms will dominate the app development space, and become the center of attention for investors to pool in capital into this high-growth market.
How Does the IT Industry Provide the Necessary Thrust to the Low Code Development Market?
The worldwide information technology market was valued at US$ 5.2 trillion in 2020. Digitalization, connectivity, and automation are transforming economies, occupations, and personal lives. Waves of invention developed over time, fueling technology growth, appear to be on the verge of taking another giant leap ahead.
The United States is the world's largest IT market, accounting for 32% or US$ 1.7 trillion in 2020. The IT sector in the United States, as well as many other countries, accounts for a considerable amount of economic activity.
Spending is frequently linked to variables such as population, GDP, and market maturity. Western Europe continues to be a prominent contributor to global technology spending, accounting for around one out of every five dollars spent globally.
China, on the other hand, has firmly established itself as a promising region in the global technology sector. China has followed a pattern that can also be seen in emerging countries, where there is a two-fold effect of reducing the gap in categories such as IT infrastructure, software, and services, as well as securing leadership positions.
By 2023, the app development industry will be worth a trillion dollars. In 2020, investors poured around US$ 75 Bn into entrepreneurial firms, with app-based startups receiving 25% of all funding. In 2020, startups with an app received more funding, as according to the investors, it was the deal-breaker for them.
Globally, there will be approximately 7 Bn mobile users by 2021. Annual mobile app downloads reached nearly 218 Bn by 2020, which is a 7% rise from the previous year. App store spending reached a valuation of close to US$ 143 Bn in 2020, up 20% year-over-year.
There are 1.96 Mn apps available for download on the Apple App Store, while Google Play Store has 2.87 Mn apps available. Moreover, millennials open an app 50 times or more every day, whereas 49% of individuals open an app 11 times or more. Adding to that, mobile apps account for 70% of all digital media time in the United States.
In 2020, the average daily time spent on a mobile device increased 20% year-over-year to four hours and ten minutes. Apps account for 92% of mobile time, with social networking and communication apps accounting for 44%. Only 8% of time spent on a mobile device is spent using a web browser.
By 2023, mobile apps are estimated to bring in more than US$ 935 Bn in revenue, and since the COVID-19 Pandemic, mobile app downloads have increased 23% as many business moved online.
Penetration of application development is higher in the overall IT industry, and consumer spending on mobiles apps and related services is elevating. The market for low code development has a set the stage to garner high value and grow in synergy with the overall IT industry over the coming years.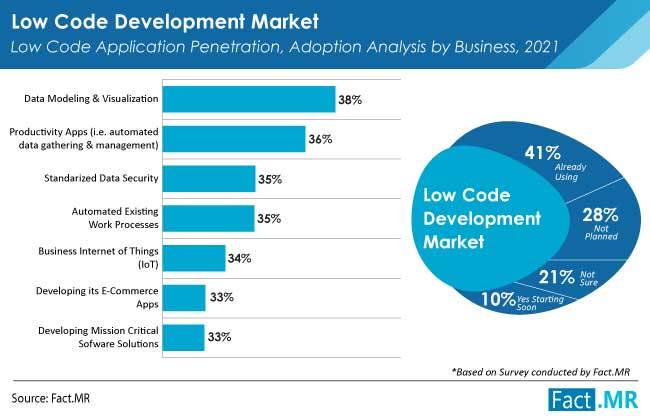 How is Low Code Development Balancing Coder Scarcity?
By 2023, there would be around half a billion digital applications and services that will be deployed enabling high-scale demand, which is equivalent to the same number of applications developed in the past four decades.
However, manpower, in terms of application developers, has not shown a similar trajectory; for instance, according to the U.S. Bureau of Labor Statistics' estimation, there were around 1.4 Mn jobs available for computer science and related domain, whereas only 400,000 potential and eligible graduates were there to fill those roles.
As hiring for these roles can't be solved on conventional grounds, IT teams are in urge to adopt more efficient methods in order to build powerful applications more quickly and robustly. The only way out from this developer crisis is low code development platforms that allow teams to rapidly develop applications using a drag-and-drop interface along with visual design tools.
Rather than developing an entire application by coding long lines, developers are finding it way easy to develop by drawing a flowchart. Low code allows developers of any skills to develop and deploy enterprise applications. For instance, a developer with nearly two years of experience can perform as a ten-year experienced conventional coder, which provides a stimulus to the organization.
Low code acts a catalyst allowing an organization to release software 10X faster when compared with traditional coding, thereby bridging the application and developer gap.
Business enterprises across industries are concluding to the fact that conventional software development will not meet the growing demand, owing to the following statistics:
Every 6 in 10 IT professionals said there is a rise in the number of employees required for software development.
Around 75% said that demand for software developers has attained its peak.
Around 60% state that the pricing of software development is on the run, rising at a much higher pace than before.
Around 2/3 of applications developed are delivered beyond the given timeline.
The backlog stands around 60% despite working on extended hours.
How are Large Scale Organizations Leveraging Low Code Development?
Low code platform adoption has exploded among a significant number of organizations in recent years. Low code platforms have become popular as a result of their tendency to integrate business verticals and the emphasis placed on reducing technological debt.
By 2024, 75% of big businesses will be adopting at least four low code development tools for IT application development as well as citizen development projects.
Due to their decades-old technological procedures and legacy systems that have built up into the operations of companies, major organizations are slow to embrace digital transformation. Low code has been a huge accomplishment in closing that gap and brining many organizations towards a modernizing turn.
Low code development has greater scalability, which benefits businesses by allowing them to deploy cutting-edge technologies across various departments.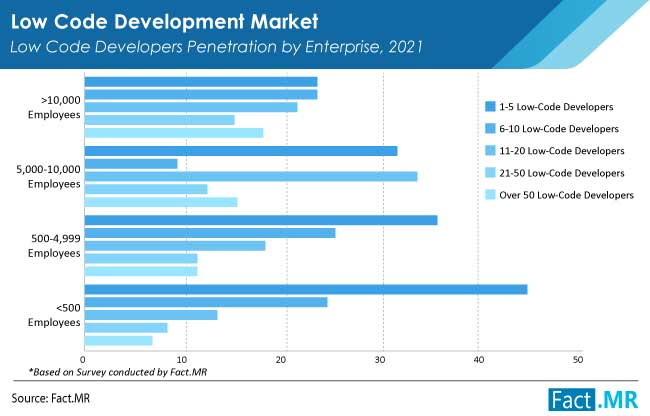 Know More Details About the Report
What Core Competence Does Low Core Development Offer Organizations?
In 2019, the global market for public cloud services reached US$ 214 Bn, up from US$ 182 Bn in 2018. The United States is a market leader in cloud computing, with some of the industry's prominent corporations present there. The fastest-growing sectors of the cloud services industry are predicted to be infrastructure-as-a-service (IaaS) and platform-as-a-service (PaaS).
Low code development platforms showcase features such as a drag-and-drop interface, reusability, life cycle management, reporting & management, scalability, cross platform accessibility, visual modelling, tools and others. Low code development finds its use case in each and every end-use industry, ranging from manufacturing, education, banking and financial services, healthcare, government, defense, and retail & e-Commerce.
What are the Setbacks Faced by Low Code Development?
Due to lack of expertise, 47% of firms are still not employing a low code development platform.
Around 5% of low code application users say the applications are bulky.
Only 12% of businesses use low code technologies to manage their business processes after purchasing them.
37% of businesses are concerned about a vendor lock-in with a no code/low code solution.
32% of businesses believe that they won't be able to construct the apps they require.
The scalability of the apps built is a worry for 25% of enterprises.
What are the Restrictive Barriers for Low Code Development?
Although low code allows for the rapid creation of a working application, many low code platforms come with a cost. When it comes to scaling, integrating with existing systems, or performing under severe situations, such as a mobile banking app on Black Friday, the app may buckle under the weight of functional and nonfunctional needs. Also, if a low code application needs to be updated or if the underlying technology needs to be changed, there are various struggles of performing the updates.
The reality with low code platforms is that they are mostly ad hoc, requiring a lot of manual labor that could be automated. They have a long time to value and high learning curves. As every coin has two sides, the resistance offered by various market elements slows down the growth prospects of the market.
However, due to a dynamic scenario in the market, overcoming obstacles with new product launches and modifications have become a common strategy for market players.
What is the Adaptability Scale of Low Code Development Owing to its Vivid Applications?
Applications developed by businesses of any size is on the run as the competition across every domain has become stiff. Maintaining quality, scale, and flexibility, along with minimal turnaround time is the need of the hour. Businesses have started to train their workforce to inculcate low code software and develop applications for their own verticals and as per their custom requirements.
To reduce dependency on their IT resources, while increasing product push into the market and digital asset development, nearly 84% have integrated low code development platforms into their systems. Moreover, 83% of prominent enterprises have valued low code for flexibility, 63% for its speed, and around 67% for process automation.
Only 31% enterprises using low code platforms have not developed and delivered high-value applications, while the rest have made it evident that it can be used for high-scale applications as well.
Avail customized purchase options for your needs
The Rise of Citizen Developers: A Megatrend?
The world is turning digital owing to fact that digital transformation has reached a whole new level of attractiveness across verticals of industries. Timeframe and budget were key entry barriers for enterprises, but now there's a solution called low code development. Organizations are experiencing a low entry barrier for digitization with the introduction of low code or no code platforms.
Key advantages of these platforms are shorter development time, low development cost, and simplicity of hiring resources. With these benefits, a new world of "Citizen Developers" has formed, a term that didn't exist in the early 2000s. Non-IT persons who work in an IT setting are known as citizen developers.
Given the rapid evolution of low code platforms, it would be an understatement to predict that in the not-too-distant future, any non-IT persons will be able to create their own apps without coding, and also voice instructions may be used to create apps.
SaaS and Hyper-Automation: A Game Changer for Low Code Development?
Software-as-service (SaaS) vendors in the market are well positioned to bridge the gap between advanced technology and existing technology. Capabilities are certainly incorporated with low code development backing and the numerous benefits of adaptation.
As SaaS gains popularity, vendors offering SaaS will increase their adoption of low code, and the market will witness reciprocating growth in low code application platforms (LCAP) and related automation tooling.
Moreover, technology-based businesses want to explore the spectrum and experiment their own ideas to steer more automation across their applications and operation framework. The requirement of hyper automation driving the business will become a prominent market driver for the adoption of low code development through 2022.
COVID-19 Impact: Is it the Low Code Year?
In the world hit by the COVID-19pandemic, quickly developed applications and virtual platforms have become the new normal of operations. Traditional software development, on the other hand, takes way too long and frequently fails to deliver the solutions that businesses and customers desire.
Even before COVID-19, there just weren't enough skilled software developers across the globe to develop all of the applications that were demanded by end users.
Low-code is a powerful enterprise-grade visual development approach that allows citizen and professional developers to create cloud-native applications for the web and mobiles, and are more than 10X faster using drag-and-drop components and model-driven logic, all through an intuitive graphical user interface.
The push to businesses to become "digital-first" has sparked a lot of interest in new solutions and various ways of working among IT workers. Beyond IT coders, IT departments are seizing possibilities to democratize software development:
All in all, the pandemic has shown an opportunity for market players and end users to create a long-term collaboration in developing applications through the optimal use of low code development platforms.
Why is the U.S. an Epicenter for Growth of Low Code Development?
When it comes to low code development, the U.S. is at the forefront. Four out of every five businesses now deploy low code development as compared to 77% globally, and three out of every five employees now use low code apps as compared to 56% globally.
This could be linked to the fact that American businesses are under more time pressure, with 72% of key software projects falling behind schedule when seen in comparison with 67% globally.
The most significant barrier to low code adoption in the United States is the reliance of companies on legacy systems, which affects 31% of businesses as compared to 23% globally. Other impediments include IT decision-makers' hesitation, which accounts for 28% business in contrast to 19% globally, and business decision-makers' reluctance to shift onto new platforms or make a change in current operations accounting for 25% of organizations in comparison with 18% of organizations across the globe.
An Adaptive Approach to Modern-day Research Needs
How is Europe Lagging Behind the Race of Low Code Development?
Low code adoption has been the slowest in Europe as compared to other regions, accounting 74% of business in Europe as compared to 77% globally, but this varies greatly across countries.
Belgium has the greatest gap at 48% as compared to the United Kingdom, which is on par with the U.S. at 80%. The United Kingdom's faster adoption of low code is likely due to the dual challenge of the pandemic and Brexit, both of which have increased the need for collaboration and adaptability.
Despite the fact that Europe has more projects behind schedule, which accounts for 81% having a large gap when compared 67% globally, IT professionals are relatively unconcerned about the recent digital upheaval. They are less enthusiastic about low code development adoption than other regions, as only 44% of IT professional are adopting it as compared to 58% across the globe.
Especially Belgium has 25% IT professionals adopting low code development where the platforms have created a disruption among the IT workforce.
The European region, having the highest potential, is yet to leverage low code development platforms and integrate them with their current operating frameworks. However, over the forecast period, the Europe low code development market is set to capture close to 25% global market share.
Will China Become a Lucrative Market for Low Code Development?
Low code adoption in China trails behind that in the United States, at 75%, but there is greater passion for it and better awareness about its importance for business.
Chinese IT professionals have already seen the greatest increase in software demand accounting for 85% vs. 80% globally. As well as the financial investment required for development has been around 68%, leading to global investment of nearly 61%, the number of people needed to develop software has risen to 72%, which is higher than IT professionals which holds only 57% globally.
Moreover, the time it takes to develop a software is much faster, which is of 72% as compared to 57% globally.
China has a higher percentage of projects delivered on time, standing at 58%, wherein only one-third of global projects are delivered on time. When compared to other regions, China has the most general acceptance of low code, with over 90% of IT professionals favoring it. Chinese businesses are also the most likely to comment that low code is a trend that their company can't afford to ignore.
In January 2021, Mendix, a developer of enterprise low code platforms, made its platform available in China. Mendix's parent company, Siemens, has a long-standing presence in the country, giving it an advantage, but it appears that the global pandemic is increasing interest in low code development solutions.
As for emerging markets in the Asia Pacific region, China will still witness faster value generation and long-term growth prospects owing to favorable policies by the government and strategies developed by businesses.
How Has the Face of the Telecom Industry Changed with Integration of Low Code Development?
Case Study Problem:
Canada-based telecommunication giant TELUS had identified the requirement of platforms to aid the launch of 5G network services to its existing customer base of 10 Mn subscribers. Integrating and supporting high volume operations at a higher pace was expected to result in 10X of operational activities that were managed by the company in the past. The prime attributes required were efficiency, scalability, automation, and connectivity.
Solution offered by low code development platform:
TELUS developed a workflow management platform that was end-to-end integrated within just 12 weeks while automating and maintaining the framework for 5G network. Nearly 10 thousand operational activities flow through the developed platform and are easily accessible from any device and location.
Through the use of low code development, the company was able to felicitate batch wise requirement of its 5G service implementation. Integrating was done into a single and comprehensive platform, wherein its traditional method of coding and development failed to provide the necessary speed and reliability.
How are Prominent Market Frontrunners Making it Big in This Space?
Prominent companies operating in this market include
Mendix
Salesforce
Microsoft
Appian
Pega
Zoho
ServiceNow
OutSystems
Oracle
Kintonne
Quick Base
Betty Blocks
TrackVia
NewGen
AuraQuantic
Creatio
As the market is growing at double-digit growth rate, industry players offering low code development platforms have experienced outstanding growth in terms of both, annual recurring revenue and user base.
For instance, Mendix's is on track to double annual recurring revenue in the next 18 months after achieving US$ 100 Mn in annual revenue in 2020. Every week, around 10 Mn people use apps built on Mendix's low code platform. In 2020, the Mendix platform was used to create over 120,000 applications. The "Mendix Maker" community, which is a dedicated group of developers who regularly utilise the platform and help one another, has grown to nearly 200,000 members in 2020.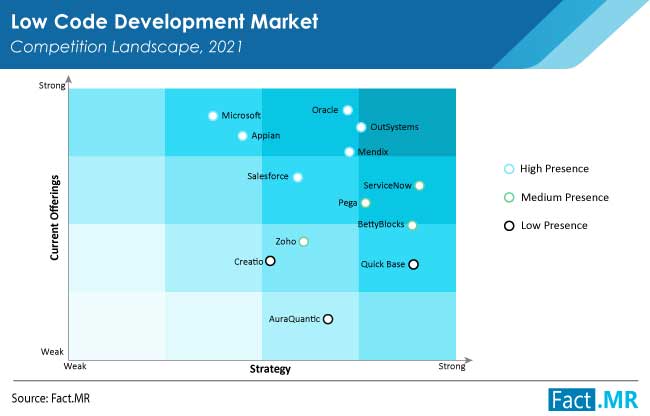 Have a report related query? Speak to us directly
What is the Development State of the Low Code Development Market?
New Product Launches
Quickbase released drag-and-drop integration and additional workflow automation functions, allowing business users to create and execute workflows that are connected to third-party apps.
Pegasystems released Pega Express, a revolutionary low code software development process. Pega Express is a new low code software development process that is integrated into the Pega Platform, the company's flagship solution and part of the Pega Infinity digital transformation software package.
Appian inked a technological cooperation and integration initiative with Celonis, a market leader in AI-enhanced process mining and process excellence software, as part of a recent partnership. Appian has also formed a strategic partnership with Deloitte Consulting, LLP to assist clients in commercial, federal civilian, defence, state, and local government sectors in modernizing critical systems.
Mendix released a platform for cloud based deployment, two new cloud services that expand the company's portfolio of cloud-native deployment choices across public, private, and hybrid cloud settings. These new products are intended to help businesses adopt low code application lifecycle management in conjunction with multi-cloud deployment strategies.
Mergers and Acquisitions
In 2021, AppGyver Oy was acquired by SAP, which is one of the leading players providing low code development platforms. AppGyver Oy has capabilities for SAP to integrate to develop web and mobile applications. Through the integration of AppGyver's offering with SAP's own in-house low code capabilities, SAP develops workflows, forms, and case management through digital platforms.
AppSheet was acquired by Google in 2020, which offers low code development platforms, with Google is aiming to broaden its cloud platforms to capitalize on the megatrend and offer services to its existing customer base.
In 2019, Magic Software Enterprises Ltd. acquired San Francisco-based low code development startup PowPow Inc. in a stock exchange filing. The amount was between US$ 15 and US$ 20 Mn, while Magic has a US$ 447.84 Mn market capitalization and is planning to enter the low code development market.
Temenos AG paid US$ 580 Mn for Kony, Inc. in 2019. With prebuilt templates and simplified backend data interaction, Kony's Quantum platform allows for low code multi-experience creation. Temenos and HCL have formed an exclusive partnership to create and market Quantum, a premier multi-experience development platform, for non-banking.
In 2019, Vista Equity Partners Management LLC purchased a controlling stake in QuickBase, Inc. for US$ 1 Bn. QuickBase purchased Cloudpipes, a cloud integration/automation platform company located in the United Kingdom, after receiving financial backing
Siemens acquired Mendix for US$ 730 Mn in October 2018. Siemens has been since then able to expand its business as a result of the acquisition. Its low code platform is the benchmark in the industry.
What Future Awaits Low Code Development?
Low code platform adoption is still in its early stages. However the COVID-19 pandemic has driven businesses to look beyond their traditional IT application development methods and turn to low code platforms for much faster and more flexible application delivery. These platforms will undoubtedly increase in popularity in the near future.
To enable organizations accurately measure their capabilities and ultimately lead to wider enterprise-level adoption, a line of business approaches to these platforms is required.
Low code platforms that are intelligent can transform development lifecycles and make them smoother. The main premise of this method to app development is to speed up and simplify the process by allowing developers to easily repeat and prototype. These advantages apply not only to skilled developers but also to users with no formal IT background or experience. In other words, low code allows masses of curious, creative brains to enter the realm of software development.
As more firms require substantial IT infrastructure and support to stay with the times, this capability becomes increasingly important, setting the stage of growth for low code development platforms.
Concluding Statement
Fact.MR scrutinized an extensive range of data and further triangulated and simplified it into insights for better understanding of market penetration and key trends. We hope that this study would help you better understand about the crucial factors related to low code development.
Low Code Development Market- Scope of Report
A recent study by Fact.MR on the low code development market offers a 10-year forecast for 2021 to 2031. The study analyzes crucial trends that are currently determining the growth of the market. This report explicates on vital dynamics, such as the drivers, restraints, and opportunities for key market players along with key stakeholders as well as emerging players associated with the development of low code development.
The study also provides the dynamics that are responsible for influencing the future status of the market over the forecast period. A detailed assessment of business execution, cost structure analysis and trends across regional markets has been covered in the report.
A list of prominent companies involved in low code development, along with their business model, key strategies, and SWOT analysis, enhances the reliability of this comprehensive research study.
Report Summary
The study offers comprehensive analysis on diverse features, including revenue growth, product enhancements, and transaction amounts from low code development across the globe.
A comprehensive estimate on the market has been provided through an optimistic scenario as well as a conservative scenario, taking into account revenue from low code development during the forecast period.
Analysis on Market Size Evaluation
The market has been analyzed for each market segment in terms of market value (US$ Mn).
Market estimates at global and regional levels for low code development are available in terms of "US$ Mn". A Y-o-Y growth contrast on prominent market segments, along with market attractiveness evaluation, has been incorporated in the report. Furthermore, absolute dollar opportunity analysis of all the segments adds prominence to the report. Absolute dollar opportunity plays a crucial role in assessing the level of opportunity that a company can look to achieve, along with identifying potential resources, considering the revenue perspective in the global low code development market.
Inspected Assessment on Regional Segments
Key sections have been elaborated in the report, which have helped deliver projections on regional markets. These chapters include market forces analysis, which is expected to have a momentous influence on the growth of the low code development market during the forecast period.
Country-specific valuation on revenue for low code development has been offered for each regional market, along with market scope estimates and forecasts, and impact analysis of the dynamics of prominence in regions and countries. For all regional markets, Y-o-Y growth estimates have also been incorporated in the report.
Detailed breakup in terms of value for key countries has also been included in the report.
In-depth Analysis on Competition
The report sheds light on leading providers of low code development platforms, along with their detailed profiles. Essential and up-to-date data related to market performers who are principally engaged in the low code development has been brought with the help of a detailed dashboard view. Market share analysis and comparison of prominent players provided in the report permits report readers to take preemptive steps in advancing their businesses.
Company profiles have been included in the report, which include essentials such as product portfolios and key strategies, along with all-inclusive SWOT analysis on each player. Company presence is mapped and presented through a matrix for all the prominent players, thus providing readers with actionable insights, which helps in thoughtfully presenting the market status, and predicting the competition level in the low code development market.
Need an Exclusive Report for your Unique Requirement?
Talk Show:
The Rise of Intelligent Packaging
Personalized, Connected and Sustainable
November 18, 2021
11:00-11:45 AM PST (USA & Canada)
This is a LIVE session


- Our Clients -

- Evaluate How Fact.MR's Report Can Help. -
Is the market research conducted by Fact.MR?
Yes, the report has been compiled by expert analysts of Fact.MR, through a combination of primary and secondary research. To know more about how the research was conducted, you can speak to a research analyst.
What research methodology is followed by Fact.MR?
Fact.MR follows a methodology that encompasses the demand-side assessment of the market, and triangulates the same through a supply-side analysis. This methodology is based on the use of standard market structure, methods, and definitions.
What are the sources of secondary research?
Fact.MR conducts extensive secondary research through proprietary databases, paid databases, and information available in the public domain. We refer to industry associations, company press releases, annual reports, investor presentations, and research papers. More information about desk research is available upon request.
Who are the respondents for primary research?
Fact.MR speaks to stakeholders across the spectrum, including C-level executives, distributors, product manufacturers, and industry experts. For a full list of primary respondents, please reach out to us.
Is a sample of this report available for evaluation?
Yes, you can request a sample, and it will be sent to you through an email.