Low Code Development Market
Low Code Development Market Analysis Report By Deployment (Cloud, On-premise), By Type (General Purpose, Database Application, Mobile Application Platform), By Application (Collaboration Site, Electronics Forms), By Enterprise, By Use Case, By Region - Global Insights 2022-2032
Analysis of Low Code Development market covering 30 + countries including analysis of US, Canada, UK, Germany, France, Nordics, GCC countries, Japan, Korea and many more
Low Code Development Market Outlook (2022-2032)
The global sales of low code development are expected to reach US$ 14 Billion in 2022. As per the study, the industry is slated to reach a valuation of US$ 187 Billion by 2032, reflecting a positive CAGR of 29.5% throughout the assessment period.
By 2022, over 50% of SMEs will be on the verge of adopting low code or no code as their as premeditated application platform, wherein, low code will contribute to more than 65% of application development.
Report Attributes

Values

Market Size in 2022

US$ 14 Billion

Forecasted Market Value in 2032

US$ 187 Billion

Global Growth Rate (2022-2032)

29.5% CAGR

Market Share of U.S

65%

Revenue Share of China

60%

Prominent Low Code Development Service Providers

Mendix
Salesforce
Microsoft
Appian
Pega
Zoho
ServiceNow
OutSystems
Oracle
Kintonne
Quick Base
Betty Blocks
TrackVia
NewGen
AuraQuantic
Creatio
Don't Need a Global Report?
save 40%! on Country & Region specific reports
Low Code Development Revenue Analysis from 2017-2021 Vs Outlook 2022-2032
According to Fact.MR, market research and competitive intelligence provider, from 2017 to 2021, the global market for low code development has grown at a CAGR of almost 25%.
Recent advances in low code development are attracting a lot of interest from the IT and medical industries. Low code development platforms are offering SMEs the sense of flexibility to develop custom applications with nominal coding and minimal cost as compared to conventional coding, empowering millions of SMEs to take a lead for allowing ideas to turn into reality.
In the midst of the COVID-19 pandemic, swiftly developed applications and virtual platforms have assumed greater significance. Traditional software development, on the other hand, takes way too long and frequently fails to deliver the solutions that businesses desire.
Even before COVID-19, there just weren't enough skilled software developers across the globe to develop all of the applications that were demanded by end-users. The push for businesses to become "digital-first" has sparked a lot of interest in new solutions and various ways of working among IT workers. Beyond IT coders, IT departments are seizing possibilities to democratize software development.
All in all, the pandemic has shown an opportunity for market players and end-users to create a long-term collaboration in developing applications through the optimal use of low code development platforms. Hence the market is likely to surge at a CAGR of 29.5% from 2022 to 2032.
How are Large Scale Organizations Leveraging Low Code Development?
Low code platform adoption has exploded among a significant number of organizations in recent years. Low code platforms have become popular as a result of their tendency to integrate business verticals and the emphasis placed on reducing technological debt.
By 2024, 75% of big businesses will be adopting at least four low code development tools for IT application development as well as citizen development projects. Due to their decades-old technological procedures and legacy systems that have built up into the operations of companies, major organizations are slow to embrace digital transformation. Low code has been a huge accomplishment in closing that gap and bringing many organizations towards a modernizing turn.
Low code development has greater scalability, which benefits businesses by allowing them to deploy cutting-edge technologies across various departments.
As a result of a shortage of software developers, finding dedicated and effective programming talent is a challenge. Therefore, there is an inclination for businesses to adopt low-code solutions as an alternative course of action. With low-code and no-code platforms, organizations can meet these new demands and at the same time reduce risks and costs of development.
With impressive advancements in software, software improvement is increasing continuously. Automation and client-facing applications are now gaining in popularity in organizations, resulting in more and more demands for improvements in software. The low-code improvement enables organizations to deliver more robust and cheaper applications faster and with fewer resources.
In order for the app improvement process to be effective, business groups and IT teams ought to be under pressure. By implementing 'low-code' development strategies, IT and business teams can benefit from fast, consistent, and agile development.
More Insights, Lesser Cost (-50% off)
Insights on import/export production,
pricing analysis, and more – Only @ Fact.MR
How Diverse Research Requirements are Encouraging Low Code Development?
The majority of researchers who study software development believe that the challenges for 2021 will largely remain the same over the next few years. Several studies are focusing on the development of cloud storage solutions and providing a secure approach to securing the data.
The researchers who have spent years researching various codes and using the same codes to develop certain websites, apps, and other mobile applications have held the key to helping developers to develop hassle-free coding during the development process. Research shows how low code has developed the IT industry and contributed to the development of trillions of applications.
As a result of low-code development, users of all ages have begun to learn about coding, and that will help them develop small to large-scale projects. According to the latest findings of a study endorsed by Internal, software design challenges in 2020 will likely continue into 2021. The shift to a digital-only economy is causing an influx of new app development requirements for many businesses. Despite these difficulties, hiring top engineers in the current environment is especially challenging.
A hiring freeze has been implemented by one in three organizations. Furthermore, respondents voiced concerns about insecure internal software and rising development challenges, which are straining normal operations. 85% of respondents believe the use of low-code and no-code will become more and more prevalent in the company in order to tackle these challenges in the future.
Country-wise Analysis
What makes the United States an epicenter for low-code development?
The United States is a market leader in cloud computing, with some of the industry's prominent corporations present there. US developers are at the forefront of low code development. In the US, four out of every five companies are now using low-code development as opposed to 77% worldwide, and three out of five employees are now using low-code apps as opposed to 56% globally.
As a result, the American business is under greater time pressure than other businesses since 72% of key software projects fail to arrive by the deadline, whereas 67% fail to arrive at schedule globally. The United States is the world's largest IT market, accounting for 32% or US$ 1.7 trillion in 2020. The IT sector in the United States, as well as many other countries, accounts for a considerable amount of economic activity.
In comparison to global trends, 31% of US businesses rely on legacy systems, a factor that has the most impact on low-code adoption. Other barriers include IT decision-makers' hesitancy to switch platforms or make a change in current operations, which affects 28% of organizations worldwide, and business decision-makers hesitation to embrace new technologies, which affects 25% of organizations globally, compared with 18% of organizations across the globe. A revenue share worth 65% is expected for the U.S market.
Will China Become a Lucrative Market for Low Code Development?
Low code adoption in China trails behind that in the United States, at 60%, but there is a greater passion for it and better awareness about its importance for business. Chinese IT professionals have already seen the greatest increase in software demand accounting for 85% vs. 80% globally.
As well as the financial investment required for development has been around 68%, leading to a global investment of nearly 61%, the number of people needed to develop software has risen to 72%, which is higher than IT professionals who hold only 57% globally. Moreover, the time it takes to develop software is much faster, which is 72% as compared to 57% globally.
China has a higher percentage of projects delivered on time, standing at 58%, wherein only one-third of global projects are delivered on time. When compared to other regions, China has the most general acceptance of low code, with over 90% of IT professionals favoring it. Chinese businesses are also the most likely to comment that low code is a trend that their company can't afford to ignore.
In January 2021, Mendix, a developer of enterprise low code platforms, made its platform available in China. Mendix's parent company, Siemens, has a long-standing presence in the country, giving it an advantage, but it appears that the global pandemic is increasing interest in low code development solutions.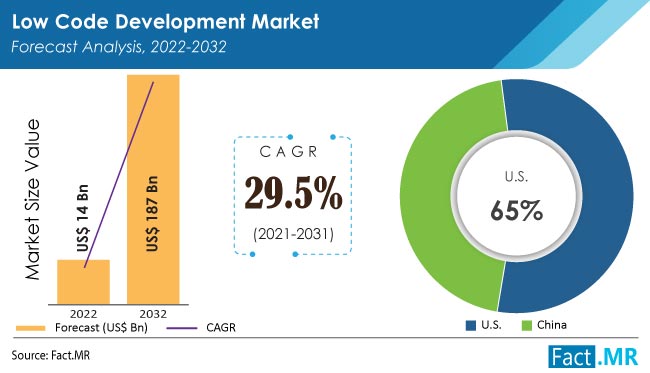 Category-wise Insights
How are Mobile Application Platforms driving market demand for low-code development in the IT industry?
The industry of app development is expected to reach US $1 trillion by 2023. The amount of money poured into entrepreneurial firms is expected to be around 75 Billion dollars in 2020, with startups focusing on apps receiving 25% of all funding.
In addition to the rise in mobile app demand, the market for low-code development platforms is fast growing since more aspiring, semiprofessional, and professional developers are turning to these platforms to bridge the skills gap. Tools must support a variety of mobile workloads, as well as developers with varying skill levels. By 2022, mobile apps are estimated to bring in more than US$ 935 Mn in revenue.
The mobile application development segment is anticipated to reach USD 166.20 billion by 2023 this revenue in this year is expected to show a rise of 7.12% rising the market volume by USD 218.80 billion by 2027. Considering the global comparison most of the revenue in mobile application coding is anticipated to be generated from North America led by the USA with USD 82,030 million in 2023.
Is Low Code Development the Future of Business Intelligence & Analytics?
Recent advances in the field of computer sciences, as well as the increased need for easier approaches to building new applications, have resulted in a dramatic increase in the market demand for low code development. Low-code platforms will improve in the future, which will remove the hard aspects of coding for non-coders in various industries.
The trend is currently shifting towards data sciences and analytics, where the hard aspects of coding will be removed. As a method of reducing the pressure on IT teams with minimal code, low code development has been fast gaining popularity in IT & telecommunications. As per Fact.MR, the segment will likely incline at a 20% CAGR through 2032.
The low-coding solutions are providing ready-made building blocks that assist developers in managing their workflows and altering the application without the need for any hand coding.
How does Low Code Development help SMEs?
Small businesses have become increasingly familiar with low-code and no-code software platforms, which let them automate and customize tasks quickly and on a budget. Due to rapid technological advancement, the demand for firms to rethink and redesign their business processes has increased.
Smart technologies are advancing this revolution and impacting all areas of business. For small businesses, it is a challenge to change their business models while at the same time adopting the right technology. Through the implementation of innovative tools, such as low-code development platforms, high-performing teams within an SME can compete on an equal basis with larger organizations by mapping out and executing new digital services and processes. Over 50% of SMEs are expected to use low code as their primary platform for developing applications by 2022.
Know thy Competitors
Competitive landscape highlights only certain players
Complete list available upon request
Competitive Landscape
Strategic collaborations enable manufacturers to increase production and meet consumer demand which will increase revenue and market share. New products and technologies will enable end-users to benefit from new technologies. The result of a strategic collaboration can help the company to increase its production capacity.
In 2021, AppGyver Oy was acquired by SAP, which is one of the leading players providing low code development platforms. AppGyver Oy has capabilities for SAP to integrate to develop web and mobile applications. Through the integration of AppGyver's offering with SAP's own in-house low code capabilities, SAP develops workflows, forms, and case management through digital platforms.
AppSheet was acquired by Google in 2020, which offers low code development platforms, with Google is aiming to broaden its cloud platforms to capitalize on the megatrend and offer services to its existing customer base.
Key Segments Covered in Low Code Development
By Deployment

By Type

General Purpose Platform
Database Application Platform
Mobile Application Platform
Process Application Platform
Request Handling Platform
Others

By Application Type

Collaboration Site
Electronics Forms
Business Intelligence & Analytics
Business Rules Management
Predictive Analysis
Other Application

By Enterprise

Small & Medium Enterprise (SMEs)
Large Enterprise

By Use Case

IT & Telecommunication
BFSI
Retail & E-commerce
Education
Manufacturing
Healthcare
Government
Defense
Others
- FAQs -
The global low code development market size is expected to be worth US$ 14 Bn in 2022
According to Fact.MR, low code development deployment increased at a whopping 25% CAGR from 2017-2021
From 2022-2032, low code development deployment is forecast to surge at a CAGR of 29.5%
The low code development market is expected to reach nearly US$ 187 Bn by 2032.
Growing demand for digitization and cloud storage spaces in various firms and industries are key trends in the global market.
With the growing need for rapid customization, scalability, and enterprise mobility solutions, users will be able to create business applications using the low code development platform, eliminating the need for IT skills gap, are driving demand for low c
Major market players include Mendix, Salesforce, Microsoft, Appian and Pega are the top 5 players offering low code development services
Low code development demand is expected to accumulate a revenue share worth 65% in the U.S through 2032
China is expected to register a market share of 60% in the market for low code development