Global Barcode Software Market Outlook
The barcode software market is predicted to grow at a moderate CAGR of 6.3% over the forecast period of 2022 to 2032. The barcode software market is estimated to achieve a net worth of about US$ 1.4 Billion in the year 2032, improving from US$ 694.9 Million recorded in 2021.
Attributes

Details

Barcode Software Market Share (2021)

US$ 694.9 Million

Barcode Software Market Size Value (2022)

US$ 744.3 Million

Barcode Software Market Size Value (2032)

US$ 1.4 Billion

Barcode Software Market Growth Rate (2022-2032)

6.3%

Barcode Software Market Key Players

Bluebird Inc
Dynamic Systems Inc
Cvision Tchnologies, Inc
Datalogic S. p. A
Denso ADC
General Data Company, Inc
Honeywell International Inc
NCR Corpoation
Zebra Technologies Corporation
ZEBEX Industries Inc
A digital software that allows developers to design, develop, and print barcode labels based on static, serialised, or database-driven data for inventories, products, and shipment goods is commonly referred to as barcode label software. The necessity for real-time data gathering with the expanding e-commerce sector is projected to drive the global barcode software market over the projected years through 2032.
Don't Need a Global Report?
Save 40% on Country & Region specific reports
Global Barcode Software Market Historical Analysis (2015-2021) Vs. Forecast Outlook (2022-2032)
The global market study on barcode software adoption trends reveals a sudden dip in the growth rate following FY2020-21. As per the previous report by Fact.MR pertaining to barcode software demand analysis, the market followed a CAGR of 7.1% over the time period covering 2015 to 2021.
Due to lockdowns, travel bans, and company closures, the Covid-19 pandemic has impacted economies and businesses in a number of nations. As the majority of nations had implemented market shutdowns, demand for barcode software declined rapidly in the aftermath.
Moreover, as nations around the world limited their investments in non-essential items, the general goods retail market volume decreased significantly and subsequently reducing the requirement and adoption of barcode software. A downtrend in the barcode software market growth was witnessed due to the temporary shutdown of industrial facilities too.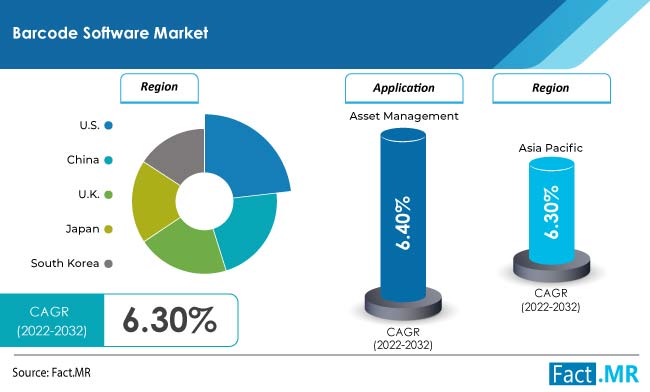 More Insights, Lesser Cost (-50% off)
Insights on import/export production,
pricing analysis, and more – Only @ Fact.MR
What is the Future of the Global Barcode Software Market?
"Accuracy in inventory data management and effective handling of stored commodities has necessitated the use of barcode labels."
Barcodes have mostly supplanted conventional product pricing and have evolved into a highly convenient method of scanning and collecting information. Billing at supermarkets and prescription administration in hospitals, including planning and order management during most commercial transactions, are all made simple and quick by the use of a barcode generator machine and software.
The demand for barcode labels for supply chain management in various sectors of the economy is fuelling the barcode software market expansion. Every stage of inventory control is improved and simplified by barcode printing software by generating and recording concurrent details of each product in the line.
Bartender label software streamlines the entire corporate integration process and allows for quick tracking of product shipment status. The use of this system to reduce mistakes in the whole process is the major factor driving the demand for barcode software in all major economic regions of the world.
A Barcode generator machine is also inexpensive and simple to use, which has accompanied the higher adoption of barcode software through it. The provision of obtaining customized software developed by solution providers according to desired preferences is anticipated to set the barcode software market key trends and opportunities in the coming days.
Tracking units by using barcode software also saves time and money while ensuring that reliable data is used while record-keeping and decision-making. Because of these advantages, barcode making software is becoming more popular day by day, among extensive businesses, particularly for their supply chain operations.
Recent developments in barcode software market have replaced human labour for data input in spreadsheets and paper logs that constitute most of the repetitious tasks in any enterprise. Aside from that, combining barcode technology with system and application software boosts the productivity, efficiency, and profitability of any business unit and has augmented the emerging trends in the barcode software market correspondingly.
What are the Limitations for the Global Barcode Software Market Growth?
In spite of its numerous advantages, barcode software market growth is projected to be constrained by some major issues, such as expensive initial investment costs and fear of barcode damage during the handling and transportation of commodities. Lack of digital literacy among a major portion of the retail shop owners is analysed to be a severe limiting factor for furthering the demand for barcode software technology or machines in middle and lower-income countries.
Recent experiences of data security challenges over digital platforms have also impacted the barcode software market trends negatively. Concerns for proper storage and dissemination of data collected over bartender barcode software is a major challenge that needs to be addressed by barcode software market players to get success in their business endeavours.
Know thy Competitors
Competitive landscape highlights only certain players
Complete list available upon request
What is the Growth Outlook for the Barcode Software Market on the Basis of Different Segments?
"Widespread imperative for reducing the risk of human mistake, improving company productivity, and for providing a dependable means of reading and encoding data is poised to create a favourable market for barcode software market future trends."
During its inception, barcode printing software was mostly adopted by retail or physical goods manufacturing companies to identify each product with details without removing the package. Over the years, barcode technology has come into play as a suitable method of record-keeping in many other areas of the market system.
Consequently, many new segments have emerged for the global barcode software market, such as employee attendance and time tracking, asset management and many more.
Package tracking still remains the dominating segment for the barcode software market share in the continuation of market traditions. However, the asset management segment has gained some remarkable traction in recent years as per the barcode software demand analysis.
It is anticipated to record a higher CAGR than the package tracking segment during the forecasted time period. As per the new market research report on barcode software, the asset management category is estimated to grow at a rate of 6.4% over the forecasted years of 2022 to 2032.
Who are Prominent End User Segments for the Global Barcode Software Market?
As mentioned earlier, manufacturing companies have been known to be the prominent clients or end users for the barcode software market players for a very long time. Though a major portion of the revenue share is captured by the manufacturing segment, some other market segments have also emerged as the noticeable end users of the global barcode software market these days.
Banking, Financial Institutions, and Insurance (BFSI) segment are end users having a rapidly growing demand for barcode software for their various day-to-day activities. Other than that, the digitization of the transport and logistics sector is also supposed to be a significant driving factor for the barcode software trends and forecasts in the coming days.
Interestingly, noteworthy progress has been observed in the use of barcode software market services at medical facilities or healthcare institutions. Coding and encoding of patient data at various levels have rendered this segment a lucrative end user for many new entrants in the barcode software business lately.
What is the Performance of Barcode Software Market in Different Geographical Regions?
North America has traditionally remained the top contributing region to the global barcode software market. As evident from the barcode software market statistics, the United States is the prominent country in this geographical region, with a revenue share of US$ 271.5 Million for the year 2022. The US is the top-performing country with an estimated CAGR of 6% for the projected years 2022 to 2032, as per the new market research report on barcode software.
An extremely organized retail market and greater awareness among retail shop owners have resulted in higher adoption of barcode software in this country. Also, by virtue of the presence of a large number of barcode software market key players in the country, the net worth of the US barcode software market is poised to reach nearly US$ 487.9 Million by the end of the year 2032.
What is the Barcode Software Market Outlook for the Asia Pacific Countries?
Given the present barcode software market trends experienced by the Asia Pacific countries, it is the top-performing region among the five broad geographical regions. It is expected to witness an overall year-on-year growth rate of 6.3% during the forecasted time frame.
China is the leading country in this geographical region, contributing approximately US$ 57 Million in the year 2022, as recorded in the barcode software market survey. The expansion of information and communications technology (ICT) companies in the country and a strong focus on creating a robust services export infrastructure have propelled the regional barcode software market to achieve a growth rate of 5.7% during the forecasted years of 2022 to 2032.
In terms of market value for 2022, China's barcode software market is followed by Japan and South Korea with an estimated gross value of US$ 50 Million and US$ 33.7 Million, respectively. By the end of this time period in 2032, forecasted by this barcode software market report, these three countries are expected to contribute together nearly US$ 230 Million to the global business.
How Strong is the Competitive Landscape for the Barcode Software Market?
Names of some of the barcode software market key players includes Bluebird Inc, Dynamic Systems Inc, Cvision Tchnologies, Inc, Datalogic S. p. A, Denso ADC, General Data Company, Inc, Honeywell International Inc, NCR Corpoation, Zebra Technologies Corporation, and ZEBEX Industries Inc among others.
Collaboration with barcode generator machine manufacturers to produce ready to use devices in the market is the major strategy adopted by most of the market players in the global barcode software market. The key players are also trying to add other relevant features such as data transmission facilities or online record keeping to achieve higher adoption of barcode software developed by them.
What are the Recent Developments in the Field of Barcode Software Market?
General Data Company declared the acquisition of AmeriGraph Packaging Group by it in through the end of 2020. General Data's label conversion capabilities now includes prime labels and shrink sleeve packaging for consumer goods and food products after this expansion. It has also strengthened the portfolio of the company by addition of a southeast distribution facility to better support its existing clients.
Datalogic, a worldwide pioneer in automatic data capture and process automation, was thrilled to launch the MatrixTM320 in mid-2020. It is the most efficient and compact size industrial fixed image-based barcode reader, capable of offering higher flexibility and performance, better operator safety, along with a low total cost of ownership (TCO).
Key Segments
By End User :

Banking, Financial Institutions, and Insurance (BFSI)
Transportation and Logistics
Manufacturing
Healthcare
Retail
Others

By Application :

Package Tracking
Employee attendance and Time Tracking
Asset Management
Others

By Region :

North America
Latin America
Europe
Asia Pacific
Middle East and Africa (MEA)