Medical Animation Market
Medical Animation Market Analysis By Technology (4D, 3D, 2D, Flash Animation), By Therapeutic Area (Oncology, Cosmeceuticals/Plastic Surgery, Cardiology, Dental), By End User (Life Science Companies, Medical Device Manufacturers, Hospitals, Surgical Centers, & Clinics, Academic Institutes) & By Region – Global Market Insights 2023 to 2033
Analysis of Medical Animation Market Covering 30+ Countries Including Analysis of US, Canada, UK, Germany, France, Nordics, GCC countries, Japan, Korea and many more
Medical Animation Market Outlook (2023 to 2033)
Fact.MR reports that the global medical animation market reached US$ 316.11 million in 2022. Over the assessment period (2023 to 2033), worldwide demand for medical animation is forecasted to rise at a prolific CAGR of 20%, resulting in an industry size of US$ 2.35 billion by the end of 2033. Rising adoption of various medical animation techniques by healthcare practitioners to convey specific medical procedures or ideas with improved comprehension is set to contribute to market expansion.
Increasing patient enrollment in several programs for wellness and illness management is one of the key outcomes of this technology. Significant expansion of the smartphone market along with an increasing number of pharmaceutical firms adopting animation for educational and promotional purposes are contributing to market growth.
Key Market Growth Drivers
Integration of medical animation into mobile applications while combining real-time content with configurable tools and measurable data for several medical devices is anticipated to contribute to market expansion.
Increasing use of medical animation to simulate medical procedures, recreate crime scenes to conduct forensic research, and guide emergency treatment is estimated to widen the horizon of market players.
There is a constant need for animated studies to provide a comprehensive understanding of drug development, driven by the rising cancer cases. Furthermore, the significant expansion of research and development (R&D) efforts utilizing 3D technology in the development of new medications is expected to enhance market revenue over the next decade.
Demand for 4D technology-based medical animation is predicted to accelerate at a CAGR of 22.7% and reach US$ 491 million by 2033-end.
The market in China is forecasted to expand rapidly at 23% CAGR and reach a value of US$ 139 million by 2033.
Healthcare businesses, in recent years, have been adopting medical animation techniques. This technique offers an enhanced understanding of a specific product or a technique that encourages curiosity and thus leaves an efficient impression on customers. Moreover, medical animation is also used significantly to instruct patients about the management of specific ailments and offer doctors required surgical training.
Report Attributes
Details
Medical Animation Market Size (2022A)
US$ 316.11 Million
Estimated Market Value (2023E)
US$ 379.4 Million
Forecasted Market Value (2033F)
US$ 2.35 Billion
Global Market Growth Rate (2023 to 2033)
20% CAGR
United States Market Value (2022)
US$ 129 Million
Revenue from 4D Technology-based Medical Animation (2033)
US$ 491 Million
Japan Market Growth Rate (2023 to 2033)
17.7% CAGR
Germany Market Growth Rate (2023 to 2033)
18.7% CAGR
Key Companies Profiled

Flatworld Solutions Pvt., Ltd.
Understand.Com
Random42 Scientific Communication
Elara Systems, Inc.
vAnimations Studio
Austin Visuals 3D Animation Studio
Nanobot Medical Animation
3FX
Virtual Point
Delaplaine Creative
Broadcast2world
Don't Need a Global Report?
save 40%! on Country & Region specific reports
Why is There Substantial Rise in the Demand for Medical Animation?
"Growing Need for Patient Education and Simplification of Complex Medical Concepts"
Growing need for patient education is anticipated to increase medical animation adoption. Visually engaging and dynamic animations are predicted to emerge as invaluable tools to convey intricate medical information to patients. It includes a wide spectrum of complex treatment options, conditions, and procedures.
Increasing utilization of medical animation is led by multiple factors, including enhanced patient engagement, reduced anxiety and fear related to diseases, and improved informed content. These factors are projected to contribute to the overarching goal of improving patient care, thus ultimately leading to improved patient outcomes.
Medical animations generally work efficiently for the simplification of intricate medical concepts and processes. With the use of interactive graphics and vibrant visuals, healthcare animation can break down certain complex ideas into simple components and treatment plans comprehensively.
"Technological Advancements Revolutionizing Medical Animation in Healthcare Industry"
The healthcare industry is undergoing a transformation owing to the relentless pace of technological advancements in healthcare. Key breakthroughs in virtual reality (VR), 3D modeling, and medical imaging are some myriad innovations that are estimated to revolutionize the approach to the development and utilization of medical animations.
These innovations are predicted to enhance the realism of anatomical animation. In addition, they are also projected to broaden the application of scientific visualization while making them indispensable in multiple aspects of communication and medical education.
Rapid advancements taking place in medical technology are anticipated to take the development and utilization of pharmaceutical animation to new heights. These newly developed technologies are projected to significantly improve the depth, accessibility, and precision of medical animations. Thus, owing to technological advancements, medical animation is estimated to find more impressive applications in the healthcare sector.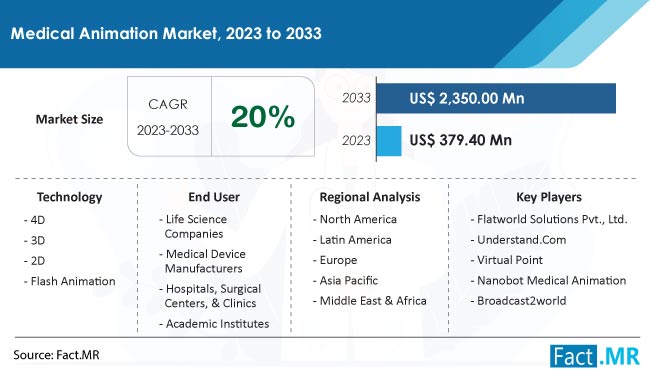 What Challenges are Encountered by Medical Animation Providers?
"High Initial Costs Associated with Hiring Specialized Expertise and Investments in R&D"
Development of high-quality medical animations needs specialized skills and expertise in software tools, medical knowledge, and animation. The initial cost associated with hiring medical professionals and skilled animators and investments in advanced software is predicted to become one of the key restraints for healthcare companies and institutions with limited budgets. This challenge associated with entry is projected to hinder the widespread adoption of medical animation, especially among organizations with limited resources.
"Concerns Associated with Maintaining Accuracy and Regulatory Compliance"
Medical animations need to represent disease mechanisms, anatomical structures, and medical procedures accurately to ensure their informative and educational value. Medical professionals and regulatory bodies emphasize the need for evidence-based and precise depictions to avoid misinterpretation and misinformation. Sometimes, it can be challenging for healthcare organizations and animation studios to ensure compliance with ethical considerations, regulatory guidelines, and medical standards.
More Insights, Lesser Cost (-50% off)
Insights on import/export production,
pricing analysis, and more – Only @ Fact.MR
How are Start-ups Projected to Secure Their Position in the Market?
"New Companies Benefitting from Integration of AR and VR Technologies into Animation Procedures"
Integration of augmented reality (AR) and virtual reality (VR) technologies is predicted to contribute to the shaping of the medical animation industry. Start-ups can invest in these immersive technologies to create opportunities for patients, students, and medical professionals to view medical procedures, disease mechanisms, and anatomical structures in virtual environments.
AR and VR animations offer an in-depth level of engagement and enable users to visualize and simulate medical interventions, surgeries, and scenarios. This trend is predicted to boost the development of more experiential and interactive learning tools to enhance training outcomes and medical education.
For instance :
Medical Media Interactive, in March 2023, unveiled its revolutionary AR medical animation to empower healthcare professionals to explore the intricate anatomy of the human brain in real-time.
Country-wise Insights
North America is projected to account for 40% share of the global market in 2033. The prominence of North America is a testament to its heavy expenditure on medical research and advanced healthcare infrastructure and deep-rooted commitment to introducing cutting-edge medical technologies. Moreover, medical animations have been woven seamlessly into the fabric of professional training, patient communication, and medical education.
The market in Asia Pacific is projected to advance at a significant CAGR of 9% through 2033 because of the burgeoning healthcare sector and the escalating adoption of several digital learning tools.
What is the Current Status of the Medical Animation Market in the United States?
"Robust Healthcare Infrastructure and Enhanced Patient Education and Communication"
The size of the United States market reached US$ 129 million in 2022. The country takes pride in its cutting-edge and well-established healthcare infrastructure. This infrastructure is projected to extend beyond hospital walls to encompass pharmaceutical giants, research institutions, and medical device manufacturers.
The need for 3D medical animation is anticipated to surge owing to the necessity to educate various stakeholders, including industry experts, healthcare professionals, and patients. Medical animation is predicted to be a pivotal educational tool in this current dynamic ecosystem. Effective education and communication among stakeholders are anticipated to contribute to advanced healthcare infrastructure that leads to the growing adoption of medical animation.
Which European Country is Predicted to Hold a Significant Share of the Regional Market?
"German Market Benefitting from Presence of Cutting-edge Medical Facilities"
The German market is forecasted to expand at 18.7% CAGR from 2023 to 2033. Germany is anticipated to earn a well-deserved reputation due to its healthcare excellence and a system that sets benchmarks for innovation, accessibility, and quality. A commitment to deliver world-class healthcare facilities and availability of advanced medical infrastructure are forecasted to boost demand for healthcare animation.
Patient education holds a paramount position in the healthcare realm. Patients need to be empowered with treatment options, medical procedures, and health conditions to make informed decisions. Therefore, the need for education is estimated to play a pivotal role in the increased demand for medical animation in the healthcare sector in Germany.
Which Countries in APAC are Set to Emerge as Attractive Markets?
"Focus on Innovation in Healthcare for Delivery of High-quality Healthcare Services in China"
Sales of medical animation technologies in China are forecasted to rise at a stellar CAGR of 23% and reach US$ 139 million by 2033. The healthcare sector in China is in its transformative period and is characterized by substantial reforms. This multifaceted evolution is predicted to have a profound impact on the demand for medical animation.
Medical device animation is anticipated to play a significant role in healthcare process optimization and patient education, thus supporting the present healthcare reforms and medical training. With constant evolution and innovation in the healthcare sector, medical animation is projected to remain a pivotal component in ensuring improved patient outcomes and high-quality healthcare services.
"Regulations Necessitating Adoption of Medical Animation for Patient-centered Care in Japan"
Demand for medical animation in Japan is predicted to accelerate at 17.7% CAGR through 2033, driven by the presence of several prestigious medical research institutions and schools and availability of well-developed and highly advanced healthcare infrastructure.
In Japan, healthcare communications are subject to specific and strict regulations, particularly in the areas of medical devices and pharmaceutical promotion. These regulations are placing a strong emphasis on the adoption of patient-centered care, a trend expected to drive the increased demand for medical animation in the country.
Know thy Competitors
Competitive landscape highlights only certain players
Complete list available upon request
Category-wise Insights
Worldwide sales of 4D technology-based medical animation are forecasted to advance at a 22.7% CAGR and reach US$ 491 million by 2033-end owing to its use as an effective and powerful tool in medical and healthcare education. Furthermore, medical device manufacturers are anticipated to contribute significantly to market revenue with the rising use of pharmaceutical animation as a marketing tool.
Which Technology is Becoming Popular among End Users?
"Dynamic Representation and Enhanced Realism Offered by 4D Animation Driving Its Adoption"
Based on technology, worldwide demand for 4D technology is predicted to advance at a CAGR of 22.7% and reach a valuation of US$ 491 million by 2033-end, according to the newly published report by Fact.MR, a market research and competitive intelligence provider.
4D technology allows for the dynamic representation of medical and biological processes. This enhanced realism is predicted to help patients and healthcare professionals better understand the intricacies and progression of medical treatments and conditions. Improved learning and retention, enhanced realism, and effective patient education are some other prominent factors that are boosting demand for 4D-technology-based anatomical animation.
Which End-user Segment is Generating Significant Revenue Streams?
"Extensive Medical Animation Use by Device Manufacturers to Promote Complex Medical Devices"
Life sciences companies, medical device manufacturers, academic institutes, and hospitals, surgical centers, & clinics are prominent end users of medical animation globally. Among these, medical device manufacturers account for a significant share of the market.
In recent years, various pharmaceutical firms have been using medical animation for multiple purposes, including promotion, marketing, and approvals of various medications. Due to the growing demand for enhanced marketing tools in the healthcare sector, the inclination toward medical animation is predicted to increase.
Market Competition
Providers of medical animation are adopting several strategies to attain their goals, including efficient management of supply chain systems, ensuring quality control of products, and new developments. Key industry players are involved in product launches, portfolio expansion, etc., to generate leads and retain existing consumers.
For instance:
In October 2022, Understand.com introduced advanced high-definition photo-facial animation to its skin treatment catalog, enhancing the portrayal of skin anatomy and aging effects, featuring popular techniques like Led, BBL, and PL.
In August 2022, Understand.com expanded its orthopedic library with the introduction of Diagnostic Hip Arthroscopy, facilitating precise representation of procedures, recovery, and associated risks in diagnostic hip arthroscopy.
Key players in the medical animation market are Flatworld Solutions Pvt., Ltd., Understand.Com, Random42 Scientific Communication, Elara Systems, Inc., vAnimations Studio, Austin Visuals 3D Animation Studio, Nanobot Medical Animation, Broadcast2world, 3FX, Virtual Point, and Delaplaine Creative.
Segmentation of Medical Animation Industry Research
By Technology :

By Therapeutic Area :

Oncology
Cosmeceuticals/Plastic Surgery
Cardiology
Dental

By End User :

Life Science Companies
Medical Device Manufacturers
Hospitals, Surgical Centers, & Clinics
Academic Institutes

By Region :

North America
Europe
Asia Pacific
Latin America
Middle East & Africa
- FAQs -
The global medical animation market reached US$ 316.11 million in 2022.
Sales of medical animation technologies in the United States reached US$ 129 million in 2022.
The market for medical animation is estimated US$ 379.4 million in 2023.
Demand for medical animation is predicted to expand at a prolific CAGR of 20% from 2023 to 2033.
Sales of 4D-technology-based medical animation are anticipated to reach US$ 491 million by 2033-end.
The medical animation market is forecasted to reach US$ 2.35 billion by the end of 2033.
Medical animation is utilized in the pharmaceutical and medical sectors for the simulation of surgeries and educational purposes.