Nuclear Medicine Radioisotopes Market
Nuclear Medicine Radioisotopes Market Analysis By Radioisotope Type (Technetium-99m (Tc-99m), Thallium-201 (Tl-201), Gallium-67 (Ga-67), Iodine (I-123)), By Application (Cardiology, Oncology, Neurology, Lymphoma, Thyroid), By End User (Hospitals, Diagnostic Centers), & Region - Global Market Insights 2023-2033
Analysis of Nuclear Medicine Radioisotopes Market Covering 30+ Countries Including Analysis of US, Canada, UK, Germany, France, Nordics, GCC countries, Japan, Korea and many more
Nuclear Medicine Radioisotopes Market Outlook (2023 to 2033)
Global demand for nuclear medicine radioisotopes is forecasted to increase at a high-value CAGR of 8% over the next 10 years. As such, the global nuclear medicine radioisotopes market is expected to increase from a valuation of US$ 8.82 billion in 2023 to US$ 19.04 billion by the end of 2033.
Nuclear medicine is a branch of medicine that makes use of radioactive substances or radiopharmaceutical synthesizers to diagnose and treat a variety of illnesses, including cancer, cardiac disease, and neurological disorders.
Medical professionals can follow the radioactive tracers' progress with the help of high-technology cameras. Additionally, two essential imaging modalities in the field of nuclear medicine are positron emission tomography (PET) and single-photon emission computed tomography (SPECT) examinations.
Nuclear medical radioisotopes are mainly useful in diagnostic procedures for cancer treatment, food irradiation, gauges, and radiography. Isotopes are employed in both medical imaging & nuclear medicines.
Nuclear medicines radioisotopes are suitable for use in the treatment of chronic diseases due to their short half-lives and radiation-emitting properties. Nearly all forms of cancer are extensively diagnosed and treated with nuclear medicine radioisotopes.
Also, radiopharmaceuticals are used to investigate the blood flow to the brain, the operation of numerous organs, and other processes. Radioisotopes for nuclear medicines are now also employed in palliative care.
For instance, strontium-89 is used to relieve cancer-related bone discomfort.
Rising demand for PET scans and nuclear medicines, the deeper integration of radioisotopes in medicine, and the development of radiopharmaceutical therapeutics are all contributing to the growth of the global nuclear medicine radioisotopes market. Additionally, it is projected that over the coming years, significant financing from respective governments' for radioisotope nuclear medical research will drive the growth of the market for nuclear medicine radioisotopes.
Global demand for technetium-99m (Tc-99m) is expected to increase at a high CAGR of 9% during the forecast period. The radioisotope technetium-99m (99mTc) is mostly utilized for imaging and diagnostic procedures. Technetium-99m (Tc) radioactive isotopes produce gamma rays that a gamma camera may detect and image to produce their effects.
Technetium-99m was discovered in 1938 from the decay of molybdenum-99 (Mo-99), and now it is the most widely utilized radioactive isotope tracer for SPECT imaging. The FDA has granted technetium-99m (99mTc) radioactive nuclear agent approval for diagnostic testing of the brain, bone, heart, gall bladder, liver, lungs, kidneys, thyroid, spleen, salivary, lachrymal glands, bone marrow, blood vessel, and sentinel nodes.
Report Attributes

Details

Nuclear Medicine Radioisotopes Market Size (2023E)

US$ 8.82 Billion

Forecasted Market Value (2033F)

US$ 19.04 Billion

Global Market Growth Rate (2023 to 2033)

8% CAGR

China Market Growth Rate (2023 to 2033)

7% CAGR

Japan Market Growth Rate (2023 to 2033)

7.5% CAGR

Germany Market Growth Rate (2023 to 2033)

6.5% CAGR

Canada Market Growth Rate (2023 to 2033)

6% CAGR

Key Companies Profiled

Bayer AG
Bracco Imaging SpA
Cardinal Health, Inc.
GE Healthcare
Hologic, Inc.
Lantheus Medical Imaging, Inc.
Medtronic PLC
NTP Radioisotopes SOC Ltd.
Positron Corporation
Siemens Healthineers
Don't Need a Global Report?
save 40%! on Country & Region specific reports
Why are Sales of Cardiac Nuclear Medicine & Imaging Services Increasing Rapidly?
"Rising Cases of Cancer & CVDs across the World"
One of the main factors driving the growth of the market for nuclear medicine radioisotopes is the rising prevalence of cancer and cardiovascular diseases (CVDs). Through enhanced detection and treatment, a majority of instances can be avoided; nuclear medicine systems are crucial in these areas.
According to a WHO report,
Nearly 10 million deaths, or nearly 1 in 6 deaths, were estimated to be caused by cancer in 2020, making it the top cause of death globally.
Breast, colon, lung, rectum, and prostate cancers are the most common kinds of cancer.
Around one-third of fatalities from cancer are linked to tobacco use, alcohol consumption, high body mass index, low vegetable and fruit diet, and lack of physical activity.
In poor and emerging economies, cancer-causing infections including hepatitis and human papillomavirus (HPV) are thought to be the cause of 30% of cancer cases.
Increasing prevalence of various chronic illnesses is anticipated to fuel the growth of the market for nuclear medicine radioisotopes during the forecast period because nuclear medicine is crucial for the diagnosis and treatment of several chronic diseases. For detecting cancer and cardiovascular diseases, nuclear medicine services such as nuclear cardiac imaging techniques are widely employed.
"Increasing Demand for PET Scans & SPECT"
The radioisotopes iodine-123, technetium-99m, xenon-133, thallium-201, and fluorine-18 are commonly utilized in SPECT to identify tracers. The patient's body passes through these radioactive isotopes nuclear medicine forms of natural elements, and the diagnosis procedure is done by the scanner.
Injections of radioactive material are used in PET scans to help visualise the brain's active sections. A PET scan can be used to detect cancerous tumour cells and to identify diseases such as epilepsy. Additionally, the demand for nuclear medicine radioisotopes is expanding as more SPECT and PET applications are developed.
For instance, Blue Earth Diagnostics, a Bracco company that is renowned as a pioneer in the development and commercialization of novel PET radiopharmaceuticals, announced in February 2022 that it would be presenting key findings from its Phase 3 SPOTLIGHT trial of 18F-rhPSMA-7.3 in recurrent prostate cancer at the upcoming ASCO 2022 Genitourinary Cancers Symposium orally (ASCO GU).
Also, during RSNA21 in December 2021, GE Healthcare unveiled its most sophisticated SPECT/CT, a nuclear medicine system.
These advancements are projected to boost the development of radioactive isotopes in medicine and nuclear medicine techniques during the forecast period, according to this latest study by Fact.MR, a market research and competitive intelligence provider.
More Insights, Lesser Cost (-50% off)
Insights on import/export production,
pricing analysis, and more – Only @ Fact.MR
What is Challenging the Sales of Nuclear Medicine Radioisotopes?
"High Cost of Radioisotopes and Poor Healthcare Infrastructure in Some Regions"
Nuclear medicine radioisotopes market growth in poor economies is expected to be hampered by high equipment prices, insufficient infrastructure, short radiopharmaceutical half-lives, costly R&D expenses, and lack of awareness. However, a radiopharmaceutical's shelf life is mostly influenced by the radioisotope's half-life and the radionuclide's composition.
Strict regulatory restrictions and a lack of standardised resources in numerous industrialised and emerging countries are anticipated to impede sales growth for nuclear medicine therapeutics. Also, the demand for diagnostic nuclear medicines can be hampered due to their high cost, less availability, and the presence of traditional diagnostic testing.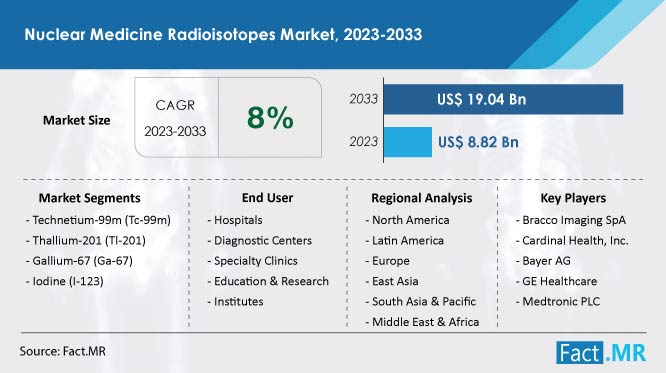 Country-wise Analysis
What is Supporting Product Sales Growth in the United States?
"High Developments in Nuclear Medicine Procedures & Diagnostic Products"
The United States controls a large portion of the North American nuclear medicine radioisotopes market. Due to technological developments such as hybrid imaging, the introduction of novel radioisotopes for diagnosis, the development of imaging techniques, and the presence of significant market participants, nuclear medicine is expected to gain momentum in the United States.
For instance, 6.2 million Americans aged 65 and older were estimated to have Alzheimer's dementia, according to 2021 Alzheimer's Disease Facts and Figures.
Demand for nuclear medicine radioisotopes is anticipated to rise along with the burden of chronic diseases since nuclear medicine procedures are crucial in the clinical diagnosis of people with cognitive impairment.
For instance, Curium submitted a radiopharmaceutical called Cu-64 PSMA I&T and an investigational new medication application to the US Food and Drug Administration in August 2021. It helps in the localization and detection of metastatic prostate cancer in PET.
Thus, the demand for radioisotopes in the nation is anticipated to increase as a result of such developments.
Why is the United Kingdom Considered a Profitable Market for Nuclear Medicine Radioisotopes?
"Rapidly Increasing Cases of Cancer and Availability of Well-established Healthcare Infrastructure"
The United Kingdom is considered to be a leading marketplace in the European region. The United Kingdom is seeing an upsurge in cancer cases, which has led to the demand for radioisotopes for improved cancer therapy and molecular imaging. Radioisotopes in medicine have benefits such as high efficacy and non-intrusive external monitoring which is boosting radioisotope production.
According to Macmillan Cancer Support Organization, currently, around 3 million people are living with cancer in the United Kingdom, and the cases are expected to rise to 3.5 million by 2025, 4 million by 2030, and 5.3 million by 2040.
Demand for nuclear medicine will significantly expand in the United Kingdom due to the presence of advanced healthcare infrastructure and ongoing research on non-invasive targeted medications. The rising interest among healthcare professionals in radiopharmaceutical, positron emission tomography, and clinical trial standards is generating new opportunities in the nuclear medicine radioisotopes market.
How is Japan Becoming a Leading Market in the Asia Pacific Region?
"Swift Developments in Nuclear Medicines"
Japan is expected to dominate the market for nuclear medicine radioisotopes in the Asia Pacific region due to their widespread use. The presence of organizations such as the Japan Radioisotope Association (JRIA) helps to promote awareness about radiopharmaceuticals in the nation, the organization also promotes the utilization of radioisotopes and their safe use.
Its principal activities include academic programs, supplying radioisotopes, labelling chemicals and radiopharmaceuticals, and collecting and handling radioactive wastes.
All Japanese institutions can conduct collaborative research projects at the Nishina Memorial Cyclotron Center of JRIA. To handle all medical radioactive waste, the JRIA constructed the Kaya Memorial Takizawa Laboratory. Several producers are attracted to Japan to the widespread use of radioisotopes and rapid technological advancements in this field.
Category-wise Analysis
Which Application Type Holds a Dominating Market Share?
"High Use of Radioisotopes Nuclear Medicines in Treating Cardiovascular Disorders"
Radioisotopes are widely used in the treatment of cardiological disorders. The increasing prevalence of cardiovascular illnesses and the expanding use of SPECT in the diagnosis of cardiac problems are the main reasons for the increase in cardiac nuclear medicine sales. SPECT is essential for diagnostic testing of cardiovascular disorders (CVDs) such as strokes, coronary artery disease (CAD), and atrial fibrillation.
For instance, a study by the British Heart Foundation in July 2020 found that there were over 7.5 million heart disease patients in the United Kingdom, with nearly 170,000 fatalities per year, or an average of 460 per day or one every three minutes.
Consequently, it is anticipated that early detection of CVDs will increase demand for nuclear medicine, which will further boost patient demand for radioisotopes.
Siemens Healthineers released a new iteration of their c.cam specialized cardiac nuclear medicine system to the United States market in September 2020.
Competitive Landscape
The nuclear medicine radioisotopes market is highly competitive. To improve their market position and earn more revenue, key players in the nuclear medicine radioisotopes market are focusing on local supply marketing, they are changing pricing trends and product standards according to the regional users' demands and needs.
For instance, Curium announced in June 2021 that it had acquired Austrian pharmaceutical company IASON to expand its presence in the region.
The first-of-its-kind therapeutic radioisotope production plant was officially opened as part of the NorthStar Medical Radioisotopes expansion event in October 2021.
Segments of Nuclear Medicine Radioisotopes Industry Research
By Radioisotope Type :

Technetium-99m (Tc-99m)
Thallium-201 (Tl-201)
Gallium-67 (Ga-67)
Iodine (I-123)

By Application :

Cardiology
Oncology
Neurology
Lymphoma
Thyroid

By End User :

Hospitals
Diagnostic Centers
Specialty Clinics
Education & Research Institutes

By Region :

North America
Latin America
Europe
East Asia
South Asia & Oceania
MEA
- FAQs -
Global demand for nuclear medicine radioisotopes is currently valued at US$ 8.82 billion.
Worldwide sales of nuclear medicine radioisotopes are predicted to increase at a CAGR of 8% through 2033.
The market for nuclear medicine radioisotopes is projected to reach US$ 19.04 billion by 2033.
North America currently holds a dominating position in the global nuclear medicine radioisotopes market.
Bayer AG, Bracco Imaging SpA, Cardinal Health, Inc., and GE Healthcare are some of the key manufacturers of nuclear medicine radioisotopes.