Oligomers Market
Oligomers Market Analysis, By Product Type (IDD, IHD, Silkflo, Indopol, and Panalane), By Application and Region - Global Market Insights 2023 to 2033
Analysis of Oligomers Market Covering 30+ Countries Including Analysis of US, Canada, UK, Germany, France, Nordics, GCC countries, Japan, Korea and many more
Oligomers Market Outlook (2023 to 2033)
Based on Fact.MR analysis, the global oligomers market is estimated to be valued at US$ 676.9 million in 2023 and expected to grow at 6.2% CAGR to reach US$ 1,235.3 million by the end of 2033.
Oligomers are reshaping the beauty and haircare industry landscape, introducing a new paradigm of excellence in cosmetic formulations. These compact chains of molecules bring forth advanced functionalities, including exceptional binding, film-forming, conditioning, and a host of other advantageous properties.
Report Attributes
Details

Oligomers Market Size (2022A)

US$ 598.7 Million

Estimated Market Value (2023E)

US$ 676.9 Million

Forecast Market Value (2033F)

US$ 1,235.3 Million

Global Market Growth Rate (2023-2033)

6.2% CAGR

North America Market Share (2023)

36.2%

Key Companies Profiled

INEOS
BASF SE
Braskem
Croda International Plc
Haltermann Carless
LANXESS
Mitsui Chemicals, Inc.
NOF Corporation
Don't Need a Global Report?
save 40%! on Country & Region specific reports
Historic and Future Pathway Analysis for the Oligomers Market
Oligomers, the ingenious building blocks of hair care and beauty care formulations, are molecular powerhouses that bring transformative benefits to these products. Acting as versatile ingredients, oligomers are small-sized polymer units that combine seamlessly with other compounds to enhance the performance and efficacy of hair care and beauty care formulations.
Short Term (2023-2026): The short-term driving factor of the oligomers market is the increasing demand for innovative and high-performance materials in various industries. This growing demand for oligomers is primarily fueled by the need for improved product attributes, such as durability, flexibility, adhesion, and chemical resistance will contribute to the short-term growth of the oligomers market.
Medium Term (2026-2029): The medium-term growth of the oligomers market is due to the growing demand for sustainable solutions that offer comparable performance to traditional materials. Oligomers, particularly those derived from renewable sources or produced using greener manufacturing processes, are gaining traction as viable alternatives to conventional materials.
Long Term (2029-2033): As scientific understanding and innovation progress, new applications and uses for oligomers are continuously being discovered. This leads to the development of novel oligomer-based products that offer enhanced performance, durability, and functionality across various industries. As innovations continue, the oligomers market is expected to expand further in the long run.
On the back of the aforementioned facts, the oligomers market is anticipated to grow at a CAGR of 6.2% during the forecast period from 2023-2033, According to the Fact.MR, a market research and competitive intelligence provider.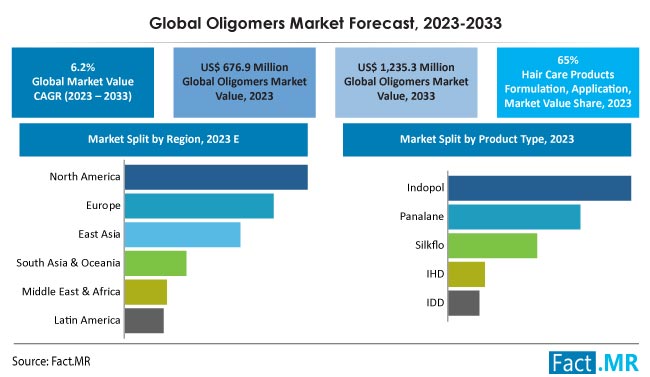 Market share analysis of oligomers based on product type and region is provided in a nutshell in the above image. Under the product type segment, the Indopol sub-segment dominates with a 38.8% market share in 2023.
Market Dynamics Outlook
"Surging Demand for Personal Care Products Drives the Oligomers Market"
In the realm of skincare, haircare, and cosmetics, consumers' insatiable desire has created a vibrant ecosystem where oligomers play an indispensable role. The personal care industry is currently witnessing an unprecedented upsurge in demand, fueling the necessity for state-of-the-art formulations and groundbreaking solutions.
Oligomers, with their diverse range of properties, have become essential ingredients found in a wide array of personal care products. From creams, lotions, and serums to nail polishes, oligomers contribute to enhanced texture, stability, and control over viscosity, ensuring superior performance and efficacy.
The relentless pursuit of product innovation is the driving force behind the integration of oligomers into personal care formulations. Innovation enable the development of novel solutions based on oligomers, offering enhanced durability, flexibility, and chemical resistance.
These advancements cater to the ever-evolving needs and expectations of both consumers and manufacturers. As the demand for personal care products continues to skyrocket, it serves as a pivotal driver propelling the remarkable growth of the oligomers market.
"Cost Factor Hampering the Growth of the Oligomers Market"
Manufacturers face significant hurdles when it comes to the cost considerations associated with using oligomers in beauty and hair care formulations. Oligomers, especially those derived from natural sources or produced through intricate processes, often incur higher production costs compared to alternative ingredients available in the market.
The higher production costs of oligomers are likely to limit the availability of natural sources for certain oligomers contributing to their higher cost. Obtaining oligomers from natural sources requires specific extraction or purification processes that are labor-intensive and demand specialized equipment or expertise. Moreover, the production of oligomers through complex processes, such as chemical synthesis or enzymatic reactions, involves multiple steps, stringent quality control measures, and specialized equipment. These factors collectively contribute to increased production costs compared to simpler ingredients.
More Insights, Lesser Cost (-50% off)
Insights on import/export production,
pricing analysis, and more – Only @ Fact.MR
Country-wise Insights
What are the Factors Driving Oligomers Demand Across China?
The rapid expansion of China's industrial sector, encompassing automotive, electronics, packaging, and construction, necessitates high-performance materials with a wide range of properties. Oligomers, renowned for their versatility and their ability to enhance product performance, are in high demand to meet the evolving requirements of these industries.
The increasing emphasis on sustainable and environmentally friendly practices in China has stimulated the demand for eco-conscious materials. Oligomers derived from renewable sources or manufactured using environmentally friendly processes are well-aligned with this sustainability focus, making them highly appealing to manufacturers and consumers who prioritize ecological considerations.
Robust support provided by the Chinese government, including initiatives that promote innovations, has been instrumental in driving the demand for oligomers. The government's prioritization of advanced materials development and the promotion of high-tech industries have cultivated an enabling environment for the expansion of the oligomers market.
Based on the aforementioned factors Chinese oligomers market is likely to grow at a CAGR of 6.6% during the forecast period and create an absolute $ opportunity of US$ 41.1 million between 2023 to 2033.
Why United States' Oligomers Market is Flourishing?
The personal care industry in the United States is experiencing a surge in demand for high-quality products as consumers place a growing emphasis on personal grooming and appearance. Oligomers play a pivotal role in these formulations, enhancing the texture, stability, and performance of a wide range of products, including lotions, creams, serums, and cosmetics.
There is a notable trend towards the use of natural and sustainable ingredients in personal care products, driven by consumers' increasing awareness of environmental impact. Oligomers derived from renewable sources are in high demand as they align with these eco-conscious preferences, making them highly desirable for both manufacturers and consumers within the personal care industry.
Innovation has led to the development of groundbreaking oligomer-based solutions for personal care formulations. These innovative formulations offer exceptional properties such as improved film-forming capabilities, extended product longevity, and an enhanced sensory experience. As a result, manufacturers are integrating oligomers into their product lines to meet the ever-evolving needs and expectations of consumers, fueling the demand for these versatile ingredients.
The US oligomers market is expected to reach a valuation of US$ 200.0 million in 2023, growing at a CAGR of 6.8% during the forecast period.
Category-wise Insights
Why Indopol Oligomer is Ruling the Oligomers Market?
Indopol or polybutene polymers oligomers are known for their exceptional performance characteristics, such as high viscosity, excellent thermal stability, and good lubricating properties. These properties make them suitable for a wide range of applications, including adhesives, sealants, lubricants, and additives.
Indopol oligomers offer versatility in terms of their compatibility with different materials and formulations. They are easily blended with other polymers, resins, or additives to enhance performance or impart specific functionalities. This versatility expands their potential applications across various industries and contributes to their dominant market position.
Manufacturers have consistently delivered high-quality oligomers, establishing a brand image among customers. This has resulted in increased demand for these oligomers across diverse industries. They have implemented efficient production processes and optimized distribution networks to ensure a reliable and seamless supply of these oligomers. This reliable supply chain further amplifies the demand for indopol or polybutene polymers oligomers, strengthening their position in the market.
The Indopol segment is expected to account for a market share of 37.4% in 2023 and create an absolute $ opportunity of US$ 227.9 million during the assessment period.
How Does the Hair Care Formulation Application of Oligomers Drive the Market?
The use of oligomers in hair care product formulations has revolutionized the industry by providing numerous benefits and unlocking new possibilities. Oligomers, with their unique properties and versatility, have become essential components in creating high-performance hair care products. One significant application of oligomers is their ability to enhance hair conditioning. They possess exceptional moisturizing and smoothing properties, which help to nourish and soften the hair, resulting in improved texture, manageability, and overall appearance.
Oligomers also contribute to the stability and longevity of hair care formulations. They act as film-forming agents, creating a protective layer on the hair surface that helps to seal in moisture, reduce frizz, and enhance styling hold. This film-forming property not only improves the efficacy of hair care products but also promotes long-lasting results, ensuring that hairstyles remain intact for extended periods.
The utilization of oligomers in hair care formulations allows for customization and innovation. Oligomers can be tailored to specific requirements, enabling the formulation of products with targeted benefits for various hair types and concerns. This customization potential fosters product differentiation and enables manufacturers to meet the diverse demands of consumers, thereby driving market growth.
Know thy Competitors
Competitive landscape highlights only certain players
Complete list available upon request
Eminent Player's Key Stratagems
Eminent oligomers manufacturers are INEOS, BASF SE, Braskem, Croda International Plc, Daelim Industrial Co. Ltd, Elementis, Haltermann Carless, LANXESS, Maruzen Petrochemical, Mitsui Chemicals, Inc, NOF Corporation, SOPHIM, The Innovative Company, Universal Preserv-A-Chem Inc and Vantage Specialty Chemicals.
Companies are actively pursuing partnerships and collaborations with cosmetic formulators and manufacturers to collaboratively devise customized oligomeric solutions that align with the specific demands of hair care and beauty products. These alliances enable the seamless integration of oligomers into formulations, amplifying product effectiveness, aesthetic appeal, and sustainability.
Through the implementation of these growth strategies, companies aim to achieve a competitive edge, augment their market presence, and solidify their role as leading providers of oligomers for hair care and beauty formulations.
Fact.MR has provided detailed information about the price points of key manufacturers of oligomers positioned across regions, sales growth, and production capacity, in the recently published report.
Segmentation of Oligomers Industry Research
By Product Type :

IDD
IHD
Silkflo
Indopol
Panalane

By Application :

Hair Care Products Formulation
Other Beauty Products Formulation

By Region :

North America
Latin America
Europe
East Asia
South Asia & Oceania
Middle East & Africa
- FAQs -
The global oligomers market was valued at US$ 598.7 Million in 2022.
The regions included in the oligomers market study include North America, Latin America, Middle East & Africa, South Asia & Oceania, East Asia, and Europe.
Prominent players in the market are INEOS, BASF SE, Braskem, Croda International Plc, Daelim Industrial Co. Ltd, Elementis, Haltermann Carless, LANXESS, Maruzen Petrochemical, Mitsui Chemicals, Inc, NOF Corporation, SOPHIM, The Innovative Company, Univers
The market is expected to reach a valuation of US$ 1,235.3 million in 2033.
The historic growth rate of the oligomers market was 3.7% from 2018-2022.