Paresthesia Treatment Market
Paresthesia Treatment Market Analysis by Type (Acute Paresthesia, Chronic Paresthesia), By Treatment (Immunosuppressant, Anticonvulsants, Tropical Creams, Antivirals), End User (Hospitals, Clinics, Diagnosis Centers) and By Region – Global Market Insights 2023 to 2033
Analysis of Paresthesia Treatment Market Covering 30+ Countries Including Analysis of US, Canada, UK, Germany, France, Nordics, GCC countries, Japan, Korea and many more
Paresthesia Treatment Market Outlook (2023 to 2033)
The global paresthesia treatment market is valued at US$ 5.18 billion in 2023 and is projected to expand at a CAGR of 3.5% to reach US$ 7.3 billion by 2033-end.
Paresthesia is a neurological disease that establishes as a skin-crawling feeling or pins-and-needles. The illness is characterized by an atypical and spontaneous feeling in which the sufferer feels tingling, burning, prickling, or numbness. It affects other regions of the body as well as the toes, fingers, hands, and feet.
One of the primary factors driving the growth of the paresthesia treatment market is the prevalence of paresthesia among the global population. Rising prevalence of diabetes, cancer, and other chronic diseases, as well as the increased demand for pharmaceuticals used to treat the disorder's repercussions, are driving market expansion.
Urbanization, an increase in healthcare expenditure, expanding healthcare infrastructure, and an increase in population influence the paresthesia treatment industry. Chronic paresthesia is frequently an indication of a neurological disorder or traumatic nerve injury. Paresthesia can be caused by central nervous system illnesses such as stroke and transient ischemic episodes (mini-strokes) and multiple sclerosis (MS).
Peripheral neuropathy occurs when nerves outside of the brain and spinal cord (peripheral nerves) are injured. This illness frequently produces weakness, numbness, and pain in the hands and feet. It can also have an impact on other areas and activities of the body, such as digestion and urination. Combination electro-analgesia therapy (CET) is a unique and effective treatment for neuropathy in the legs and feet, demonstrating remarkable success in alleviating pain and discomfort, reversing numbness, and restoring sensation. It also enhances acuity, balance, and strength in the hands and feet.
The cause of paresthesia after dental surgery is still unknown. Dental paresthesia may be caused by anatomical differences in the position of the lingual and inferior alveolar nerves, as well as variable branches of the nerve or the presence of several mandibular canals. Finger paresthesia may be a sign of a more serious disease.
Chronic paresthesia is often an indication of a neurological disorder or traumatic nerve injury. Nerve paresthesia can be caused by central nervous system illnesses such as stroke and transient ischemic episodes (mini-strokes). Plasmapheresis is the separation of the liquid element of the blood, or plasma, from the blood cells. Typically, the plasma is replaced with a different solution, such as saline or albumin, or it is treated and then returned to your body.
Report Attributes
Details

Paresthesia Treatment Market Size (2022)

US$ 5 Billion

Estimated Market Value (2023)

US$ 5.18 Billion

Forecasted Market Value (2033)

US$ 7.3 Billion

Global Market Growth Rate (2023 to 2033)

3.5% CAGR

Acute Paresthesia Segment Growth Rate (2023 to 2033)

4.7% CAGR

Asia Pacific Market Growth Rate (2023 to 2033)

4.9% CAGR

Antivirals Treatment Segment Growth Rate (2023 to 2033)

4.4% CAGR

Key Regional Market

North America

Key Companies Profiled

Boston Scientific Corporation
Baxter International Inc.
Glenmark
Omron Healthcare, Inc.
GlaxoSmithKline plc.
Stimwave LLC
Pfizer
Stryker Corp.
AbbVie Inc.
Why is the Need for Paresthesia Therapy Consistently Increasing?
"Rising Prevalence of Neurological Illnesses Driving Paresthesia Treatment Demand"
Rising prevalence of neurological illnesses such as multiple sclerosis, diabetic neuropathy, and carpal tunnel syndrome is fueling the paresthesia therapy market. Carpal tunnel syndrome, produced by a compressed or pinched median nerve, is the most prevalent cause of paresthesia. The aging population is more prone to acquiring paresthesia and other neurological problems and is expected to boost the market throughout the estimated period.
Advancements in medical equipment such as transcutaneous electrical nerve stimulation (TENS) devices and ultrasound is driving the demand for paresthesia therapy. Growing knowledge of paresthesia and the availability of effective treatment options, as well as governments around the world investing in healthcare infrastructure and initiating awareness campaigns, are contributing to market growth.
"Growing Focus on Nerve Regeneration & Repair and Combination Therapies"
Research in the field of neuroregeneration is expected to lead to the development of innovative therapies aimed at promoting nerve repair and regeneration. These treatments could have shown the potential in restoring nerve function in cases of paresthesia caused by nerve damage.
Combining different treatment modalities are being explored to optimize outcomes for patients with complex or chronic paresthesia. For instance, a combination of medication, physical therapy, and electrical stimulation is used to address multiple aspects of the condition simultaneously.
With improved medical knowledge and awareness among healthcare professionals, the diagnosis of paresthesia cases has grown. Early diagnosis is crucial for timely treatment and improved patient outcomes.
Don't Need a Global Report?
save 40%! on Country & Region specific reports
What are the Main Factors Hindering the Demand Growth for Paresthesia Treatment?
"Limited Treatment Options, Side Effects of Therapies, and High Treatment Cost"
Despite advancements in medical technology, treatment options available for certain types of paresthesia or cases with complex underlying causes are limited. Lack of effective treatment options can restrict market growth.
Some medications or therapies used to treat paresthesia may have side effects, which limits their widespread adoption. Patients and healthcare providers are hesitant to use certain treatments due to potential adverse reactions.
Advanced treatment options or medical devices used in paresthesia therapy are costly, making them less accessible to patients without adequate healthcare coverage or financial resources.
"Lack of Awareness about Benefits of Paresthesia Treatment, Delays in Therapy Approval, and Reimbursement Challenges"
Accurate diagnosis of paresthesia can be difficult, particularly when it is associated with underlying conditions that share similar symptoms. Lack of awareness or misdiagnosis results in treatment delays or ineffective management.
Extensive research, clinical trials, and regulatory processes required for developing and approving new therapies and medical devices can cause delays in introducing innovative treatments to the market. Reimbursement policies and coverage limitations by healthcare players can hinder patients' access to specific paresthesia treatments, potentially impacting the demand for such therapies.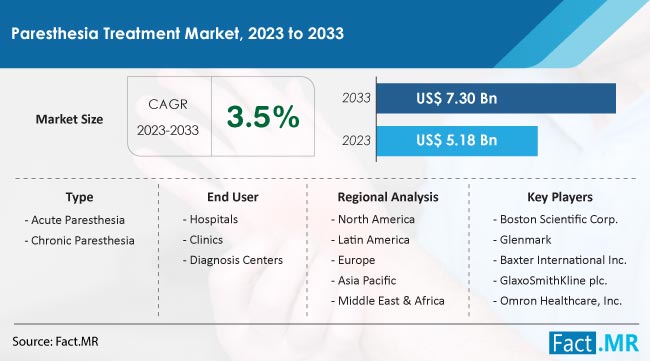 Country-wise Insights
Why is the United States a Key Market for Paresthesia Treatment Product Manufacturers?
"High Prevalence of Neurological Disorders and Well-developed Healthcare Infrastructure"
The United States has a significant prevalence of neurological conditions, such as diabetic neuropathy, carpal tunnel syndrome, and multiple sclerosis. These conditions often lead to paresthesia, contributing to the demand for effective treatment options. The United States is at the forefront of medical research and technological advancements, which have led to the development of innovative treatment modalities for paresthesia. These include advanced medical devices like TENS machines, nerve stimulators, and other neurostimulation technologies.
The aging population in the country is more susceptible to neurological problems and conditions that can cause paresthesia. As the population ages, demand for paresthesia treatment is expected to increase. The United States has a well-developed healthcare infrastructure, including hospitals, clinics, and rehabilitation centers, where patients can access various treatment options for paresthesia.
What is the Current State of Demand for Paresthesia Treatment in Germany?
"Well-established Healthcare Reimbursement System Enhancing Patients' Access to Paresthesia Treatment"
Ongoing research and clinical trials in Germany have been exploring new treatment approaches for paresthesia, potentially leading to the introduction of innovative therapies in the market. The German regulatory authorities, such as the Federal Institute for Drugs and Medical Devices (BfArM), play a vital role in ensuring the safety and efficacy of medical devices and medications used in paresthesia treatment.
Germany has a well-established healthcare reimbursement system, which may positively impact patients' access to certain paresthesia treatments, making them more accessible and affordable. Growing awareness of neurological disorders, including paresthesia, among both healthcare professionals and the general public has led to improved diagnosis rates and timely treatment initiation.
More Insights, Lesser Cost (-50% off)
Insights on import/export production,
pricing analysis, and more – Only @ Fact.MR
Category-wise Insights
Why Does Chronic Paresthesia Treatment Account for High Revenue Generation?
"Medications, Physical Therapy, and Lifestyle Changes with Chronic Paresthesia"
Chronic paresthesia is a medical condition characterized by prolonged or recurring sensations of tingling, numbness, burning, or pins and needles in a specific body part or throughout the body. Unlike transient paresthesia, which is a temporary and often harmless condition, chronic paresthesia persists for an extended period, typically lasting weeks, months, or even longer.
Primary symptoms of chronic paresthesia include sensations of tingling, numbness, burning, crawling, or pins-and-needles that persist or recur over an extended period. These sensations can affect different parts of the body, such as the hands, feet, arms, legs, or the entire body. Treatment of chronic paresthesia depends on the underlying cause and severity of the condition. It is essential to diagnose and address the root cause to manage the symptoms effectively.
Depending on the cause, medications such as pain relievers, anticonvulsants, or nerve pain medications can be prescribed to alleviate symptoms. Physical therapy may be recommended to improve nerve function, strengthen muscles, and reduce pressure on affected nerves. Making lifestyle changes, such as quitting smoking, reducing alcohol consumption, and managing chronic conditions, can help improve symptoms.
Why are Anticonvulsants Extensively Used in Paresthesia Treatment?
"High Efficacy of Anticonvulsants in Treating Paresthesia and Neuropathic Pain"
Anticonvulsants, also known as antiepileptic drugs (AEDs), have been used in the treatment of various neurological conditions, including paresthesia. While anticonvulsants are primarily used to manage epileptic seizures, they have also shown efficacy in treating certain neuropathic pain conditions, including paresthesia caused by nerve damage or dysfunction.
In the context of paresthesia, anticonvulsants can help modulate nerve signaling, reducing the abnormal sensations of tingling, burning, and numbness associated with nerve dysfunction. Anticonvulsants work by stabilizing overactive nerve cells and inhibiting abnormal electrical activity in the brain. Anticonvulsants may be prescribed in cases of chronic paresthesia caused by nerve damage or conditions such as diabetic neuropathy, postherpetic neuralgia, or radiculopathy.
Competitive Landscape
Several companies are providing devices for the treatment of paresthesia. These devices include TENS machines, nerve stimulators, or implantable neurostimulation devices. Key players in this space include Medtronic, Boston Scientific, Abbott Laboratories, and Nevro Corporation.
Biotechnology companies play a role in developing advanced therapies aimed at nerve regeneration and repair. Their research and product offerings provide potential solutions for paresthesia caused by nerve damage.
In 2021, Medtronic was an active player in the paresthesia treatment market, offering medical devices like spinal cord stimulators and peripheral nerve stimulators for chronic pain and paresthesia treatment. The company served 72 million patients globally and invested US$ 2.5 billion in research and development.
Know thy Competitors
Competitive landscape highlights only certain players
Complete list available upon request
Key Segments of Paresthesia Treatment Industry Research
By Type :

Acute Paresthesia
Chronic Paresthesia

By Treatment :

Immunosuppressants
Anticonvulsants
Topical Creams
Antivirals

By End User :

Hospitals
Clinics
Diagnosis Centers

By Region :

North America
Latin America
Europe
Asia Pacific
Middle East & Africa
- FAQs -
The global paresthesia treatment market stands at a value of US$ 5.18 billion in 2023.
Worldwide demand for paresthesia treatment is set to increase at a CAGR of 3.5% from 2023 to 2033.
Global revenue from paresthesia treatment is set to reach US$ 7.3 billion by 2033.
Glenmark, GlaxoSmithKline, and Baxter International are prominent paresthesia treatment providers.
North America accounts for a leading share of the global paresthesia treatment market.