Peripheral Vascular Devices Market
Peripheral Vascular Devices Market Analysis, By Type (Angioplasty Stents, Angioplasty Balloon Catheters, EVAR Stent Grafts, Plaque Modification Devices, Others), By Indication (TAIs, AAIs, Peripheral Arterial Diseases, Arteriovenous Fistulas, Peripheral Aneurysms), By End User & Region - Global Market Insights 2023-2033
Analysis of Peripheral Vascular Devices Market Covering 30+ Countries Including Analysis of US, Canada, UK, Germany, France, Nordics, GCC countries, Japan, Korea and many more
Peripheral Vascular Devices Market Outlook (2023 to 2033)
Expanding at a CAGR of 4.5%, the global peripheral vascular devices market is projected to increase from a valuation of US$ 10.84 billion in 2023 to US$ 16.83 billion by the end of 2033.
Peripheral vascular devices are used to treat peripheral vascular diseases (PVDs), a circulation problem that develops slowly. PVD may be brought on by blood vessel spasms, blockages, or narrowing. PVDs also affect any blood arteries other than that of the heart, including the veins and lymphatic vessels. These veins supply blood to the legs and the brain, which may not be enough for them to function correctly. The legs and feet, on the other hand, are the body parts most often affected.
Another name for peripheral arterial disease is peripheral vascular disease. Surgical or minimally-invasive catheter-based procedures can be carried out using peripheral vascular devices.
Devices used to treat PVDs are angioplasty stents, angioplasty balloon catheters, endovascular aneurysm repair (EVAR) stent grafts, plaque modification devices, hemodynamic flow alteration devices, and inferior vena cava filters. Global demand for angioplasty stents is expected to rise at a CAGR of 5% from 2023 to 2033.
Sales of angioplasty stents are expected to be driven primarily by the growing prevalence of coronary artery diseases (CADs), which are brought on by a build-up of plaque in the artery and are treated with stents during percutaneous coronary interventions.
For instance, research published in February 2022 by the Heart and Stroke Foundation of Canada estimates that there are 750,000 heart failure patients in the nation and that 100,000 new cases are expected to be reported annually by 2030.
The senior population, which is defined as those who are 65 years of age and older, is more susceptible to several chronic diseases such as cardiovascular disorders (CVDs), which must be treated surgically since they can cause plaque accumulation in the arteries.
According to the Asian Pacific Observatory on Health Systems and Policies' November 2021 report, by 2050, one-fourth of the population in the Asia Pacific region will be 60 or older as a result of the region's declining fertility rate and increasing longevity, which is also anticipated to increase the burden of cardiovascular diseases and lead to a greater demand for effective and cutting-edge treatment procedures, such as the implantation of stents.
Report Attributes

Details

Peripheral Vascular Devices Market Size (2023E)

US$ 10.84 Billion

Forecasted Market Value (2033F)

US$ 16.83 Billion

Global Market Growth Rate (2023 to 2033)

4.5% CAGR

China Market Growth Rate (2023 to 2033)

4% CAGR

Japan Market Growth Rate (2023 to 2033)

4% CAGR

Germany Market Growth Rate (2023 to 2033)

3% CAGR

Canada Market Growth Rate (2023 to 2033)

3.5% CAGR

Key Companies Profiled

Abbott Laboratories
B. Braun Melsungen AG
BARD, A Becton, Dickinson Company
Biosensors International Group Ltd.
Biotronik SE & Co. KG
Boston Scientific Corporation
Cordis Corporation
iVascular S.L.U
Medtronic PLC
Terumo Corporation
What's Benefitting Providers of Peripheral Vascular Devices?
"Technological Advancements in Treatment Procedures"
Currently, endovascular minimally-invasive techniques such as angioplasty or atherectomy, to maximize arterial opening size, are used more commonly than bypass surgeries as the first line of PAD treatment. The two main endovascular treatments for peripheral arterial disease are atherectomy and balloon angioplasty with stenting. Severe PAD patients may benefit from vascular surgeries or endovascular therapies.
The most serious type of peripheral vascular disease (PAD), critical limb ischemia (CLI), affects a sizable portion of the global population. Endovascular therapies are being accepted as the first treatment option.
The results of endovascular therapy have greatly improved over time. The adventitial delivery of anti-restenosis medications, paclitaxel-eluting stents, percutaneous femoral popliteal bypass, intravascular lithotripsy, and other novel methods are currently being developed.
The rapidly growing rate of the population is increasing the demand for healthcare services. Cardiovascular diseases mostly affect the elderly population, which is anticipated to increase the demand for peripheral vascular devices for treatment purposes. Also, several technological developments are having a positive influence on the sales of peripheral vascular devices.
"Rising Prevalence of Peripheral Artery Diseases"
A minimally-invasive procedure called peripheral artery revascularization can improve blood flow while causing less discomfort, scarring, and recovery time. Peripheral artery disease is caused due to the rising incidence of lifestyle disorders including obesity and diabetes linked to high cholesterol levels, which in turn has a positive influence on the development of peripheral arterial revascularization devices.
The main drivers of peripheral artery revascularization device sales are rising awareness of new treatment options and respective government attempts to enhance the healthcare sector. The demand for peripheral artery revascularization devices may see significant growth due to the use of new technologies and innovative vascularization methods.
According to the American Heart Association's 2021 report, peripheral artery disease, which affects more than 200 million individuals worldwide, is linked to high mortality and morbidity.
The rapidly ageing world population is leading to increasing PAD cases in the coming years.
According to a study published by the American Heart Association in August 2021 and named 'Lower Extremity Peripheral Artery Disease: Contemporary Epidemiology, Management Gaps, and Future Directions', more than 230 million people worldwide are affected by lower extremity peripheral artery disease, which is associated with an increased risk of several unfavourable clinical outcomes (including cardiovascular disorders such as stroke and coronary heart disease and limb outcomes such as amputee status).
As a result, the prevalence of PAD is growing more quickly, which ultimately is boosting the market for peripheral vascular devices.
"Growing Demand for Advanced Peripheral Vascular Stents"
Stents were initially developed as metal alloy tubes that could be placed intraluminally. Recently, stents have undergone several changes, including the development of coated stents, bare metal stents, and drug-eluting stents. Stents could also be balloon expandable and self-expanding. The most common materials used to make stents nowadays are cobalt chromium, stainless steel, and a combination of nickel and titanium.
Bioabsorbable stents have been made using biodegradable polymers. Thus, the rising demand for advanced peripheral vascular stent grafts is generating new opportunities in the peripheral vascular devices market.
Why Should Peripheral Vascular Device Manufacturers Focus on Pricing Trends?
"High Cost of Cutting-edge Peripheral Vascular Medical Devices"
Peripheral vascular devices market growth is constrained by issues including the recalling of devices, strict device approval regulations, and the high prices of cutting-edge devices.
Medtronic announced the FDA's Class I medical device recall in reaction to claims of traumas connected with its HawkOne system for unclogging arteries. Medtronic initiated the recollection in December 2021, affecting roughly 95,000 products that had been sold to Americans since 2018.
Furthermore, institutional settings have higher material costs for peripheral arterial devices, and the high adoption costs for these devices are hampering sales growth. Additionally, strict limitations on peripheral vascular surgical device use further may limit the market's potential growth.
There is a chance of restenosis developing following several operations involving drug-eluting balloons. The demand for peripheral vascular stents is expected to see growth restraint over the projected period, taking the aforementioned considerations into account.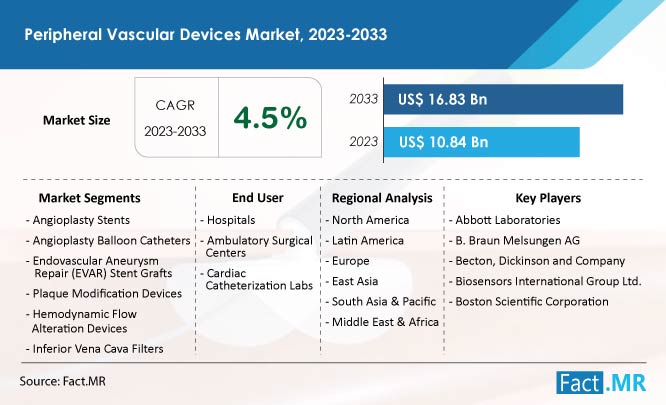 Country-wise Analysis
What is the Demand Outlook for Peripheral Vascular Intervention Treatment Procedures in the United States?
"High Prevalence of Cardiac Disorders and Presence of Leading Manufacturers of Peripheral Vascular Devices"
The North American market is predicted to be dominated by the United States due to factors such as the rising prevalence of cardiovascular diseases, the ageing population, advanced healthcare infrastructure, public awareness of available technologies, and the concentration of market players in the United States.
Heart illness is the leading cause of mortality in the United States, according to the article titled 'Heart Disease Facts' published by the Centers for Disease Control and Prevention (CDC) and released in September 2020.
The same source states that roughly 805,000 Americans experience a heart attack each year.
Since peripheral vascular devices aid in the treatment of artery blockages and stenosis, they are anticipated to develop rapidly during the forecast period. The rising incidence of fatal heart diseases generates constant demand for the effective treatment of cardiac disorders.
Siemens Healthineers introduced the next-generation ACUSON AcuNav Volume ICE Catheter in the United States in March 2022. The company asserts that by enabling patients who couldn't previously undergo structural heart procedures to receive treatment, the AcuNav Volume ICE catheter enhances the delivery of healthcare.
Thus, the introduction of next-generation devices in the nation is promoting product sales growth.
What is the Common Factor Driving the Sales of Peripheral Vascular Devices in Germany & France?
"Presence of Advanced Healthcare Systems"
Germany and France dominate the sales of peripheral vascular devices in the European region. The demand for peripheral vascular devices in Germany is expected to expand at a CAGR of 3% during the forecast period, as per industry analysis by Fact.MR, a market research and competitive intelligence provider.
The awareness of heart care, the high rate of heart diagnosis, and the presence of advanced healthcare facilities are all contributing to the market growth in Germany. For extra protection, guidewires are used during minimally-invasive cardiac surgeries. The use of cutting-edge technologies for the treatment of target disorders and favourable reimbursement initiatives are some of the major elements influencing sales of peripheral guidewires.
Since French surgeons are recognised globally for their expertise in minimally-invasive treatments, France has built training facilities for cardiovascular operations. Advancement in the medical sector and the rapidly rising medical tourism sector is boosting the France peripheral device market growth.
Which Diseases are Expected to Account for High Sales of Peripheral Vascular Devices in China & Japan?
"Increasing Cases of Diabetes & Heart-related Disorders"
The prevalence of diabetes is rising in China. Adults are at a high risk of experiencing diabetes. Diabetes aids several heart-related diseases, thus rising cases of diabetes are expected to boost the demand for peripheral vascular atherectomy devices.
Over 11% of the adult population in china experiences diabetes, according to WHO.
The same source estimates that by 2045 around 185 million people in China are going to be diabetes positive.
Japan is considered to have a high rate of senior population. More than 100 years of age individuals are recorded in Japan. The risk of cardiac disorders increases with age. Thus, the sales of peripheral vascular devices are expected to progress at a healthy pace in Japan.
According to the National Cerebral and Cardiovascular Center of Japan, there were about 1.2 million heart failure patients in Japan by December 2021.
According to World Data 2022, about 29% of Japan's population was 65 or older in 2021.
Category-wise Analysis
Why is the Prevalence of Peripheral Arterial Disease Rising across the World?
"Improper Diets and Intake of Tobacco & Alcohol"
Compared to other indications such as peripheral aneurysms, arteriovenous fistulas, etc., the prevalence of peripheral arterial disease is rising globally. As a result, the demand for peripheral arterial devices is growing at a rapid pace.
When blood flow to the arms or legs is decreased due to clogged or narrowed arteries is known as peripheral artery disease or peripheral arterial disease. Increasing urban lifestyle, high consumption of tobacco and alcohol, and lack of a healthy diet are some of the reasons for peripheral arterial disease.
Competitive Landscape
To increase and maintain their market position, key players in the peripheral vascular devices market are developing advanced devices. Mergers, acquisitions, partnerships, new developments in products, and enhancing local supply management systems are some of the marketing tactics adopted by market participants.
Abbott announced the acquisition of Walk Vascular, an LLC, manufacturer of medical devices featuring a minimally-invasive mechanical aspiration peripheral venous thrombectomy device for the removal of peripheral blood clots, in September 2021. Abbott included Walk Vascular's peripheral thrombectomy systems in its current endovascular product line. Through the partnership, Abbott expanded the scope of its peripheral vascular devices and accessories.
Cardio Flow, Inc., manufacturer of minimally-invasive peripheral vascular devices for the treatment of peripheral artery disease, announced in June 2022 that the FreedomFlow Peripheral Guidewire has received FDA approval.
Key Segments of Peripheral Vascular Devices Industry Research
By Type :

Angioplasty Stents
Angioplasty Balloon Catheters
Endovascular Aneurysm Repair (EVAR) Stent Grafts
Plaque Modification Devices
Hemodynamic Flow Alteration Devices
Inferior Vena Cava Filters

By Indication :

Target Artery Instabilities (TAIs)
Access Artery Injuries (AAIs)
Peripheral Arterial Diseases
Arteriovenous Fistulas
Peripheral Aneurysms

By End User :

Hospitals
Ambulatory Surgical Centers
Cardiac Catheterization Labs

By Region :

North America
Latin America
Europe
East Asia
South Asia & Oceania
MEA
- FAQs -
The global peripheral vascular devices market is valued at US$ 10.84 billion in 2023.
Global demand for peripheral vascular devices is predicted to reach US$ 16.83 billion by 2033.
Worldwide sales of peripheral vascular devices are expected to increase at a CAGR of 4.5% during the forecast.
North America is considered to be a leading market for peripheral vascular devices.
Abbott Laboratories, Boston Scientific Corporation, Cook Medical Inc., and B. Braun Melsungen AG are leading manufacturers of peripheral vascular devices.