Plant-based Snacks Market
Plant-based Snacks Market Analysis by Type (Meat-alternative Snacks, Grain-based Snacks, Fruit & Nut Snacks, Plant-based Snack Bars, Others), By Source (Vegetables, Fruits, Cereals, Tubers, Others), By Category (Conventional, Organic), By Region – Global Market Insights 2023 to 2033
Analysis of Plant-based Snacks Market Covering 30+ Countries Including Analysis of US, Canada, UK, Germany, France, Nordics, GCC countries, Japan, Korea and many more
Plant-based Snacks Market Outlook (2023 to 2033)
The global plant-based snacks market is valued at US$ 34.6 billion in 2023 and is projected to reach US$ 80 billion by the end of 2033, expanding rapidly at a CAGR of 8.7% from 2023 to 2033.
Plant-based snacks include items such as vegetables, tubers, cereals, and fruits that come from plants. Rising popularity of convenience foods and increasing number of vegan consumers are fueling the consumption of plant-based snacks.
The market is anticipated to grow due to an increasing focus on fitness and availability of a wide range of plant-based snack products. Non-plant-based snacks predominantly contain indigestible substances such as pectin, cellulose, resistant starch, and hemicellulose as a major component of fiber. Plant-based probiotics are considered a healthy type of bacteria beneficial for the human body.
Demand for vegetable-based snacks is growing around the world as a result of the increasing adoption of veganism. The future demand for plant-based cheese is expected to rise due to the increasing awareness of animal cruelty and growing acceptance of veganism. With the benefits of consuming vegan snacks such as immune system support, improved gut health, and reduced inflammation, more people are incorporating them into their snacking habits. This trend is contributing to the growth of the vegan snacks industry.
The veganism trend has gained enormous momentum in recent years and it is anticipated that this will have a major impact on the demand for plant-based dairy products in the future. When consumed in moderation as part of a balanced diet, vegan food is healthier than meat from animals. Key producers of vegan snacks, including Beyond Meat and Impossible Foods, have altered their business strategies to boost the market value of their products in response to the rising demand for vegan cuisines.
In March 2021, Beyond Meat, a renowned producer of plant-based foods, announced its expansion of product offerings to include Beyond Chicken Tenders, a vegan alternative to traditional chicken tenders. Made from a blend of fava beans and peas, this new product has the added benefits of being plant-based, low in saturated fat and calories, and similar in taste and texture to conventional chicken tenders. This release is a significant milestone in the plant-based snacks market, providing health-conscious and environmentally aware consumers with more sustainable snack options without sacrificing flavor or texture.
Report Attributes

Details

Market Size in 2022

US$ 31.8 Billion

Estimated Market Value (2023)

US$ 34.6 Billion

Projected Market Value (2033)

US$ 80 Billion

Global Market Growth Rate (2023 to 2033)

8.7% CAGR

North America Market Share (2023)

36%

Key Companies Profiled

Unilever Group
Nestle S.A.
Green Park Snacks
Quorn
General Mills
Maple Leaf Foods
Conagra Brands Inc.
Blue Diamonds Growers Inc.
Eat Natural
Don't Need a Global Report?
save 40%! on Country & Region specific reports
How is Rising Awareness about Health Impacting the Demand for Plant-based Snacks?
"Increasing Adoption of Veganism Driving Consumption of Plant-based Snacks"
Increasing health consciousness among consumers is boosting sales of dairy alternatives. Vegetarianism is distinct from veganism. Vegetarians abstain from poultry, seafood, and other animal products. Vegans, on the other hand, also avoid eggs, dairy, and any other animal-derived products. Veganism is often considered to be the most stringent form of vegetarianism.
As per The Vegan Society, being vegan means supporting cruelty-free products. Due to the growing trend of vegetarianism among athletes around the world, the plant-based industry is predicted to grow significantly.
According to a survey conducted by The Vegan Society and Vegan Life magazine, the number of vegans in the United Kingdom climbed by over 360% in 2019 and vegetarianism increased by 250% in Canada. According to figures from 2020, there are more than 2.3 million vegetarians and 850,000 vegans in Canada.
"Growing Awareness of Environmental Sustainability Driving Demand for Plant-based Snacks"
Rising awareness about environmental sustainability is contributing to the growth of the plant-based snacks market. Customers are looking for sustainable solutions as they become more conscious of how their food choices affect the environment. Traditional snacks that depend on animal-based ingredients are viewed as less environmentally friendly than plant-based snacks.
The production of animal-based snacks requires significant amounts of resources, including water and land, and contributes to greenhouse gas emissions. The rearing of animals for food produces large quantities of greenhouse gas emissions, particularly methane, which contributes to climate change. The production of animal-based snacks is a resource-intensive and environmentally damaging process.
Plant-based snacks generally have a smaller environmental footprint, as they require fewer resources and result in reduced emissions. This is appealing to consumers who want to make more environmentally conscious choices. Demand for plant-based snacks has increased as consumers become more concerned about the impact of food production on climate change and biodiversity loss.
More Insights, Lesser Cost (-50% off)
Insights on import/export production,
pricing analysis, and more – Only @ Fact.MR
What are the Challenges Faced by Manufacturers of Plant-based Snacks?
"Limited Availability and High Cost of Plant-based Ingredients Restricting Production of Affordable Snacks"
Compared to traditional snacks made from animal-based ingredients, plant-based protein bars often require more expensive ingredients, such as nuts, seeds, and plant-based protein snacks. The cost of these ingredients can be significantly higher than animal-based ingredients, making it challenging for manufacturers to produce plant-based snacks that are affordable for consumers.
The limited availability and high cost of plant-based ingredients can manufacturers' profitability, making it challenging for them to compete with traditional snack companies that have established supply chains and economies of scale. The higher cost of plant-based snacks can also make them less accessible to consumers with lower incomes.
"Perception of Plant-based Snacks as Being Inferior in Taste to Traditional Snacks"
Another limitation is the perception that these snacks are inferior or less tasty than traditional snacks that contain animal-based ingredients. Many consumers associate snacks with indulgence and pleasure, and some may perceive plant-based snacks as being less indulgent or flavorful than traditional snacks.
While the perception of plant-based snacks as being inferior in taste compared to traditional snacks can limit market growth, manufacturers are finding ways to address this limitation and creating products that appeal to consumers seeking both taste and nutrition.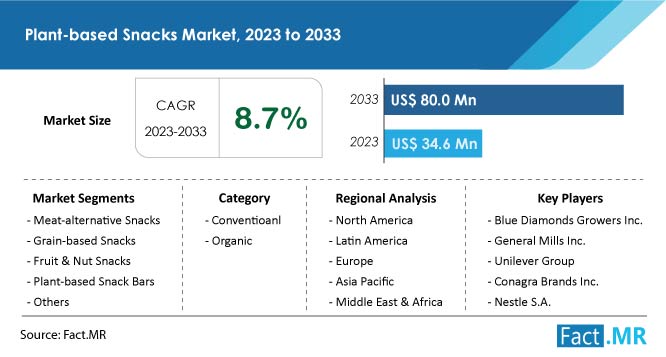 Country-wise Insights
What is the Demand Outlook for Plant-based Snacks in the United States?
"Rising Awareness about Health and Environmental Benefits of Plant-based Diets"
Demand for plant-based snacks in the United States is growing, driven by increasing preference for healthier, more sustainable snacking options. Plant-based snacks are also gaining popularity among younger consumers, including millennials and Gen Z, who are more likely to adopt plant-based diets and prioritize health and sustainability in their food choices. North America accounts for 36% of the global plant-based snacks market in 2023.
Popular plant-based snacks in the United States include plant-based chips, fruit and nut bars, trail mix, and hummus and dip products. The growing awareness of animal cruelty in the food business and its detrimental effects on the environment is prompting consumers to shift towards more sustainable options.
Overall retail sales of plant-based foods in the United States climbed by 6.2% to reach US$ 7.4 billion in 2021, according to the Plant-based Foods Association and The Good Food Institute, based on SPINS data. The growth of plant-based food sales in the United States was largely attributed to the strong consumer trend toward foods that offer great taste and health benefits.
How are Manufacturers of Snacks Benefitting in India?
"Increasing Preference for Healthy Food Items with Unique Flavors"
Due to the introduction of cutting-edge health products and growing demand for unique flavors, Asia Pacific is predicted to control a sizable portion of the global market for plant-based snacks. Consumption of healthy food is increasing, and in countries like India, there is a growing trend toward non-traditional food items. Manufacturers in this industry are thus focusing on offering fresh and innovative products to meet consumers' demands.
The market for vegan food is expanding in India due to favorable climatic conditions and easy availability of resources, as well as increasing concerns about animal welfare, restrictions on animal-based products, and growing awareness of the issues related to animal-based food items.
To boost sales, companies are ramping up their vegan food production, offering discounts on their products, opening new stores across India, and forming joint ventures with stakeholders.
For instance, Plix, a company that promotes plant-based nutrition and well-being, introduced its first-ever line of 100% plant-based snackable functional meals in India in May 2022. The company has made an entry into the market for healthy snacks with its new goods, which are ready-to-eat food without the need for any further preparations.
Know thy Competitors
Competitive landscape highlights only certain players
Complete list available upon request
Category-wise Insights
Why are Snack Bars Preferred by Many Consumers?
"Convenience and Portability of Plant-based Snack Bars Contributing to High Demand"
Sales of plant-based snack bars are anticipated to advance at a CAGR of 10.7% during the forecast period. This can be due to their several health benefits. Demand for cookies, meat-free snacks, and snack bars made from plant-based ingredients is growing significantly.
There is a growing trend towards vegan and vegetarian diets, and healthy plant-based snack bars are a convenient and accessible way for consumers to incorporate more plant-based foods into their diets. Consumers who care about sustainability and lowering their environmental footprint are drawn to them because they are frequently marketed as being beneficial for the environment.
Plant-based snack bars are convenient and portable, making them a popular option for people who are on the go or looking for a quick and easy snack between meals. Many plant-based snack bars also come in a variety of flavors, which provides consumers with a range of options to choose from.
Will the Sales of Organic Snacks Rise as Per Expectations?
"Rising Awareness about Health Implications of Consuming Artificial Ingredients Will Push Demand for Organic Snacks"
Demand for organic plant-based snacks has been growing in recent years, driven by consumer's increasing awareness about health and environmental issues. Organic plant-based snacks are made from ingredients that are free from harmful pesticides, chemicals, and genetically modified organisms, and are often marketed as a healthier and more sustainable option.
Consumers are becoming more conscious of the impact of their food choices on the environment and are seeking out plant-based snacks that are ethically sourced and produced. Many organic plant-based snacks are also free from artificial preservatives, flavors, and colors, making them a popular choice for consumers who want to avoid consuming artificial ingredients.
Competitive Landscape
A winning strategy to move ahead in the plant-based snacks market is to focus on innovation, offering a wide range of unique and flavorful products that appeal to health-conscious consumers who are looking for convenient and tasty snacking options. This can include investing in research and development to create new and exciting plant-based snack products that are both healthy and delicious.
By focusing on innovation, sustainability, and brand building, companies in the plant-based snacks market can develop a winning strategy that positions them for long-term success. Nestlé, Unilever Group, Soul Sprout, Oumph!, Quorn, and Green Park Snacks are among the top brands in the snacks industry.
Customers have widely consumed plant-based snack bars such as EPIC Provisions Rise & Grind morning-inspired bars, LARABAR Plant-based protein bars, and Nature Valley Wafer Bars introduced by General Mills in 2019.
At the Natural Products Expo West in the United States in 2019, Uptons Naturals introduced Jerk Bites made of wheat and protein. The vegan snacks are free of GMO soybean, trans fat, and cholesterol, and are a great source of protein and vitamin B12.
Plant-based Snacks Industry Segmentation
By Type :

Meat-alternative Snacks
Grain-based Snacks
Fruit & Nut Snacks
Plant-based Snack Bars
Others

By Category :

By Source :

Vegetables
Fruits
Cereals
Tubers
Others

By Region :

North America
Latin America
Europe
Asia Pacific
Middle East & Africa
- FAQs -
The global plant-based snacks market is valued at US$ 34.6 billion in 2023.
Demand for plant-based snacks is set to increase at a CAGR of 8.7% from 2023 to 2033.
Worldwide sales of plant-based snacks are estimated to reach US$ 80 billion by 2033.
Sales of organic plant-based snacks are expected to increase significantly during the forecast period.
Conagra Brands, Nestlé, and Unilever Group are leading manufacturers of plant-based snacks.