Fruit Snacks Carving a Niche as Consumption Trends Abound
The global fruit snacks market is estimated to grow at a positive CAGR of over 8.5% during the forecast period (2019-2027) and reach a valuation of over US$ 9 Bn. Fruit snacks have been largely considered a traditional segment, but over the last decade in particular, converging trends have given rise to an explosion in newer forms and variants of 'fruit snacks'. The growth of the fruit snacks market is driven by increased product innovations across the global snacking industry offering exclusive taste and focused on health amendments. The rising demand for essential vitamins and minerals to boost immunity along with improved demand for fiber-enriched products will propel the fruits snacks market to greater heights. Changing customer tastes & preferences, ease of availability of exotic fruits and increased production underpinned by favorable trade policies would lead to the expansion of the market. A growing number of government initiatives are adding to consumer awareness and preferences when it comes to fostering sales of fruit snacks globally. Spurred by the increasing prevalence of epidemics related to obesity, many government organizations have begun promoting healthy living habits and urging people to rethink their dietary strategies.
Ecommerce Segment to Witness Flourishing Sales on Back of Sophisticated Logistics
The short turnaround time to market and the quick flow of products within the company is what sets the fruit snacks industry apart through the e-commerce industry. Despite complex logistics processes and increasingly demanding consumers, the e-commerce segment amongst other sales channels will be the most lucrative with a CAGR growth rate of around 12% over the long-term forecast period. Customers across the entire e-commerce market are constantly seeking faster delivery. Big tech companies such as Amazon and Google are even beginning to offer delivery the same day to meet ever-increasing customer expectations.
Sweets & Savories to Witness High Growth Prospects Due to Differentiating Product Forms
The segment of sweet and savory accounted for over 37% of global demand for fruit snacks in 2018. Premium taste and affordability of products, are among the key factors that contribute to segmental growth. Several savory and sweet snacks are offered in different forms such as extruded strings, freeze-dried and trail mixes, thus fueling the growth of the category. Increasing demand for high nutrient content, fat and gluten free fruit snacks is also likely to escalate the expansion of the market.
Demand for Fruit Snacks in North America Heightens, with Focus on R&D
The region of North America is expected to have the largest market share. Health-focused food habits among millennia will drive the growth of the global fruit snacks market. In addition, leading manufacturers that are delivering product development coupled with technological intervention, cold chain networking, and well-established distribution channel management in countries such as Canada and the United States are establishing their foothold in these regions. In addition, increasing awareness about nutritional content and key players' R&D spending will fuel the global fruit snacks Market.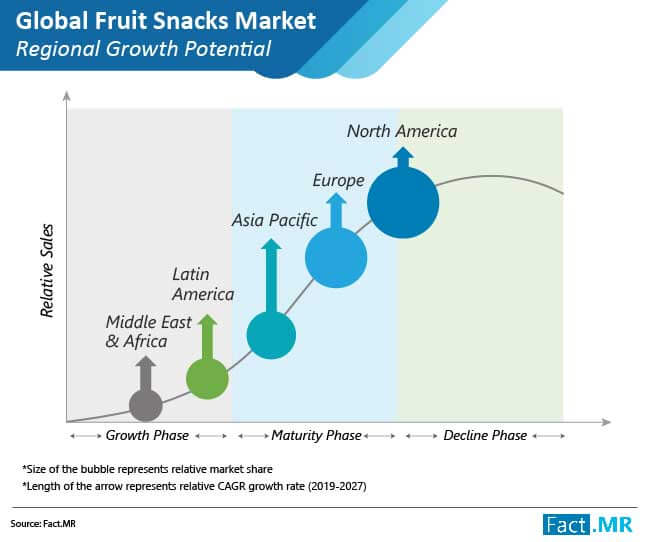 For exclusive regional insights on the fruit snacks market, ask an analyst here
Fragmented Market Structure with Continuous Investments to Create Prolific Snacking Platforms
The global fruit snacks market is fragmented in nature with a large number of internationally operating competitors such as General Mills Inc., Welch Foods, Kellogg Co. and SunOpta acquiring top shares. In 2019, The Ferrero Group acquired the fruit snacks business segment from Kellogg Co. with a US$ 1.3 Bn deal. With this acquisition, the company looks forward to strengthening its position in the North American market.
A variety of other value chain companies concentrate on improving the flavor and texture of end products to strengthen their position in the global fruit snacks market. The players are seen resorting to competitive pricing to overcome competition in such a crowded space. We also see their marketing strategy improving and concentrating on consistency and creativity. All of these factors are thought to improve the global market for fruit snacks.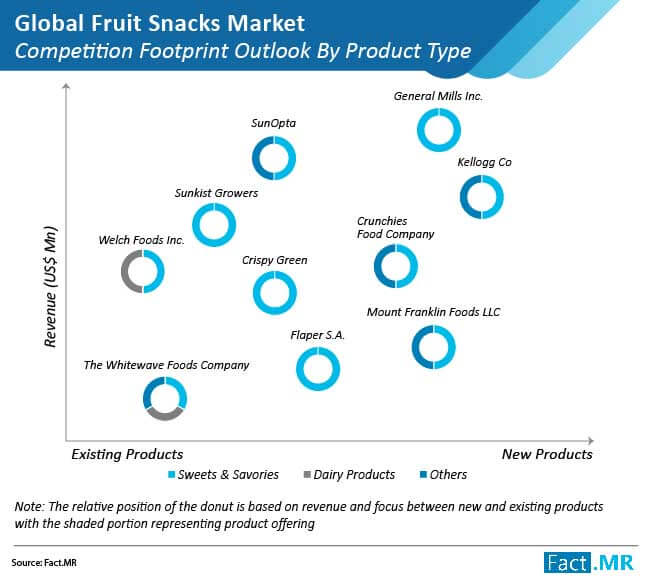 To know more about the competitive landscape of the fruit snacks market, request for a report sample here
Global Fruit Snacks Market - Scope of the Report
The following report provides forecast and analysis of the global fruit snacks market along with the historical data of 2013, estimated data 2019 and forecast data up to 2027 in terms of revenue (US$ Mn), according to a Fact.MR study. The research propounds critical trends that are currently influencing growth within the global fruit snacks market along with several macro-economic indicators. This newly published and insightful report on fruit snacks sheds light on key dynamics, and their impact on the overall value chain from suppliers to end-users, which are expected to transform the future of the global fruit snacks market.
The report also comprises the study of current issues with end users and opportunities for fruit snacks. It also contains value chain analysis, including the key market participants. To provide users of this report with a comprehensive view of the market, we have included a detailed competitive analysis about the key players involved in the market and strategic overviews. The dashboard included in the report provides a detailed comparison of fruit snacks manufacturers on parameters such as total revenue, product offerings, and key strategies. A list of key companies operating in the fruit snacks market provided in the report adds to the credibility of this exhaustive research study.
Global fruit snacks Market: In-Depth Assessment on Key Segments
The global fruit snacks market is segmented on the basis of nature, product type, distribution channel and region.
| | | | |
| --- | --- | --- | --- |
| Nature | Product Type | Distribution Channel | Region |
| Organic | Sweets & Savories | Modern Trade | North America |
| Conventional | Freeze Dried | Specialty Stores | Latin America |
| | Extruded Strips | Convenience Stores | Europe |
| | Others | Online Stores | APAC |
| | Dairy Products | Departmental Stores / Mom & Pop Stores | MEA |
| | Beverages | Drug Stores & Pharmacies | |
| | | Travel Retails | |
This taxonomy and the detailed toc prepared are confidential and intended exclusively for the individual or entity with whom it is being shared. Reading, disseminating, distributing, or copying this to any party other than addressee(s) is unauthorized and prohibited.
Country-specific assessment on demand for fruit snacks has been provided for each regional market, along with the market size valuation and forecast price point assessment, price index and impact analysis of key regional and country-wise dynamics, which were obtained through quotes from numerous fruit snacks manufacturers, experts, and suppliers. Y-o-Y growth projections have also been offered on all regional markets incorporated in the report. Moreover, future trends, growth prospects, and other possibilities related to the market have been answered in the report.
The report provides company-level market share analysis, which has been derived on the basis of the company's annual sales and segmental revenue in all the target end-use industries. The market has been forecasted based on constant currency rates. The report provides detailed competitive and company profiles of key participants operating in the global market. Some of the major competitors operating in the fruit snacks market are Welch Foods Inc., General Mills Inc., Kellogg Co, SunOpta and others.
Global Fruit Snacks Market: Research Methodology
A number of primary and secondary sources were consulted during the course of the study. Secondary sources include Factiva, Morningstar and Hoovers, and company annual reports and publications. Comprehensive interviews have been conducted by our analysts, and the intelligence and insights obtained have been used for validating the information gained through secondary research. The report also includes a description of assumptions and acronyms utilized for research purposes. Data gathered has been validated using the triangulation method to offer useful quantitative and qualitative insights into the fruit snacks market.
A short market viewpoint offered in the report elucidates the macro-economic aspects that influence the growth of the fruit snacks market, which includes global GDP growth rate, various industries growth rate, such as the food & beverages and food processing industry. This report serves as an authentic resource of intelligence on the fruit snacks market, enabling the readers to take fact-based decisions on the future direction of their businesses.
Fact.MR offers custom research services that help clients to get specific research solutions
We are committed towards customer satisfaction and quality service.
---
Our Clients

Fruit Snacks Market Forecast, Trend Analysis & Competition Tracking - Global Market Insights 2019 to 2027