Potassium Cyanide Market
Potassium Cyanide Market Analysis By Form (Solid, Liquid, Granular), By Grade (High Purity Grade, Technical Grade), By Application (Fumigation, Electroplating, Gold/Silver Mining, Chemical Synthesis, Pharmaceuticals) & By Region - Global Market Report 2023 to 2033
Analysis of Potassium Cyanide Market Covering 30+ Countries Including Analysis of US, Canada, UK, Germany, France, Nordics, GCC countries, Japan, Korea and many more
Potassium Cyanide Market Overview (2023 to 2033)
The global potassium cyanide market size was valued at US$ 49.3 Billion in 2023, and is estimated to reach US$ 70.9 Billion by 2033, with a projected compound annual growth rate (CAGR) of 3.7% during the forecast period from 2023 to 2033.
Potassium cyanide is a highly toxic chemical compound with the formula KCN. It is a crystalline, colorless, and water-soluble solid that is known for its extreme toxicity. Potassium and sodium cyanide are often used in various industrial applications such as fumigation, electroplating, gold/silver mining, chemical synthesis, pharmaceuticals, and more.
KCN is widely used in the mining industry to extract gold and other precious metals from ore. It forms a soluble complex with gold, allowing for efficient separation and recovery of the metal. Solid, liquid, and granular are some of the forms of potassium cyanide. The demand for different forms of potassium cyanide (KCN) - solid, liquid, and granular, can vary based on specific applications, industries, and operational preferences.
Solid potassium cyanide is typically available in the form of white crystalline powder or small pellets. Solid KCN is commonly used in gold mining and chemical manufacturing processes. It is relatively easy to handle, store, and transport in this form. Miners may prefer it for its convenience and stability.
Liquid potassium cyanide is a concentrated solution of potassium cyanide in water. Liquid KCN is often preferred in certain electroplating applications, where it can be easier to control the concentration and application of the chemical. It may also be used in laboratory settings for specific reactions requiring precise dosing.
Granular potassium cyanide consists of larger, granulated particles compared to the fine powder of solid KCN. Granular KCN is sometimes used in specific applications where a slower release of cyanide is desired, such as in the treatment of wastewater or soil remediation. The granular form may also offer advantages in terms of ease of handling.
Safely handling KCN is of paramount importance. Solid and granular forms are easier to control and transport safely, which can influence their demand in industries with stringent safety regulations. Certain applications may benefit from the characteristics of one form over another. For instance, granular KCN may be preferred when gradual release or mixing with other materials is required.
Report Attributes
Details
Potassium Cyanide Market Size (2023E)
US$ 49.3 Billion
Forecasted Market Value (2033F)
US$ 70.9 Billion
Global Market Growth Rate (2023 to 2033)
3.7% CAGR
Leading Regional Market
Asia Pacific
Key Companies Profiled

Evonik Industries AG
Anhui Anqing Shuguang Chemical Co. Ltd.
Hebei Chengxin Group Co. Ltd.
Nippon-Soda Co. Ltd.
Hindusthan Chemicals Co.
Hydrite Chemical Co.
Don't Need a Global Report?
save 40%! on Country & Region specific reports
Which Market Dynamics are Predicted to Offer Opportunities for Potassium Cyanide Solution Providers?
"Growing Use of Potassium Cyanide in Chemical and Pharmaceutical Production"
Potassium cyanide (KCN) plays a crucial role in the chemical and pharmaceutical sectors due to its unique chemical properties and reactivity. Its versatile applications within these industries are driving the potassium cyanide market growth.
KCN is utilized in pharmaceutical manufacturing for several purposes. It can be employed as a reagent in the synthesis of various pharmaceutical compounds. Additionally, it is utilized in the production of specific drugs, especially those that involve complex organic chemistry processes. The growing global demand for pharmaceutical products is increasing the usage of KCN in drug synthesis and manufacturing.
Potassium cyanide also serves as a valuable intermediate in the production of a wide range of chemical compounds. It is used in the synthesis of nitriles, which are essential building blocks for various chemicals, including plastics, polymers, and solvents. As the chemical industry expands to meet the demands of various consumer and industrial applications, the demand for KCN as an intermediate chemical is predicted to grow.
"Continuous Innovations to Introduce Safer and More Efficient Potassium Cyanide Products"
Development of safer and more efficient potassium cyanide products and services is reshaping the industry and creating a host of opportunities for manufacturers. Innovations in the design and manufacturing of storage containers and handling equipment are improving safety in the transportation and storage of potassium cyanide. These advancements reduce the risk of accidents and exposure, making it safer for workers and the environment.
With advancements in technology and training, companies are implementing more robust safety protocols for employees handling potassium cyanide. These protocols incorporate state-of-the-art personal protective equipment (PPE), real-time monitoring, and emergency response systems to minimize risks.
Companies that develop and market safer and more sustainable cyanide products and technologies can diversify their customer base beyond traditional mining and chemical industries. New applications in water treatment, soil remediation, and other emerging fields offer avenues for growth.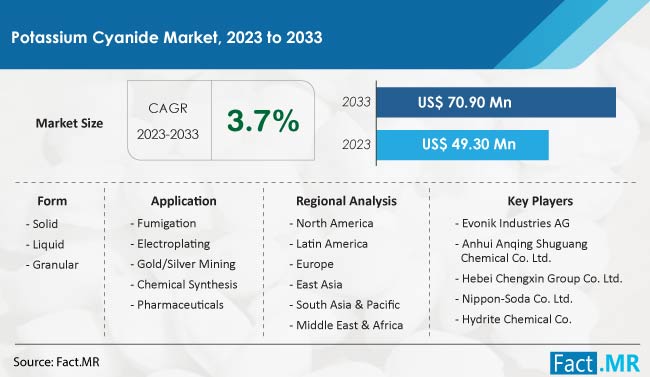 Why is Potassium Cyanide Production and Transportation Challenging for Manufacturers?
"Complex Compliance Requirements across Regions"
The regulatory landscape surrounding potassium cyanide is complex and constantly evolving. Compliance requires a deep understanding of local, national, and international regulations, which can vary significantly. Navigating this complex regulatory environment can be a time-consuming and resource-intensive process for potassium cyanide producers, often necessitating the employment of specialized regulatory experts and legal advisors.
"High Compliance Costs"
Meeting stringent regulations incurs substantial costs for the industry. Companies are required to invest in safety measures, infrastructure improvements, and compliance monitoring, which can strain budgets. Compliance with environmental and safety standards may also necessitate ongoing investments in research, technology, and training to remain up-to-date with best practices.
"Transportation Challenges"
Transporting potassium cyanide is subject to strict regulations, including packaging, labeling, and documentation requirements. Transportation companies involved in the shipping of hazardous materials such as KCN must comply with a complex set of rules and safety measures, which can result in high transportation costs and potential delays.
More Insights, Lesser Cost (-50% off)
Insights on import/export production,
pricing analysis, and more – Only @ Fact.MR
How Can New Companies Make a Mark in This Competitive Space?
"Partnerships, Diversification of Services, and Niche Marketing"
Collaborating with established industry players or research institutions can provide valuable knowledge, resources, and credibility. Strategic partnerships can help new firms access expertise, distribution channels, and customer networks, accelerating market entry.
Beyond supplying potassium cyanide, newcomers can diversify their services by offering consulting, training, or safety equipment. Providing comprehensive solutions that address the safety concerns of the industry can attract clients seeking end-to-end support.
Conducting thorough market research also helps new entrants identify niche opportunities within the market. By focusing on specific applications or regions with unmet needs, they can establish themselves as specialists in those areas.
Country-wise Analysis
Japan, the United States, and Germany are the top markets for potassium cyanide suppliers. As per this analysis by Fact.MR, a market research and competitive intelligence provider, potassium cyanide sales in these countries are driven by a combination of factors, including industry-specific demands, environmental regulations, research and innovation, and a commitment to safety standards.
Will Japan Be a Rewarding Market for Potassium Cyanide Suppliers?
"Robust Electronics Industry Makes High Use of Potassium Cyanide"
Japan is known for its robust electronics industry, which heavily relies on potassium cyanide for electroplating processes. With the increasing demand for electronic components in consumer electronics and automotive sectors, potassium cyanide sales in Japan are predicted to increase in the coming 10 years.
Japan has stringent environmental regulations that encourage companies to adopt cleaner and safer practices. This has driven innovation in cyanide usage, leading to the development of more environmentally friendly processes, which is contributing to potassium cyanide market growth.
Why is Potassium Cyanide Demand Increasing in the United States?
"Major Application of Potassium Cyanide in Gold Mining Activities"
The United States has a thriving gold mining sector, particularly in Nevada and Alaska. Potassium cyanide is indispensable for extracting gold from ores, making it a key driver of market growth in the country.
The United States companies are investing heavily in research and innovations to improve cyanide safety, efficiency, and sustainability. These efforts contribute to potassium cyanide sales growth by catering to the evolving needs of industries and regulatory requirements.
What is Increasing Potassium Cyanide Consumption in Germany?
"Strict Safety Standards in Chemical and Pharma Companies"
Germany is home to major chemical and pharmaceutical companies. Potassium cyanide is a valuable intermediate in chemical synthesis, driving demand in these industries as they expand to meet global needs.
German companies emphasize safety standards and protocols when handling hazardous chemicals such as potassium cyanide. These stringent safety measures maintain industry credibility and contribute to potassium cyanide product sales.
Know thy Competitors
Competitive landscape highlights only certain players
Complete list available upon request
Category-wise Analysis
Potassium cyanide is finding its electroplating application in various metals other than gold and silver. Potassium cyanide is majorly used in the plating of electronics, watches, and decorating jewelry.
Why is Potassium Cyanide Gaining Importance in Electroplating?
"Excellent Solubility and Compatibility Features of Potassium Cyanide Enhancing Electroplating Process"
Potassium cyanide (KCN) is majorly used in electroplating due to its unique chemical properties. Electroplating is a process where a metal coating is applied to the surface of an object using an electric current, and KCN serves several critical roles in this process.
KCN is highly soluble in water, which is a crucial characteristic for creating a plating solution. When KCN is dissolved in water, it forms a stable, clear, and conductive electrolyte solution, allowing for efficient metal deposition during electroplating. In electroplating, maintaining the purity of the plating solution is vital to achieve uniform and high-quality coatings. KCN is typically manufactured to high purity standards, ensuring minimal impurities that could interfere with the plating process.
Potassium cyanide is compatible with a wide range of metals and alloys, making it suitable for various electroplating applications. It is commonly used for plating precious metals such as gold and silver but can also be used for other metals including copper, nickel, and zinc. Due to these essential properties, potassium cyanide has been a preferred choice in electroplating for many years.
Competitive Landscape
Key players in the potassium cyanide market are adopting various marketing strategies to increase their earnings and maintain a competitive edge. Product differentiation, branding, sustainability, partnerships, online presence, research, and global expansion are some of the tactics employed by key potassium cyanide producers.
In July 2021: Thatcher Company of California, Inc. and Hydrite Chemical Co. revealed the establishment of a fresh joint venture known as Sacramento Ag Products, LLC. This joint venture specializes in the production of thiosulfate chemistries tailored for the West Coast marketplace, as well as bisulfites designed for industrial applications. Both Hydrite and Thatcher are prominent manufacturers of sulfur and potassium derivatives within the United States.
Key Segments of Potassium Cyanide Market Research
By Form :

By Grade :

High Purity Grade
Technical Grade

By Application :

Fumigation
Electroplating
Gold/Silver Mining
Chemical Synthesis
Pharmaceuticals

By Region :

North America
Latin America
Europe
East Asia
South Asia & Oceania
MEA
- FAQs -
The global potassium cyanide market is valued at US$ 49.3 million in 2023.
Global demand for potassium cyanide is predicted to increase at a CAGR of 3.7% from 2023 to 2033.
The market for potassium cyanide is projected to reach US$ 70.9 million by 2033.
Hebei Chengxin Group Co. Ltd., Nippon-Soda Co. Ltd., and Hydrite Chemical Co. are some of the leading producers of potassium cyanide.
Asia Pacific accounts for the most sales of potassium cyanide solutions.