Probiotic Tea Market
Probiotic Tea Market Analysis By Type (Kombucha, Raw Pu'er, Ripe Pu'er), By Sales Channel (Online, Offline) & By Region - Global Market Insights 2023 to 2033
Analysis of Probiotic Tea Market Covering 30+ Countries Including Analysis of US, Canada, UK, Germany, France, Nordics, GCC countries, Japan, Korea and many more
Probiotic Tea Market Outlook (2023 to 2033)
As per a new Fact.MR study, the global probiotic tea market is forecasted to expand at a CAGR of 4.3% from 2023 to 2033. As such, worldwide sales of probiotic tea products are set to increase from US$ 3.46 billion in 2023 to US$ 5.27 billion by the end of 2033.
Probiotic tea combines tea-whether it is made from the Camellia sinensis plant or caffeine-free herbal sources-with living bacteria or other microbes. The basic goal of probiotic tea is to increase the number of good bacteria in the gut.
As the need for probiotic supplements to support gut health is growing, mass-market tea producers are introducing commercial beverages advertised as probiotic tea. Typically, these products involve adding a single, commercially produced bacterial strain to ordinary herbal tea. It is important to note that the effectiveness and specific benefits of probiotic teas may vary among individuals. Different people may experience different effects from these teas. Kombucha, raw pu'er, and ripe pu'er are some of the types of probiotic tea.
Global sales of kombucha tea are forecasted to increase at a CAGR of 4.5% during the next 10 years.
Kombucha is often associated with various health benefits. It is believed to support gut health due to its probiotic content, which can promote a healthy balance of bacteria in the digestive system. Kombucha contains antioxidants and polyphenols that may have potential immune-boosting and anti-inflammatory effects.
There has been a growing interest in holistic well-being and natural remedies. Kombucha is perceived as a natural and healthier alternative to sugary beverages. Many consumers are seeking out options that can potentially enhance their overall health and wellness, leading them to choose kombucha as part of their lifestyle.
Kombucha offers a refreshing and flavorful beverage choice, which appeals to those looking for alternatives to traditional carbonated soft drinks, detox drinks, energy drinks, sports drinks, or alcoholic beverages. Its effervescence and unique taste, often described as fizzy, tart, and "just shy of sweet," provide a distinct drinking experience.
Fermented beverages are acknowledged for their potential in combating degenerative diseases such as cancer and arthritis. Among these products, kombucha stands out as a beverage rich in enzymes and bacterial acids. It is believed to have various beneficial effects, including boosting energy levels, strengthening the immune system, aiding in detoxification by eliminating toxins, promoting connective tissue regeneration, reducing headaches, and supporting weight management. As a result, there has been a global increase in the consumption of kombucha, driven by consumers' desire for healthier options.
In February 2022, Brew Dr. Kombucha introduced its inaugural peach-infused kombucha called Just Peachy. This unique blend combines premium loose-leaf green tea with a selection of five organic peach varieties. The outcome is a delightful harmony of flavors, encompassing the sweetness of ripe peaches, a touch of tanginess, and a subtle infusion of honey and summer flowers.
Report Attributes
Details

Probiotic Tea Market Size (2023E)

US$ 3.46 Billion

Forecasted Market Value (2033F)

US$ 5.27 Billion

Global Market Growth Rate (2023 to 2033)

4.3% CAGR

United Kingdom Market Growth Rate (2023 to 2033)

4.3% CAGR

United States Market Growth Rate (2023 to 2033)

4.5% CAGR

China Market Value (2033F)

US$ 1.18 Billion

Japan Market Value (2033F)

US$ 394.87 Million

Germany Market Value (2033F)

US$ 810.81 Million

Key Companies Profiled

Traditional Medicinals
Bana Tea Company
Wonder Drink
GT's Living Foods
Health-Ade Kombucha
KeVita
Buddha Teas
Brew Dr. Kombucha
Twinnings
Pure luck
The Kombucha Shop
Buchi Kombucha
Revive
Humm
Forage Kombucha
Kombucha 221 BC
Love Kombucha
Anteeo Tea
Don't Need a Global Report?
save 40%! on Country & Region specific reports
Why is Consumption of Probiotic Tea Products Increasing across the Globe?
"Consumers' Increasing Focus on Digestive Health Driving Sales of Probiotic Tea"
Digestive health is gaining significant attention as people are becoming more aware of the crucial role gut health plays in overall well-being. Probiotic tea, known for its potential to support a healthy gut microbiome, is gaining popularity as a convenient and tasty way to incorporate probiotics into one's diet. Demand for digestive health products, including probiotic tea, is increasing as consumers are seeking natural remedies to improve digestion and promote balanced gut flora.
"Rising Popularity of Functional Beverages Generating Substantial Demand for Probiotic Tea"
Functional beverages, which offer additional health benefits beyond basic hydration, are experiencing an increase in popularity. Probiotic tea fits into this category, as it combines the refreshing qualities of tea with the potential health benefits of probiotics. Consumers are increasingly seeking out functional beverages that provide a combination of taste, hydration, and wellness benefits. Probiotic tea aligns with this trend, as it is perceived as a natural and holistic product, which supports overall well-being, thereby driving the growth of the probiotic tea market.
"Manufacturers' Growing Emphasis on Incorporating Fresh Flavors and Unique Ingredients into Food Products"
Contemporary consumers are progressively seeking novelty and embracing the chance to discover and experience new and innovative tea flavors with enthusiasm. In response to this trend, manufacturers are proactively incorporating fresh flavors and unique ingredients into their products, aiming to capture consumer attention and meet their evolving preferences. This diversification is attracting a wider consumer base, catering to different taste preferences and dietary needs.
Availability of various options, such as different tea bases (black, green, herbal) and flavor combinations, is further contributing to the high sales of probiotic tea products by appealing to a broader audience.
What are the Challenges Probiotic Tea Producers Need to Address?
"High Price of Probiotic Tea Altering Consumers' Buying Preferences"
Probiotic tea products, particularly those made with high-quality ingredients and organic components, can be relatively more expensive compared to other beverages. Price sensitivity among consumers is expected to impact the adoption of probiotic tea, as some individuals may opt for more affordable alternatives. The higher price point of probiotic tea products is predicted to limit their accessibility and hinder sales growth, especially among price-conscious consumers.
"Stringent Product Approval Regulations Governing Probiotic Tea"
Probiotic tea products, like other food and beverage products, are subject to regulatory standards and requirements. Ensuring compliance with these regulations can be complex and costly for manufacturers. Use of specific health claims associated with probiotic tea is subject to scrutiny and approval by regulatory bodies. These regulatory challenges can slow down the production and introduction of new products.
"High Competition from Alternative Probiotic Delivery Formats"
Probiotics are available in various forms, including capsules, powders, and other functional foods. These alternative delivery formats are expected to compete with probiotic tea, offering convenience, standardized dosing, and ease of consumption. Consumers who prioritize convenience or have specific dietary preferences may choose other probiotic options over probiotic tea, potentially hindering the growth of the market for probiotic tea.
More Insights, Lesser Cost (-50% off)
Insights on import/export production,
pricing analysis, and more – Only @ Fact.MR
What are the Strategies Aiding New Probiotic Tea Companies in the Market?
The probiotic tea market does present opportunities for new manufacturers; however, entering the market successfully requires careful consideration of various factors, trends, and strategies. Here are some key aspects that can help newcomers to earn more and achieve a steady market position:
"New Players' Increasing Focus on Product Innovation & Differentiation"
Differentiating probiotic tea from existing offerings is essential. This can be achieved through unique flavors, innovative ingredient combinations, specific health benefits, or appealing to niche market segments. Offering innovative products can help newcomers stand out and attract consumers who are seeking novel experiences or specific product attributes.
"Start-ups Prioritizing High Quality & Transparency in Production & Sales"
Newcomers are placing emphasis on sourcing high-quality ingredients from organic or natural sources and ensuring transparency in the production process. Consumers value transparency and are increasingly conscious of the origin and integrity of the products they consume. Communicating the quality standards and production methods using clean-label techniques is expected to build trust and credibility, giving new entrants a competitive edge.
"Emphasis on Building Strategic Partnerships & Distribution Channels"
Building strategic partnerships with distributors, retailers, and health-focused establishments is expected to expand companies' market reach. Collaborating with established players in the beverage industry, health food stores, or wellness centers can help new entrants gain access to wider distribution networks and tap into existing customer bases.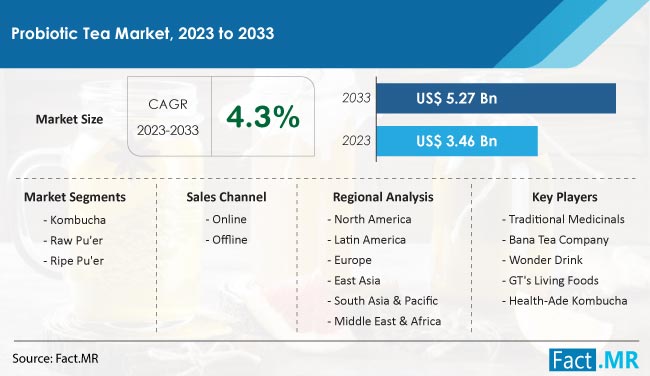 Country-wise Analysis
Why is the United States a Lucrative Market for Producers of Probiotic Tea Products?
"Ever-growing Demand for Natural and Functional Beverages"
In the United States, demand for probiotic tea is projected to reach a market value of US$ 1.27 billion by 2033.
Probiotic tea sales in the United States are driven by the increasing consumer focus on digestive health and overall wellness. Probiotic products, including probiotic tea, are gaining popularity due to their potential health benefits.
Consumers in the United States are increasingly seeking natural and functional beverages, and probiotic tea fits into this trend. Presence of established probiotic tea brands is also contributing to market growth. Additionally, the influence of health-conscious millennials and the popularity of e-Commerce platforms for purchasing beverages play significant roles in shaping the United States market landscape.
What is Driving Probiotic Tea Sales in Germany?
"High Preference for Organic and Sustainably Sourced Products"
Sales of probiotic tea products in Germany are forecasted to increase at a CAGR of 5.5% from 2023 to 2033.
Germany has a strong health and wellness culture, with consumers placing emphasis on natural and functional food products. Probiotic tea stands strong on these preferences and is increasingly sought after by health-conscious individuals.
The German market is characterized by a preference for organic and sustainably sourced products and probiotic tea products made from high-quality ingredients are well-received. Moreover, the presence of health food stores, organic supermarkets, and wellness-focused retailers are contributing to the accessibility and visibility of probiotic tea products in Germany.
How is Demand for Probiotic Tea Products Developing in Japan?
"Japanese Culture of Fermented Beverages and Health Awareness Driving Probiotic Tea Market"
The Japanese market for probiotic tea is estimated to reach US$ 394.87 million by the end of the forecast period.
Japan has a long-standing culture of consuming fermented beverages and foods, making probiotic tea a natural fit. Traditional fermented tea, such as kombucha and other Japanese fermented tea such as kocha kinoko, have a strong presence in the market.
Consumers in Japan appreciate the connection between food, health, and beauty, and probiotic tea is seen as a way to support holistic well-being. Japanese have a high preference for high-quality and authentic products, with the majority of consumers seeking tea made from premium tea leaves and locally sourced ingredients. Presence of traditional tea houses, specialty stores, and a strong tea culture in Japan contributes to market growth and consumers' acceptance of probiotic tea.
Know thy Competitors
Competitive landscape highlights only certain players
Complete list available upon request
Category-wise Analysis
Which Sales Channel is Widely Preferred for Distribution of Probiotic Tea Products?
"Convenience and Immediate Gratification - In-store/offline Buying Experience"
Sales of probiotic tea products through offline channels are set to increase at a CAGR of 4.6% during the next 10 years.
Offline retail offers a unique in-store experience where consumers can physically see and touch the products before making a purchase. This sensory experience is particularly valuable for probiotic tea, as consumers can assess the product's appearance, aroma, and details, which are important factors in their decision-making process.
The offline mode allows consumers to make instant purchases and take the product home immediately. This is especially appealing to those who prefer immediate consumption or who want to start incorporating probiotic tea into their routine right away. Offline stores provide the convenience of real-time availability, eliminating the waiting time associated with online shopping and product delivery.
Competitive Landscape
Key players in the probiotic tea market are continually innovating their product offerings to stay ahead. They are introducing new flavors, blends, or variations to cater to evolving consumer preferences. This strategy is helping them to maintain consumers' interest, attract new customers, and capitalize on emerging trends.
In February 2022, Superfoods Company introduced an innovative instant kombucha formula, featuring a range of enticing flavors. This unique kombucha blend is infused with carefully handpicked black tea, offering the convenience of instant preparation. Each package contains enough recipes to make 30 delicious drinks. The company proudly highlights the product's richness in polyphenols, flavonoids, and prebiotics, which are believed to promote gastrointestinal health and support metabolism. With this new offering, Superfoods Company aims to provide a convenient and health-enhancing option for probiotic tea enthusiasts.
Key Segments of Probiotic Tea Industry Research
By Type :

Kombucha
Raw Pu'er
Ripe Pu'er

By Sales Channel :

Online

Third-party/e-Commerce Websites
Company/Brand Websites

Offline

Pharmacies
Modern Trade Channels
Convenience/Neighborhood Stores
Specialty Stores
Others

By Region :

North America
Latin America
Europe
East Asia
South Asia & Oceania
MEA
- FAQs -
The global probiotic tea market is valued at US$ 3.46 billion in 2023.
The market for probiotic tea is forecasted to reach US$ 5.27 billion by 2033.
Demand for probiotic tea is forecasted to increase at a CAGR of 4.3% from 2023 to 2033.
Sales of probiotic tea products in Germany are projected to reach US$ 810.81 million by 2033.
Sales of kombucha are anticipated to increase at a CAGR of 4.5% over the decade.