Ice Tea Market
Ice Tea Market Analysis By Product Type (Bottled Tea, Powdered Tea, Tea Bags), By Tea Type (Fruit-infused Tea, Liquor-infused Tea, CBD-infused Tea, Specialty Tea), By Nature (Organic, Conventional), By Price Range (Economy, Mid-range, Premium), By Sales Channel (HORECA, Modern Trade, Specialty Stores, Departmental Stores, Convenience Stores, Online Retailers) & By Region - Global Market Insights 2023 to 2033
Analysis of Ice Tea Market Covering 30+ Countries Including Analysis of US, Canada, UK, Germany, France, Nordics, GCC countries, Japan, Korea and many more
Ice Tea Market Outlook (2023 to 2033)
The global ice tea market, as reported by Fact.MR, stands at a valuation of US$ 6.47 billion in 2023. Worldwide demand for ice tea is predicted to increase at a CAGR of 6.4% to reach a market size of US$ 12.02 billion by 2033.
Ice tea, also known as ice tea or cold tea, is a refreshing and popular beverage enjoyed around the world. Whether in flavored variations or the original taste, packaged ice tea is readily accessible as a beverage. The idea that regularly consuming ice tea may potentially lower the risk of cancer has sparked enthusiasm among health-conscious individuals.
Its allure as a flavorful and cool beverage has seamlessly blended with its potential health benefits, making it an enticing choice for those seeking both refreshment and well-being. It is also widely acknowledged as a healthier substitute for fizzy and carbonated beverages, and the introduction of flavor variations has opened up exciting opportunities for market investments.
Sales of bottled tea products are foreseen to increase at a CAGR of 7.5% during the forecast period.
Bottled tea, known as ready-to-drink (RTD) tea in the food and beverages industry, encompasses various types of tea commercially available as bottled beverages. To attract a wider customer base and diversify their product offerings, key market players are introducing a range of bottled teas with distinct flavors and tastes. These bottled teas are packaged in various options such as plastic bottles, cans, glass bottles, and more.
Modern consumers' hectic lifestyles and evolving habits are influencing their dietary choices. People are now more conscious of the impact of their food and drink decisions on their well-being. Particularly, millennials are opting for bottled tea over freshly brewed tea made at home. The rising popularity of flavored bottled tea among younger consumers is contributing to the growth of the ice tea market, with Generation Z playing a significant role.
Drinking bottled ice tea offers several benefits. The antioxidants present in ice tea can cleanse the body, eliminate accumulated toxins, and promote better health. Factors such as a growing working population and high demand for convenient products are expected to fuel sales of bottled tea products during the next 10 years.
In 2022, Honest Tea made a comeback in the bottled tea industry by introducing Just Ice Tea, a brand of organic ice tea that emphasizes the use of straightforward ingredients and Fair-Trade Certified teas and sweeteners. The product line offers six delightful flavors, including Honey Green Tea, Berry Hibiscus Herbal Tea, Original Green Tea, Moroccan Mint Tea, ½ Tea ½ Lemonade, and Peach Oolong Tea.
Report Attributes
Details

Ice Tea Market Size (2023E)

US$ 6.47 Billion

Forecasted Market Value (2033F)

US$ 12.02 Billion

Global Market Growth Rate (2023 to 2033)

6.4% CAGR

United Kingdom Market Growth Rate (2023 to 2033)

5.9% CAGR

United States Market Growth Rate (2023 to 2033)

7.3% CAGR

China Market Value (2033)

US$ 1.58 Billion

Japan Market Value (2033)

US$ 396.77 Million

South Korea Market Growth Rate (2023 to 2033)

4.1% CAGR

Key Companies Profiled

Adagios Tea
Arizona Beverages
BOS Brands
Coca-Cola
Hangzhou Wahaha Group
Harris Freeman & Co.
Starbucks
Nestle SA
Mother Packers
Teatulia
4C Food Corp.
Steaz (Healthy Beverage)
Turners Premium
Sweet Leaf
Peace Tea
Trader Joes
Zevia
Snapple
Teavana
Fuze Tea
Lipton
Don't Need a Global Report?
save 40%! on Country & Region specific reports
Why is the Consumer Base for Ice Tea Products Expanding Rapidly?
"Preference for Clean-Label, Healthier Beverages Driving Demand for Ice Tea with Authentic Formulations and Herbal Extracts"
Tea brands are investing extensively in research and development (R&D) efforts to create tea formulations that offer authentic taste and aroma, meeting consumers' demand for genuine ingredients. The introduction of the ready-to-drink trend in processing and manufacturing has resulted in a wide range of bottled, chilled, and commercially available tea products, catering to the on-the-go preferences of consumers who are embracing the clean-label movement.
Recognizing consumer preferences for clean-label and low-sugar beverages, premium brands in the beverages industry have introduced multiple clean-label tea-based formulations. These formulations are derived from natural sources and retain their beneficial properties. Key market players have prioritized clean-label product offerings, including bottled tea, to align with consumer demands.
Rising awareness among consumers regarding the health risks associated with carbonated beverages is also contributing to the increasing popularity of ready-to-drink tea. Prevalence of various chronic health conditions, such as cancer, heart disease, and diabetes, is further fueling this shift in consumer behavior.
There is a high demand for herbal extracts known for their purifying properties in ready-to-drink ice tea products. Ingredients such as ginseng, hibiscus, and matcha tea are driving the growth of the ice tea market, as consumers seek refreshing beverages with added health benefits.
The ice tea market is witnessing significant growth due to the development of authentic formulations, adoption of ready-to-drink trends, demand for clean-label products, and shift away from carbonated drinks.
What are the Challenges Faced by Ice Tea Producers?
"Widespread Availability of More Cost-effective Beverage Alternatives"
The market faces challenges due to the availability of various alternative beverages, including coffee, carbonated drinks such as energy drinks, and other ice beverages. This wide array of options divides consumer preferences, potentially impacting the demand for ice tea products.
Consumer's inclination towards cost-effective food and beverage choices, such as natural juices and diet coke, can also hamper the demand for ice tea products during the forecast period. The beverages market is highly competitive, and there are various alternatives to ice tea, such as carbonated drinks, energy drinks, flavored water, and other non-alcoholic beverages. Intense competition can impact the sales of ice tea, especially if consumers have a wide range of options to choose from.
More Insights, Lesser Cost (-50% off)
Insights on import/export production,
pricing analysis, and more – Only @ Fact.MR
What Measures Should New Manufacturers Adopt to Enhance Their Profits?
"Start-up's Growing Emphasis on Sustainable Sourcing and Eco-friendly Packaging"
Environmentally conscious consumers are actively seeking sustainable and ethically sourced products. Incorporating sustainable practices throughout the production process, such as using eco-friendly packaging, supporting fair-trade practices, and sourcing tea leaves from organic farms may aid newcomers in attracting a wider consumer base.
"On-the-go Consumption Trend Can Benefit This Market Immensely"
Busy lifestyles and convenience-driven consumer behavior is boosting the demand for ready-to-drink and on-the-go ice tea options. Developing packaging formats such as single-serve bottles, cans, or innovative pouches that are portable and easily consumed while on the move is expected to aid start-ups in enhancing their profit margins. Furthermore, experimentation with unique flavor combinations and fusions can help newcomers stand out in the market.
Cusa Tea a start-up founded in 2016 focuses on providing instant, premium tea experiences. The company utilizes a patented cold-brewing and dehydration process to create single-serve, dissolvable tea packets. The company's products offer convenience without compromising on quality.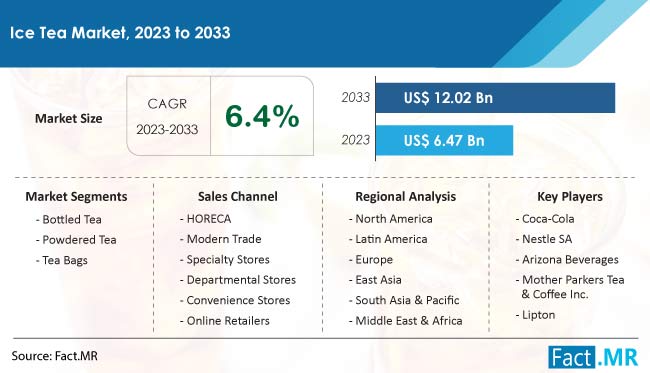 Country-wise Analysis
Why is Consumption of Ice Tea High in the United States?
"Rising Demand for Innovative and Flavorful Ice Tea Options"
Sales of ice tea in the United States are projected to reach US$ 4.83 billion by 2033.
In North America, the United States stands as a dominant tea consumer, with 159 million Americans including tea daily.
According to the Tea Association of the United States, 75% to 80% of the tea consumed in the country is in the refreshing form of ice tea.
Among the various options available, black ice tea emerges as the clear favorite, commanding a leading market share for ice tea in the country. To cater to the evolving taste preferences of consumers, manufacturers in the United States are emphasizing introducing fresh and inventive flavors. By capitalizing on this trend, they aim to attract a broader consumer base.
In June 2022, DAVIDsTEA unveiled a line of cold brew ice teas infused with enticing fruity flavors. This strategic move aimed to boost ice tea sales during the summer season, tapping into the growing demand for refreshing and natural beverage options.
What is the Demand Outlook for Ice Tea in the United Kingdom?
"Growing Emphasis on Specialty & Artisanal Beverages"
Demand for ice tea in the United Kingdom is foreseen to increase at a CAGR of 5.9% in the coming decade.
Influence of the café culture, with its emphasis on specialty and artisanal beverages, is playing a major role in driving the demand for ice tea in the United Kingdom. Many cafes and coffee shops now offer a selection of ice tea options alongside their traditional coffee and tea offerings. This exposure to ice tea in trendy establishments has helped increase its visibility and desirability among consumers.
How is the Demand for Ice Tea Shaping Up in Japan?
"Cultural Significance Associated with Ice Tea, Rising Health-Consciousness, and Preference for Low-Sugar"
The Japanese market is valued at US$ 284.5 million in 2023.
Tea has been an integral part of Japanese culture since the eighth century and remains the most favored beverage in the country. The tradition of tea ceremonies continues to hold great significance in the lives of Japanese people.
In Japan, ready-to-drink ice tea consumption stands out as particularly popular. Demand for ice tea revolves around preferences for low-sugar, unsweetened options that are also rich in minerals and vitamins. Health consciousness is deeply ingrained in Japanese consumers, and as a result, there is a growing demand for organic ice tea. This trend indicates the potential for substantial growth in the organic ice tea demand within Japan.
Know thy Competitors
Competitive landscape highlights only certain players
Complete list available upon request
Category-wise Analysis
Will Sales of Organic Ice Tea Gain Traction Going Forward?
"High Demand for Organic Ice Tea Due to Rising Preference for Clean, Natural Ingredients"
Demand for organic ice tea is forecasted to evolve at an 8.6% CAGR from 2023 to 2033.
Consumers are becoming more health-conscious and are seeking out food and beverages that align with their wellness goals. Organic ice tea is perceived as a healthier option compared to conventional alternatives, as it is made from organically grown tea leaves that are free from synthetic herbicides, pesticides, and genetically modified organisms (GMOs). This perception drives the demand for organic options.
There is a growing desire among consumers to know and understand the ingredients used in their food and beverages. Organic ice tea products often carry clean labels, clearly indicating the absence of artificial additives, preservatives, and chemical residues. This transparency resonates with consumers who prioritize natural and clean ingredients, leading to an increased demand for organic offerings.
Competitive Landscape
As the number of health-conscious consumers continues to rise globally, major players in the industry are implementing diverse strategies to captivate their attention. One such strategy is the introduction of flavored and low-sugar ice tea, aiming to secure a significant market share.
In addition to product innovation, companies are leveraging innovative marketing techniques to engage customers, especially millennials and members of Generation Z. Social media platforms such as Instagram, LinkedIn, Pinterest, Twitter, and Facebook play a pivotal role in this endeavor. By utilizing these platforms, companies can increase their revenue while also raising public awareness about the environmental and sustainability aspects of their products.
A significant player in the beverages sector, Jade Forest, introduced a range of three-flavor ice teas in April 2022. These teas were created in collaboration with Danish flavor experts.
Teapigs introduced two new flavors of ice tea in July 2022: black tea with peach and superfruit.
Beverage Partners International (BPI), in collaboration with Teabrary and Berjaya Group, launched Dilmah ice tea to the Malaysian market in July 2022.
Key Segments Covered in Ice Tea Industry Research
By Product Type :

Bottled Tea
Powdered Tea
Tea Bags

By Tea Type :

Fruit-infused Tea
Liquor-infused Tea
CBD-infused Tea
Specialty Tea

By Nature :

By Price Range :

Economy
Mid-range
Premium

By Sales Channel :

HORECA
Modern Trade
Specialty Stores
Departmental Stores
Convenience Stores
Online Retailers

By Region :

North America
Latin America
Europe
East Asia
South Asia & Oceania
MEA
- FAQs -
The global ice tea market is estimated at US$ 6.47 billion in 2023.
The market for ice tea is predicted to reach US$ 12.02 billion by 2033.
Worldwide demand for ice tea products is foreseen to increase at a CAGR of 6.4% from 2023 to 2033.
Starbucks, Nestlé, and Arizona Beverages are some of the leading manufacturers of ice tea products.
Sales of ice tea in Japan are predicted to reach US$ 396.77 million by 2033-end.