Self-cleaning Glass Market
Self-cleaning Glass Market Analysis by Coating Type (Hydrophobic, Hydrophilic), By Application (Residential Construction, Solar Panels, Non-residential Construction, Automotive) & By Region – Global Market Insights 2023 to 2033
Analysis of Self-cleaning Glass Market Covering 30+ Countries Including Analysis of US, Canada, UK, Germany, France, Nordics, GCC countries, Japan, Korea and many more
Self-cleaning Glass Market Outlook (2023 to 2033)
The global self-cleaning glass market is valued at US$ 124 million in 2023 and is predicted to expand at a CAGR of 4.5% to reach US$ 194 billion by 2033-end, according to this latest study by Fact.MR.
Self-cleaning glass refers to a specialized type of glass that possesses the ability to clean itself through a natural or engineered process. This unique glass technology minimizes the accumulation of dirt, dust, and other debris on its surface, resulting in a cleaner and clearer appearance without the need for regular manual cleaning.
Self-cleaning glass has hydrophilic or photocatalytic properties to break down organic materials and pollutants when exposed to sunlight or water, allowing the surface to maintain its cleanliness and transparency over time. The technology finds various applications in architectural structures, solar panels, automotive windows, and other glass products where low maintenance and enhanced aesthetics are desirable.
The construction industry's continued growth, especially in commercial and residential buildings, is expected to boost the demand for self-cleaning glass as architects and developers prioritize energy-efficient and low-maintenance materials.
Application of self-cleaning glass in solar panels has gained traction due to its ability to improve solar energy efficiency. As renewable energy continues to expand, demand for self-cleaning glass in solar panels is likely to rise.
Ongoing research and development in self-cleaning glass technology are leading to more effective and durable solutions. Innovations in nanotechnology and surface engineering are expected to result in self-cleaning glass products with enhanced functionalities.
Report Attributes
Details

Self-cleaning Glass Market Size (2022)

US$ 122 Million

Estimated Market Value (2023)

US$ 124 Million

Forecasted Market Value (2033)

US$ 194 Million

Global Market Growth Rate (2023 to 2033)

4.5% CAGR

Hydrophilic Segment Growth Rate (2023 to 2033)

3.5% CAGR

China Market Growth Rate (2023 to 2033)

3.7% CAGR

Hydrophobic Segment Growth Rate (2023 to 2033)

4.2% CAGR

Germany Market Growth Rate (2023 to 2033)

4.1% CAGR

Key Companies Profiled

Nippon Sheet Glass
ZNG Glass Company Limited
Cardinal Glass Industries
Saint-Gobain
Foshan Qunli Glass Company Limited
PPG Industries, Inc.
Asahi Glass Co
Why is the Use of Self-cleaning Glass Increasing Steadily?
"Rising Demand for Sustainable Self-Cleaning Glass in Solar Panels"
An increase in the demand for sustainable glass products is anticipated to accelerate the growth of the self-cleaning glass market. Furthermore, increased demand for self-cleaning glass in different end-use sectors is foreseen to drive market growth. The growth of the market is expected to be also fueled by the trend toward renewable energy and increased demand for self-cleaning glass for usage in skylights, conservatories, and rooftops. Increased product launches and growing demand for value-added glass goods offer favorable growth prospects for self-cleaning glass manufacturers.
Preference for self-cleaning glass in solar panels and green building trends are growing. However, the market's growth is anticipated to be slowed due to the high cost and inefficiency of self-cleaning glasses. An absence of self-cleaning glass nomenclature and a poor penetration rate in emerging economies can restrict demand for self-cleaning glass. Lack of awareness about the benefits of self-cleaning glass in developing countries is acting as a key market restraint.
"Growing Emphasis on Sustainable Construction and Use of Eco-friendly Materials in Buildings"
The global push towards sustainable construction practices and eco-friendly materials is driving the use of self-cleaning glass. As consumers and industries become more environmentally conscious, demand for energy-efficient and self-maintaining building materials is increasing.
Rapid urbanization and smart city projects in various regions are fostering the adoption of modern and innovative building materials, including self-cleaning glass. These materials help in maintaining the aesthetic appeal of buildings and infrastructure. Cost-effectiveness of self-cleaning glass, with its reduced maintenance and cleaning requirements, is an attractive feature for both residential and commercial property owners, leading to higher demand.
As air pollution becomes a significant concern worldwide, the ability of self-cleaning glass to break down pollutants and organic matter can contribute to cleaner urban environments, making it more appealing for city planners and property developers.
Don't Need a Global Report?
save 40%! on Country & Region specific reports
What are the Primary Obstacles Linked to Deploying Self-cleaning Glass?
"Lack of Awareness of Benefits of Self-cleaning Glass and Limited Product Nomenclature Standardization in Emerging Economies"
A lack of awareness and understanding of the benefits and applications of self-cleaning glass in emerging economies can impede market growth.
Self-cleaning glass manufacturers struggle to penetrate emerging economies due to various reasons, such as price sensitivity, limited infrastructure for distribution and installation, and preference for more traditional and cost-effective building materials.
Absence of standardized nomenclature for self-cleaning glass products can lead to confusion among consumers and industry professionals. This lack of standardization can affect product recognition and make it challenging for buyers to identify and compare different self-cleaning glass offerings.
"Stringent Regulations Governing Self-cleaning Glass Production"
Despite being labeled as 'self-cleaning', these glass products still require some level of maintenance to function optimally over time. Understanding the maintenance requirements and ensuring proper upkeep could be a concern for users.
Self-cleaning glass faces competition from other building materials and coatings that offer similar benefits, such as low-maintenance surfaces and energy efficiency. Market players must compete with these alternatives to gain market share.
Depending on the region, there are specific regulations or standards related to glass products used in the construction and automotive industries. Complying with these regulations and meeting safety standards can be a challenge for self-cleaning glass manufacturers.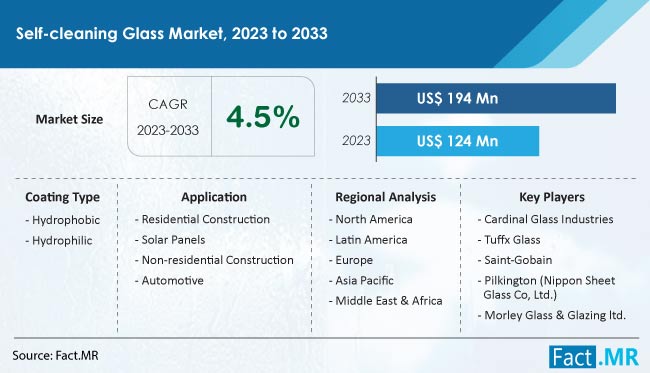 Country-wise Insights
What are the Trends Influencing the Demand for Self-Cleaning Glass in the United Kingdom?
"Government's Growing Emphasis on Sustainable and Energy-Efficient Buildings"
Europe held a leading market share in 2022. Use of self-cleaning glasses is increasing in the region due to the expanding building industry in countries such as the United Kingdom. These glasses are frequently employed as a replacement for the glasses currently utilized in solar panels because of their self-cleaning ability. This has led to an increase in the efficiency of solar panels.
The United Kingdom's construction sector has been a significant contributor to the demand for self-cleaning glass. As the country emphasizes sustainable building practices and energy-efficient designs, adoption of self-cleaning glass has gained momentum. Additionally, the government's focus on reducing carbon emissions and promoting environmentally friendly construction has further encouraged the use of energy-saving materials like self-cleaning glass.
During the projection period, the aforementioned causes, combined with government backing, are contributing to an increase in demand for self-cleaning glasses in all of the aforementioned areas.
Why Does China Present Lucrative Opportunities for Self-Cleaning Glass Producers?
"Government Incentives Promoting Adoption of Eco-friendly Construction Materials"
With a growing focus on energy conservation and reducing environmental impact, the Chinese market has shown increasing interest in energy-efficient solutions. Self-cleaning glass, which can contribute to improved insulation and reduced energy consumption in buildings, aligns well with China's sustainability goals.
The Chinese government has been actively promoting sustainable development and green building initiatives. Through policies and incentives, there is encouragement for the adoption of eco-friendly materials like self-cleaning glass in construction projects. Growth of the self-cleaning glass market in China is driven by factors such as a growing middle-class population with high disposable income and increasing demand for sustainable buildings.
The Chinese construction industry was valued at US$ 893.58 billion in 2018 and reached US$ 1,117.42 billion in 2021, according to the International Trade Administration (ITA). During the projection period, the Chinese government's construction spending is predicted to rise in both the residential and non-residential sectors, driving demand for self-cleaning glass.
More Insights, Lesser Cost (-50% off)
Insights on import/export production,
pricing analysis, and more – Only @ Fact.MR
Category-wise Insights
What are the Forecasted Sales for Hydrophobic Self-Cleaning Glass?
"Efficient Dirt Removal Capabilities of Hydrophobic Self-cleaning Glass Contributing to Increased Sales"
Hydrophobic coatings work by reducing the surface energy of glass, making it less attractive to water molecules. The coatings typically comprise a thin layer of nanoscale particles or molecules that create a microscopically uneven surface. This uneven texture prevents water droplets from making direct contact with the glass, causing them to bead up and slide off the surface, carrying away any adhered particles. Additionally, the coating prevents water from spreading and forming a continuous film, which further aids in the self-cleaning process.
The key objective of applying a hydrophobic coating to glass, particularly for self-cleaning glass, is to minimize water adhesion and the formation of water droplets on the surface. This is achieved through a combination of chemical and physical properties that encourage water to bead up and roll off the glass, carrying away dirt, dust, and other contaminants in the process. As a result, self-cleaning glass with a hydrophobic coating can remain cleaner for longer periods without requiring frequent manual cleaning.
Why is Self-cleaning Glass Extensively Utilized in the Non-residential Sector?
"Reduced Maintenance Cost for Self-cleaning Glass Driving Utilization in Non-residential Sector"
Self-cleaning glass has gained significant traction in the non-residential sector due to its various advantages and capabilities. The non-residential sector includes commercial buildings, office spaces, industrial facilities, educational institutions, healthcare facilities, transportation hubs, and public infrastructures like airports and museums. In these environments, self-cleaning glass offers several benefits that contribute to improved efficiency, reduced maintenance costs, and enhanced user experience.
One of the primary reasons for the increasing popularity of self-cleaning glass in the non-residential sector is its ability to reduce maintenance efforts and costs. Cleaning large windows and glass facades in commercial buildings and other non-residential structures can be time-consuming and expensive. Self-cleaning glass significantly minimizes the need for manual cleaning, as it can effectively shed water and dirt, keeping the glass surfaces cleaner for longer periods.
In non-residential settings, clear and well-maintained glass surfaces play a crucial role in enhancing the overall aesthetics and appearance of the building. Self-cleaning glass helps maintain the transparency and clarity of the glass, offering an unobstructed view of the surroundings and contributing to a more pleasant and welcoming environment for visitors and occupants.
Competitive Landscape
The market is experiencing increased competition due to growing interest in sustainable and energy-efficient building solutions. Several key players are actively involved in producing and distributing self-cleaning glass products. The competitive landscape is characterized by the presence of both established manufacturers and emerging companies aiming to capitalize on the market's potential.
Well-established glass manufacturers with a significant market presence and established distribution networks were prominent competitors in the self-cleaning glass market. These companies leverage their brand reputation, extensive industry experience, and financial resources to expand their product offerings and reach a broader customer base.
AGC and Saint-Gobain, which are leading flat glass coating manufacturers in terms of sustainability, revealed in February 2023 that they had worked on the design of a pilot groundbreaking flat glass line that considerably cuts direct CO2 emissions.
In June 2022, Vitro Glass collaborated with VueReal, an expert in micro-printing technology to expand the interaction and utility of glass.
Pilkington Activ, a glass industry leader, earned the Innovative Solution award at the Glass Focus Awards 2020 for its self-cleaning glass technology and bird-safe glass.
Know thy Competitors
Competitive landscape highlights only certain players
Complete list available upon request
Key Segments of Self-cleaning Glass Industry Research
By Coating Type :

By Application :

Residential Construction
Solar Panels
Non-residential Construction
Automotive

By Region :

North America
Latin America
Europe
Asia Pacific
Middle East & Africa
- FAQs -
The global self-cleaning glass market stands at US$ 124 million in 2023.
Worldwide sales of self-cleaning glass are predicted to rise at a CAGR of 4.5% from 2023 to 2033.
Demand for self-cleaning glass is anticipated to reach a market value of US$ 194 million by 2033.
The United Kingdom is set to hold a notable share of the global market.
The market in China is forecasted to expand at a CAGR of 3.7% through 2033.
Sales of self-cleaning glass in Germany are predicted to rise at a CAGR of 4.1% from 2023 to 2033.