Seropositive Rheumatoid Arthritis Treatment Market
Seropositive Rheumatoid Arthritis Treatment Market Analysis By Drug Class (Corticosteroids, Non-steroidal Anti-inflammatory Drugs (NSAIDs), Steroids, Disease-modifying Anti-rheumatic Drugs (DMARDs), Biologics), By Route of Administration (Oral, Subcutaneous, Intravenous), By Distribution Channel (Hospital Pharmacies, Retail Pharmacies, e-Commerce) & By Region - Global Market Insights 2023 to 2033
Analysis of Seropositive Rheumatoid Arthritis Treatment Market Covering 30+ Countries Including Analysis of US, Canada, UK, Germany, France, Nordics, GCC countries, Japan, Korea and many more
Seropositive Rheumatoid Arthritis Treatment Market Outlook (2023 to 2033)
According to this latest Fact.MR study, the global seropositive rheumatoid arthritis treatment market is estimated at US$ 32.3 billion in 2023 and is projected to increase at a CAGR of 5.3% to reach US$ 54.3 billion by 2033-end.
Seropositive rheumatoid arthritis (RA) is a chronic autoimmune condition that mostly affects the joints. It can cause pain, swelling, and deformity, as well as make a person disabled. The term seropositive refers to the presence of specific autoantibodies in the blood, namely rheumatoid factor (RF) and/or anti-cyclic citrullinated peptide (anti-CCP) antibodies, which are commonly found in patients with this form of RA.
Symptoms of seropositive RA can vary in intensity and may include joint pain, stiffness, swelling, and warmth, especially in the hands, wrists, knees, ankles, and feet. The disease is typically symmetrical, meaning it affects both sides of the body equally. In some cases, RA can also affect other organs such as the heart, eyes, lungs, and blood vessels.
Management of seropositive rheumatoid (SR) arthritis aims to reduce inflammation, relieve pain, prevent joint damage, and improve the patient's quality of life. Treatment plans often involve a combination of medication, physical therapy, and lifestyle changes. Corticosteroids, non-steroidal anti-inflammatory drugs (NSAIDs), steroids, disease-modifying anti-rheumatic drugs (DMARDs), and biologics are some of the drugs prescribed to slow down the progression of the disease and suppress the immune response.
Global demand for disease-modifying anti-rheumatic drugs is estimated to rise at a CAGR of 5.6% from 2023 to 2033.
DMARDs are commonly known as immunosuppressants or immunomodulators due to their ability to modify the functioning of the immune system. By doing so, they effectively reduce inflammation, leading to slow disease progression and providing relief from symptoms.
Disease-modifying anti-rheumatic drugs are effective in reducing joint inflammation and preventing or delaying joint destruction, helping patients maintain joint function and mobility.
In many cases, DMARDs are used in combination with other medications such as nonsteroidal anti-inflammatory drugs (NSAIDs) and corticosteroids to achieve optimal control of the disease. This combination therapy approach can provide more comprehensive relief from symptoms and inflammation.
The concept of 'treat to target' in RA management emphasizes early and aggressive treatment to achieve disease remission or low disease activity. DMARDs are central to this approach, as they are initiated early in the disease course to prevent irreversible joint damage and improve long-term outcomes. Thus, the Fact.MR's market study of seropositive rheumatoid arthritis treatment estimates that DMARDs are the most effective and demanded drug type.
Report Attributes
Details

Seropositive Rheumatoid Arthritis Treatment Market Size (2023E)

US$ 32.30 Billion

Forecasted Market Value (2033F)

US$ 54.30 Billion

Global Market Growth Rate (2023 to 2033)

5.3% CAGR

United States Market Share (2023)

39%

United Kingdom Market Share (2023)

6.1%

Germany Market Growth Rate (2023 to 2033)

5.4% CAGR

China Market Growth Rate (2023 to 2033)

8.5% CAGR

Japan Market Growth Rate (2023 to 2033)

6% CAGR

South Korea Market Growth Rate (2023 to 2033)

6.8% CAGR

Key Companies Profiled

Abbott Laboratories
Johnson & Johnson Limited
Novartis AG
Pfizer, Inc.
Eli Lilly and Company
AbbVie Inc.
Bristol-Myers Squibb Company
F. Hoffmann-La Roche Ltd.
Amgen
Vertex Pharmaceuticals Incorporated
Sanofi-Aventis
AstraZeneca
Cadila Healthcare Ltd.
GlaxoSmithKline Inc.
Merck and Co. Inc.
Don't Need a Global Report?
save 40%! on Country & Region specific reports
What's Generating Potential Opportunities for Seropositive Rheumatoid Arthritis Treatment Providers?
"Advancements in SR Arthritis Therapies and Introduction of Personalized Medicines"
Advancements in Biologic DMARDs: Biologic DMARDs are revolutionizing the treatment of seropositive RA, offering more targeted approaches to immune modulation. Continuous research and development in this field are leading to the introduction of new and improved biologic therapies, driving seropositive RA treatment demand.
Early Diagnosis and Treatment: Emphasis on early diagnosis and intervention in RA management is becoming more prevalent. High awareness of RA symptoms among patients and healthcare professionals is resulting in earlier treatment initiation, which is positively influencing market growth.
Increasing Prevalence of Seropositive RA: The prevalence of seropositive RA is rising globally, attributed to factors such as an aging population, lifestyle changes, and better diagnostic capabilities. The growing patient pool is contributing to the high demand for RA treatment options and the rheumatoid arthritis market size.
Focus on Combination Therapy: Rheumatologists are increasingly adopting combination therapy, utilizing different classes of DMARDs along with other medications such as NSAIDs and corticosteroids. This approach is proving more effective in managing the disease.
Growing Biopharmaceutical Industry: The expanding biopharmaceutical industry is highly fostering research and development efforts, leading to the discovery of novel treatment options for seropositive RA.
Personalized Medicine and Precision Therapy: Advancements in understanding the genetic and molecular basis of RA are promoting the development of personalized medicine and precision therapies. Tailoring treatments to individual patients based on their specific disease characteristics and responses is gaining traction.
What is Restraining Revenue Growth of Seropositive Rheumatoid Arthritis Drug Suppliers?
"Overall High Cost of Seropositive Rheumatoid Arthritis Treatment"
Patent Expiration: Drugs used to treat seropositive rheumatoid arthritis are developed and marketed with patents, providing manufacturers with exclusive rights to produce and sell these drugs. As these patents expire, generic versions of drugs can enter the market, leading to increased competition and potentially lower prices for consumers. While this benefits patients by reducing treatment costs, it also impacts the revenue growth of the original seropositive rheumatoid arthritis drug manufacturers.
Cost of Biologics: Biologic drugs are commonly used in the treatment of seropositive rheumatoid arthritis. However, these drugs can be expensive due to their complex manufacturing processes and research costs. The high cost of biologics limits access to treatment for some patients, especially in regions with limited healthcare resources or patients without adequate insurance coverage and income.
Regulatory Hurdles: Developing new drugs for seropositive rheumatoid arthritis involves navigating complex and stringent regulatory processes. These regulations are in place to ensure patient safety, but they can also lead to delays in drug approvals and market entry. Additionally, post-approval safety monitoring adds to the cost and time, which negatively affects market growth.
Side Effects and Safety Concerns: Some treatments for seropositive rheumatoid arthritis, particularly biologics and disease-modifying anti-rheumatic drugs (DMARDs), have potential side effects and safety concerns. These concerns can affect patient adherence to treatment and may lead to physicians opting for alternative therapies or a more cautious approach to prescribing certain drugs.
More Insights, Lesser Cost (-50% off)
Insights on import/export production,
pricing analysis, and more – Only @ Fact.MR
Why are Start-ups Investing in the Seropositive Rheumatoid Arthritis Treatment Space?
"Developing Biosimilars and Invention of Advanced Combination Therapies Boosting Revenue Share of New Manufacturers"
Unmet Medical Needs: The seropositive RA treatment landscape is continually evolving, and there are unmet medical needs that existing treatments have not addressed adequately. Newcomers are potentially developing innovative therapies, which target specific aspects of the disease and offer improved efficacy, safety, and convenience compared to current treatments.
Biologics and Biosimilars: Biologic drugs have shown significant advancements in the treatment of seropositive RA. However, many manufacturers face patent expiration for their biologics, creating opportunities for newcomers to develop biosimilars. Biosimilars are biologic drugs that are highly similar to existing reference biologics and offer cost savings and high access to treatment.
Safety Profiles and Tolerability: While current seropositive RA treatments are generally effective, some patients experience adverse effects or intolerance to certain medications. Developing new treatments with improved safety profiles and tolerability is expected to create valuable opportunities for new entrants.
Digital Health Solutions: New entrants explore digital health solutions that enhance disease management, treatment adherence, and patient outcomes. Mobile apps, wearable devices, and telemedicine platforms are examples of technologies that could complement RA treatment plans.
Collaborations and Partnerships: Newcomers consider collaborations and partnerships with research institutions, established pharmaceutical companies, or patient advocacy groups to leverage expertise, resources, and market reach.
Combination Therapies: RA treatment often involves using multiple drugs to achieve optimal results. Developing novel combination therapies that enhance therapeutic outcomes or reduce the number of medications required for treatment is expected to be advantageous for new entrants.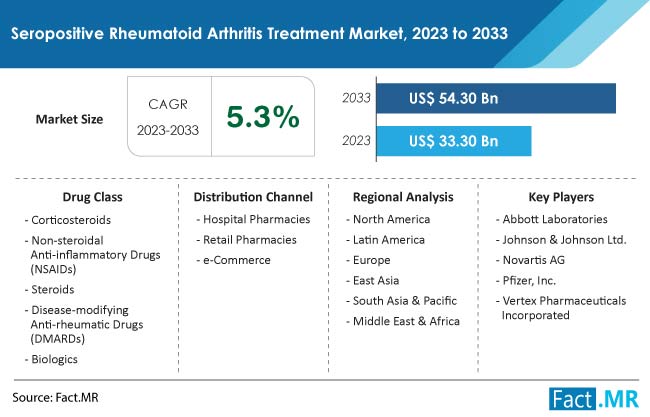 Country-wise Analysis
Which Aspect is Propelling the Sales of Seropositive Rheumatoid Arthritis Drugs in the United States?
"Presence of Key Market Players Resulting in Introduction of Advanced Seropositive RA Therapies"
As per this industry analysis by Fact.MR, a market research and competitive intelligence provider, the United States market currently holds a 39% share in the global seropositive rheumatoid arthritis treatment market.
The United States market is growing rapidly due to several influential factors. These include the escalating disease prevalence, the dominant presence of key market players, the introduction of innovative therapies such as RA stem cell therapies and monoclonal antibodies, and substantial investments by industry stakeholders in research for novel treatments and biosimilars.
As reported by the Centers for Disease Control and Prevention (CDC) in October 2021, the prevalence of doctor-diagnosed arthritis among American adults stands at 23.7%, affecting around 58.5 million individuals. This high disease burden underscores the need for continuous advancements in arthritis treatment options to meet the growing demand for effective and targeted therapies.
Why are Sales of Seropositive Rheumatoid Arthritis Drugs High in Germany?
"Robust Healthcare System and Favourable Reimbursement Policies"
Sales of seropositive rheumatoid arthritis drugs are estimated to rise at a CAGR of 5.4% over the next 10 years.
Germany's well-established healthcare system and favorable reimbursement policies for medications, including seropositive rheumatoid arthritis drugs, are contributing to high patient access and affordability. The availability of various treatment options under reimbursement support is driving the demand for seropositive rheumatoid arthritis drugs.
The growing elderly population in Germany is facing several health conditions such as rheumatoid arthritis, osteoarthritis, bilateral osteoarthritis, and more. Elderly individuals are more prone to developing such conditions, resulting in a larger patient pool seeking effective medications, thus fueling SR arthritis drug sales.
Why is South Korea Emerging as a Profitable Market in This Business?
"Rising Prevalence of Seropositive Rheumatoid Arthritis and Government Support for Biotechnological Researches"
Demand for seropositive rheumatoid arthritis drugs in South Korea is foreseen to expand at a CAGR of 6.8% from 2023 to 2033.
The prevalence of rheumatoid arthritis in South Korea is increasing rapidly, creating a higher demand for effective treatments. This trend is prompting pharmaceutical companies to focus on the South Korean market, leading to higher sales of seropositive rheumatoid arthritis drugs.
The South Korean government is actively supporting the biotechnology sector, leading to the development and availability of innovative biologic therapies for rheumatoid arthritis. Government initiatives are playing a crucial role in boosting the market for seropositive rheumatoid arthritis drugs.
Know thy Competitors
Competitive landscape highlights only certain players
Complete list available upon request
Category-wise Analysis
Which Distribution Channel Accounts for Higher Sales of Seropositive Rheumatoid Arthritis Drugs?
"Access to Wide Drug Information and Availability of Advanced Arthritis Medications at Hospital Pharmacies"
Hospital pharmacies are currently holding 78.4% share of the global market for seropositive rheumatoid arthritis drugs in 2023.
Hospitals often have specialized rheumatology departments and healthcare professionals who are well-trained and experienced in managing complex autoimmune conditions such as seropositive rheumatoid arthritis. These professionals can provide personalized treatment plans and monitor patients closely, ensuring optimal outcomes.
Hospital pharmacies are more likely to stock a wide range of advanced and specialized medications, including biologic therapies and disease-modifying anti-rheumatic drugs (DMARDs), which are commonly used to treat seropositive rheumatoid arthritis. This availability ensures that patients have access to the latest and most effective treatment options.
Hospital pharmacies provide comprehensive education to patients about their medications, potential side effects, and self-management strategies, empowering patients to take an active role in their treatment.
Competitive Landscape
Leading companies are investing heavily in research and development activities to create novel and more effective treatment options for seropositive RA. By introducing new biologic therapies, small molecule drugs, and biosimilars, they are expected to capture a larger market share and command premium prices for their innovative products.
To develop, produce, and sell Xcimzane, Xbrane Biopharma AB and Biogen Inc. signed a commercialization and license deal in February 2022. This preclinical monoclonal antibody is a putative biosimilar to the rheumatoid arthritis drug CIMZIA (certolizumab pegol).
Seropositive Rheumatoid Arthritis Treatment Industry Research Segmentation
By Drug Class :

Corticosteroids
Non-steroidal Anti-inflammatory Drugs (NSAIDs)
Steroids
Disease-modifying Anti-rheumatic Drugs (DMARDs)
Biologics

By Route of Administration :

Oral
Subcutaneous
Intravenous

By Distribution Channel :

Hospital Pharmacies
Retail Pharmacies
e-Commerce

By Region :

North America
Latin America
Europe
East Asia
South Asia & Oceania
MEA
- FAQs -
The global seropositive rheumatoid arthritis treatment market stands at US$ 32.3 billion in 2023.
Demand for seropositive rheumatoid arthritis drugs is forecasted to rise at a CAGR of 5.3% over the forecast period.
The market for seropositive rheumatoid arthritis drugs is projected to reach US$ 54.3 billion by 2033.
Sales of seropositive rheumatoid arthritis drugs in Japan are estimated to increase at a CAGR of 6% from 2023 to 2033.
Demand for disease-modifying anti-rheumatic drugs is forecasted to rise at a CAGR of 5.6% through 2033.