Biologics Emerging as Panacea in Arthritis Therapeutics Market
Global health data suggests that, the populace in North America and Europe are more conscious regarding arthritis, and actively partake in diagnosis than those residing in developing countries. Sensing the success rate of arthritis therapeutics, manufacturers are allocating high budgets to fuel their research & development activities, which ensures the future availability of blockbuster drugs.
The recent time is, however, witnessing a shifting paradigm of patients' reliance from pharmaceutical products towards biologics, as biologic therapies are reported to bring dramatic improvements in patients' quality of life. Furthermore, there are several biologic products in phase III clinical trials, which is indicative of strong commercial prospects for manufacturers in the arthritis therapeutics market.
Weighing the impact of key influencers, a recent report published by Fact.MR infers that, the arthritis therapeutics market is estimated to grow 1.5X during the forecast period (2020 - 2027).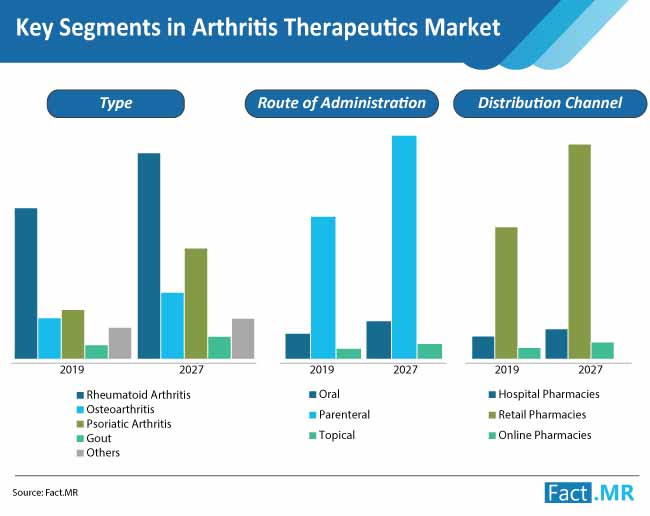 For detailed insights on market taxonomy, request a sample copy of the report here.
Parenteral Qualifies as Default Route of Administration
According to the Fact.MR study, preference for the parenteral route of administration will be 83% more than the topical and oral routes combined in 2020, on account of the high precision of dosage offered by this route, which leads to better patient outcomes. Cost and recovery time, in turn, are turning out to be key determiners in the selection of route of administration. Following this, increased availability of biosimilar products at competitive rates through parenteral routes is projected to retain high preference for the injection of drugs during the forecast period.
On a relative note, patients' proclivity for oral arthritis therapeutics is likely to remain moderate, as this route is preferred in cases wherein patients are required to follow a long-term course of medication. Additionally, the introduction of topical NSAIDs for the treatment of joint pains will offer low-to-moderate stimulus to the topical route of administration in the arthritis therapeutics market during the forecast period.
Steep Rise in Drug Prices to Take a Toll on Health of Arthritis Therapeutics Market
Advanced antibody therapeutics have been outperforming the sales of disease-modifying antirheumatic drugs (DMARD) in recent times, on account of their relatively high efficiency. However, better outcomes offered by these drugs comes at a price, a steep one indeed, which accommodates a range of US$ 1,000 to US$ 3,000 per month.
The price of the popular drug used for treatment of arthritis - Humira - increased by 100% from US$ 19,000 a year in 2012 to US$ 38,000 a year in 2018, as per data presented by SSR Health. This price rise is not limited to only Humira. Enbrel saw an 80% hike in its price since 2013, as reported by the Alliance of Community Health Plans. Given the long-term recommendation of these drugs to control arthritis, a perpetual increase in prices could shake the monthly budgets of patients, and, is hence, diverting their attention towards complementary and alternative therapies.
How can Manufacturers Offset Challenges Associated with High Cost of Drugs?
High penetration of smartphones in parallel to low-cost of operation of distribution network is promising the growth of online pharmacies as a key distribution channel. In the arthritis therapeutics market, where high cost concerns have been impeding sales prospects for players, targeting sales through online pharmacies can help offset the challenge through heavy deals and discounts offered by these channels. In 2020, online pharmacies are projected to drive sales tantamount to a value of US$ 3.5 Bn, and the trend of online shopping driven by convenience will strengthen sales in future.
Currently, retail pharmacies account for 79% of total sales in the arthritis therapeutics market, as large chains and strong distribution network coupled with 24X7 accessibility is gaining prominence to this distribution channel. It is recommended for players in the arthritis therapeutics market to increase distribution-oriented partnerships with key retail partners to amplify their sales.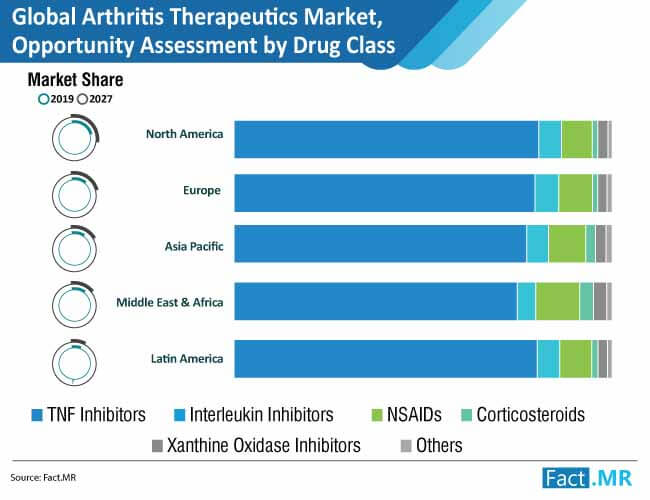 For detailed regional analysis, request a sample copy of the report here.
North America's Lead Fuelled by High Availability of Drugs
The arthritis therapeutics market is more concentrated in developed regions such as North America and Europe as compared to other parts of the world. Rigorous research & development initiatives undertaken by players concentrated in these regions are projected to diversify portfolios, strengthen the pipeline of drugs, and, in turn, boost the availability of drugs. Recent addition of biologic and biosimilar in the arthritis therapeutics list, on the backdrop of patent expiration of blockbuster drugs, is witnessed in these regions. In developing regions, increasing investments directed towards bringing progressive improvements in the healthcare industry are projected to promise strong growth for the arthritis therapeutics market in Asia Pacific. In developed countries of Asia Pacific, such as Japan, New Zealand, and Australia, the adoption of biologic drugs is anticipated to remain high during the forecast period.
Request research methodology of this report.
Arthritis Therapeutics Market - Scope of the Study
Fact.MR, in its exclusive research report on the arthritis therapeutics market, highlights actionable insights and winning imperatives for stakeholders. This comprehensive study unfolds rare and distinguished intelligence regarding impactful dynamics, which directly or indirectly influence the growth of the arthritis therapeutics market during the forecast period (2020 - 2027). With the help of crucial insights discussed in this study, stakeholders will gain a thorough idea regarding the growth trajectory of the arthritis therapeutics market.
This comprehensive study offers incisive data regarding the drivers, threats, restraints, and opportunities present in the arthritis therapeutics market. The study also recalibrates the impact of each of these dynamics to estimate the size of the arthritis therapeutics market for the given period. Authors of the report have taken ample care to measure and include the relevance and impact of microeconomic as well as macroeconomic factors that hold potential to influence the growth of the arthritis therapeutics market during the forecast period.
The global study offers crucial information about global, regional, and local players operating in the arthritis therapeutics market, along with their estimated market share. Market share has been estimated in terms of value (US$ Mn). Besides providing key information regarding the concentration of leading, prominent, and local players, the study also aims at equipping stakeholders with the best of information regarding winning strategies, recent developments, and financials.
Arthritis Therapeutics Market - Assessment of Key Segments
With an aim to offer granular level insights into the arthritis therapeutics market, authors of the report have segmented the landscape on the basis of type, drug class, route of administration, distribution channel, and region. This global research report also offers information regarding the incremental opportunity available in the arthritis therapeutics market during the forecast period. Key segments of the arthritis therapeutics market include:
| | | | | |
| --- | --- | --- | --- | --- |
| Type | Drug Class | Route of Administration | Distribution Channel | Region |
| Rheumatoid Arthritis | TNF Inhibitors | Oral | Hospital Pharmacies | North America |
| Osteoarthritis | Interleukin Inhibitors | Parenteral | Retail Pharmacies | Europe |
| Arthritis | NSAIDS | Topical | Online Pharmacies | Asia Pacific |
| Gout | Corticosteroids | | | Latin America |
| Others | Xanthine Oxidase Inhibitors | | | Middle East & Africa |
| | Others | | | |
This detailed guide, based on the latest market movement, ensures that only precise information reaches stakeholders, so as to help them gain an upper hand over their competitors in the global arthritis therapeutics market. This exclusive guide offers crucial information about the current trends, pipeline drugs, unmet drugs, future scope, and government regulations for the arthritis therapeutics market.
Key players profiled in this comprehensive study on the arthritis therapeutics market include Sanofi, Novartis AG, F.Hoffmann-La Roche Ltd, Eli Lily and Company, Janssen Global Services, LLC, Amgen, Inc., AbbVie, Inc., Amgen, Inc., Pfizer, Inc., Bristol-Myers Squibb Company, and Merck & Co., Inc.
Arthritis Therapeutics Market - Research Methodology
The research undertaken by seasoned analysts at Fact.MR consists of a systematic approach. A combination of the bottom-up and top-down approach is leveraged to estimate the size of the arthritis therapeutics market. Besides this, primary and secondary researches are carried out through credible sources to gain crucial insights into the arthritis therapeutics market. For conducting primary research, interviews and discussions were carried out with industry experts, key opinion leaders, vendors, and distributors.
Besides these, respondents also include CEOs, presidents, directors, chairmen, vice presidents, marketing managers, suppliers, distributors, and chief medical officers, among others. This helps in assessing the demand-supply gap prevailing in the arthritis therapeutics market. In order to conduct secondary research, marketing collaterals, company websites, industry associations, and government statistics were studied. In addition to this, reports as well as content pieces published by credible sources, such as company annual reports, investor presentations, and SEC-filings were studied.
Besides this, governmental and public portals, such as World Health Organization (WHO), OECD, FDA, Centres of Disease Control and Prevention (CDC), the Centres for Medicare & Medicaid Services, MoHFW, Government of India, Dermatology News, Arthritis Foundation, National Psoriasis Foundation, Arthritis Foundation, Psoriasis Association, European Societies of Dermatology, National Institute of Arthritis and Musculoskeletal and Skin Diseases, and National Centre for Complementary and Integrative Health were referred to, in order to gain crucial information regarding key players in the arthritis therapeutics market. Insights obtained through primary and secondary research are then authenticated with the data triangulation method.
Fact.MR offers custom research services that help clients to get specific research solutions
We are committed towards customer satisfaction and quality service.
---
Our Clients

Arthritis Therapeutics Market Forecast, Trend Analysis & Competition Tracking - Global Market Insights 2020 to 2027