Strontium Market Outlook (2023 to 2033)
Global demand for strontium is estimated at US$ 229.2 million for 2023. The global strontium market is forecasted to advance at a CAGR of 6% to reach a market valuation of US$ 410.5 million by the end of 2033.
Strontium, a soft and silvery-white metal, is extracted from the prominent ores strontianite and celestine. It can be obtained in various forms such as powder, discs, pellets, ingots, and granules. There are four isotopes of strontium found in nature, namely, strontium-84, strontium-86, strontium-87, and strontium-88.
The paints & coatings industry utilizes strontium due to its exceptional qualities such as easy dispersion, high pellet flow, and smooth surface, which provide superior film coverage. Additionally, strontium has several other beneficial properties including high opacity, gloss, and resistance to weather, UV, fog, and salt, which are driving its demand in this industry. Although strontium has 16 radioactive isotopes, which are synthetically developed through nuclear procedures, the focus here is on the non-radioactive properties of strontium that make it a preferred choice in the paints and coatings industry.
As per data provided by the World Paint and Coatings Industry Association, sales of paints and coatings reached around US$ 167.6 billion in 2020.
Strontium suppliers are expected to benefit from the rising demand for paints and coatings globally. The increasing utilization of paints and coatings in various end-use industries such as automotive, aerospace, electronics, and construction is creating new opportunities in the market. Therefore, the demand for strontium is expected to increase as it is an important ingredient used in the manufacturing of paints and coatings.
Strontium carbonate and strontium oxide serve as gentle substitutes for lead and barium in ceramic glazes and are used as frits. Furthermore, strontium is employed as a glass modifier to enhance the optical properties, light refraction intensity, hardness, and strength of glass. Strontium-based glass is also a suitable option for cathode-ray tube faceplates, as it can absorb ultraviolet and X-ray radiation.
The high dielectric constant of strontium makes it a desirable component for use in memory chips and wireless devices. It is also utilized as a substrate material for piezoelectric devices and semiconductors. The economic rebound in developed nations, coupled with rapid growth in emerging economies, is driving end-use industries to invest in strontium carbonate. As a result, the demand for strontium is expected to grow in these industries.
Fact.MR, a provider of market research and competitive intelligence, has published a research report that covers growth opportunities, market value, segmentation, major players, and geographical coverage. In addition to this, the report also includes expert analysis, distributor and partner network layouts, and other relevant information. The report is curated to provide comprehensive insights into the strontium market.
Report Attributes

Details

Market Size (2023)

US$ 229.2 Million

Forecasted Market Value (2033)

US$ 410.5 Million

Global Market Growth Rate (2023 to 2033)

6% CAGR

Canada Market Growth Rate (2023 to 2033)

6% CAGR

Germany Market Growth Rate (2023 to 2033)

5.3% CAGR

Key Companies Profiled

Asia Barium & Strontium Salts Co. (ABASSCO)
Barium & Chemicals, Inc.
KBM Affilips BV
Noah Technologies Corporation
Quimica Del Estroncio SA
Solvay SA
Sakai Chemical Industry Co., Ltd.
Yuxiang Magnetic Materials Ind. Co., Ltd.
Don't Need a Global Report?
Save 40% on Country & Region specific reports
Why is Worldwide Demand for Strontium Growing Rapidly?
"High Demand for Strontium Nitrate in Pyrotechnics Industry"
Fireworks and pyrotechnics have become increasingly popular in recreational shows and entertainment. Events such as sports events, media events, festivals, and award shows utilize various fireworks to add grandeur and extravagance to their shows.
Growing demand for pyrotechnic chemicals is expected to in turn drive sales of strontium nitrate, which is commonly used as an oxidizer and colorant in pyrotechnic products. The increasing utilization of strontium nitrate is expected to further boost its demand globally during the forecast period.
"Rising Utilization of Strontium Nitrate in Chemical, Marine, and Defense Sectors"
Strontium nitrate is used as an oxidizer and a coloring agent in distress flares, which are a crucial safety tool in the fields of defense and marine. Moreover, strontium nitrate is less likely to cause skin irritation. As a result, the demand for strontium nitrate is expected to rise significantly through 2033.
Strontium nitrate finds its application in producing catalysts, high-purity compounds, ultra-high-purity compounds, and nanoscale materials. One such instance is the production of calcium-substituted strontium ferrite and strontium hexaferrite nanoparticles, where strontium nitrate is used in chemical co-precipitation processes. Consequently, the increasing demand for strontium nitrate in the chemical industry to develop new products will open up substantial opportunities for industry players.
Which Factors are Restricting Adoption Growth of Strontium?
"Risk of Explosion and Fire Hazards Associated with Strontium"
The mishandling of strontium is on the rise globally, and there is a significant risk of explosion and fire hazards associated with its usage. These factors are expected to hinder the adoption of strontium over the decade.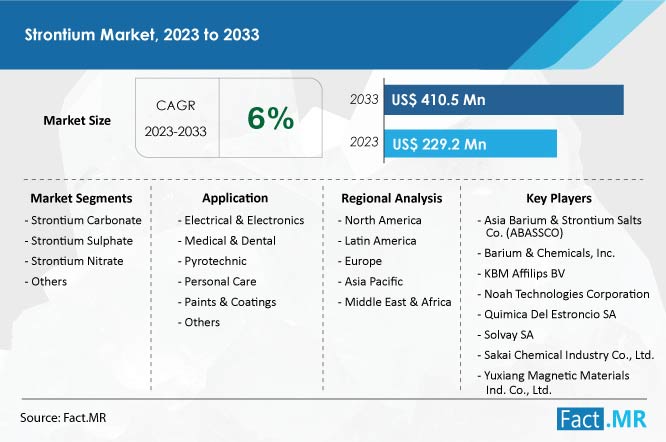 Why is Strontium Usage High in Asia Pacific?
"Rapid Urbanization and Industrialization Benefiting Target Market"
Over the next decade, the Asia Pacific region is expected to hold a leading share of the global strontium market. The growing demand for strontium from diverse industries such as personal care, electronics, paints & coatings, and others is driving market revenue. Moreover, rapid urbanization and industrialization in emerging economies such as Malaysia, Thailand, and India are fostering new developments in these countries, which is further propelling the demand for strontium throughout Asia Pacific.
More Insights, Lesser Cost (-50% off)
Insights on import/export production,
pricing analysis, and more – Only @ Fact.MR
Country-wise Insights
What's Contributing to Increased Sales of Strontium in Japan?
"Market Benefitting from Increasing Investments in Research Projects to Explore Applications of Strontium"
Japan market is forecasted to progress at a CAGR of 4.3% through 2033. Investments in research projects aimed at exploring innovative applications of strontium are expected to create lucrative opportunities in Japan. The high demand for strontium from the infrastructure & construction and medical & dental sectors is also contributing to its sales in the country.
What is Driving Demand for Strontium in North America?
"Wide Applicability of Strontium in Several Industries"
Rising demand for strontium in the United States can be attributed to several industries, including electronics, automotive, and aerospace. Additionally, the country's well-developed army and military capabilities are also contributing to this demand.
Sales of strontium in Canada are expected to advance at a noteworthy CAGR of 6% from 2023 to 2033.
What are the Market Trends for Strontium in Germany?
"Increasing Production of Automotive Parts Driving Need for Strontium"
Sales of strontium in Germany are anticipated to advance at a CAGR of 5.3% through 2033. Anticipated growth in the production and sales of automotive parts in Germany is expected to drive demand for paints and coatings, subsequently leading to an increase in demand for strontium.
Category-wise Insights
How are Manufacturers Benefitting from Sales of Strontium Carbonate?
"Rising Utilization of Strontium Carbonate in Personal Care and Medical & Dental Care Segments"
Sales of strontium carbonate are anticipated to advance at a CAGR of 8.4% through 2033 while holding a significant share of the global market. Personal care, medical & dental care segments are exhibiting high demand for strontium carbonate.
Strontium carbonate is increasingly being used in ceramic glazes as frits due to its non-toxic nature, which provides a viable alternative to lead and barium. This, in turn, is boosting the demand for strontium carbonate. Moreover, the pyrotechnic, electrical & electronics, and paints & coatings segments are also contributing to the demand for strontium carbonate.
Which Industry Constitutes a Significant Portion of Strontium Consumption?
"Superior Properties of Strontium Contributing to Rising Demand in Paints & Coatings Industry"
The paints & coatings industry accounts for a significant share of the strontium market. The demand for strontium from the paints & coatings industry is increasing due to its excellent properties, such as resistance to salt, UV, weather, and fog, as well as its high gloss and contrast ratio.
Strontium possesses distinct characteristics such as a smooth surface, high pellet flow, easy dispersion, opacity, and enhanced film coverage, which are driving its demand. Additionally, the increasing use of paints & coatings in various end-use industries such as construction, aerospace, electronics, and automotive is generating profitable opportunities.
Strontium is a prominent substrate material for piezoelectric and semiconductor applications. Additionally, the adoption of strontium as a colorant in various pyrotechnic applications such as tracer ammunition, fireworks, and civilian and military flares for producing vivid red hues is increasing significantly.
Competitive Landscape
Strontium manufacturers are investing in improving their supply chain management systems and adopting advanced delivery services such as e-commerce platforms. They are sourcing high-quality raw materials to ensure the delivery of superior products, while also taking measures to minimize any potential environmental impacts.
Key suppliers of strontium are actively engaged in developing new products and forming collaborations and partnerships while adhering to quality control regulations.
For instance :
Solvay entered into an agreement with Latour Capital on November 23, 2020, through which it sold all its technical-grade strontium and barium operations in Mexico, Spain, and Germany. In addition, Solvay's sodium percarbonate business in Germany was also sold to Latour Capital.
Asia Barium & Strontium Salts Co. (ABASSCO), Barium & Chemicals, Inc., KBM Affilips BV, Noah Technologies Corporation, Quimica Del Estroncio SA, Solvay SA, Sakai Chemical Industry Co., Ltd., and Yuxiang Magnetic Materials Ind. Co., Ltd. are key suppliers of strontium.
Segmentation of Strontium Industry Research
By Type :

Carbonate
Sulfate
Nitrate
Others

By Application :

Electrical & Electronics
Medical & Dental
Pyrotechnics
Personal Care
Paints & Coatings
Others

By Region :

North America
Europe
Asia Pacific
Latin America
Middle East & Africa