Smart Coffee Maker Market
Smart Coffee Maker Market Analysis by Product Type (Beans-to-Cups, Espresso, Drip Filters, Pods or Capsules), By Application (Residential, Commercial), By Technology (Wi-Fi-enabled, Bluetooth-enabled), By Distribution Channel (Online, Offline) and By Region – Global Market Insights 2023 to 2033
Analysis of Smart Coffee Maker Market Covering 30+ Countries Including Analysis of US, Canada, UK, Germany, France, Nordics, GCC countries, Japan, Korea and many more
Smart Coffee Maker Market Outlook (2023 to 2033)
The global smart coffee maker market is estimated at US$ 6.8 billion in 2023 and is projected to reach US$ 10.5 billion by 2033-end, advancing at a steady CAGR of 4.5% between 2023 and 2033.
A coffee brewing device, typically placed on a countertop, prepares hot coffee. The category of automated coffee brewers includes intelligent coffee makers. Equipped with Wi-Fi and Bluetooth connectivity, these smart coffee makers can be managed via a smartphone app. This allows users to control these devices even from remote locations, harnessing the benefits of smart connectivity to operate the system from afar.
Integration of smart coffee makers with popular voice assistants like Amazon Alexa, Google Assistant, and Apple Siri has been a significant trend. This enables users to control their coffee makers using voice commands, further enhancing convenience and hands-free operation.
Residential sales of smart coffee makers are predicted to increase at a CAGR of 4.8% through 2033.
Though North America remains the leading regional market, demand for smart coffee makers is set to rise faster in Asia Pacific, at 5.6% CAGR over the next ten years.
More consumers are now increasingly looking for coffee makers that allow them to customize and personalize their brewing experience. Smart coffee makers offer options to adjust brew strength, water temperature, and coffee-to-water ratios, catering to individual taste preferences. Some smart coffee makers include built-in coffee grinders, allowing users to grind fresh coffee beans just before brewing. This integration enhances the freshness and quality of the brewed coffee.
Smartphone apps have become central to the control of smart coffee makers. Users can remotely start brewing, adjust settings, and even receive notifications about the brewing process and maintenance requirements through dedicated mobile apps. The ability to schedule brewing times and automate the coffee-making process has been a significant trend. Users can set up their coffee makers to have coffee ready at specific times, aligning with their daily routines.
Report Attributes
Details

Smart Coffee Maker Market Size (2022)

US$ 6.5 Billion

Estimated Market Value (2023)

US$ 6.8 Billion

Forecasted Market Value (2033)

US$ 10.5 Billion

Global Market Growth Rate (2023 to 2033)

4.5% CAGR

Asia Pacific Market Growth Rate (2023 to 2033)

5.6% CAGR

Residential Segment Growth Rate (2023 to 2033)

4.8% CAGR

Pods or Capsules Segment Growth Rate (2023 to 2033)

5.4 % CAGR

Leading Regional Market

North America

Key Companies Profiled

REDMOND
Gruppo Cimbali S.p.A.
Little Bear Electric Appliance Co.
Morphy Richards India;
POPPY
Behmor Inc.
Third Wave Automation
Melitta Group
Nuova Simonelli S.p.A.
What are the Main Factors Contributing to Increasing Usage of Smart Coffee Makers?
"Growing Consumption of Specialty Coffee across the World"
Growth of the worldwide smart coffee maker market is attributed to various factors. A primary driver for this rapid expansion is the multitude of benefits provided by intelligent coffee machines. These devices present an array of user-friendly and convenient functionalities, including scheduled brewing, alerts for coffee supply shortages, and the capability to control them from a distance (remote coffee brewing). These attributes are recognized for their time-saving advantages, enabling users to allocate their time and energy toward other essential tasks.
Increasing consumer fascination with specialty coffee is expected to contribute to the sales of smart coffee makers. Smart coffee makers are equipped to produce and present a diverse range of high-quality beverages. They find utility in both domestic and commercial environments, with their production capacity tailored to the desired output. Certain models are even equipped with integrated grinders, empowering users to personalize their coffee experience even in commercial settings.
Effective marketing strategies employed by industry participants have generated widespread public recognition of Wi-Fi coffee makers. This momentum is bolstered by the influx of new market entrants, subsequently driving down the overall product cost of app-controlled coffee makers.
"Growing Emphasis on Integration of Wi-Fi Connectivity with Coffee Makers and Utilizing Eco-friendly Materials for Their Production"
Increase in the quality of life and the rise in individual disposable income are driving the sales of both semi-automatic and fully automatic coffee machines, contributing to the expansion of the smart coffee maker market. Additionally, manufacturers are diligently incorporating advanced technologies into their product offerings, giving rise to the emergence of smart and Wi-Fi-connected coffee machines, which have become essential components of contemporary kitchens.
Heightened environmental awareness among consumers has motivated manufacturers to concentrate on producing eco-friendly coffee machines that consume minimal power. Elements like the materials utilized in the coffee machine's construction, energy consumption, and waste production during the brewing process are factors that influence the carbon footprint of these electrical appliances.
Don't Need a Global Report?
save 40%! on Country & Region specific reports
What's Impeding the Demand Growth for Smart Coffee Makers?
"High Cost and Limited Availability of Technicians Leading to Preference for Traditional Coffee Brewing Methods"
A prominent obstacle to the expansion of the worldwide smart coffee maker industry is the elevated price of the device. Moreover, any repairs beyond the scope of the product warranty can result in substantial costs due to the sophisticated components and networking systems inherent in these coffee machines, setting them apart from conventional models.
Users encounter challenges in locating proficient technicians capable of addressing device malfunctions. Additionally, a significant portion of the potential consumer base may continue to favor traditional coffee consumption approaches over IoT coffee makers, particularly within residential or home environments.
"Digital Divide between Segments of Population, Complex User Interfaces, and Compatibility Issues with Smart Home Systems"
While technology adoption is growing, there are still segments of the population that are less tech-savvy or have limited access to smartphones and Wi-Fi. This can create a divide in the adoption of smart coffee makers and hurt the smart brewing technology market. Some smart coffee makers have complex user interfaces or mobile apps that are not intuitive, leading to confusion and frustration among users of connected coffee machines.
Some consumers are attached to traditional coffee-making methods and equipment, and they may be hesitant to embrace new technology in this aspect of their daily routine. With the proliferation of various smart home ecosystems and platforms, there could be compatibility issues between different devices, apps, and platforms. This is limiting the seamless integration and control of smart coffee makers within a larger smart home setup.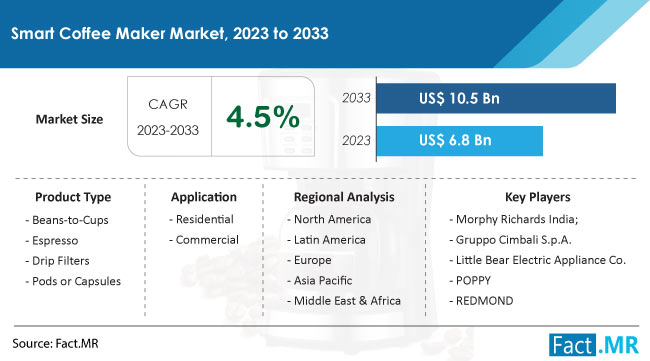 Country-wise Insights
What are the Key Market Trends Shaping the Demand for Smart Coffee Makers in the United States?
"Focus on Integration of Coffee Makers with Smart Home Ecosystems"
In the United States, the adoption of smart coffee makers is influenced by factors such as convenience, customization, and the integration of these devices into larger smart home ecosystems. The ability to control coffee makers remotely via smartphone apps and voice assistants adds to their appeal.
The market is growing, with an increasing number of manufacturers and brands entering the space to cater to the rising demand. Smart coffee makers are being designed to seamlessly integrate with popular smart home platforms, allowing users to incorporate them into their existing setups.
Users are attracted to the ability to customize brewing parameters, schedule brewing times, and receive alerts and notifications through connected apps. Manufacturers are focusing on innovation, introducing features such as voice control, specialty brew options, and portable coffee makers, which will enhance their stance in the programmable coffee makers landscape.
What Potential Avenues are Available for Manufacturers of Smart Coffee Makers in the United Kingdom?
"Rising Environmental Consciousness Leading to Production of Energy-efficient Smart Coffee Makers"
Connected coffee machines are available through various online retailers and e-commerce platforms, making them accessible to a wide range of consumers. Both established coffee maker brands and technology companies are competing in the United Kingdom market, resulting in a variety of smart coffee maker options for consumers to choose from.
As awareness of smart home technology increases, more consumers are exploring the benefits of smart coffee makers. Tech-savvy individuals are more likely to embrace such devices. Smart coffee makers are available at different price points to cater to various consumer budgets. Growing environmental consciousness among consumers is leading some manufacturers to focus on producing energy-efficient and eco-friendly smart coffee makers.
More Insights, Lesser Cost (-50% off)
Insights on import/export production,
pricing analysis, and more – Only @ Fact.MR
Category-wise Insights
Why is There Extensive Adoption of Smart Coffee Makers in the Residential Sector?
"Growing Demand for Customization and Increasing Coffee Consumption Driving Sales of Home Coffee Makers"
Over the forecast period of 2023 to 2033, sales of smart coffee makers for residential use are anticipated to increase at a CAGR of 4.8%.
The residential sector is anticipated to exhibit substantial growth because it already has a loyal customer base in this demographic. The high segmental revenue is a result of both the rising customer demand for convenience and personalization and the expanding use of smart home technology.
The industry is being driven by the demand for flavored specialty coffee. Additionally, due to increased coffee consumption, countries such as the United States generate significant demand for home coffee makers. Technological advancements are a major factor contributing to the expansion of the segment.
Why is Adoption of Smart Coffee Makers Using Pods or Capsules Increasing?
"Ease of Use of Pods/Capsule Smart Coffee Makers"
Over the projection period, sales of smart coffee makers using pods or capsules are expected to rise at a CAGR of 5.4%.
The middle-class populace has been drawn to pod coffee makers due to their ease of use and reliable brewing in automatic coffee makers. Because used coffee pods have a significant environmental impact, consumers' preference for them has suffered. Manufacturers' adoption of environmentally friendly coffee pods is anticipated to improve market prospects and change consumers' perceptions of coffee pods.
Given the substantial sales of smart coffee makers within the pod/capsule and espresso categories, these segments are poised for significant growth. Traditional coffee enthusiasts have shown a historical affinity for espresso machines, and the intelligent iteration of drip coffee makers enhances their appeal with features like automated brewing and personalized adjustments. The convenience factor has been a prime driver in the heightened demand for pod/capsule coffee makers.
Competitive Landscape
Established home appliance manufacturers that have a history of producing traditional coffee makers and kitchen appliances have been entering the smart coffee maker market. Well-known coffee machine brands such as Keurig and Nespresso have developed smart coffee makers that integrate with their capsule systems. These brands have leveraged their existing consumer base and coffee expertise to create innovative smart coffee solutions.
Tech giants such as Google and Amazon have been exploring the smart home space, and this includes smart coffee makers. They are anticipated to partner with existing coffee machine manufacturers to integrate their voice assistants (Google Assistant, Amazon Alexa) into coffee makers (voice-controlled coffee machines).
Nespresso, a coffee brand owned by Nestlé, introduced the additional touchless feature in October 2020. For its Nespresso Momento machines, Nespresso introduced three additional settings to help staff members engage with one another over a cup of coffee more responsibly.
Starbucks Corporation installed AI-enabled coffee makers in its various outlets in the United States and the United Kingdom in January 2020. The sensors in this device are AI-enabled, which helps to give users an effective coffee-brewing experience.
Know thy Competitors
Competitive landscape highlights only certain players
Complete list available upon request
Key Segments of Smart Coffee Maker Industry Research
By Product Type :

Beans-to-Cups
Espresso
Drip Filters
Pods or Capsules

By Technology :

Wi-Fi-enabled
Bluetooth-enabled

By Application :

By Distribution Channel :

By Region :

North America
Latin America
Europe
Asia Pacific
Middle East & Africa
- FAQs -
The global smart coffee maker market is valued at US$ 6.8 billion in 2023.
Worldwide demand for smart coffee makers is set to increase at a CAGR of 4.5% from 2023 to 2033.
Global sales of smart coffee makers are expected to reach US$ 10.5 billion by 2033.
Residential sales of smart coffee makers are forecasted to increase at a CAGR of 4.8% from 2023 to 2033.
North America is set to be a lucrative market for manufacturers of smart coffee makers over the decade.
Sales of pod/capsule smart coffee makers are foreseen to rise at a CAGR of 5.4% through 2033.