Smart TV Market
Smart TV Market Analysis By Resolution Type (Full HD TV, HD TV, 4K UHD TV, 8K TV), By Technology (LED, OLED, QLED), By Screen Size (Below 32 Inches, 32 to 45 Inches, 46 to 55 Inches, 56 to 65 Inches, Above 65 Inches), By Distribution Channel (Online, Offline), By End Use (Residential, Commercial) & By Region - Global Market Insights 2023 to 2033
Analysis of Smart TV Market Covering 30+ Countries Including Analysis of US, Canada, UK, Germany, France, Nordics, GCC countries, Japan, Korea and many more
Smart TV Market Outlook (2023 to 2033)
The global smart TV market stands at a valuation of US$ 236.76 billion in 2023. According to this latest Fact.MR market analysis, increasing at a high-value CAGR of 11%, worldwide sales of smart TVs are projected to reach US$ 672.26 billion by the end of 2033.
A smart TV is a television set equipped with internet connectivity and an operating system, allowing users to access various online services and applications directly on their TV screens. These TVs come with built-in Wi-Fi, which enables users to connect to the internet without the need for additional devices. Through their user-friendly interfaces, users can access OTT streaming platforms such as Netflix, Hulu, Amazon Prime Video, and YouTube, as well as social media, gaming apps, web browsing, and more.
Smart televisions have emerged as one of the most sought-after consumer electronics products. These advanced television sets offer a wide range of features that go beyond traditional broadcast programming, providing users with an immersive and interactive entertainment experience. The increasing demand for smart TVs can be attributed to their versatile capabilities, seamless integration with the internet, and the growing popularity of streaming services.
Worldwide demand for full HD smart TVs is forecasted to rise at a CAGR of 12% from 2023 to 2033.
Full HD TV, HD TV, 4K UHD TV, and 8K TV are some of the types of smart TVs. The demand for full HD smart TVs is high due to their appealing combination of picture quality, affordability, and widespread availability of full HD content. Additionally, they cater to a broad range of consumers who seek an immersive and connected entertainment experience without the premium cost associated with higher-resolution TVs.
Enhanced Picture Quality: Full HD resolution offers significantly better picture quality compared to standard-definition TVs. The high pixel density results in sharper, clearer images, making the viewing experience more enjoyable.
Affordability: Full HD Smart TVs are more affordable than their higher-resolution counterparts, such as 4K and 8K TVs. This makes them a popular choice for consumers who want a better viewing experience without breaking the bank.
Content Availability: While 4K content is becoming more prevalent, the majority of video content available online and through streaming services is still in full HD resolution. As a result, full HD Smart TVs provide ample access to a wide range of content without compromising on quality.
Internet Streaming: Full HD resolution strikes a good balance between picture quality and streaming bandwidth requirements. It allows users to stream content smoothly, even with average internet speeds, making it suitable for a broader audience.
Report Attributes
Details

Smart TV Market Size (2023E)

US$ 236.76 Billion

Forecasted Market Value (2033F)

US$ 672.26 Billion

Global Market Growth Rate (2023 to 2033)

11% CAGR

Canada Market Growth Rate (2023 to 2033)

9.6% CAGR

Germany Market Growth Rate (2023 to 2033)

7% CAGR

Japan Market Growth Rate (2023 to 2033)

6% CAGR

China Market Growth Rate (2023 to 2033)

16.5% CAGR

Key Companies Profiled

Guangdong Changhong Electronics Co. Ltd.
Haier Group
Hitachi Ltd.
Koninklijke Philips N.V.
Konka
LeEco
LG Electronics
Panasonic Corp.
Samsung Electronics Co., Ltd.
Sharp Corporation
Sony Corporation
TCL Multimedia Technology Holdings Ltd.
Toshiba Corporation
Videocon Industries Ltd.
VIZIO
Don't Need a Global Report?
save 40%! on Country & Region specific reports
Why are Smart TV Sales Rapidly Increasing Across the World?
"Smart TV's Entry in OTT Era Connecting Wider Consumer Base"
Widespread availability of high-speed internet and improved connectivity options are enabling more consumers to access online content. Smart TVs capitalize on this connectivity by providing seamless access to streaming services, online videos, social media, and web browsing using smart TV sticks.
With the rise of over-the-top (OTT) media services, consumers are increasingly shifting towards online streaming platforms for entertainment. Smart TVs provide a seamless way to access these services on a larger screen, making them more appealing than traditional cable or satellite TV.
Users can easily stream content, stay updated with the latest news, and access online information directly from their smart TVs. Smart TVs have intuitive interfaces and remote controls, making them easy to navigate, even for those less tech-savvy. The user-friendly experience appeals to a broader range of consumers.
Similar to smartphones, Smart TVs have their app ecosystems, allowing users to download and install applications tailored to their interests. From video streaming apps to fitness, cooking, and gaming apps, the variety adds value to the smart TV experience. Smart TVs can often connect with other smart devices in the home, such as smartphones, tablets, and smart speakers. This integration enhances convenience and creates a seamless, interconnected smart home ecosystem.
"Beyond the Manual Struggle, Smart TVs Listen and Respond"
Integration of smart TVs and other smart devices is becoming stronger due to the ongoing development of smart home technology. The integration of voice recognition technology is taking smart TVs to a whole new level of convenience and interactivity. With a simple voice command, users can control their smart TVs, giving them hands-free control over their entertainment experience. Whether it is changing channels, adjusting volume, searching for content, or even asking for weather updates, smart TVs can listen and respond to user commands accurately and swiftly.
Smart TVs have brought virtual assistants into the living room, serving as a central hub for managing smart home devices. By integrating with popular virtual assistants such as Amazon Alexa or Google Assistant, smart TVs transform into command centers for various smart devices such as lights, thermostats, security cameras, and more, throughout the home. The synergy between smart TVs and virtual assistants is creating a seamless and unified smart home experience.
What Might Hit the Sales Growth of Smart TVs?
"Tech Luxuries Beyond Reach of Lower-income Population"
The high cost of the latest smart technology televisions poses a significant challenge for a considerable portion of the population, particularly those belonging to the low-income category. As technology continues to advance rapidly, newer models of smart TVs with enhanced features and cutting-edge technologies are being introduced into the market. While these advancements might be appealing to tech enthusiasts and early adopters, they can also come with a hefty price tag.
For many consumers, especially those on a tight budget, investing in a top-of-the-line smart TV can be financially burdensome or simply unattainable. As a result, the demand for smart TVs may be limited primarily to low and middle-income households, leading to slower adoption rates among lower-income segments of the population.
The cost factor may not only impact the initial purchase decision but also the overall ownership experience. Smart TVs often require additional expenses beyond the initial purchase, such as subscriptions to streaming services or internet connectivity fees. For low-income households, these ongoing costs might be perceived as an added burden, making the idea of owning a smart TV less appealing.
More Insights, Lesser Cost (-50% off)
Insights on import/export production,
pricing analysis, and more – Only @ Fact.MR
How Can Start-ups Grab Eyeballs in This Competitive Landscape?
"Offering Smart TVs at Competitive Prices the Best Start for New Manufacturers"
New market players can seize the opportunity to differentiate themselves by introducing innovative features and technologies that set them apart from established competitors. This could include advancements in display technology, audio quality, smart features, user interfaces, or integration with emerging technologies such as artificial intelligence (AI), voice control, or smart home systems.
Instead of targeting the broader market dominated by established players, newcomers can identify and focus on niche markets with specific needs or preferences. For instance, catering to specific demographics, content preferences, or regional markets can help create a loyal customer base and generate more sales.
Offering competitive pricing for smart TV models can attract price-conscious consumers who may be hesitant to invest in higher-priced offerings from established brands. Cost-effective manufacturing and supply chain strategies can help newcomers maintain lower price points.
Collaborating with content providers, app developers, or other smart home device manufacturers can enhance the overall user experience and increase the value proposition of their smart TV offerings.
In March 2019, a start-up from Taiwan called ioeX revealed its plan to release a series of smart TVs that are blockchain-based, in partnership with software company QUUBE. These smart TVs feature decentralized applications and offer rewards to users.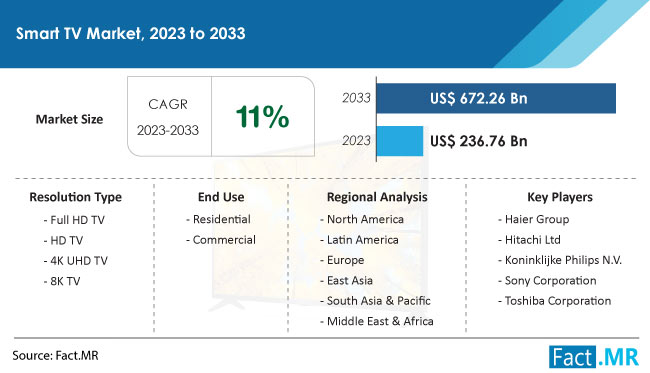 Country-wise Analysis
Will Smart TV Manufacturers See Increasing Sales in the United States?
"American Consumers' Tech Obsession Driving Sales of Smart TVs"
Sales of smart TVs in the United States are experiencing robust growth due to several factors. Increasing demand for high-quality home entertainment is driving American consumers to upgrade their traditional TVs to smart TVs. The proliferation of content streaming services, such as Netflix, Hulu, and Disney+, is fuelling the need for smart TVs with internet connectivity and built-in apps.
Samsung Electronics America reports that currently, the demand for screens larger than 75 inches is experiencing rapid growth.
Rising trend of gaming among the younger population is boosting demand for smart TVs in the country. Moreover, the presence of key market players is also boosting smart TV sales growth.
What's Driving Demand for Smart TVs in Germany?
"Skilled Workforce and High R&D in the Country"
Sales of smart TVs in Germany are expected to rise at a CAGR of 7% during the next 10 years.
Germany is home to some major technologies and electronics companies, making it an ideal location for smart TV producers to tap into a skilled workforce, research and development capabilities, and potential collaborations. German consumers tend to be early adopters of new technologies and are receptive to smart TVs' advanced features. This willingness to embrace new technologies is driving demand for smart TVs in the country.
Being one of the largest and strongest economies in Europe, the German population has a relatively high purchasing power, which makes it an attractive market for consumer electronics manufacturers, and more so for smart gadget companies.
Why is the Market for Smart TVs Booming in China?
"Competitive Pricing Prime Marketing Strategy of Chinese Smart TV Producers"
The Chinese market for smart TVs is projected to expand at a robust CAGR of 16.5% through 2033.
Chinese companies, known for their efficient manufacturing processes and economies of scale, have been able to offer smart TVs at competitive prices compared to their global counterparts. This pricing advantage has allowed them to penetrate markets worldwide, even in regions where cost sensitivity is high. As a result, consumers have access to feature-rich smart TVs at more affordable price points, enabling a broader demographic to embrace this technology.
Many Chinese smart TV manufacturers are strategically entering partnerships with leading e-Commerce platforms. These collaborations are opening new distribution channels and high product visibility, reaching a vast online consumer base. By leveraging the extensive reach of e-Commerce platforms, Chinese smart TV brands are been able to expand their market presence and compete more effectively on a global scale
Know thy Competitors
Competitive landscape highlights only certain players
Complete list available upon request
Category-wise Analysis
What are the Prospects for QLED televisions?
"High HDR Performance & Durability Prime Features of QLED Technology"
QLED (quantum light-emitting diode) TVs offer superior picture quality compared to traditional LED TVs. Quantum dots, which are tiny nanocrystals used in QLED displays, can emit pure and vibrant colours, resulting in a wider colour gamut and more accurate colour reproduction. This leads to more lifelike and immersive viewing experiences.
Quantum light-emitting diode TVs can achieve high levels of brightness, making them well-suited for viewing in brightly lit rooms. Additionally, they excel in high dynamic range (HDR) content playback, delivering better contrast and highlights, further enhancing the visual experience.
QLED TVs generally have longer lifespans compared to traditional LED TVs due to the nature of quantum dot materials, which are resistant to degradation over time. This durability ensures that the TV retains its picture quality and performance for an extended period. Thus all these features are boosting the demand for QLED technology-based smart TVs.
Competitive Landscape
Leading manufacturers of smart televisions are continuously investing in research and development activities to bring innovative and cutting-edge smart TV models to the market. These innovations may include advanced display technologies, improved picture quality, enhanced user interfaces, voice control features, and seamless integration with other smart devices. By offering unique and compelling features, they can attract more customers and command premium prices for their products.
Key Segments of Smart TV Industry Research
By Resolution Type :

Full HD TV
HD TV
4K UHD TV
8K TV

By Technology :

By Screen Size :

Below 32 Inches
32 to 45 Inches
46 to 55 Inches
56 to 65 Inches
Above 65 Inches

By Distribution Channel :

By End Use :

By Region :

North America
Latin America
Europe
East Asia
South Asia & Oceania
MEA
- FAQs -
The global smart TV market is estimated at US$ 236.76 billion in 2023.
The market for smart TVs is forecasted to reach US$ 672.26 billion by 2033.
Worldwide demand for smart TVs is foreseen to increase at a CAGR of 11% from 2023 to 2033.
Sales of smart TVs in Germany are set to rise at a CAGR of 7% through 2033.
Smart TV sales in China are forecasted to increase at a CAGR of 16.5% from 2023 to 2033.