Smart Tire Market
Smart Tire Market Analysis By Product Type (Connected Tires, Intelligent Tires), By Technology (Pneumatic Tires, Run-flat Tires, Non-pneumatic Tires), By Sensor Type (TPMS (Tire Pressure Monitoring Systems), Accelerometer Sensors, Strain Gauge Sensors, RFID Sensors), By Vehicle Type (Passenger Cars, Commercial Vehicles, Electric Vehicles), By Sales Channel (OEMs, Aftermarket) & By Region – Global Market Insights 2023 to 2033
Analysis of Smart Tire Market Covering 30+ Countries Including Analysis of US, Canada, UK, Germany, France, Nordics, GCC countries, Japan, Korea and many more
Smart Tire Market Outlook (2023 to 2033)
The global smart tire market is valued at US$ 95 billion in 2023 and is projected to reach US$ 200 billion by 2033-end, advancing at a noteworthy CAGR of 7.8% over the decade.
Smart tires improve tire performance by sensing road conditions and changing tire pressure and terrain adaptability to perform with little wear and tear. All major tire manufacturers are investing in smart tire research and development; however, the features of a tire differ depending on the manufacturer.
Rising integration of technological technologies in a vehicle, such as connected tires and tire pressure monitoring systems, helps avoid failure in tires. Incorporation of sensor systems into tires that provide real-time data analysis to vehicle users is on the rise. Tire producers are investing in technical advancements such as B-tag systems to monitor tire pressure and temperature. The mechanism notifies the driver of the need for maintenance.
Technological advancements in the automotive industry, driven by autonomous driving and networked vehicles, have extended to every aspect of the car. One such component, automotive tubeless tires, has become increasingly sophisticated, serving as complex vehicle management systems that provide real-time data on various parameters, including tire pressure, temperature, tread wear and depth, road conditions, load detection, and other essential characteristics.
Installation of sensors allows for the monitoring of tire health and the transfer of data regarding temperature, pressure, and tread depth to the vehicle's electronic control unit (ECU), which interacts with the vehicle's onboard computers to improve stability and ABS adjustments.
Report Attributes
Details

Smart Tire Market Size (2022)

US$ 88 Billion

Estimated Market Value (2023)

US$ 95 Billion

Forecasted Market Value (2033)

US$ 200 Billion

Global Market Growth Rate (2023 to 2033)

7.8% CAGR

China Market Growth Rate (2023 to 2033)

6% CAGR

Intelligent Tires Segment Growth Rate (2023 to 2033)

5% CAGR

TPMS Segment Growth Rate (2023 to 2033)

4.5% CAGR

Key Companies Profiled

The Goodyear Tire & Rubber Co.
NEXEN TIRE Corporation
Michelin Group
Bridgestone Corporation
Continental AG
Pirelli & C. S.p.A.
Sumitomo Rubber Industries, Ltd.
Don't Need a Global Report?
save 40%! on Country & Region specific reports
What are the Primary Factors Driving the Demand Growth for Smart Tires?
"Rising Uncertainties Regarding Environmental Sustainability and Vehicle Safety"
People are becoming increasingly concerned about the environment and car safety. As a result of these concerns, manufacturers of smart tires have developed market specifications for the ideal tire. Automotive tires must be manufactured using a wide range of raw materials and energy sources.
Natural resources that are not renewable are also among the raw materials, and increased tire manufacturing is expected to speed up their depletion. Airless tires, which are engineered to last longer than normal tires, aid to reduce the frequency of tire replacement for automobiles. Tire recycling is another significant energy consumer. Longer tire life reduces the number of tires disposed of in landfills or recycled, and it uses less energy to manufacture replacement tires.
"Increasing Integration of 5G Technology with Smart Tires"
5G-connected tires are equipped with small sensors, processors, and communication discs embedded inside the tire. This innovative technology enables continuous monitoring of key tire parameters such as tire pressure, tread depth, tire temperature, acceleration, and even the detection of water and ice on the road. Compared to the commonly used Bluetooth technology in wireless tire pressure monitoring systems, 5G technology offers a higher frequency range and a more robust communication channel, making it superior in performance.
The effectiveness of 5G technology extends beyond individual tire monitoring. With its ability to facilitate vehicle-to-vehicle communication, 5G paves the way for the integration of smart tires in passenger vehicles.
For instance, renowned tire manufacturer Pirelli has been a trailblazer in the development of "Cyber Tires" that are equipped with 5G capabilities. These tires find applications in truck fleet management, further showcasing the potential of 5G connectivity in enhancing operational efficiency.
More Insights, Lesser Cost (-50% off)
Insights on import/export production,
pricing analysis, and more – Only @ Fact.MR
Can Demand for Smart Tires Be Affected in Any Way?
"Limited Retrofitting Options and Data Privacy & Security Concerns"
Smart tire technologies often involve additional components such as sensors, microchips, and connectivity features, which can increase the overall cost of tires. The higher cost can deter some consumers from adopting smart tires, particularly in price-sensitive markets.
Retrofitting existing vehicles with smart tire technology can be challenging and costly. It may require significant modifications to the vehicle's systems and infrastructure, making it less feasible for older vehicles or those without compatible integration capabilities.
Smart tires collect and transmit data about tire conditions and vehicle performance. This raises concerns about data privacy and security. Ensuring secure data transmission and addressing potential vulnerabilities is crucial to building trust among consumers and maintaining their confidence in smart tire technologies.
"Interoperability Challenges Due to Lack of Standardization and Limited Awareness of Benefits of Smart Tire Technologies"
Lack of standardization in smart tire technologies poses challenges to interoperability and compatibility between different tire brands and vehicle systems. Harmonizing industry standards and ensuring compatibility across different manufacturers is essential for widespread adoption and seamless integration.
The effective functioning of smart tire technologies depends on robust communication infrastructure. Areas with limited or inadequate network coverage may face challenges in utilizing the full potential of smart tire features, especially in remote or rural locations.
Many consumers are unaware of the benefits and capabilities of smart tire technologies. A lack of knowledge and understanding about these advancements can impede market growth. Efforts to educate consumers and create awareness about the advantages of smart tires are essential to drive adoption.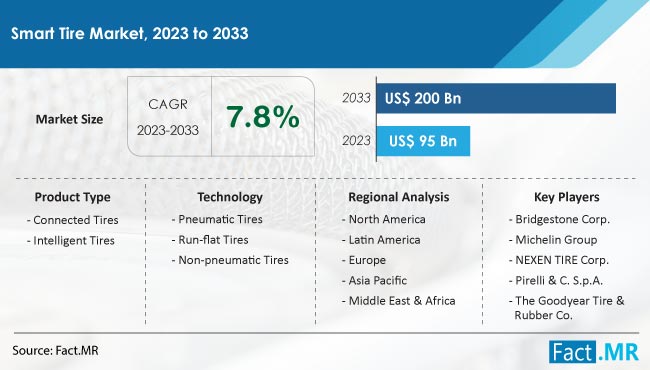 Country-wise Insights
Which Market Trends are Driving the Demand for Smart Tires in China?
"Increasing Adoption of Autonomous Vehicles in the Country"
The smart tire market in China is projected to expand at a CAGR of 6% during the forecast period.
China, as the world's largest automobile market and a major automotive manufacturer, holds a significant position in the global automotive industry. It is poised for substantial growth, driven by factors such as the increasing adoption of autonomous vehicles and a thriving domestic market. The Chinese automotive industry is set to benefit from the country's growing industrial investments, expanding domestic market, and supportive government initiatives.
The robust electronics manufacturing sector in the country has witnessed remarkable growth, presenting opportunities for smart tire manufacturers to collaborate with top companies in the smart tire market. Such partnerships can facilitate the development of cost-efficient smart tire solutions. Additionally, the country's rapidly increasing adoption of autonomous vehicles, particularly in shared mobility services, is expected to further boost the automotive industry.
24x7 operational capabilities and lower labor costs associated with self-driving vehicles make them particularly attractive for shared mobility services. Consequently, the rise in demand for autonomous vehicles is anticipated to boost the development of smart tires across the country.
What are the Opportunities for Smart Tire Manufacturers in Germany?
"Rapid Technological Advancements in Electric & Autonomous Vehicles and Rising Research Investments for Enhanced Tire Performance"
The smart tire market in Germany is experiencing growth and holds significant potential. As a leading automotive market, Germany is at the forefront of adopting advanced technologies and key innovations in the smart tire market.
Germany boasts a strong automotive industry with a focus on innovation and technology. This has paved the way for the development and adoption of smart tire technologies. German tire manufacturers are actively investing in research and development to enhance tire performance, safety, and connectivity.
The country places a strong emphasis on road safety, and smart tires play a vital role in ensuring optimal tire conditions and reducing accidents caused by tire-related issues. The German automotive industry's commitment to safety standards drives the demand for smart tire solutions that offer real-time monitoring and advanced safety features.
Germany is a significant market for electric and autonomous vehicles. Smart tire technologies can complement the performance and safety requirements of these vehicles by providing real-time data on tire conditions and integrating with advanced driver assistance systems.
Know thy Competitors
Competitive landscape highlights only certain players
Complete list available upon request
Category-wise Insights
What is Lead to the Widespread Adoption of Intelligent Tires?
"Real-time Monitoring, Optimized Fuel Efficiency, and Enhanced Vehicle Connectivity Offered by Intelligent Tires"
Sales of intelligent tires are anticipated to rise at a steady CAGR of 4% during the forecast period.
Intelligent tires, also known as smart tires, represent a significant advancement in the field of automotive technology. These innovative tires incorporate advanced sensors, connectivity features, and data analytics capabilities to provide real-time monitoring and enhance overall performance. The intelligent tires segment within the smart tire market offers exciting growth prospects and several benefits for vehicle safety, efficiency, and convenience.
Maintaining optimal tire pressure and tread wear enhances fuel efficiency and reduces carbon emissions. Additionally, the data analytics capabilities of intelligent tires enable drivers to optimize driving patterns and maintenance schedules, further enhancing efficiency and reducing environmental impact.
Seamless integration with connected vehicles and IoT platforms is another advantage of intelligent tires. They communicate with the vehicle's onboard systems, enabling coordinated responses and enhancing overall vehicle performance. This integration also facilitates remote monitoring, predictive maintenance, and real-time updates, providing convenience and peace of mind to both drivers and fleet managers.
Why are TPMS Sensors Widely Used in Smart Tires?
"Real-time Pressure Monitoring and Tire Life Extension Capabilities of TPMS Sensors"
Utilization of TPMS is predicted to rise at a CAGR of 4.5% during the forecast period.
The tire pressure monitoring system (TPMS) is a key component of smart tires that contributes to improved vehicle safety and performance. TPMS technology constantly monitors the air pressure within tires and provides real-time information to the driver, ensuring optimal tire conditions and reducing the risk of accidents caused by underinflated or overinflated tires. The integration of TPMS in smart tires offers several benefits and enhances the overall driving experience.
TPMS sensors embedded in smart tires continuously monitor tire pressure and detect any deviations from the recommended levels. In case of low pressure, the system alerts the driver, allowing them to take immediate action and inflate the tire to the appropriate pressure. This proactive monitoring prevents tire underinflation, which can lead to increased tire wear, reduced fuel efficiency, and potential tire failures.
Appropriate tire pressure significantly impacts tire lifespan. Overinflated or underinflated tires can cause uneven tread wear and reduce the overall durability of the tire. TPMS in smart tires ensures that tires are inflated to the manufacturer's recommended pressure, promoting even wear patterns and extending tire life.
Competitive Landscape
The global smart tire industry is fairly fragmented, with few large- and medium-sized market participants accounting for the vast bulk of revenue. Major businesses are using a variety of strategies, including mergers and acquisitions, strategic partnerships and contracts, and the development, testing, and introduction of more efficient and high-performance smart tires.
Goodyear Tire & Rubber Company completed the acquisition of Cooper Tire & Rubber Company in June 2021. The merger brings together two top tire firms with complementary product portfolios, services, and capabilities, resulting in increased global tire industry leadership. The companies are set to work together to focus on consumers, cutting-edge technology, and high-quality products and solutions.
Pirelli & C. S.p.A. introduced its first high-load index tire in July 2021, which is a new form of tire particularly catering to electric or hybrid cars and SUBs and meant to sustain larger vehicles while also supporting 20% more weight than regular types of tires.
Key Segments of Smart Tire Industry Research
By Product Type :

Connected Tires
Intelligent Tires

By Technology :

Pneumatic Tires
Run-flat Tires
Non-pneumatic Tires

By Sensor :

TPMS (Tire Pressure Monitoring Systems)
Accelerometers
Strain Gauge Sensors
RFID Sensors

By Vehicle Type :

Passenger Cars
Commercial Vehicles
Electric Vehicles

By Sales Channel :

By Region :

North America
Latin America
Europe
Asia Pacific
Middle East & Africa
- FAQs -
The global smart tire market is valued at US$ 95 billion in 2023.
Worldwide demand for smart tires is set to increase at a CAGR of 7.8% from 2023 to 2033.
Global sales of smart tires are set to reach US$ 200 billion by 2033.
Demand for smart tires is forecasted to increase at a CAGR of 6% in China.
Goodyear Tire & Rubber, NEXEN TIRE Corporation, and Michelin Group are key manufacturers of smart tires.