Tire Cord Market
Tire Cord Market Analysis By Material (Nylon, Polyester, Rayon), By Tire Type (Radial Tires, Biased Tires), By Application (Aerospace, Passenger Cars, Light Commercial Vehicles, Heavy Duty Vehicles, Off-road Vehicles, Two Wheelers) & By Region - Global Market Insights 2023 to 2033
Analysis of Tire Cord Market Covering 30+ Countries Including Analysis of US, Canada, UK, Germany, France, Nordics, GCC countries, Japan, Korea and many more
Tire Cord Market Outlook (2023 to 2033)
The global tire cord market size is estimated at US$ 5.75 billion for 2023. Expanding at a CAGR of 5.5%, the market is projected to reach a value of US$ 9.82 billion by 2033.
A tire cord is a reinforcement used to maintain the stability and shape of the tire. Capable to control deformation, tire cords are made from strong fabric materials, which are elastic and abrasion resistant. During on-road use, tire cords offer high protection from sudden pressure, weight, or force. The major role of tire cords is to maintain the shape of the tire and provide effective assistance during performance. These cords form the major structural component of any tire.
High use of tire cords is seen in the automotive sector as they improve vehicles' performance and play a major role in passengers' safety. By absorbing weight and pressure for a longer period, tire cords aid in the performance of vehicles.
Growing demand for fuel-efficient vehicles is the major factor boosting the automotive market's growth. Tire cord efficiency has a significant role in the growth of vehicle sales, enhancing the features of automobiles. Some of the materials used in the production of tire cords are nylon, polyester, and rayon.
Worldwide sales of nylon tire cords are forecasted to rise at a CAGR of 6% from 2023 to 2033.
Nylon tire cords are used in the production of commercial vehicle tires due to their superior fatigue resistance, high tenacity, and improved adhesion to rubber. These features improve the overall performance and durability of tires.
Tires witness constant and repetitive stress during their lifetime, especially in commercial applications such as aircraft, agricultural, and truck tires. The ability of nylon to withstand repeated loading and unloading cycles without experiencing material degradation makes it an ideal choice for tire reinforcement. This fatigue resistance aids in maintaining the tire's structural integrity and performance over a longer period, reducing the need for frequent replacements and contributing to cost savings for vehicle owners.
High tenacity is another important feature of nylon tire cords. Tenacity refers to the strength of a material and its ability to withstand tension or stretching forces without breaking. Nylon possesses high tenacity, which means it can face significant forces without failure. In tire manufacturing, this property allows for the production of tires that can withstand heavy loads and rough terrains without compromising performance or safety.
The strong adhesion of nylon to rubber is also a key factor driving its popularity in tire cord applications. Additionally, nylon's lower moisture-regain property makes it particularly well-suited for the production of tires intended for wet conditions. The use of nylon tire cords is contributing to the production of durable and reliable tires, which can withstand harsh operating conditions, thus ensuring higher safety and performance for various vehicles.
Report Attributes
Details

Tire Cord Market Size (2023E)

US$ 5.75 Billion

Forecasted Market Value (2033F)

US$ 9.82 Billion

Global Market Growth Rate (2023 to 2033)

5.5% CAGR

Canada Market Growth Rate (2023 to 2033)

4% CAGR

Germany Market Growth Rate (2023 to 2033)

4% CAGR

Japan Market Growth Rate (2023 to 2033)

3.5% CAGR

China Market Growth Rate (2023 to 2033)

6.5% CAGR

Key Companies Profiled

Asahi Kasei Corporation
Hyosung Corporation
Kolon Industries, Inc.
NV Bekaert SA
Century Enka Ltd.
Indorama Ventures Public Company Limited
Cordenka GmbH & Co. KG
Formosa Taffeta Co., Ltd.
KISWIRE Ltd.
C. A. Litzler Co., Inc.
Jiangsu Xingda Steel Cord Co., Ltd.
JSC Grodno Azot - Khimvolokno Plant
Kordsa Teknik Tekstil A.S.
Benninger
Don't Need a Global Report?
save 40%! on Country & Region specific reports
Why are Sales of Modern Tire Cords Gaining Traction in the Automotive Industry?
"Advancing Automotive Industry Opening Profitable Doors to Component Manufacturing Companies"
Rising popularity and adoption of electric vehicles (EVs) are reshaping the automotive industry and stimulating demand for various components of vehicle design, including smart tires. Demand for tire cords is directly linked to the production and sales of vehicles worldwide.
Emerging economies such as China, India, Brazil, and several Southeast Asian countries are witnessing rapid urbanization and industrialization. The growing migration of the population toward urban areas is increasing the need for personal transportation, leading to a surge in vehicle ownership.
EVs have unique tire requirements due to their different weight distribution, torque characteristics, and regenerative braking. As electric vehicles are gaining popularity, tire manufacturers are incorporating specialized tire cord materials to meet these specific needs, thereby creating potential opportunities for the tire cord market players.
Governments and regulatory bodies around the world are implementing stricter regulations and standards related to tire performance, safety, and environmental impact. These regulations are pushing tire cord manufacturers to use higher-quality materials to ensure compliance and safety. As a result, the demand for advanced tire cord materials is increasing.
"Introduction of Sustainable Tire Cord Materials Aiding in Reducing Environmental Pollution and Enhancing Vehicle Performance"
Ongoing research and development efforts are leading to the introduction of advanced tire cord materials such as high-performance fibers, including aramid, and steel cords. These materials are offering enhanced strength, durability, and heat resistance, meeting the requirements of modern tire designs. The adoption of these advanced materials is improving the overall performance and safety of tires, boosting the growth of the market.
Traditionally, tire cords are made from synthetic materials such as nylon and polyester. However, tire cord manufacturers are now exploring sustainable materials that are recyclable and renewable. For instance, some manufacturers are using natural fibers such as rayon, cotton, or even plant-derived materials such as dandelion rubber. These sustainable materials not only reduce the environmental impact but also contribute to the circular economy by promoting recycling and reusability.
"Radial Tires Facilitating Increased Fuel Efficiency in Vehicles and Reduced Carbon Emissions"
Radial tires are becoming increasingly popular due to their numerous advantages and unique construction over bias-ply tires. Radial tires are offering better fuel efficiency compared to bias-ply tires. This is primarily due to their construction, where the tire cords are arranged in a radial pattern, extending from the bead to the tread. The radial design allows the sidewalls to flex more independently, reducing rolling resistance. As a result, vehicles such as trucks or buses require less energy to move, leading to improved fuel efficiency and lower carbon emissions.
High versatility is making radial tire cords more popular and are being used in various types of vehicles, including passenger cars, trucks, buses, motorcycles, and even agricultural and off-road vehicles. Their ability to deliver enhanced performance across different applications makes them a preferred choice for many vehicle manufacturers and consumers.
What is Affecting the Revenue Growth of Tire Cord Manufacturers?
"Fluctuations in Raw Material Prices Impacting Tire Cord Production"
Tire cords play a crucial role in the manufacture of tires by providing them with the necessary strength and stability to withstand the demanding conditions of the road. The selection of materials for tire cords depends on several factors such as their intended application, performance requirements, and cost considerations.
Primary materials used for tire cords are polyester, rayon, and nylon. Price fluctuations in these raw materials are directly affecting tire cord manufacturers' revenue growth, which can potentially dampen the demand for tires, particularly in price-sensitive markets. Moreover, manufacturers of tire cords face challenges in managing their profit margins and staying competitive amidst price volatility.
More Insights, Lesser Cost (-50% off)
Insights on import/export production,
pricing analysis, and more – Only @ Fact.MR
What is the Key Strategy Adopted by New Companies to Establish Themselves in the Market?
"Investing in R&D Efforts to Develop High-quality Products"
Entering into the tire cord trade can be challenging for new companies; however, by adopting effective strategies they can achieve a steady market position. New market players are focusing on developing high-quality, innovative, or specialized tire cord products, which may help them to set themselves apart from competitors. Employing sustainable and high-performance materials attracts a wider consumer base.
Optimizing the production process helps new entrants in reducing overall product costs. Low tire cord costs help in attracting a large customer base. New entrants should invest in research & development activities to stay ahead in this competitive market.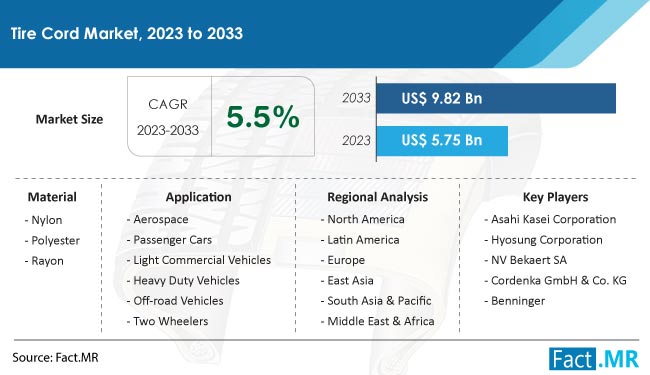 Country-wise Analysis
Which Technologies are Set to Exhibit Higher in Demand in the United States?
"Rising Sales of Luxury Cars Stimulating Demand for High-performance Tires"
Tire cord demand in the United States is witnessing an increase due to the rapid growth in the automotive industry and higher consumer demand for durable and fuel-efficient tires. The United States is widely known for its super/hypercars. This craze of modified luxury cars is increasing the demand for advanced tires produced with high-performance tire cord technologies.
What's Driving the Sales of Tire Cords in Germany?
"Sustainability-Key Trend in German Automotive Industry"
Sales of tire cords in Germany are estimated to rise at a CAGR of 4% through 2033.
The German market for tire cords is experiencing a shift toward eco-friendly and sustainable tire solutions. The country's strong focus on environmental protection and stringent emission regulations is driving tire manufacturers to explore novel materials for tire reinforcement.
Consequently, there is a growing demand for bio-based and recycled tire cord materials such as organic fibers and eco-friendly steel cords, which offer high sustainability and a low carbon footprint. The German automotive industry's continued emphasis on quality and precision engineering is increasing the adoption of advanced tire cord technologies with high performance and safety.
How is the Market in Japan Expected to Evolve Over the Projected Period?
"Continuous Innovations in Japan Pushing it Ahead towards Global Dominance"
This latest study by Fact.MR, a market research and competitive intelligence provider estimates that the Japanese market for tire cords is forecasted to expand at a CAGR of 3.5% over the next 10 years.
Japanese tire cord manufacturers are actively investing in research and development initiatives to produce lightweight, high-strength tire cords using advanced materials such as aramid fibers and hybrid reinforcements. This move is helping them to earn more and achieve market dominance at the global level.
Know thy Competitors
Competitive landscape highlights only certain players
Complete list available upon request
Category-wise Analysis
In Which Type of Vehicle are Tire Cords with Advanced Technologies Extensively Used?
"High-strength & Low-weight Tires-Crucial for Passenger Cars"
Tire cords are essential for tire construction. Any wear or tear of tires results in replacement with a new one. The growing number of passenger cars on the road is directly influencing sales of tires, which is further boosting demand for tire cords.
There are a significantly higher number of passenger cars on roads compared to other types of vehicles, which results in a substantial increase in demand for tires and tire cords as they form essential components of tire construction.
Tire cords, especially those made from high-strength materials such as steel or synthetic fibers offer excellent strength-to-weight ratios. Lighter tire construction contributes to better fuel efficiency in passenger cars, which is a critical factor for consumers and manufacturers aiming to meet fuel economy standards. Therefore, these factors are majorly boosting the demand for tire cords in passenger cars.
Competitive Landscape
Tire cord manufacturers are investing a fair amount in research and development activities to produce innovative and high-performance tire cord materials. These innovative materials include advanced synthetic fibers, hybrid reinforcements, and eco-friendly alternatives. By offering superior products, they are expected to attract more customers and achieve higher market shares.
South Korean corporation Hyosung has a substantial market presence in the tire cord sector. It offers numerous tire cord materials, including steel cords, nylon, and high-strength polyester yarns for use in a range of tire types, including those for passenger cars, trucks, buses, and industrial tires.
Key Segments Covered in Tire Cord Industry Research
By Material :

By Tire Type :

Radial Tires
Biased Tires

By Application :

Aerospace
Passenger Cars
Light Commercial Vehicles
Heavy Duty Vehicles
Off-road Vehicles
Two Wheelers

By Region :

North America
Latin America
Europe
East Asia
South Asia & Oceania
MEA
- FAQs -
The global tire cord market is estimated at US$ 5.75 billion in 2023.
The tire cord market is estimated to reach US$ 9.82 billion by 2033.
Global demand for tire cords is predicted to rise at a CAGR of 5.5% during the next 10 years.
The tire cord market in China is forecasted to increase at a CAGR of 6.5% through 2033.
Sales of tire cords in Germany are predicted to rise at a CAGR of 4% through 2033.