Surface Protection Tapes Market Outlook (2023-2033)
The global surface protection tapes market stands at a valuation of US$ 15.9 billion in 2023. Worldwide demand for surface protection films and tapes is forecasted to increase at a CAGR of 8.5% to reach a market value of US$ 36 billion by the end of 2033.
Plastic is commonly used for the manufacturing of surface protection tapes. These solutions come with a self-adhesive property that saves prevents products or surfaces from scratches during transportation or transit. These beneficial features of protection tapes are predicted to create lucrative opportunities for manufacturers for years to come.
Surface protection tapes are applied on surfaces such as plastic, glass, aluminum, and steel. This wide application range means that their demand will only increase as time goes by. Self-adhesive tape solutions are also used to safeguard surfaces from dust and various other particles in the air. Further, they also protect surfaces from moisture and damage. These tapes are popular due to their properties of being scratch-resistant, UV-resistant, and chemical-resistant.
Based on type, surface protection tapes are segmented into polyethylene, polyvinyl chloride, polypropylene, and others. Demand for protection tapes is increasing due to their ease of application and durability. Further, advancements in adhesive tape technology are also predicted to lead to lucrative opportunities for new entrants in the market.
Electronics, construction, and automotive are some of the key end-use industries of surface protection tapes. These products protect various surfaces during handling, transit, and post-installation from marks and scratches. Significant growth in the electronics and automotive sectors is substantially driving the demand for surface protection tapes and films.
Smooth removal, customization, reduced weight, and easy applicability are some other key features of surface protection tape that are estimated to propel the demand for these solutions. Moreover, technological advancements that are taking place in the industry of adhesive tapes are also projected to bolster the sales of protection film tapes. The growing e-Commerce industry is expected to generate huge opportunities for manufacturers of protection tapes over the coming years.
On the flip side, there are constant fluctuations in the prices of raw materials that are used to produce a wide variety of surface protection films. Along with this, the difficulty to recycle polymer plastics that are used in the production of adhesive tapes can also have an adverse impact on the adoption of surface protection tapes over the coming years.
Report Attributes

Details

Market Size in 2023

US$ 15.9 Billion

Anticipated Market Value in 2033

US$ 36 Billion

Estimated Market Growth Rate (2023-2033)

8.5% CAGR

Canada Market Growth Rate (2023-2033)

7.7% CAGR

Germany Market Growth Rate (2023-2033)

6% CAGR

Key Companies Profiled

Ajit Industries Private Limited
Tuftape Fzco
Chevron Phillips Chemical Company
Scapa Group
Integument Technologies, Inc.
Mexim Adhesive Tapes Pvt. Ltd.
Rhira Industries LLC
Tesa SEa
Know thy Competitors
Competitive landscape highlights only certain players
Complete list available upon request
Why is Demand for Surface Protection Tapes Estimated to Grow Significantly?
"Rapidly Increasing Preference for Protective Packaging"
Surface protection films have been designed to safeguard different surfaces from dust particles and scratches. These films protect against any sort of damage, excessive rust, moisture, and transportation. They are also used to extend the life cycle of different objects.
The application of surface protection films is a cost-effective way to protect expensive items from damage. Further, these films remain unaffected by environmental factors including, chemical components.
A substrate layer based on the polymer is covered with a layer of adhesive to develop protective packaging films. These layers are peeled away readily following finishing operations and ensure surface quality without leaving any blemishes or residue after the removal of the film. Further, according to the requirements of users, protection packaging films can be rolled, packed, slit, or sliced.
The coming years are estimated to witness a significant increase in the demand for surface protection film with the expansion across the construction industry. Newly developed protection films also ensure protection against high temperatures. These help extend the lifespan of any product.
"Growing Adoption of Advanced Surface Protection Tapes"
Companies, in recent years, are discovering novel technologies, for instance, tablets and smartphones. These technologies use advanced surface protection films owing to increasing digital literacy.
In recent years, consumer electronics are gaining popularity around the world. Various technologies are undergoing advancements such as 8K resolution and foldable displays that can further stimulate demand for advanced and innovative surface protection tapes. These newly launched products meet rising quality and performance prerequisites.
Penetration of smartphones and the internet along with technical advances are rising at a noteworthy pace that is further contributing to increased demand for protection tapes.
"Rising Demand from Automotive Industry"
The automotive industry is contributing to increased demand for surface protection tapes. Protective polyethylene films ensure minimal possible changes to exteriors. On the other hand, interior surface protection tapes protect delicate substrates.
The range of surface protection tapes comes with paints protection films and self-adhesive tape solutions for the safe transportation of products across the globe. Further, these tapes also provide resistance to extreme weather conditions and similar causes of damage.
As per data provided by the OICA (Organisation Internationale des Constructeurs d'Automobiles), the production of automobiles increased by 10% in 2021 compared to 2020.
Thus, the increasing demand for adhesive solutions from the automotive industry is stimulating the sales of these solutions.
More Insights, Lesser Cost (-50% off)
Insights on import/export production,
pricing analysis, and more – Only @ Fact.MR
What Challenges are Faced by Manufacturers of Surface Protection Tapes?
"Recycling of Polymers - A Prominent Issue"
Polymeric resins are used for the manufacturing of surface protection tapes. The issue to recycle polymer plastic will challenge market growth. The processes of recycling and melting down plastic produce VOC (volatile organic compounds) fumes that are harmful to animal life and plants near the industrial site.
Uncertainty about bond permanency coupled with stringent regulatory policies will dampen the growth opportunities in the global industry. For instance, the U.S. EPA (Environmental Protection Agency) regulates VOC across the Federal level in 40 CFR 59 which is a standard set for the national volatile organic compound emission for commercial and consumer products. These VOC controls are based on the application of products.
As such, the regulations surrounding the raw materials that are used for the manufacturing of surface protection tapes are anticipated to hamper the market growth.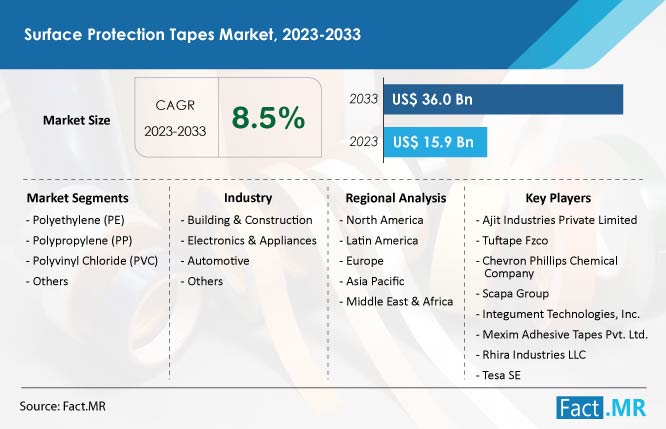 What Makes Asia Pacific the Largest Market for Surface Protection Tapes?
"Rapidly Increasing Infrastructural Developments in Asia Pacific"
Asia Pacific is projected to account for a significant share of the global market in the forecast period. Rapid growth across end-use industries like electrical, electronics, construction, and automotive are further contributing to increased demand for these protection tapes.
Rapid urbanization and high economic growth lead to increased infrastructural development in the region which is propelling demand for surface protection tapes. Being a thermoplastic polymer, these can be formed into any shape.
According to data provided by Invest India, the industry of automobile is projected to reach more than US$ 300 billion in the coming ten years. Thus, an upsurge in the requirement for surface protection tapes in Asia Pacific is attributed to the thriving automotive industry.
Country-wise Insights
What is the Growth Outlook for Surface Protection Tape Producers in Japan?
"High Economic Growth and Rapid Urbanization Leading to Infrastructural Developments"
Sales of surface protection tapes in Japan have been forecasted to increase at a CAGR of 5.3% through 2033 owing to high economic growth along with rapid urbanization. These factors further result in growing incidences of infrastructural developments there that boost demand for these adhesive tapes.
Increasing standards of living and intensive construction activities will contribute to lucrative opportunities for industry players there.
What Opportunities Await Surface Protection Tape Manufacturers in Germany?
"Rapid Developments in Consumer Electronics"
The market in Germany is forecasted to advance at a CAGR of 6% from 2023 to 2033. Owing to an uptick in vehicle manufacturing along with rising developments across the consumer electronics industry are increasing the concentration of industry participants toward Germany. Further, significant infrastructural developments are also driving sales of surface protection tapes there.
Why is the U.S. Market Predicted to Exhibit Steady Growth?
"Presence of Large Target Consumers in the U.S."
The presence of a large consumer base in the United States is predicted to contribute to increased demand for these adhesive tapes. In addition, the established economy of the US is also propelling demand for these tapes from different end-use industries. For instance, increasing demand from the electronics industry for TV, mobile, and others can stimulate sales of surface protection tapes for their longer life.
The sales valuation of the U.S. market was more than US$ 3.5 billion in 2022. Moreover, the demand for surface protection tapes in Canada is anticipated to flourish at a CAGR of 7.7 % through 2033.
Category-wise Insights
Why Do Most End-use Industries Prefer Polypropylene Tapes?
"High Demand for Polyethylene Tapes Due to Their Resistance to High Temperature"
Based on type, the industry is bifurcated into polyethylene (PE), polypropylene (PP), polyvinyl chloride (PVC), and others. Polypropylene is estimated to grow at the fastest pace compared to other segments. These protection tapes are applied to products due to their high-temperature resistance. So, they are generally employed in industries including electronics and transportation where manufacturing procedures are conducted at high temperatures.
These tapes come with better barrier properties, higher impact strength, and effective clarity. They are comparatively expensive owing to their inbuilt elasticity.
Why Does the Building & Construction Industry Use Protection Tapes on a Large Scale?
"Increased Use of Protection Tapes to Minimize Construction Damage and Wrecks"
The surface protection tapes market is classified into building & construction, electronics & appliances, automotive, and others, based on industry. The building & construction section holds the highest share of market revenue owing to the growing use of protection tapes to render temporary protection to hard surface flooring and synthetic carpets. These adhesives also protect against construction damage and wreck.
Why are Polished Metal Tapes Becoming Important?
"Increased Demand from Various End-use Industries"
The market is segmented into polished metals, glass, plastics, and others, based on material. The polished metals segment holds the largest share of market revenue owing to growing demand from different end-use industries that include building & construction. A lot of manufacturers Berry Global Inc., Toray Industries, Inc., and 3M are investing a handsome amount to develop polished metals.
Competitive Landscape
Market players are adopting different strategies, such as novel product launches, collaborations, and others for the generation of growth opportunities over the coming years.
For instance :
Toray Industries, Inc. in October 2021 developed a novel version of Lumirror. This newly launched version comes with a range of biaxially oriented polymer films. The film eliminates surface defects available at coarse protrusions.
The Intertape Polymer group in May 2021 announced the launching of a novel flame-retardant polyethylene tape named PEFR. This solution is ideal for application in long-term storage, heavy equipment preservation, marine, surface protection, and abatement.
Prominent players in the global surface protection tapes market are Ajit Industries Private Limited, Tuftape Fzco, Chevron Phillips Chemical Company, Scapa Group, Integument Technologies, Inc., Mexim Adhesive Tapes Pvt. Ltd., Rhira Industries LLC, and Tesa SE.
Segmentation of Surface Protection Tapes Industry Research
By Type :

Polyethylene (PE)
Polypropylene (PP)
Polyvinyl Chloride (PVC)
Others

By Industry :

Building & Construction
Electronics & Appliances
Automotive
Others

By Material :

Polished Metals
Glass
Plastics
Others

By Region :

North America
Europe
Asia Pacific
Latin America
Middle East & Africa