Vinyl Acetate Market
Vinyl Acetate Market Analysis by Process (Ethylene Process, Acetylene Process), By Application (Polyvinyl Acetate, Polyvinyl Alcohol, Ethylene Vinyl Acetate), By End Use (Solar, Automotive, Building & Construction, Packaging, Textiles) & By Region – Global Market Insights 2023 to 2033
Analysis of Vinyl Acetate Market Covering 30+ Countries Including Analysis of US, Canada, UK, Germany, France, Nordics, GCC countries, Japan, Korea and many more
Vinyl Acetate Market Outlook (2023 to 2033)
The global vinyl acetate market is valued at US$ 10.5 billion in 2023 and is projected to reach US$ 16.2 billion by the end of 2033, expanding at a steady CAGR of 4.5% through 2033.
The organic compound vinyl acetate has the formula CH3CO2CH=CH2. This colorless liquid serves as a precursor for various commercial polymers, including polyvinyl acetate, ethene-vinyl acetate copolymers, and polyvinyl alcohol. Vinyl acetate is derived from the esterification of vinyl alcohol and acetic acid. Due to the relative instability of vinyl alcohol compared to acetaldehyde, the synthesis of vinyl acetate is a more complex process compared to other acetate esters.
Polyvinyl acetate (PVA) is a versatile polymer that finds applications in various industries. Polyvinyl acetate polymers are commonly used in the manufacturing of adhesives, paints, coatings, textiles, films, and resins. PVA-based adhesives are widely used in woodworking, paper bonding, packaging, and construction. PVA-based paints and coatings offer good adhesion, flexibility, and water resistance.
Polyvinyl chloride acetate is a vinyl chloride and vinyl acetate thermoplastic copolymer. It is used to make electrical insulation, protective covers, credit cards, and vinyl records. Vinyl acetate is known for its ability to polymerize easily, allowing for the production of different types of vinyl acetate-based copolymers. These copolymers exhibit a range of properties depending on the monomers used, enabling manufacturers to tailor the materials for specific applications.
Report Attributes
Details

Vinyl Acetate Market Size (2022)

US$ 10.05 Billion

Estimated Market Value (2023)

US$ 10.5 Billion

Forecasted Market Value (2033)

US$ 16.2 Billion

Global Market Growth Rate (2023 to 2033)

4.5% CAGR

Companies Profiled

Celanese Corporation
ExxonMobil Corporation
China Petrochemical Corporation
Dairen Chemical Corporation
Clariant Ltd.
Kuraray Co., Ltd.
LyondellBasell Industries Holdings B.V.
ECI Group S.R.L.
Shandong Yulong Petrochemical Co. Ltd.
Don't Need a Global Report?
save 40%! on Country & Region specific reports
What are the Trends Driving High Demand for Vinyl Acetate?
"Role of Vinyl Acetate-based Encapsulants in Enhancing Durability and Protection of Solar Cells against Environmental Factors"
In most solar cells, photovoltaic (PV) modules are wrapped in ethylene-vinyl acetate (EVA). Its benefits include good light transmittance and flexibility, great melt fluidity, low processing temperature, and adhesive property.
Solar cell utilization is rising all around the world. Over the last decade, newly installed solar photovoltaic cell capacity rose due to greater government backing. Vinyl acetate is not typically considered a primary material used in the solar industry. The solar industry primarily relies on materials such as silicon, metals, and specialized coatings for the production of solar panels and other components.
Adhesives based on vinyl acetate can be used for bonding and sealing various components within solar panels or in the construction of solar modules. These adhesives are utilized for joining glass, metal, and other substrates, providing structural integrity and protection against environmental factors.
Vinyl acetate-based encapsulants can be used as protective coatings for solar cells, which helps enhance their durability and resistance to moisture, temperature fluctuations, and UV radiation. These encapsulants play a role in preventing damage to solar cells and ensuring their long-term performance.
While demand for vinyl acetate, specifically from the solar industry, may not be as significant as other industries, the overall solar sector can indirectly contribute to the demand for adhesives and encapsulants, including those based on vinyl acetate.
"Shift towards Biobased Vinyl Acetate and Growth of Adhesives & Sealants Sector"
Research and development efforts have been focused on developing bio-based vinyl acetate derived from renewable feedstocks, such as biomass or plant-based sources. The adhesives and sealants industry is one of the major consumers of vinyl acetate. The increasing demand for adhesives and sealants in various applications, including packaging, construction, and automotive, has been driving the growth of the market.
Petrochemical vinyl acetate is facing increasing scrutiny for its sustainability and environmental impact. Market players are investing in research to develop eco-friendly and sustainable processes for vinyl acetate production. Compliance with stringent regulations and certifications related to emissions and waste management is also a significant area of focus for industry participants.
More Insights, Lesser Cost (-50% off)
Insights on import/export production,
pricing analysis, and more – Only @ Fact.MR
What are the Major Obstacles to the Widespread Adoption of Vinyl Acetate?
"Price Volatility of Petrochemical-based Feedstock and Growing Environmental Concerns Associated with Vinyl Acetate Use"
Vinyl acetate is derived from ethylene and acetic acid, both of which are petrochemical-based feedstocks. Fluctuations in the prices of these raw materials can significantly impact the production costs of vinyl acetate. Price volatility can pose challenges for manufacturers in terms of maintaining profitability and pricing competitiveness.
Vinyl acetate is classified as a hazardous substance and has certain health and safety considerations associated with its handling and use. Stringent regulations governing worker safety, emission control, and waste management can impose compliance challenges and increase operational costs for suppliers of vinyl acetate. Increasing environmental concerns are driving the demand for sustainable alternatives to traditional vinyl acetate.
"Reliance of Vinyl Acetate Demand on Industries Subject to Economic Fluctuations, Regulatory Changes, and Shifting Consumer Preferences"
Vinyl acetate faces competition from alternative materials and technologies in various applications, such as hot melts, water-based adhesives, and solvent-based adhesives. Substitutes offer similar or improved properties, lower costs, and better environmental profiles, which can impact the demand for vinyl acetate.
Demand for vinyl acetate is closely linked to industries such as construction, automotive, packaging, and textiles. The growth of these industries is subject to economic fluctuations, regulatory changes, or shifts in consumer preferences. Market saturation in certain regions or limited growth opportunities in mature markets can also restrain the expansion of the vinyl acetate market.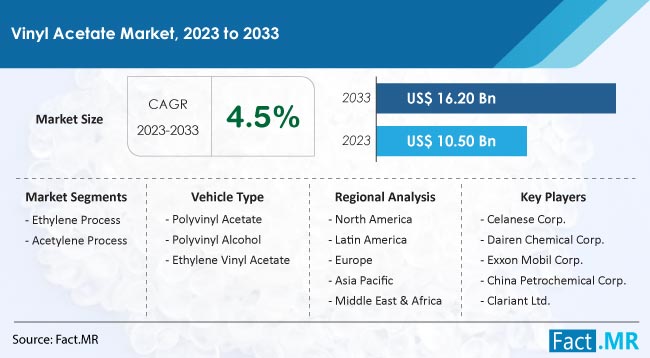 Country-wise Insights
Why is China a Lucrative Market for Vinyl Acetate Manufacturers?
"High Use of Vinyl Acetate in Flourishing Construction and Automotive Sectors"
Sales of vinyl acetate in the Asia Pacific region are expected to increase owing to rising construction and automotive spending.
China is the world's greatest producer of automobiles.
According to the China Association of Automobile Manufacturing, the country's output of passenger new-energy vehicles was anticipated to increase by 97.8% year-on-year in December 2022. Furthermore, the country's output of commercial new-energy vehicles increased by 81% year-on-year in December 2022. As a result, the country's need for vinyl acetate is likely to rise as the automotive sector expands.
Vinyl acetate is commonly used in the manufacturing of paints, coatings, adhesives, and packaging products. Because China is a major player in these industries, demand for vinyl acetate is projected to rise during the projection period.
What are the Main Applications of Vinyl Acetate in the United States?
"Significant Manufacturing Presence and Extensive Utilization of Vinyl Acetate in Construction, Packaging, Adhesives, Paints, and Coatings"
The United States has a significant manufacturing presence in the vinyl acetate market. Several domestic and international companies operate production facilities in the country to meet this demand. These companies are engaged in the production of vinyl acetate monomers as well as various vinyl acetate polymers and products.
Vinyl acetate finds extensive use across multiple industries in the United States. In the construction sector, vinyl acetate-based adhesives and coatings are utilized for bonding and sealing applications. The packaging industry employs vinyl acetate-based resins and films for flexible packaging materials. Adhesives, paints, and coatings industries also consume significant amounts of vinyl acetate.
The market in the United States is subject to regulations and standards related to environmental, health, and safety considerations. Regulatory bodies such as the Environmental Protection Agency (EPA) and Occupational Safety and Health Administration (OSHA) impose regulations on the production, handling, and use of vinyl acetate to ensure worker safety and environmental protection.
Know thy Competitors
Competitive landscape highlights only certain players
Complete list available upon request
Category-wise Insights
How is Vinyl Acetate Being Used in the Packaging Industry?
"Wide Application of Vinyl Acetate-based Adhesives for Strong Bonding and Secure Packaging of Substrates"
Vinyl acetate-based resins are commonly used in the production of flexible packaging materials such as films, laminates, and coatings. These materials provide excellent barrier properties against moisture, gasses, and odors, ensuring the protection and preservation of packaged goods.
These adhesives are widely used in the packaging industry for bonding various substrates. They provide strong adhesion to different materials, including paper, cardboard, plastics, and metals, allowing for secure and durable packaging. They are also used in the production of adhesives for labels and decals. They offer excellent adhesion to different surfaces, enabling high-quality and long-lasting labeling for packaging products.
Coatings are applied to packaging materials to provide protection, enhance aesthetics, and improve printability. These coatings offer benefits such as moisture resistance, gloss, and barrier properties, ensuring the durability and visual appeal of packaging.
What is the Primary Method of Obtaining Ethylene?
"Widespread Use of Ethylene Oxidation and Aldol Condensation for Vinyl Acetate Production"
Ethylene, which is a key raw material for vinyl acetate production, is first obtained through the cracking of hydrocarbon feedstocks such as ethane or naphtha. This cracking process breaks down large hydrocarbon molecules into smaller ones, including ethylene.
Ethylene gas reacts with oxygen in the presence of a catalyst to undergo the ethylene oxidation reaction. This reaction produces acetaldehyde (CH3CHO) as an intermediate product. The acetaldehyde generated in the previous step is further reacted with acetic acid (CH3COOH) in the presence of a catalyst. This reaction, known as aldol condensation, leads to the formation of vinyl acetate (CH3COOCH=CH2) and water (H2O).
The vinyl acetate produced is separated from the reaction mixture and subjected to purification processes to remove impurities and byproducts. Distillation is commonly used to separate vinyl acetate from water, acetic acid, and unreacted acetaldehyde.
Competitive Landscape
The competitive landscape of the vinyl acetate market is characterized by the presence of several global and regional players, as per Fact.MR, a market research and competitive intelligence provider. Key companies in the market compete based on factors such as product portfolio, pricing, innovation, distribution network, and customer relationships.
For example :
In October 2021, ECI Group S.R.L., an Italy-based company involved in providing plant personnel staffing services, partnered with Shandong Yulong Petrochemical Co. Ltd., a China-based company involved in oil and natural gas refining, and Repsol SA, a Spain-based company involved in energy and petrochemicals. As part of the deal, the companies are expected to produce 200,000 tonnes of ethylene vinyl acetate (EVA) and other associated high-pressure copolymers from the dual-stream plant at Shandong Yulong Petrochemical in the near future.
Key Segments of Vinyl Acetate Industry Research
By Process :

Ethylene Process
Acetylene Process

By Application :

Polyvinyl Acetate
Polyvinyl Alcohol
Ethylene Vinyl Acetate

By End Use :

Solar
Automotive
Building & Construction
Packaging
Textiles

By Region :

North America
Latin America
Europe
Asia Pacific
Middle East & Africa
- FAQs -
The global vinyl acetate market is valued at US$ 10.5 billion in 2023.
Worldwide demand for vinyl acetate is set to increase at a CAGR of 4.5% from 2023 to 2033.
Global sales of vinyl acetate are expected to reach US$ 16.2 billion by 2033.
Clariant, ExxonMobil Corporation, and Celanese Corporation are key manufacturers of vinyl acetate.