Ethylene Vinyl Alcohol (EVOH) Market
Ethylene Vinyl Alcohol (EVOH) Market Analysis By Grade (Standard EVOH & Specialty EVOH) By Downstream Form (Films & Sheets, Fuel Tanks & Containers, Pipes & Tubes, Bottles & Pouches & Others) By End-Use – Global Market Insights 2022 to 2032
Analysis of Ethylene Vinyl Alcohol (EVOH) market covering 30 + countries including analysis of US, Canada, UK, Germany, France, Nordics, GCC countries, Japan, Korea and many more
Ethylene Vinyl Alcohol (EVOH) Market Outlook (2022-2032)
A newly-published report on the ethylene vinyl alcohol (EVOH) market reveals that the global market experienced year-on-year (YoY) growth of 4.9% to reach US$ 863 million by the end of 2021.
The films & sheets downstream form sub-segment grew 5.7% to US$ 443.2 million in 2021. EVOH demand for packaging end use was the primary contributor to market revenue, and this segment is expected to reach US$ 992.3 million by 2032.
Report Attributes

Details

Ethylene Vinyl Alcohol (EVOH) Market Size (2021A)

US$ 863 Million

Estimated Market Value (2022E)

US$ 914.6 Million

Forecasted Market Value (2032F)

US$ 1.7 Billion

Global Market Growth Rate (2022-2032)

6.4% CAGR

North America Market Share (2021)

~20.4%

North America Market Growth Rate (2022-2032)

6% CAGR

U.S. Market Growth Rate (2022-2032)

6.4% CAGR

Market Share of Top 4 Companies

~78.8%

Key Companies Profiled

Soarnol (Mitsubishi Chemical Corporation)
Kuraray
Chang Chun Group
NSB Polymers
SK Functional Polymers
Reliance Industries Limited
As per the latest research by Fact.MR, global ethylene vinyl alcohol market value is set to touch US$ 1.7 billion by 2032 with demand increasing at 6.4% CAGR over the decade.
Despite having some intrinsic barrier qualities, conventional thermoplastic resin materials such as polypropylene, polyethene, and HIPS are not commonly thought of as 'barrier' materials.
For instance, polypropylene naturally makes a great moisture barrier but falls short when it comes to oxygen permeability. A barrier material must be added to the sheet's composition to shield the packaging contents from oxygen and moisture. Materials such as EVOH are used for this very purpose.
Know thy Competitors
Competitive landscape highlights only certain players
Complete list available upon request
Sales Analysis of EVOH (2017-2021) Vs. Market Outlook (2022-2032)
As per the latest market study by Fact.MR, a market research and competitive intelligence provider, the market value for ethylene vinyl alcohol increased at a CAGR of 4.8% during the last four years.
The usage of retortable plastic containers made from EVOH for the packaging of pre-cooked food and preserves has significantly increased in recent years. The elimination of heat treatment, enhancement of the food's sensory and nutritional quality, and better convenience are only a few of their benefits over more conventional materials used for packaging.
Barrier plastics and new food packaging categories have been developed in response to the potential market for premium precooked foods. The development of new plastic materials with barrier qualities capable of meeting the demands of food processing firms has been encouraged by new market trends.
Short Term (2022 Q2 to 2025): Rising demand for consistent processed food to provide continued revenue-generating opportunities for manufacturers.
Medium Term (2025-2028): Asia Pacific anticipated to witness high demand due to growing food packaging industry and online food industry.
Long Term (2028-2032): Price stabilization poised to remain the focus of manufacturers in long run. Besides, there will be increased use of ethylene vinyl alcohol in co-extruded films being manufactured for both, food and other industrial packaging needs.
Worldwide demand for EVOH, which finds usage across diverse end-use verticals such as food & beverage and industrial packaging, is poised to create an absolute dollar opportunity of US$ 841.2 million by 2032.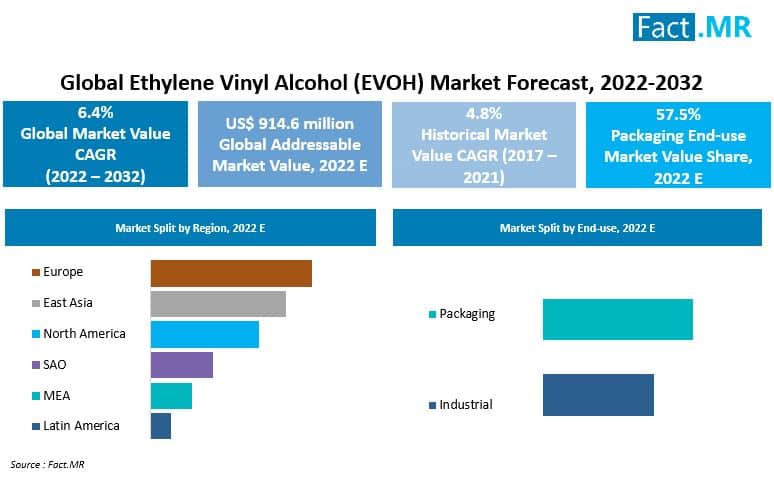 What's Driving High Demand for Ethylene Vinyl Alcohol?
"Excellent Protection t Gases Prime Reason High EVOH Usage in Packaging Industry"
Due to its exceptional qualities, particularly its amazing barrier to gases and organic vapours, EVOH has been used more over time and is currently one of the most widely used packaging materials in the high barrier packaging sector.
Due to its simplicity of processing in the most widespread production methods employed by the polymer industry, and particularly the packaging business, EVOH is very widely used.
The most often utilised polymers to provide barriers for food and beverage packaging that need very low permeability to gases (such as oxygen or carbon dioxide) and organic vapours for preservation are EVOH copolymers. On the other hand, while being a synthetic substance made from petroleum, it can be easily recycled using existing infrastructure in the polyolefin regrind stream. Owing to this, EVOH usage in the packaging industry is poised to escalate at a rapid rate over the next few years.
"Inelastic Demand Growth from Polymer Industry"
EVOH possesses other characteristics that make it valuable in a range of applications. It has high transparency and gloss, optical qualities that are comparable to those of oriented polypropylene and oriented polyester, and anti-static capabilities that make it suitable for use in electronic packaging.
Additionally, EVOH shows very high resistance to organic fats, solvents, and vapours. Additionally, it has excellent printing capabilities and high thermal resistance.
However, as was already indicated, EVOH is given a hydrophilic character by the polymer chain's hydroxyl groups. Water has a bigger impact on a material's barrier qualities the more vinyl alcohol it contains in its composition. As a result, EVOH has outstanding barrier qualities in dry conditions, but its permeability rises in the presence of water. As such, EVOH is frequently laminated, or, more frequently, coextruded between hydrophobic materials such as PE or PP in a majority of applications.
In the industrial setting, EVOH is employed as a component of rigid, flexible, and semi-rigid containers. Extrusion blow moulding, sheet thermoforming, and co-injection methods are used to create rigid packaging. To create flexible packaging, EVOH can also be coextruded during the blown film, cast film, and extrusion coating processes.
Country-Wise Analysis
Why are EVOH Suppliers Targetting the U.S. Market?
The U.S. has historically remained one of the vital destinations when it comes to the processed food industry, which has been the primary consumer of EVOH being used in the food packaging industry.
As of 2021, the U.S. has remained the primary exporter of processed food, having exported over 10 million tons by volume, totalling US$ 34.5 billion in 2020-2021.
Such a huge amount of food inevitably requires packaging solutions that not only prolong the life of the product but also ensure that it reaches the customer in the desired form. Besides, these products needed to be customised to food processors' requirements, and manufacturers of EVOH are constantly involved in providing custom packaging solutions.
Additionally, the consumption of ultra-processed foods in the American diet has been constantly increasing and has reached nearly 60% of their yearly calorie consumption. Owing to this, EVOH, which finds application in bakery & confectionery and processed food packaging, is poised to generate an absolute $ opportunity of US$ 318.7 million by 2032.
How is the China EVOH Market Evolving?
China has remained the largest manufacturer of plastic products, including EVOH films being used in cosmetic and food packaging across the country. China's leading food processing companies recorded profits of nearly US$ 90 billion in 2020, even during the pandemic situation, which showcased a positive outlook for food packaging solution manufacturers.
The combination of cutting-edge technology and higher-quality product is driving the sales of EVOH being used to preserve the quality of perishable food items. China has remained one of the leading exporters of plastics being used by both, cosmetic and processed food manufacturers.
The East Asia EVOH market is anticipated to expand at a CAGR of 6.2% and reach US$ 420.8 million, with the EVOH market in China anticipated to progress at a CAGR of 5.6 and expand 1.7X its current valuation by 2032.
Category-Wise Analysis
Will Processed Food Packaging Continue to Account for Most EVOH Usage?
Out of the end uses considered in the scope of the study, processed food packaging has emerged as the most prominent user of EVOH, which is used by manufacturers in association with PE and PP in co-extruded films that provide improved barrier resistance to food products in the long term.
Besides, usage of EVOH in overall food packaging applications is poised to grow at a rapid rate, as it is used in retortable containers. The usage of retortable plastic containers for the packaging of pre-cooked food and preserves has significantly increased in recent years over more conventional materials such as glass or metal.
Demand for EVOH will be boosted by the growth of the worldwide food packaging industry, which is pegged at US$ 256 billion in 2022 and is predicted to expand at a CAGR of 5.8% during 2022-2032.
Which Downstream Form of EVOH is Set to Bring in High Revenue Streams?
For flexible and semi-rigid packaging, EVOH copolymers are commercially available. EVOH-based structures compete with films metallized with silicon oxide, aluminium oxide, or both in flexible packaging. However, it is the material of choice in the market for rigid and semi-rigid packaging, with the sole rivals being cutting-edge inorganic barrier coatings (SiOx or amorphous carbon).
These structures are often created using coextrusion, but when a printed product is sought, they are created by laminating a multilayer structure containing EVOH created through coextrusion to a second film material that has already been printed.
Coextrusion with PE as the inner and outer layers can be used to create flexible films with high barrier properties. A tie layer is necessary since PE and EVOH hardly adhere to one another. Increased mechanical resistance is provided by polyamide (PA), which is commercially available in a variety of forms, including coextruded, bioriented, and laminated constructions. Applications include vacuum packaging of fish items, smoked meats, and sausages.
As the polymeric substitute for glass or metal packaging for retortable goods, a PP/EVOH/PP layer for thermoformed trays is of utmost importance. For a variety of uses, from preserves to alcoholic beverages, coextrusion blow moulding or coinjection-stretch-blow moulding is used to create bottles and jars with twist-off closures or screw caps.
Owing to this, demand for EVOH films & sheets is anticipated to increase at a higher CAGR of 7.6% to reach US$ 981.2 million by 2032.
More Insights, Lesser Cost (-50% off)
Insights on import/export production,
pricing analysis, and more – Only @ Fact.MR
Competition Landscape
Soarnol (Mitsubishi Chemical Corporation), Kuraray, Chang Chun Group, NSB Polymers, SK Functional Polymers, and Reliance Industries Limited are leading manufacturers of ethylene vinyl alcohol.
By utilising their R&D capabilities to expand their product lines, encouraging commercial excellence and value-based product positioning, ethylene vinyl alcohol manufacturers should concentrate on achieving global leadership in innovative EVOH solutions.
Fact.MR has provided comprehensive information on the different business models employed by ethylene vinyl alcohol (EVOH) market participants, as well as detailed sales analysis of ethylene vinyl alcohol, top EVOH manufacturers, top specialty/standard ethylene vinyl alcohol suppliers, and SWOT analysis and sales generated from target products of top ethylene vinyl alcohol manufacturers.
Segmentation of EVOH Industry Research
By Grade :

Standard EVOH
Specialty EVOH

By Downstream Form :

Films & Sheets
Fuel Tanks & Containers
Pipes & Tubes
Bottles & Pouches
Others

By End Use :

Packaging

Food & Beverages

Fresh Produce
Bakery & Confectionery
Processed Food

Pharmaceuticals
Cosmetics
Others

Industrial

Gasoline Tanks
Protective Membranes
Piping Systems
Landfill Covers
Others

By Region :

North America
Latin America
Europe
East Asia
South-East Asia & Oceania
Middle East & Africa
- FAQs -
The global ethylene vinyl alcohol market is pegged at US$ 863 million in 2022.
EVOH sales are expected to increase at 6.4% CAGR through 2032.
EVOH demand increased at 4.8% from 2017-to 2021.
East Asia is estimated to hold 24.7% share of the global EVOH market by 2032.