Vitreous Tamponades Market
Vitreous Tamponades Market Analysis, By Product (Gaseous Tamponades, Liquid Tamponades), By End User (Hospitals, Ophthalmology Clinics), & By Region - Global Market Insights 2023-2033
Analysis of Vitreous Tamponades Market Covering 30+ Countries Including Analysis of US, Canada, UK, Germany, France, Nordics, GCC countries, Japan, Korea and many more
Vitreous Tamponades Market Outlook (2023-2033)
Expanding at a CAGR of 3%, the global vitreous tamponades market is expected to increase from a value of US$ 78.3 million in 2023 to US$ 105.2 million by the year 2033.
Vitreous tamponades are classified into gaseous tamponades and liquid tamponades. Sales of gaseous tamponades and liquid tamponades are predicted to progress at similar CAGRs of 3% during the next 10 years.
In terms of revenue, liquid tamponades are slightly more dominating than gassy tamponades. This can be ascribed to factors such as the widespread use of liquid tamponades for the treatment of retinal detachments & enormous flow of tears, proliferative diabetic retinopathy, and vitreoretinopathy, respectively, in the European and Asian regions.
Additional sub-segments of liquid tamponades include silicone oil and perfluorocarbon liquid. In terms of growth rate, silicone oil is predicted to outpace the other during the projection period. Contrarily, since perflurocarbon liquid demand is predominantly employed for the reattachment of large retinal tears, the vitreous tamponades market for them is anticipated to grow steadily during the projection period.
On the other hand, sales of gaseous tamponades are predicted to attain a high market value during the forecast period. This is mostly due to the minimal risk of emulsification, low price, and simplicity of use. The most prevalent forms of gaseous tamponades used in vitreoretinal procedures around the world are SF6, C2F8, and perfluropropane. Because these gases are expandable, the retina and eyeball can progressively adapt to the eye's occupied volume for improved healing.
For the most part, complex cases of trauma, proliferative vitreoretinopathy, massive retinal tears, proliferative diabetic retinopathy, and retinal detachments require vitreous surgeries for treatment. Intraocular tamponades are crucial in these situations for supporting the retina and preventing fluid from passing through the retinal cracks.
One of the procedures in ophthalmology that is most commonly carried out is the vitrectomy. Surgical methods and instrumentation have advanced significantly in recent years. The invention of alternatives for vitreous is one of the most significant advances.
The removal of blood from the vitreous fluid and the prevention of traction retinal detachment are two benefits of vitrectomy. This subsequently facilitates additional ophthalmic procedures and prevents further retinal detachment throughout the same. Also, vitrectomy aids in repairing eyesight loss brought on by vitreous fluid bleeding.
Rising prevalence of retinal disorders, the growing number of diabetic patients, and technological advancements are driving the sales of vitreous tamponades during the forecast period.
Report Attributes

Details

Market Size (2023E)

US$ 78.3 Million

Forecasted Market Value (2033F)

US$ 105.2 Million

Global Market Growth Rate (2023-2033)

3% CAGR

China Market Growth Rate (2023-2033)

3% CAGR

Japan Market Growth Rate (2023-2033)

2.6% CAGR

Germany Market Growth Rate (2023-2033)

2.9% CAGR

Key Companies Profiled

AL.CHI.MI.A. Srl
Carl Zeiss Meditec AG
Dutch Ophthalmic Research Center International BV (D.O.R.C.)
Fluron GmbH
Novartis AG
Valeant Pharmaceuticals International, Inc.
Don't Need a Global Report?
save 40%! on Country & Region specific reports
What is Majorly Driving Demand for Vitreous Tamponades?
"Rising Prevalence of Diabetic Retinopathy"
Diabetes is a long-term condition characterized by issues with insulin secretion from the pancreas or hyperglycemia connected to insulin resistance, both of which can result in long-term difficulties in multiple organs, including the heart, kidneys, eyes, nerves, and blood vessels.
Diabetic Retinopathy (DR), which affects between 25%-33% of diabetics at any given time, is the most prevalent and serious sight-threatening diabetes condition. It causes the blood vessels in the retina of the eye to become damaged.
According to WHO estimates, DR is responsible for 4.8% of blindness worldwide. It is the chief reason for vision loss and quickly emerging blindness in working-age adults in the US.
Other significant driving factors for the growth of the vitreous tamponades market are the rapid development of healthcare infrastructures worldwide and the rising demand for early detection systems. Furthermore, the clinical pipeline for diabetic retinopathy appears to be full of potential, with many drugs under its umbrella especially targeting diabetic retinal in diabetic patients.
"Rising Global Cases of Vision Disorders"
Diabetes and vision loss are closely associated because elevated blood sugar levels cause structural abnormalities in the eye's lens. Since diabetics are more likely to develop cataracts and other disorders that impair vision, vitreous tamponade sales are predicted to increase as a result.
Additionally, the growing older population worldwide is anticipated to fuel the market for vitreous tamponades during the projected period because senior people are more likely to develop ophthalmic and diabetic diseases.
"Retinal Detachment Severe Cause of Vision Impartment"
Retinal detachment can lead to severe eye issues and if not treated on time may reach to blindness. A detached retina, also known as retinal detachment, is a dangerous eye ailment. The tissues supporting the retina, a layer of tissue in the back of the eye, begin to peel away from one another.
A doctor may advise laser surgery, freezing treatment, or other types of surgeries for the treatment of retinal detachment to repair any tears or fractures in the retina and reconnect the retina to the back of the eye, depending on how much of the retina is detached and what sort of retinal detachment it is.
When the gel that covers the eyeball separates from the retina, it results in posterior vitreous detachment (PVD). It's a typical, natural aspect of ageing. Your vision may experience flashes or floaters due to PVD, though these effects often fade with time. The disorder doesn't hurt, and it doesn't automatically lead to visual loss.
In the study "Retinal Detachment Repair With Vitrectomy: Air Tamponade Integration to a Vitreoretinal Service, Comparison With Gas Tamponade, and Literature Review," for example, it was found that pars plana vitrectomy and gas tamponade (GT) restoration of rhegmatogenous retinal detachment (RRD) have significant clinical and qualitative advantages over short-acting air tamponade.
Thus, the demand for tamponades is expected to rise due to their use in the treatment of such eye cases.
Which Factors are Limiting the Sales of Vitreous Tamponades?
"Lack of Knowledge and Ideal Biomaterial Can Hamper Sales of Vitreous Tamponades"
One of the biggest challenges in ophthalmology is still finding the perfect biomaterial for vitreous replacement, and this task calls for a multidisciplinary approach. In this regard, recent research has concentrated on the development of natural, synthetic, and intelligent hydrogels that are injectable, biocompatible, and biodegradable and function as medium- and long-term internal tamponade agents.
Also, the lack of skilled medical staff and lack of knowledge in poor and developing countries may hamper sales growth.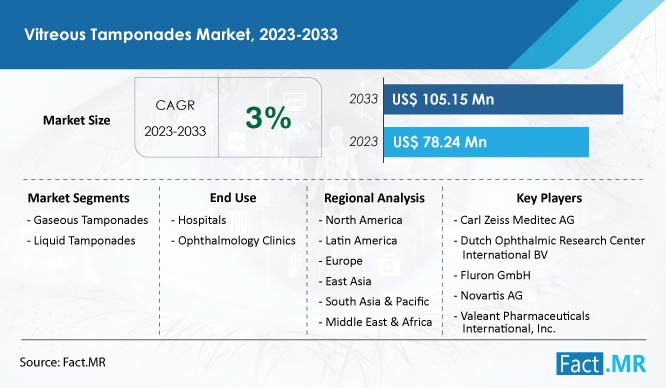 Country-wise Analysis
Why is Demand for Vitreous Tamponades Growing in the U.S.?
"Presence of Key Market Players & Rising Cases of Diabetic Retinopathy"
During the forecast period, the United States is anticipated to dominate the North American market as a whole because of factors such as beneficial government initiatives, a rise in the wide range of research partnerships, the existence of key players, the higher incidence of complications related to diabetes in the nation, the rising geriatric population, and a well-established healthcare infrastructure.
For instance, diabetic retinopathy is the most prevalent cause of visual impairment and blindness among working-age individuals in the United States, according to data from the Centers for Disease Control and Prevention (CDC) published in May 2021. The same source predicts that 14.6 million Americans will have diabetic retinopathy by the year 2050.
Additionally, the country will see profitable prospects as the number of retina specialists rises.
For instance, Tennessee Retina, which has nine sites including Nashville, Bowling Green, and Crossville, was added to Retina Consultants of America (RCA), a physician management services company, in October 2021.
Numerous regional, global, and regional ophthalmologic and vitreoretinal professional societies are active with the medical staff at Tennessee Retina. The rise of retina experts around the nation will benefit from this collaboration.
Therefore, during the projected period, sales of vitreous tamponades in the United States are likely to be influenced by all of the aforementioned factors.
What is Supporting Sales of Vitreous Tamponades in Asian Countries?
"Growing Number of Eye Surgeries in the Region"
Regional market growth is predicted to be led by emerging economies such as China, Japan, and South Korea due to the rising incidence of eye procedures in these nations. Through 2033, the Asia Pacific region is expected to have strong demand for vitreous tamponades used in retinal procedures, particularly because of the region's expanding healthcare infrastructure and rising diabetic retinopathy cases.
According to several study reports, in 2021, there were 140.9 million diabetic patients in China, giving high cases of diabetic retinopathy.
Why are Vitreous Tamponades Widely Adopted in European Countries?
"Increasing Incidence of Rhegmatogenous Retinal Detachments"
According to the National Center for Biotechnology Information, in the European population, the incidence of rhegmatogenous retinal detachment is roughly 10 cases per 100,000 people per year, peaking in the sixth and seventh decades of life, typically in atemporal conjunction with posterior vitreous body detachments.
Myopia, a longer axial length of the eye and vitreoretinal degeneration or dystrophy are all known risk factors with such disorders. The probability of rhegmatogenous retinal detachment after cataract surgery has increased recently, particularly after capsule rupture and vitreous body loss.
Germany, the U.K., Italy, and France are some of the prominent marketplaces for vitreous tamponade manufacturers. Sales of vitreous tamponades are predicted to expand at a CAGR of 2.9% from 2023 to 2033.
More Insights, Lesser Cost (-50% off)
Insights on import/export production,
pricing analysis, and more – Only @ Fact.MR
Category-wise Analysis
Why are Vitreous Tamponades Most Used in Hospitals?
"Target Patients Widely Prefer Hospitals for Treatment Procedures Due to Presence of Advanced Healthcare Facilities"
Hospitals are anticipated to have the highest demand for vitreous tamponades due to the high volume of eye procedures that take place in these settings. Sales of vitreous tamponades in hospitals are anticipated to increase over the forecast period as a result of expanding investments in the development of healthcare infrastructure and increased access to cutting-edge eye treatments.
Another significant element that is anticipated to spur the demand from hospitals over the projection period is the increasing availability of inexpensive or free eye surgeries in government hospitals.
However, due to their convenience in scheduling appointments and the growing number of distinct ophthalmology clinics around the world, ophthalmic clinics are also expected to experience a surge in vitreous tamponade demand.
Don't Need a Global Report?
save 40%! on Country & Region specific reports
Competitive Landscape
Some of the key players in the vitreous tamponades market are AL.CHI.MI.A. Srl, Carl Zeiss Meditec AG, Dutch Ophthalmic Research Center International BV (D.O.R.C.), Fluron GmbH, Novartis AG, and Valeant Pharmaceuticals International, Inc.
The market is expanding at a very steady pace and to generate more revenue top players are concentrating on developing advanced tamponades, for which they are investing in R&D. Some of the tactics utilized by market participants are new product launches, partnerships, collaborations, and more.
For instance, Alcon, Inc. purchased Tear Film Innovations, Inc., a privately held business in 2018 produced the iLux Device, a therapy device used to cure Meibomian Gland Dysfunction, a major cause of dry eye.
Kogent Surgical, LLC and Katalyst Surgical, LLC, two producers of surgical tools, were acquired by Carl Zeiss Meditec in April 2022 to improve its position in the market.
Key Segments of Vitreous Tamponades Industry Research
By Product :

Gaseous Tamponades
Liquid Tamponades

Silicone Oil
Perfluorocarbon Liquid

By End User :

Hospitals
Ophthalmology Clinics
Others

By Region :

North America
Latin America
Europe
East Asia
South Asia & Oceania
MEA
- FAQs -
Global demand for vitreous tamponades is valued at US$ 78.3 million in 2023.
Global vitreous tamponade sales are expected to rise at a CAGR of 3% from 2023 to 2033.
Demand for vitreous tamponades is predicted to reach US$ 105.2 million by 2033.
Rising cases of diabetic retinopathy, rapidly developing healthcare sector globally, and high R&D investments are driving market growth.
North America is predicted to generate the highest revenue during the forecast period.