Latest Trends in the Healthcare Industry: How has it Transformed Businesses
Published : 22 Apr 2022 Industry: Healthcare
The healthcare industry is changing at an accelerated pace. From digital therapy to e-consultations, telemedicine, and real-time diagnosis, the field is rapidly transforming via technology tools integrated into an immersive environment. Businesses in the healthcare sector offer medical services, make drugs and medical equipment, provide insurance, or provide health care in any other way.
Start-ups use real-time, remote monitoring devices to customize treatment plans for each patient. In order to optimize patient care, hospitals are incorporating artificial intelligence (AI), the internet of things (IoT), and data management practices. In addition to enhancing workflows and staff scheduling, these solutions facilitate accurate and equitable clinical services through connected devices, infrastructure, and systems.
For the healthcare sector, it is necessary to continually improve business models and develop new sources of revenue in an effort to improve the well-being of those who rely on it. In the global business environment, innovation for new businesses was very fast before COVID-19 and has been accelerating since the recent pandemic.
As private equity and principal investors recognize that healthcare offers significant potential for improvement and attractive returns, they are deploying substantial capital and bringing in talent, both within and outside healthcare (for instance, technology), all with the aim of speeding up new business creation and scaling.
The initial focus of high-growth healthcare companies is to maintain their brand awareness and visibility as they expand throughout their current market, which is something that is observed across all industries with high growth. Despite the trend, telehealth is proving beneficial for clinicians and an opportunity to improve the clinical experience.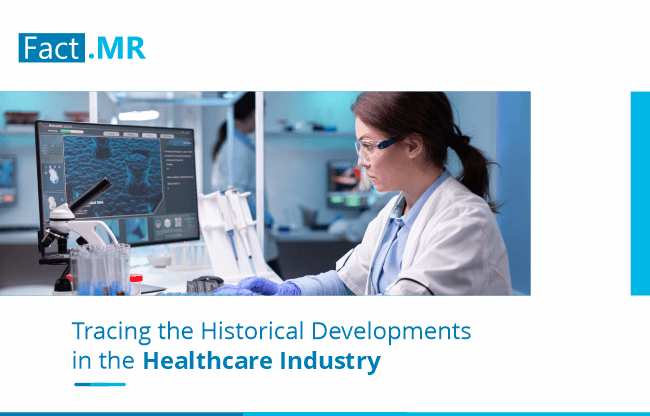 Tracing the Historical Developments in the Healthcare Industry
Since the beginning of the twenty-first century, the healthcare industry has undergone a lot of changes. These changes have been facilitated by understanding the requirements of different kinds of lifestyles and expanding diseases around the world.
During the 19th century, a number of technological, chemical, and biological advances greatly contributed to the improvement of physicians' understanding, diagnosis, and treatment of various ailments. In addition to these discoveries, antiseptics, syringes, x-rays, and penicillin were also discovered. Modern healthcare began to emerge during the first half of the 20th century.
During the 19th and early 20th centuries, colonialism led to a rise in tropical diseases and infectious diseases, which led to the development of public health in British colonies to prevent disease spread. A serious outbreak of the infectious disease had a devastating effect on the entire health of a population. Urbanization and increasing population densities made indigenous people vulnerable to incoming diseases.
Infectious diseases were one of the threats where national governments focused on protecting their citizens against viruses. Hence, it resulted in health surveillance system development for responding to epidemics, as well as the establishment of health systems for controlling diseases. Consequently, medical systems developed new trends, and microscopic medical studies were introduced, leading to huge advancements in vaccines, preventions, and treatments.
Researchers constantly kept on working and improvising the efficiency of drug delivery systems. With the advent of the personal computer, healthcare information technology entered the modern age in the 1980s. A lot of hospitals were finally able to invest in systems that were directly related to the floor where patients were recuperating.
With the advancement of technology in the modern era, healthcare evolved in various ways. The healthcare industry focused on using new and innovative devices and minimally invasive procedures at hospitals as part of its investment strategy. The adoption and implementation of cloud technology, the Internet of Things, and technologically driven innovations have all contributed to the growth of healthcare centers around the globe.
A number of tech companies have been trying to apply their expertise to solving problems related to the global pandemic over the last two years. On the other hand, various healthcare businesses that would not be considered technology companies by conventional standards have been focusing their attention on technology and its potential to transform the delivery of products and services.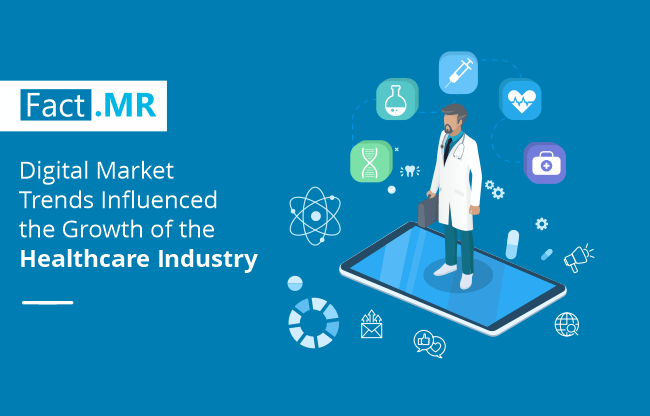 How have the Recent Digital Market Trends Influenced the Growth of the Healthcare Industry?
The recent trend of getting treatment at the fingertips has increased the market for mobile devices in recent years. The key to the current trend of digital transformation in healthcare is to create a seamless and true customer experience. Hospitals that have already implemented a digitally friendly culture recognize the benefits of investing in technology and offer training for medical staff to use it effectively for the future development of the market.
Having access to on-demand healthcare and telehealth services that are more self-guided is helping businesses expand their digital markets. Growing mental health issues in today's digital world have led to the development of mindfulness, treatments, and meditation apps to help patients cope with the issues they encounter on a daily basis.
During the COVID-19 pandemic, technology was used in virtually every aspect of preventing transmission, detecting disease spread, disinfecting, treating, and immunizing. Technology advancements are decreasing the gap between doctors and patients and improving healthcare outcomes while reducing the patient-doctor gap day by day. According to studies conducted in recent years, patients have been more inclined to engage with physicians through technology, and a significant proportion of them have reported being much more satisfied than in the past. Patients benefitted from telemedicine by saving time and money on transportation expenses which in turn, resulted in an increase in the market for healthcare services.
In the midst of the Pandemic, real estate agents and hotel owners witnessed significant growth in remote monitoring and virtual care. Virtual care was adopted by a number of people across different age categories, socioeconomic levels, and geographic locations. The segment witnessed the same type of sales increase as well as revenue growth from companies in the market.
Healthcare Facilities and Systems Post-Pandemic COVID-19 for Industry
With the outbreak of COVID-19, hospitals and healthcare facilities all over the country faced catastrophic financial challenges of unprecedented proportions. Based on the American Hospital Association's estimate, American hospitals and healthcare systems will lose $202.6 billion annually or $50.7 billion per month on average.
As a result of the current COVID-19 pandemic, healthcare systems have had to deal with several aspects of their readiness, especially in relation to communications. As a result of inadequate space and treatment for patients, many hospitals and centers provide remote care for patients worldwide. As a result of system evolution, further new technologies were gradually adopted, such as drones for delivering critical supplies, robotics, and 3D-printed healthcare items. Smartphones were increasingly used to monitor patient adherence to treatments.
In the post-Covid-19 era, healthcare firms are making more efforts to deliver medicines at home and provide home-based treatments for patients as an important way to increase revenues. The COVID-19 changes had two opposite effects on laboratory medicine. As a result of the afflux of COVID-19 suspected patients, microbiology departments experienced an increase in their diagnostic activities. In contrast, clinical laboratories that weren't directly involved in COVID-19 saw significant drops in inactivity, like cancer services that had to learn a new route of delivering services. Observations at the institution/hospital level showed a drop in routine activities and the need to redistribute resources. With these factors in mind, COVID-19 has revolutionized academic research, public health surveillance, and healthcare industry business models.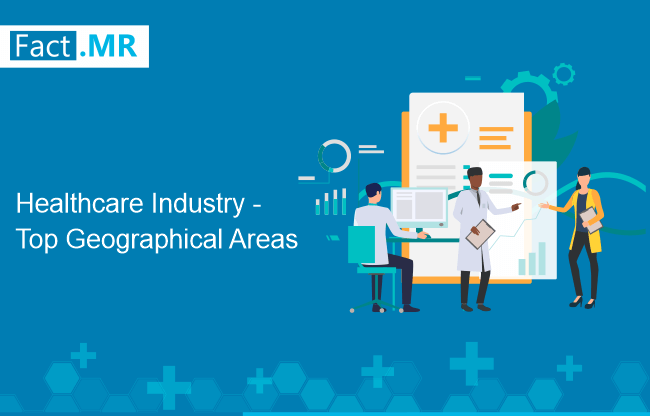 Emerging Trends in Healthcare Industry- Top Geographical Areas
New establishments and Innovations to Provide Opportunities for Business to Expand in North America
A growing geriatric population and the occurrence of chronic diseases in these region has led to a proliferation of healthcare innovations. Innovative medical and infrastructural developments together with the high standard of medical equipment in medical facilities have propelled the market demand for a healthcare business sector to rise dramatically over time. Growing skin diseases and cancer incidences have boosted the market demand for biopsy devices in this region.
According to the Centers for Disease Control and Prevention (CDC), 80% of US adults will suffer from Acne vulgaris once in their lifetime. Furthermore, high healthcare costs, high per capita incomes, and increasing awareness among the masses in the region should drive market growth for the healthcare business during the forecast period.
The increasing number of dental issues, orthopedic issues, chronic diseases, and other various conditions have all led to the increase in healthcare and wellness centers offered by providers in the market. A new wave of technological advancements and digital innovations in the healthcare industry have significantly raised the business standards in the region.
Scientists from this region are engaged in various R&D activities to develop drugs and minimally invasive devices in the market which will further push the growth of the healthcare industry in this region.
At the Radiological Society of North America's (RSNA) Annual Meeting, GE Healthcare announced 60 innovations including screening, diagnostics, therapy planning, guidance, and monitoring. With a global pandemic and mounting pressure on health systems, the company accelerated innovation in the AI and digital solutions space, improving the patient experience and making healthcare more efficient for clinicians and health systems.
Government Policies to Kick Start the Healthcare Industry in European Region
Companies that offer insurance in this region see enormous growth in policy-making, where the government and public work together to promote the choice of a policy for citizens throughout their lifetime.
In the European Union, almost two-thirds of the population has some kind of health insurance or is a member of an employer-sponsored plan which pays for things like vision and dental care, prescription drugs, rehabilitation, private rooms in hospitals, and home care.
With the increasing number of reimbursement policies that have been implemented within the healthcare industry, medical businesses have been able to grow their market value and profits in this region.
The increasing number of companies creating medical devices in this region, as a result of technological developments and the proliferation of the healthcare industry, has led to an increase in the number of markets for different players in the healthcare sector. Consequently, the healthcare market in Europe is predicted to grow rapidly in the upcoming years.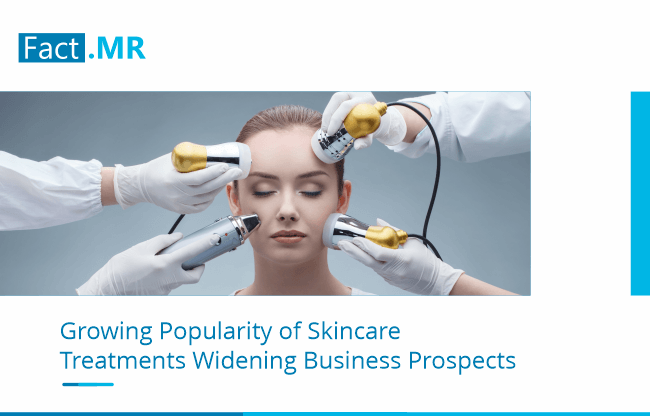 Growing Popularity of Skincare Treatments Widening Business Prospects
There is an increasing incidence of skin diseases and skin cancers around the world which are major factors influencing the market growth for biopsy devices. According to the American Cancer Society, nearly 99,780 new melanomas will be diagnosed in men and women in 2022, and approximately 7,650 people will die from these cancers. As a consequence, the skincare devices market has seen increased demand.
In order to point out the early detection of melanoma and non-melanocytic lesions such as dermatofibroma and basal cell carcinoma, dermatoscopes are commonly used in order to detect these types of conditions, which in turn leads to high demand for these devices in the market. A combination of technological advancements, low cost of devices, and high global incidence of skin cancer are driving the dermatoscopy demand in the healthcare sector.
Several clinical skin treatment devices use the latest technology platforms like radiofrequency, lasers, and light-based technology systems incorporated into the treatment process. The treatment devices generated a higher revenue for market players in comparison to that of the diagnostic devices, primarily because treatment devices were more extensively used in the hospitals and beauty care centers.
In the skin treatment, the lasabrasion devices market is projected to grow at the highest rate during the forecast period. Consumer preferences for laser-based procedures, continuous advancements in technology, multi-platform availability, a large consumer base, and changing lifestyle patterns are the key factors of potential growth for the lasabrasion devices for skin treatments in the market.
Growing market demand for aesthetic appearance and an increasing desire among millennials to reduce fat in particular areas has led to a growth in the market for liposuction devices. With consumers gaining increasing awareness about weight loss programs and the benefits of a healthy lifestyle, the demand for liposuction devices in the market has risen significantly in the past few years.
With an increasing number of skin-related disorders, including skin lesions, acne, scar revision treatments, the market for electrosurgical devices in the market is experiencing strong growth. With an increasing demand for healthy and fresh skin among various generations as well as increasing demands to maintain wrinkles, fine lines, stretch marks, sun damage, dark spots, clogged pores, and much more, microdermabrasion devices have seen a substantial increase in market growth at many beauty and wellness centers.
In order to attract consumers, various wellness centers have implemented door-to-door services, employing unparalleled technician training, and at the consumer's convenience, thus increasing the market for these skincare devices in the market. In the dermatology market, the increasing market demand for imaging facilities for treating skin disorders coupled with the growing popularity of skin lightening treatments among consumers has contributed significantly to the growth of LED therapy and skincare diagnostic devices in the market.
What are the Reasons for the Recent Growth in the Popularity of Clear Aligners on the Market?
Dental problems and problems at the periodontal level, such as tooth misalignment in both adults and children alike, are common for businesses looking for traction for new starters in the clear aligners market. A stronger R & D investment as well as the increased local footprint of global players, along with their efforts to obtain new patents, will bolster the market for invisible clear aligners in the near future market.
A recent American Dental Association (ADA) survey indicated that 10,658 orthodontists worked in the U.S. in 2017, and there were about 795 orthodontists who owned or shared their practices with other dentists. The purchase of more advanced equipment and services would yield a greater return on investment and would be less complicated than introducing new services which have grown demand for clear aligners in the market. As a result, local practices frequently decide to establish new offices due to lower marketing and training costs for aligner-based treatments in the market.
In recent years, there has been a growing market for clear aligners in the market as treatment methods and as cosmetic applications in the field of dentistry. This in turn has led to an increase in sales of clear aligners in the dentistry market. The increasing number of dental problems and other age-related problems have contributed to the popularity of clear aligners for adults, accounting for the largest share of the market.
A huge dominance of digital technologies and standalone methods of aligner business has characterized the companies in the clear aligner treatment in the market. The use of clear aligners has become increasingly popular over the last few years with current fashion trends in both the U.S. and abroad driving the market for invisible aligner sales in the market.
A growing number of patients who suffer from malocclusions, along with an increasing demand for customized clear aligners and technological advancements have been driving demand for a clear aligner treatment market. In recent years, a few cons of traditional metal braces have led to a decline in their uptake. This has encouraged the market to demand invisible aligner systems in the market. The difficulty of wearing metal aligners, pain, and damage to the gums have increased invisible aligner system demand in the market.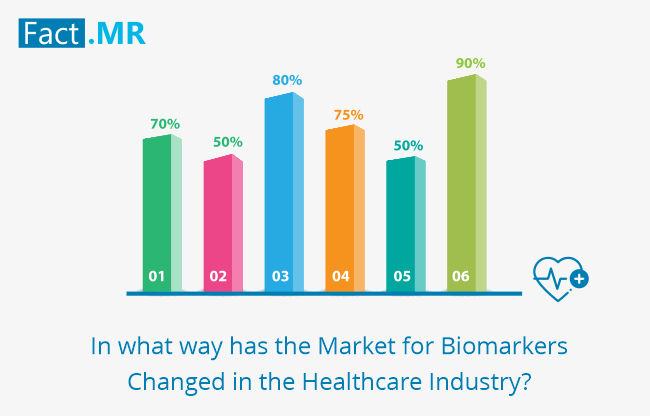 In what way has the Market for Biomarkers Changed in the Healthcare Industry?
As clinical trials have become a more important part of the process of detecting diseases, the biomarkers market has experienced increased demand. In addition to helping to improve the drug development process, biomarkers also play an important role in the broader landscape of biomedical research which has stimulated the sales of biomarkers in the market.
As the healthcare industry seeks out ways to target therapies in clinical practices, biomarkers demand has increased significantly at higher levels in the healthcare industry. Growing incidences of cancer, heart disease, and increased R&D investment by key market players in biomarker development will drive demand for the biomarkers in the market.
Safety biomarker sales have a market share close to 38% and are predicted to grow 15.9% in the next ten years. A growing number of people at high risk of chronic diseases coupled with a growing demand for regular health checks has driven safety biomarkers sales in the market. The development of high-quality research data necessary for the effective use of biomarkers in the marketplace depends on the demand for validation of a biomarker in the market.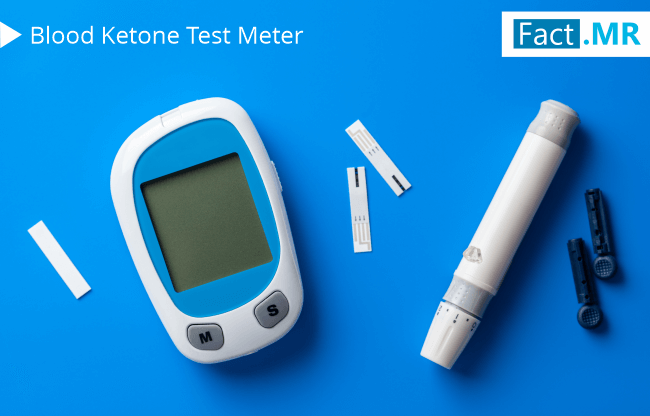 Why is Blood Ketone Test Meter Gaining Traction in the Healthcare Market?
A combination of advanced technologies, the increase in diabetes-related complications, and multiple functional tools in devices have resulted in a few new and innovative products for monitoring ketones, which has helped the blood ketone meter market gain traction in the coming years.
The increasing demand for home-based tests among millennials has led to significant increases in the sales of blood ketone meter on the market. Blood glucose and ketone monitoring demand jumped high during outbreak Covid-19. The increasing use of blood glucose and ketone meters for humans and animals has driven blood ketone meter demand on the market.
Enhanced technology and the increasing use of hand-held, point-of-care ketone meters have resulted in greater emphasis on making treatment decisions based on these readings, which is why blood ketone monitoring demand has soared the market. Blood glucose and ketone monitoring demand are growing globally. Devices to measure blood glucose and ketones were intended for human diabetic patients, however, when ketone strips were introduced with these devices, they were widely used for monitoring ketones in cattle by dairy farmers and veterinarians, thus the blood glucose and ketone monitoring demand raised in the market.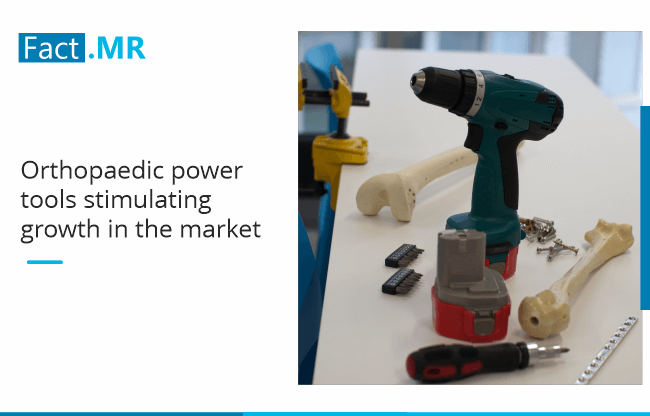 In what ways are orthopedic power tools stimulating growth in the market?
Increasing numbers of knee & hip reconstruction surgeries and trauma-related surgeries are basically driving large bone orthopedic power tools demand in the market. An aging population and an increased number of spinal injuries are among the factors driving the orthopedic power tools market. Many consumers today prefer to purchase single-use or disposable orthopedic power tools rather than traditional reusable tools. A major factor contributing to this change is the fact that the practices have permitted the prevention of infection risks that may arise from the repurposing of the same tools repeatedly. Furthermore, single-use instruments are cost-effective and pre-sterilized before shipment to the hospitals. As a result, single-use orthopedic power tools are in high demand.
The growing number of orthopedic disorders including osteoarthritis (OA), osteoporosis, and fractures are driving the sales of orthopedic power tools to reach unprecedented levels in the market. In addition to the increase in sports-related injuries, technological advancements associated with orthopedic surgery, and the introduction of high-powered surgical tools like electric drills and pneumatic tools are all driving the global orthopedic power tools demand in the market.
Dermatological CRO Seeking to Draw Growth with New Developments in Dermatology Treatments for Future Growth
The prevalence of skin cancers and other skin ailments, widespread awareness of skin disorders, and the desire for quick detection is propelling the business for the dermatology CRO market.
The rise in demand for topical dermatological medicines to treat acne, including anti-inflammatory drugs, anti-infectives, local anesthetics, cleansers, and emollients has raised the sales of dermatology CRO in the market. As a result of the continued use of machine learning-based platforms, artificial intelligence, and creative trial designs, the dermatological CRO demand for businesses is projected to undergo dramatic changes over time.
Pharmaceutical and biopharmaceutical companies are investing in innovations, revolutionary treatments such as regenerative medicine, and developing new drugs, thus the market for clinical dermatology CRO demand is on the rise.
Factors like an aging population's improved awareness of skin conditions, and the development of new treatments will continue to contribute to the clinical dermatology CRO demand on the market. CROs are experiencing rapid growth, and the dermatology segment is expected to see strong growth over the next few years.
Earlier this year, Vial announced the creation of the Vial dermatology contract research organization and highlights the importance of improving the quality and speed of clinical trials. In its new role as "The CRO Built for Sponsors", this new organization will take advantage of the Vial Clinical Network's presence in over 35 dermatologic clinics throughout the country.
How point-of-care diagnostics are increasing the demand for biotechnology instruments in the market?
In a recent development, POC devices make it possible for real-time transfer of test results to a patient's electronic medical record, enabling easy access by clinicians. Additionally, the systems have been designed in such a way that they may also be easily modified by lab operators in accordance with the changes made to rules in the future. Furthermore, a rise in chronic diseases, such as infectious diseases such as COVID-19, cardiovascular disorders, diabetes, cancer, and others, will also drive the growth of the biotechnology instruments market.
Medical lasers have provided new innovative and highly sophisticated technology for restoring or removing damaged areas of the body using therapeutic approaches, which are expected to substantially increase the sales of biotechnology instruments in the future.
The biotech industry in North America is populated by some of the world's largest institutions, which conduct research on gene expression continuously so that the biotechnology instrumentation market offers some significant potential. Globally, these regions are expected to remain at the forefront of the biotechnology instruments demand in the coming years, providing organizations seeking entry into this highly profitable industry with a tremendous prospect of expansion.
Growing research and development activities in the biotechnology industry will likely lead to a large potential market for lab automation instrument sales in the coming years, especially in developing economies like Latin America and the Asia Pacific. Launches of new PCR Test kits are one of the major factors driving life science consumables demand to reach new peaks in the market over the next few years. Covid-19, microbiology, and cell cultures have further opened the opportunity window for life science consumables demand in the market.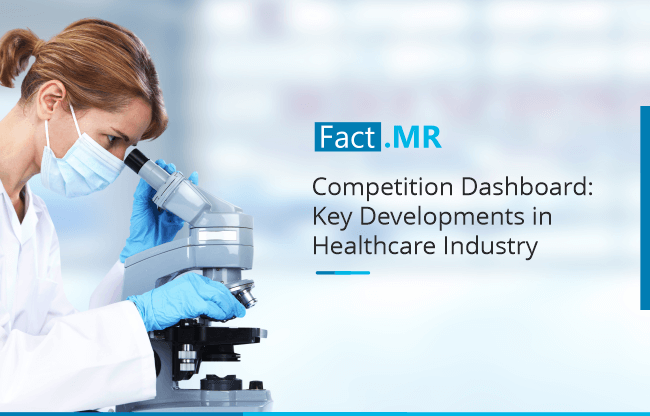 Competition Dashboard: Key Developments in Healthcare Industry
Lumenis Works Towards Next-Generation Laser Technology
In July 2021, Lumenis launched its MOSES 2.0 Next-Generation Holmium Laser Technology. This launch aims to increase the effectiveness of the operation for enlarged prostates and urinary stones. This is made possible by the improved transfer of laser energy. Investment initiatives have also been instrumental in helping companies expand their reach globally.
Medtronics Pvt.Ltd Assists Surgeries with Artificial Intelligence
Medtronic Pvt. Ltd. in 2020 unveiled Sonicision, a cordless ultrasonic dissection system with curved jaws that can be used for orthopedic surgery. Sonicision's curved jaw system improves operation room mobility, safety, and efficiency with its cordless operation. With a single button and dual-energy modes, the surgeon can choose between a minimum and maximum energy settings. The tapered curved jaw provides access to tight locations and the device's single button provides access to a wide range of energy levels. This tool gives surgeons more control so they can focus on the patient and the surgery at hand.
Pandemic Preparedness of Blue Kinghts to improve health
With the COVID-19 pandemic looming, the innovation community managed to pivot quickly, identifying and developing new solutions that could be used to address both current and unanticipated needs. From early diagnostics and detection to manufacturing resilience and security initiatives, the pandemic experience will drive and mobilize a new wave of innovation that will go beyond infectious diseases to include other health conditions.
The Blue Knight Project fosters the development of technologies aimed at improving health security and response by collaborating with companies to solve problems related to emerging infectious diseases and public health threats.
nnovations that will transform the healthcare industry in the future
Innovations such as crowdsourcing medicine, online medical communities, AI, 3D printing human organs, digital healthcare apps, wearable biotrackers, human-powered batteries, antibiotic upgrades, and much more will further revolutionize the pharmaceutical industry on a global scale.
It is quickly becoming evident within the healthcare sector that a vibrant startup community and culture of innovation are forming, which could revolutionize the way patients are cared for in the future. By focusing on innovation, the healthcare sector can remain a leading provider of world-class universal health care in the future.
- Request for
More Information

-