5 Leading Dryer Vents Manufacturers Globally
Published : 18 May 2021 Industry: Industrial Goods
Dryer venting continues to gain traction as a viable system to speed up the drying of clothes while controlling the formation of lint. Busy lifestyles and continued urbanization has led to a surge in the demand for dryer vents. Advances in dry cleaning methods have increased the demands from the consumers who want convenience. Rising awareness about the use of dryer vents is leading to the emergence of new players in the global dryer vents market.
Below are 5 leading dryer vents manufacturers in the global market.
HY-C
HY-C is a leading global manufacturer of dryer vents. The company is working in the field since 1947. HY-C offers home improvement products such as chimney covers, UL1618 certified stove boards, firewood storage log racks, nuisance wildlife control screens, cast iron fireplace accessories, and wood- and coal-burning furnaces. The company provides what you need when you need it and deals in safe and sustainable living products to improve your life and the life of your home.
HY-C recently announced the launch of its new Dryer Vent Made Easy. The dryer vent made easy reclaims lost inches of space in your laundry area while positioning your dryer tightly to the venting wall. All you need to do is simply slide the dryer into the rubber seal in the wall.
Deflecto
Deflecto offers innovatively developed products that help in making life efficient and safe. The best part about the company is that it looks for ideas from every angle in order to uncover better solutions. Deflector uses 5x Better Flow with Airtight™ Patented Technology and works on a full line of venting products with a patented Airtight Fusion seam. The technology results in stronger, cleaner, and more durable venting systems.
In June 2020, Bridgeline Digital, Inc., a company offering cloud-based digital experience software, announced Deflecto, LLC as its eCommerce solution to power a new mobile-friendly website for their corporate site and multiple product brands.
Lambro Industries Inc.
Lambro Industries Inc. offers world-class venting solutions for residential and commercial customers. Lambro offers venting and duct products, such as laminated, semi-rigid, vinyl, and insulated ducts; accessories, rigid ductwork, and rigid elbows and pipes; and wall, roof, and eave vents for HVAC components, dryer, kitchen, and bathroom venting.
The company offers a wide lineup of dryer venting solutions for kitchens, bathrooms, and so on. Lambro's dryer vents replace traditional dryer vents. Its floating damper prevents outside elements from entering the vent. It mounts over existing 4″ openings and is made of high-impact polystyrene. The vents also have a UV inhibitor used to help prevent the premature fading of the vent.
Builder's Best
Builder's best has over 30 years of experience, 1000 plus SKUs, 6 plus models of semi-rigid aluminum duct, 7 plus models of metal hoods, specialty elbows, close clearance periscopes, and 3 facilities. Builder's Best offers companies a wide range of venting products. The company provides quality venting materials at reasonable prices.
Builder's Best launched its complete line of ALL METAL UL® 2158A dryer venting which complies with all clothes dryer manufacturer recommendations. The kits have a Close Elbow® which makes 90? turns in 4″ and protects critical turns in tight venting situations.
InOvate
With an expertise of over 20 years, InOvate is manufacturing and improving its line of venting solutions. The InOvate product lineup ensures safety and efficiency and its Product development includes relentless attention to the smallest detail, premium quality, and superior performance. The company's lineup of dryer vents consists of various products. One such product is The DryerWallVent that meets or exceeds the requirements for safely venting a dryer. Dryerbox® also has aesthetically pleasing wall terminations that enhance a home's exterior beauty.
- Request for
More Information

-
Dryer Vents Market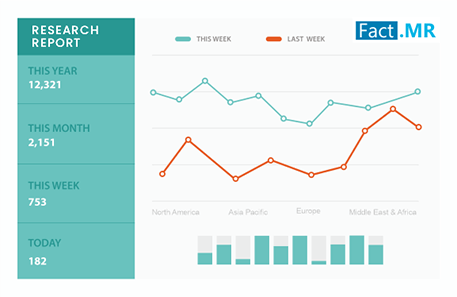 Dryer Vents Market Forecast, Trend Analysis & Competition Tracking: Global Market Insights 2019 to 2029