Fat Replacer Market
Fat Replacer Market Analysis by Form (Powdered, Liquid), By Source (Plant-based, Animal-based), By Ingredient (Carbohydrate-based, Protein-based, Lipid-based), By Application (Convenience Food & Beverages, Bakery & Confectionery Products, Sauces, Dressing & Spreads, Dairy & Frozen Desserts) & By Region – Global Market Insights 2023 to 2033
Analysis of Fat Replacer Market Covering 30+ Countries Including Analysis of US, Canada, UK, Germany, France, Nordics, GCC countries, Japan, Korea and many more
Fat Replacer Market Outlook (2023 to 2033)
The global fat replacer market size reached US$ 2.12 billion in 2022, according to the latest market study by Fact.MR, recording a CAGR of 3.5% from 2018 to 2022. Worldwide sales of fat replacers are predicted to rise at a CAGR of 5.8% and reach US$ 3.95 billion by 2033-end.
Chemicals that replace all or some of the fat in a product while preserving the same flavor, texture, and mouth feel are referred to as fat replacers or fat substitutes. There are fat substitutes made of protein, lipids, and carbohydrates.
This fat replacer market is expanding as a result of the growing awareness of its various health benefits within the healthcare industry. It can be used for a variety of purposes, especially in places such as Europe where baked food is among the most popular. The primary driver behind the overall sales growth is increasing consumer awareness of the importance of fat replacement without compromising the nutritional value of food. Many regions are embracing this shift, and protein-based fat substitutes are among the most widely adopted options.
During the forecast period, demand for low-calorie food and food additives is predicted to fuel market growth. Fat replacers, which can mimic the flavor and sensory characteristics of dietary fat, find extensive usage in processed meat, baking, and confectionery products. The growing preference for baked goods and convenience foods further contributes to this trend.
As the food industry continues to evolve, there is a projected increase in the consumption of more refined products. Food manufacturers are investing in ongoing research and development efforts to produce products with minimal calories. These factors are anticipated to support the global market for fat substitutes.
Growing consumption of low-fat and fat-free food products as a result of changing dietary practices, rising health concerns, and people's readiness to accept fat substitutes are key factors driving market expansion. Furthermore, fat substitutes offer a safe and effective solution to maintain the flavor of meals while promoting calorie restriction, weight loss, and maintenance.
A greater focus on weight-loss methods and an increase in public health awareness are driving market growth globally. Combining the use of fat alternatives with a healthy lifestyle can help combat obesity and its adverse effects.
Go!Drop, a fat substitute that offers better juiciness, a full flavor profile, and fewer calories, saturated fats, and oil overall, was introduced by Cubiq Foods in May 2021.
Epogee rearranged the fatty acids in plant oils in May 2022 to provide a usable, lower-calorie substitute fat for plant-based products.
Report Attributes
Details

Fat Replacer Market Size (2022)

US$ 2.12 Billion

Estimated Market Value (2023)

US$ 2.25 Billion

Forecasted Market Value (2033)

US$ 3.95 Billion

Global Market Growth Rate (2023 to 2033)

5.8% CAGR

United Kingdom Market Value (2033)

US$ 569.95 Million

United Kingdom Market Growth Rate (2023 to 2033)

5.4% CAGR

Japan Market Value (2033)

US$ 126.65 Million

Japan Market Growth Rate (2023 to 2033)

4.9% CAGR

Key Companies Profiled

Cargill Inc.
Kerry Group PLC
Ingredion Incorporated
Tate & Lyle PLC
Royal DSM N.V.
NOW Foods
Glanbia PLC
Medifast, Inc.
Mead Johnson & Company
Amway
Don't Need a Global Report?
save 40%! on Country & Region specific reports
What are the Market Trends Driving the Sales of Fat Replacers?
"Increasing Worldwide Demand for Convenience Food"
Demand for convenience food, encompassing ready-to-eat dry products, bread, cheese, and salted food, is on the rise due to several factors. These include consumer's increasing preference for convenient food options, significant investments in the advancement of the cold chain infrastructure, higher levels of disposable income, evolving lifestyles, and expanding trade in processed foods. As customers' demand for healthy dinnertime solutions rises and their eating habits change significantly, consumption of convenience food is expected to increase.
Despite the growing time constraints and limited culinary skills of consumers, there is a strong willingness to invest in the ready-to-eat market. This has led to an increased demand for convenience meals. As these products are often high in fat content, there is a rising need for fat substitutes to meet preferences for healthier options. The increasing consumption of convenience food presents a promising market opportunity for fat substitutes.
"Heightened Health Awareness Fueling Demand for Low-fat and Fat-free Food Products"
Market expansion is propelled by the growing demand for low-fat and fat-free food products, driven by changing dietary preferences, heightened health awareness, and a willingness to embrace fat alternatives.
Fat substitutes offer a safe and effective means of preserving flavor while promoting calorie control, weight management, and overall health. This global demand for fat substitutes is further fueled by the emphasis on weight-loss methods and the increasing consciousness of personal well-being. Incorporating fat substitutes into a healthy lifestyle can effectively help combat obesity and its associated consequences.
Lower systolic blood pressure and cholesterol levels, and decreased risk of type 2 diabetes and cardiovascular illnesses are associated with the use of fat replacers. Additionally, they can improve glucose tolerance and high-density lipoprotein (HDL) levels. As a result, the consumption of fat replacers is increasing globally due to the rising prevalence of obesity and chronic diseases as well as increased public knowledge of their advantages.
What are the Obstacles Faced by Producers of Fat Replacers?
"Challenges Associated with Mimicking Taste and Texture of Fat and Stringent Regulations Governing Labelling"
One of the primary challenges for fat replacers is replicating the taste and texture of real fats. Achieving the same sensory experience as natural fats can be difficult, and consumers may perceive a noticeable difference in taste and mouthfeel, impacting their acceptance and preference for fat-reduced products.
Developing effective fat replacers that can mimic the functional properties of fats, such as stability, heat resistance, and emulsification, can be technically challenging. The search for suitable alternatives capable of effectively fulfilling these functions may impose limitations on the range of applications and products that can successfully incorporate fat replacers.
Fat replacers may need to meet specific regulatory requirements and labeling regulations, depending on the region. Complying with these regulations and ensuring accurate product labeling can add complexity and cost to the development and marketing of fat-reduced products.
"Higher Cost Compared to Traditional Fats, Formulation Challenges, and Varying Consumer Awareness & Demand"
Fat replacers, especially those derived from natural sources or developed using advanced technologies, can be relatively expensive compared to traditional fats. This cost difference may impact the pricing and affordability of fat-reduced products, limiting their accessibility to a broader consumer base.
Incorporating fat replacers into various food formulations can pose formulation challenges. Fat plays a vital role in providing structure, moisture, and flavor in many food products. Replacing fat with alternative ingredients may require adjustments in formulation and processing methods to maintain the desired product attributes.
While the consumption of healthier food options is growing, the awareness and demand specifically for fat-reduced products and fat replacers can vary across different regions and consumer segments. Educating consumers about the benefits and effectiveness of fat replacers is crucial for generating sustained demand and market growth.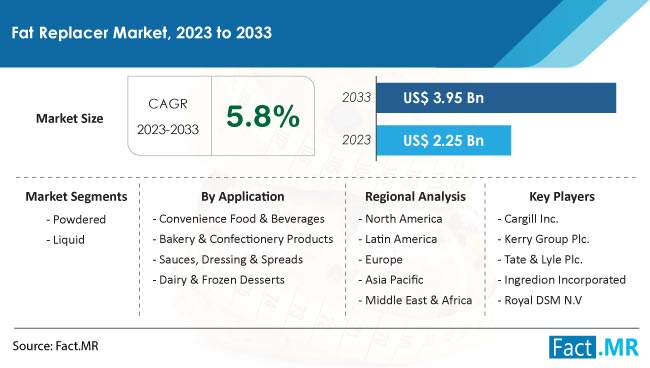 Country-wise Insights
What is Driving the United States Fat Replacer Market?
"Increasing Health Consciousness, Obesity Concerns, and Focus on Weight Management"
Demand for fat replacers in the United States is anticipated to reach a valuation of US$ 1.23 billion by 2033, increasing at a steady CAGR of 4.8% over the projected period.
With a growing focus on health and wellness, consumers in the United States are increasingly seeking healthier alternatives to high-fat foods. Fat replacers provide a solution by offering reduced-fat or fat-free options that align with health-conscious lifestyles.
Rising obesity rates and concerns about weight management have driven the demand for fat replacers. These ingredients allow consumers to enjoy their favorite foods with reduced fat content, aiding in calorie reduction and weight control.
Government initiatives and dietary guidelines, such as those recommended by the U.S. Department of Agriculture (USDA) and the Food and Drug Administration (FDA), encourage reduced fat consumption. Fat replacers enable food manufacturers to develop products that align with these guidelines.
Why is the Fat Replacer Market in Germany Lucrative for Producers?
"Emphasis on Sustainability and Awareness about Benefits of Fat Replacers"
The food industry in Germany is vibrant and diverse, offering a wide range of food products to consumers. Fat replacers find applications in various food categories, including bakery products, dairy, sauces, dressings, and confectionery. Availability of diverse fat-reduced products drives the demand for fat replacers in the German market.
Fat replacers that are derived from sustainable and plant-based sources align with the increasing environmental consciousness in the country. As sustainability and ethical considerations gain importance, demand for eco-friendly fat replacers is expected to rise.
Consumer education and awareness about the benefits of fat replacers play a crucial role in driving market growth. As more and more German consumers become more informed about the advantages of fat-reduced products and the availability of suitable alternatives, demand for fat replacers is likely to increase.
More Insights, Lesser Cost (-50% off)
Insights on import/export production,
pricing analysis, and more – Only @ Fact.MR
Category-wise Insights
Which is the Most Widely Used Type of Fat Replacer?
"Ability of Carbohydrate-based Fat Replacers to Mimic Emulsification and Heat Resistance Properties of Fat Leading to Their Widespread Utilization"
Consumption of carbohydrate-based fat replacers is predicted to rise at a CAGR of 5.2% during the forecast period.
A carbohydrate-based fat replacer is an ingredient used in food products to mimic the functional and sensory properties of fats while reducing the overall fat content. It is derived from carbohydrates, such as starches, fibers, and other complex carbohydrates.
Carbohydrates typically have fewer calories per gram compared to fats. By replacing fats with carbohydrate-based alternatives, food manufacturers can reduce the calorie content of products while maintaining desired texture and mouthfeel. Carbohydrate-based fat replacers can provide a similar texture and mouthfeel to fats, giving products a desirable creaminess, smoothness, or richness.
They can mimic the functional properties of fats, such as emulsification, stability, and heat resistance. They help maintain the desired structure and stability of food products during processing, cooking, and storage.
Which Application-based Segment is Expected to Occupy a Leading Market Share?
"Fat Replacers' Role in Extending Product Shelf Life and Reducing Calorie Content Driving Their Extensive Utilization in Bakery and Confectionery Products"
Demand for fat replacers in bakery and confectionery is forecasted to advance at a CAGR of 5.3% over the forecast period.
Fat replacers play a crucial role in the bakery and confectionery industry by providing alternative options to reduce fat content without compromising taste, texture, and overall product quality. The shelf life of bakery and confectionery products can be extended using fat replacers, as they prevent staleness and reduce the risk of rancidity. They can help maintain product freshness and quality over an extended period.
By replacing a portion of fats with fat replacers, bakery and confectionery products can achieve calorie reduction, making them more suitable for individuals seeking healthier options or weight management. Fat replacers allow for the reduction of saturated and trans fats in bakery and confectionery products, promoting healthier product profiles. This aligns with the increasing consumer demand for healthier food choices and the need to address concerns related to cardiovascular health and obesity.
Incorporating gluten replacers in bakery and confectionery products allows manufacturers to make labeling claims, such as "reduced fat" or "low-fat," which can appeal to health-conscious consumers and expand market opportunities.
Competitive Landscape
The market for fat substitutes is competitive, with several domestic and international competitors vying for market share. Focus is placed on new product development, mergers, expansions, acquisitions, and partnerships, all of which are strategies used by top businesses to increase customer awareness of their brands, expand their product portfolios, and increase their market share.
Ingredion Incorporated unveiled revolutionary clean-label starch to cut fat and create decadent textures in May 2019. By providing the same functionality as modified starch while displacing or lowering fat, it helps food producers enhance mouthfeel. This has aided the business in expanding its selection of goods.
Tate & Lyle and IMCD, a market leader in the sales, marketing, and distribution of specialized food ingredients and flavors in Italy, signed a distribution agreement in October 2021. This cooperation has assisted the business in its geographical growth.
Know thy Competitors
Competitive landscape highlights only certain players
Complete list available upon request
Key Segments of Fat Replacer Industry Research
By Form :

By Source :

By Ingredient :

Carbohydrate-based
Protein-based
Lipid-based

By Application :

Convenience Food & Beverages
Bakery & Confectionery Products
Sauces, Dressings, & Spreads
Dairy & Frozen Desserts

By Region :

North America
Latin America
Europe
Asia Pacific
Middle East & Africa
- FAQs -
The global fat replacer market is estimated to be valued at US$ 2.25 billion in 2023.
The global market is forecasted to advance at a CAGR of 5.8% between 2023 and 2033.
Worldwide sales of fat replacers are set to reach US$ 3.95 billion by 2033.
Demand for fat replacers in the United States is projected to rise at a CAGR of 4.8% through 2033.
The market in South Korea is predicted to expand at a CAGR of 4.9% through 2033.