Fats and Oils Market
Fats and Oils Market Analysis by Product Type (Edible Vegetable Oil, Palm Oil, Animal Fat, Other Types), by End User (Industrial, Residential), by Source (Vegetable, Animal), by Form (Liquid, Solid) and by Region, Global Forecast - 2022-2032
Analysis of Fats and Oils market covering 30 + countries including analysis of US, Canada, UK, Germany, France, Nordics, GCC countries, Japan, Korea and many more
Fats and Oils Market Outlook (2022-2032)
Sales of fats and oils are expected to be valued at US$ 246 Billion as of 2022, documenting a Y-o-Y increase of 3.8% from 2021. In the previous financial year, the market was valued at nearly US$ 237 Billion.
Report Attributes
Details

Base Year Value (2021)

US$ 237 Billion

Expected Current Value (2022)

US$ 246 Billion

Anticipated Forecast Value (2032)

US$ 364.12 Billion

Global Growth Rate (2022-2032)

4% CAGR

Growth Rate of North America (2022-2032)

4.5% CAGR

Growth Rate of APAC (2022-2032)

5% CAGR

Revenue Share of Europe (2032)

45%

Key Companies Profiled

Associated British Food Plc
Ajinomoto Co. Inc.
United Plantations Berhad
Bunge Limited
Archer Daniels Midland Company
Wilmar International Limited
International FoodStuff Company Limited
Cargill Inc.
Throughout the 2022-2032 period of assessment, the fats and oils industry is poised to expand at a CAGR of 4%, expected to reach a value of 364.12 Billion.
Fats and oils are widely employed in culinary applications such as confectioners' manufacture of chocolates and polishing of confectionery items. Furthermore, refined olive oil and coconut oil are increasingly being utilized for various baking applications due to their bland flavor, which allows food to retain its natural flavor. Furthermore, unlike mustard oil, it does not have any pungency.
Because of the health benefits they provide to poultry and cattle, fats and oils have gained popularity as feed ingredients. Fats and oils are high-energy additives that help to maintain nutritional balance while lowering feed costs. As a result, they are provided as feed items to minimize bloat and energy density in the meal.
Furthermore, fats and oils are finding use in a variety of production processes. They are currently being employed as a sustainable technique of manufacturing in sectors such as paints, lubricants, and paper, without the need of chemical chemicals.
Don't Need a Global Report?
save 40%! on Country & Region specific reports
2015-2021 Fats and Oils Market Demand Analysis vs. Market Forecast 2022-2032
This market's expansion may be due to greater consumer knowledge of healthier alternatives to trans-fat, consumer demand for a more nutritious and balanced diet, and sustainable food and energy systems. Asia Pacific is the fastest-growing market over the projection period because to its enormous consumer base, which includes strong, processed foods and industrial applications for fats and oils. A CAGR of 4.2% was documented during the 2015-2021 forecast period.
COVID-19 had a significant impact on major fat and oil users such as families, hotels, restaurants, and cafés. The consumption habit altered from ordering to self-cooking during the lockdowns. Lockdowns also had an impact on homes since retail chains were disrupted and supermarkets were shuttered.
Oilseed plantations, oilseed crushers, and other stakeholders were impacted on the supply side as a result of global trade barriers. Major oil-producing countries like as Malaysia, Indonesia, the United States, and Brazil experienced supply chain disruptions as exports fell dramatically and local distribution suffered.
However, as the incidence receded in the previous year, the market is experiencing a gradual resurgence. As consumers become highly health conscious, they are demanding healthier alternatives. As a result, manufacturers are turning towards production of fats and oils with reduced or zero chemicals, as well as unsaturated fats, simultaneously aligning with the clean label agenda. From 2022 to 2032, the market is slated to expand 1.5x.
How is the Increasing Food Demand driving Up the Global Fats and Oils Market?
To generate consistency in high-quality oil, edible oil products such as soybean oil, palm oil, sunflower oil and canola oil, among others, are often purified using different procedures such as degumming, neutralizing, bleaching, and deodorizing. Minor components, which are termed contaminants, are physically or chemically removed during the purification process.
Refined oils are the most common term for high-quality edible oils. Monounsaturated fats are abundant in refined oils. High-quality oils are produced utilizing cutting-edge technology and are regarded as a great source of nourishment.
As a result of their rising use and population, their consumption grows year after year. However, the demand for high-quality oils is increasing as customers seek healthier choices that retain flavor while increasing nutritional content. Manufacturers are improving processing technology and expanding their product ranges to suit this demand.
ADM (USA) and Novozymes (Denmark) created a technology that transformed the fats and oils sector. By integrating enzymes in the development process, this technique assisted the corporation in producing high-quality edible oils.
More Insights, Lesser Cost (-50% off)
Insights on import/export production,
pricing analysis, and more – Only @ Fact.MR
How are the Fat and Oil Product Labeling and Safety Concerns Hampering the Sales of the Worldwide Fats and Oils Market?
Significant changes in the competitive position of major vegetable oils suggest significant cost consequences and potential challenges to specific food items. Within this context, the global vegetable oil market, particularly in the United States, is under pressure due to numerous legislations.
Furthermore, due to the use of misleading terminology such as 'vegetable fats' or 'vegetable oils,' there is a high degree of anonymity in the specific amount of the food ingredients. As a result, the ingredient's specific content and role in the entire formulation are unknown.
New regulations requiring the labeling of trans-fatty acid levels in foods are putting pressure on manufacturers to switch to different formulas for manufacturing hydrogenated oils, raising demand for oils as an alternative to trans-fats. Only canola, safflower, sunflower, maize, soybean, or peanut oil may be used in a product labeled "vegetable oil margarine" in the United States.
Products that are not labeled "vegetable oil margarine" do not have these restrictions. With the introduction of new regulations, customers will be better educated about the inherent hazards in trans-fat-containing goods, forcing them to seek out adequate alternatives.
Is the Emerging Use of Fats and Oils as Trans-Fat Replacements a Dollar Opportunity?
Trans-fats are unsaturated fatty acids that are created during the hydrogenation of vegetable oils or that are naturally produced in the guts of grazing animals. Trans-fat consumption boosts the amount of low-density lipoprotein cholesterol in the blood. A high LDL blood cholesterol level increases the risk of getting cardiovascular disease.
Vegetable shortenings, stick margarine, refrigerated dough goods (such as biscuits and cinnamon rolls), snack foods, coffee creamers, cookies, cakes, frozen pies, frozen pizza, and fast food all contain trans fats. Trans-fats are increasingly being replaced with a far better replacement, particularly unsaturated liquid vegetable oils such as olive, canola, maize, or soy oils, as consumer health consciousness grows.
Know thy Competitors
Competitive landscape highlights only certain players
Complete list available upon request
What are the Key Trends in the Fats and Oils Market?
Biodiesel is an alternative to diesel fuel derived from fossil fuels. It has an advantage over diesel fuel in that it never runs out and grows in the fields. Rapeseeds, soybeans, oil palm fruit, and even old edible fats are suitable for biodiesel synthesis. It is a non-toxic, biodegradable, and renewable fuel made from a range of renewable raw resources, such as fresh or waste vegetable oils, animal fats, and oilseed plants.
The basic principles of sustainability maintained in biodiesel production are environmental compatibility of land use, a provable reduction in greenhouse emissions, and cohabitation with food production. As a result, biodiesel and edible vegetable oils are generated with a lower environmental effect.
Trans-fats are increasingly being replaced with a far better replacement, particularly unsaturated liquid vegetable oils such as olive, canola, maize, or soy oils, as consumer health consciousness grows. The worldwide market has been seeing an encapsulating trend. Several major producers are currently planning to encapsulate milk fat and vegetable oils in a matrix of whey proteins and casein-whey protein combinations.
These fat-rich powders are used in a variety of food compositions, nutritional supplements, and medicinal items. Premium oil kinds, such as olive and sunflower, command higher pricing in the global fats and oils market because to higher raw material costs, superior-label claims, and value-added nutritional characteristics.
Western markets in Europe and North America continue to be the focus for such luxury categories of oils and fats, resulting in prices that are higher than the worldwide average. As a result, the element is pushing the global market value for fats and oils.
Region-Wise Analysis
What are the Growth Prospects for Fats and Oils Market in Europe?
The usage of fats and oils varies by country in Europe. For example, biodiesel application accounts for a significant portion of Germany's market development, while food application remains a large use of fats and oils in France. During the forecast period, Europe is expected to account for a large chunk of the global fats and oils market's revenue share, capturing around 45%.
In terms of value, edible vegetable oils will continue to be the market's best-selling product. The introduction of high-quality products as a result of recent advancements in their manufacturing methods would primarily drive demand for edible vegetable oils. In the foreseeable future, the use of animal-based goods will encourage the use of edible vegetable oils.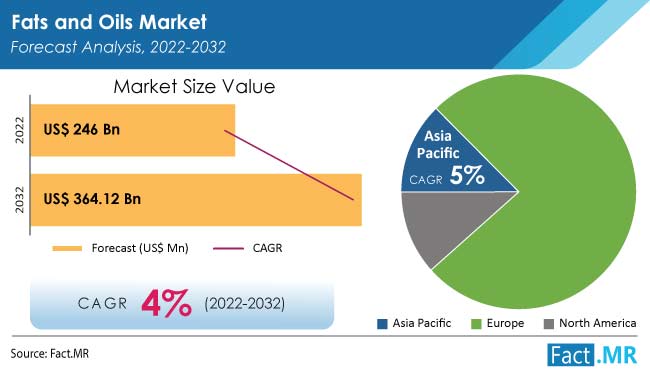 Category Wise Insights
Which is the Most Preferred Form in the Fats and Oils Market?
By form, the liquid category is expected to dominate the market, expanding at a CAGR of 3.7% until 2032. It is expected to be the fastest-growing category, as oils are mostly used for cooking and in biodiesel, where the liquid form is preferable to the solid. The crystalline shape of the fat has a significant impact on the melting point and appearance of the fat in the many applications in which it is used.
Which Source Holds the Most Leverage in the Fats and Oils Market?
According to source, the section is divided into vegetables and animals. The vegetable oil market is expected to increase significantly during the forecast period. The worldwide fat and oil market, which has a value of about US$ 250 Million in 2022, supports the global animal fat industry.
At the global level, the palm oil sector drives the market, which is primarily driven by the Indian and Chinese markets. In terms of value, vegetable oils will be the market's best-selling product. Demand for vegetable oils will be primarily driven by the introduction of high-quality goods as a result of recent advancements in their manufacturing methods.
Competitive Landscape
The worldwide market for fats and oils is fragmented due to the presence of various regional and international providers. Market vendors compete in terms of pricing, portfolio, and product differentiation. Recent developments are as follows :
In May 2020, confectionery provider Bunge Limited launched Sweetolin - a fat system with solutions in confectionery coatings and fillings applications. This solutions would allow confectionery providers to reduce sugar content by as much as 50% in the final product
In May 2022, global agribusiness giant Archer Daniels Midland (ADM) announced that it plans to inaugurate a new Protein Innovation Center in Decatur, Illinois, USA. As part of its drive to increase alternative protein production, the company said it was also investing US$ 300 Million in expanding production at the Decatur facility. ADM said the new facility and production expansion would significantly strengthen the company's ability to meet growing global demand for soya protein concentrate.
Key Segments Covered in the Global Fats and Oils Industry Survey
Fats and Oils Market by Product Type :

Edible Vegetable Fats & Oils
Palm-based Fats & Oils
Animal-based Fats & Oils
Other Product Type-based Fats & Oils

Fats and Oils Market by End User :

Fats and Oils for Industrial Use
Fats and Oils for Residential Use

Fats and Oils Market by Source :

Vegetable-based Fats and Oils
Animal-based Fats and Oils

Fats and Oils Market by Form :

Liquid Fats and Oils
Solid Fats and Oils

Fats and Oils Market by Region :

North America Fats and Oils Market
Latin America Fats and Oils Market
Europe Fats and Oils Market
Japan Fats and Oils Market
APEJ Fats and Oils Market
MEA Fats and Oils Market
- FAQs -
As of 2021, the global fats and oils market was valued at US$ 237 Billion
By 2022, the fats and oils industry is forecast to reach a market value of US$ 246 Billion
According to Fact.MR, Europe is expected to generate 45% of the global fats and oils market revenue
The Asia Pacific region is likely to experience a CAGR of 5% with respect to fats and oils sales until 2032
North America is expected to flourish at a CAGR of 4.5% from 2022-2032, in relation to fats and oils sales
Liquid fats and oils are likely to register maximum sales, expanding at a CAGR of 3.7%
It is expected that demand for vegetable based fats and oils will enjoy maximum sales in 2022, yielding US$ 250 Million
According to Fact.MR, the fats and oils industry will likely surge at a 4% CAGR until 2032
From 2015 to 2021, the market for fats and oils expanded at a 4.2% value CAGR