Drug Discovery Services Market
Drug Discovery Services Market Analysis by Process (Target Selection, Target Validation, Hit-To-Lead Identification), by Type (Medicinal Chemistry, Biology Services, Pharmacokinetics), by Drug Type (Small Molecules and Biologics) by Therapeutic Area, by Region - Global Market Insights 2022-2032
Analysis of Drug Discovery Services market covering 30 + countries including analysis of US, Canada, UK, Germany, France, Nordics, GCC countries, Japan, Korea and many more
Drug Discovery Services Market Outlook (2022-2032)
The drug discovery services market is forecasted to reach US$ 50 Billion by 2032, up from US$ 19 Billion in 2022, at a CAGR of 10.1%.
A Y-o-Y growth rate of nearly 12% is expected for the market in 2022. As of 2021, the market was valued at US$ 17 Billion.
Report Attributes

Details

Anticipated Base Year Value (2021)

US$ 17 Billion

Expected Market Value (2022)

US$ 19 Billion

Projected Forecast Value (2032)

US$ 50 Billion

Global Growth Rate (2022-2032)

10.1% CAGR

Growth Rate of the U.S (2022-2032)

9.8% CAGR

Expected Market Value of China (2032)

US$ 15 Billion

Key Drug Discovery Services Service Providers

Syngene
Wuxi Apptec
Urigene Discovery Technologies
Genscript Biotech Corporation
Covance
Jubilant Biosys
Pharmaceutical Product Development, LLC. (PPD)
Evotec
Charles River Laboratories International
Albany Molecular Research Inc. (AMRI)
GE Healthcare
Merck Millipore
Thermo Fisher Scientific Inc.
Growing R&D expenditure in the pharmaceutical and biopharmaceutical industries, rising demand for outsourcing analytical testing services, initiatives for research on rare diseases and orphan drugs, and the high cost of in-house drug development are all creating new revenue pockets in the drug discovery services market.
Furthermore, factors such as rising R&D expenditure in the pharmaceutical and biopharmaceutical industries, rising initiatives for research on rare diseases and orphan drugs, a rapidly growing focus on drug discovery and a proliferating pharmaceutical industry are all expected to influence market growth in the future.
Know thy Competitors
Competitive landscape highlights only certain players
Complete list available upon request
Drug Discovery Services Market Revenue Analysis 2015-2021 vs. Future Outlook 2022-2032
According to Fact.MR, the global market for drug discovery services is expected to increase rapidly. The global market for drug discovery services is expected to generate US$ 50 Billion in sales by the end of 2032. Advances in drug discovery technology are resulting in improved drug discovery services.
Some of the market's forthcoming trends in drug discovery technology include regulatory initiatives toward Pharmacogenomic technology, combinatorial chemistry technology, and so on. There has also been a rise in the use of label-free methods. Increased R&D efforts and spending, as well as pharmaceutical businesses shifting to outsourcing, are some of the causes driving the expansion of drug discovery services.
The use of improved technologies in the drug development process is also a key driver of market expansion. However, severe rules in certain jurisdictions on drug discovery services, high costs associated with drug research and development, and the use of animals in testing are stifling industry growth.
Prominent Drug Discovery Services Industry Growth Drivers
Increasing R&D Spending in Pharmaceutical and Biopharma Businesses
Most pharmaceutical, biopharmaceutical, and medical device businesses make significant investments in the development of new medications and technologies. The pharmaceutical sector is heavily invested in R&D. Pharmaceutical firms spend in R&D in order to bring high-quality, innovative medicines to market.
According to trends, the leading pharma firms are enhancing their R&D efficiency through large R&D investments to realize long-term benefits and joint R&D efforts. According to the EvaluatePharma analysis, global pharmaceutical R&D investment was valued at US$ 137 billion in 2012, and is expected to climb to US$ 198 billion by 2020. As a result of the COVID-19 pandemic, the worldwide pharmaceutical R&D growth rate is expected to fall to 0.1% in 2020. According to the analysis, R&D spending is predicted to expand gradually at a CAGR of 4.2% between 2020 and 2026 to reach USD 254.0 billion, slower than the historical CAGR of 4.7% between 2012 and 2020.
Pharmaceutical and biopharmaceutical businesses' increasing R&D expenditures are leading them to seek fully integrated or functional outsourcing services for drug research and development, from the early development stage through the late-stage development phase. Outsourcing has grown as a strategic solution to offset the shortage of in-house resources necessary for new product development as pharma businesses face great pressure to limit fixed costs. Large pharmaceutical corporations are shifting to a leaner business strategy that mainly depends on outsourcing.
Most pharmaceutical and biopharmaceutical businesses outsource their testing services throughout R&D to increase profitability, meet drug development timeframes, and save money. This is evidenced by recent collaborations between large pharmaceutical corporations and contract research organizations (CROs) that provide drug discovery and development services.
As a result, rising pharmaceutical R&D spending fuels the development of the drug discovery services industry.
Constant Research to find a Cure for COVID-19 widened Expansion Prospects
The COVID-19 pandemic provided a massive boost to the pharmaceutical industry, in terms of the number of medications authorized by the US FDA. This year saw the approval of 53 medications, which was only topped in 2018 with 59 pharmaceutical agents.
In 2020, there were 53 approvals totaling 40 novel chemical entities and 13 biologics (of which ten were monoclonal antibodies, two were antibody-drug conjugates, and three were peptides, and two, oligonucleotides). In the previous three years (2018–2020), the FDA approved 160 medications, compared to only 21 in 2010.
This increase in the number of authorized drugs globally can be linked to increased biopharmaceutical company spending in the development of biologics and biosimilars. Biologics, such as proteins, peptides, and monoclonal antibodies, account for more than half of the therapeutic candidates in the discovery stage. In 2022, biologics are predicted to account for about half of the revenue earned by the top 100 pharmaceutical product sales.
Despite the fact that small-molecule pharmaceuticals dominate the global pharmaceutical industry, the share of biologics, biosimilars, and large-molecule medications is increasing, owing to the introduction of new biologic-based treatments and rising earnings from current biologics.
At each level, biologics and biosimilars need more specialized testing services than small molecules. The growing demand for these services to be outsourced to CROs is likely to boost the demand of the drug discovery services market in the coming years.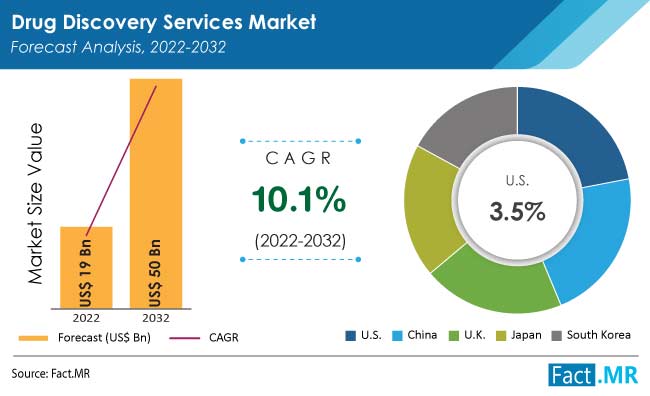 Key Challenges Prevalent in the Global Drug Discovery Services Market
Strict Guidelines Control Drug Development and Animal Testing
Regulatory agencies' primary priority during medication approval is ensuring safety and efficacy. Although these procedures serve to assure the quality of medicines that are released to the market, they significantly raise the cost of medication research and the final product. This aspect can have a major influence on medicine adoption in price-sensitive emerging economies. Aside from that, different legislations that protect product quality (such as GMP) sometimes raise production prices.
Animals are used in drug development under strict limits. Mice, rats, fish, amphibians, and reptiles are the most common animals utilized in research. Concerns over the ethical use of animals in research have prompted countries to enact animal safety and usage regulations, which pose a number of hurdles to the smooth operation of drug discovery research.
Companies have been obliged to find other methods to reduce animal use as a result of this. Novo Nordisk, for example, employs biosimulation, which entails employing computer models to imitate human biology. However, this has not been fully implemented throughout the sector.
More Insights, Lesser Cost (-50% off)
Insights on import/export production,
pricing analysis, and more – Only @ Fact.MR
Country-wise Analysis
What is the Growth Outlook for Drug Discovery Services in the U.S?
United States to lead the Drug Discovery Services Market
In terms of pharmaceutical R&D investment, United States leads the globe. It is also the most important market for both bulk pharmaceuticals and final dosage formulations. The market works as a free economy, with the goal of implementing transparent trading processes and restricting anti-competitive behavior.
Over the projection period, a significant push for generic pharmaceuticals and biosimilars is likely to enhance demand for specialty and complex ingredients. For example, Bayer entered into a partnership arrangement with the artificial intelligence drug discovery services business Exscientia in January 2020 to develop and optimize innovative lead structures for prospective therapeutic candidates in the treatment of cardiovascular and Oncological disorders. Because biologics are more expensive, the country has a lot of prospects for biosimilars.
The COVID-19 pandemic underlined the importance of North American corporations and research groups collaborating with the government to create new medications to address future health catastrophes. Several universities and significant businesses are engaged on creating corona virus vaccines. For example, Eli Lilly collaborated with AbCellera to create vaccinations.
How do Growth Prospects appear in the Chinese Market?
Rising Demand for Drug Discovery Informatics is Attributable to the Expanding Population Base and Growth in the Prevalence of Infectious Illnesses. Because of the vast number of skilled researchers and low-cost operations in rising nation such as China, Asia-Pacific is predicted to increase at a high rate from 2022 to 2032. Emerging as the pinnacle of the global telecommunications and digital China is a valuable market.
During the forecast period, the drug discovery services market in the area is expected to increase at a quick pace. An increase in government efforts is expected to strengthen China's market share. Increased need for drug discovery informatics in China is ascribed to a huge population base and an increase in the prevalence of infectious illnesses. In the next years, China is expected to provide considerable prospects to the drug discovery services industry.
Country-wise Forecast CAGRs in the Drug Discovery Services Market
| Country wise Analysis | Growth Rate |
| --- | --- |
| U.S | 9.8% |
| U.K | 9% |
| China | 9.7% |
| Japan | 8.5% |
| South Korea | 7.6% |
Category-wise Insights
Why Medicinal Chemistry is the Most Preferred Type?
Medicinal Chemistry will be the Most Common Type of Drug Discovery Service
Medicinal chemistry is expected to be the most popular service type in the drug discovery services industry. Medicinal chemistry is expected to generate about US$ 6 Billion in revenue.
Outsourcing by pharmaceutical companies has increased, and this is emerging as a driving element. Many Asian drug discovery service companies are expanding their presence in North America and Europe.
Why is Demand for Small Molecules Rising Rapidly?
Small Molecules to Experience the Most Revenue Growth
Small molecules are expected to account for the greatest share of revenue when compared to biologics. Small molecules are expected to generate more than US$ 10.8 Billion in revenue by the end of 2032.
Small molecules are gaining popularity because they are simple, easy to describe, and well defined. Small chemicals can also readily infiltrate cells and kill cancer cells.
Which Therapeutic Area will Leverage Drug Discovery Services the Most?
Oncology will have the Highest Revenue Share in the Therapeutic Area
Oncology is expected to be the greatest therapeutic area during the projection period. Oncology is expected to generate more than US$ 6.9 Billion in revenue by the end of 2032.
The growing number of cancer patients has resulted in a strong need for cancer medicines. As a result, oncology is expected to develop significantly in the next years.
Know thy Competitors
Competitive landscape highlights only certain players
Complete list available upon request
Competitive Landscape
The global market for Drug Discovery Services is extremely fragmented, with several large firms.
Eurofins Discovery and PharmaResouces announced cooperation in February 2020 to construct a combined drug discovery platform to accelerate the development of small-molecule pharmaceuticals.
Key Segments Covered in the Drug Discovery Services Industry Report
By Process :

Target Selection
Target Validation
Hit-To-Lead Identification
Lead Optimization
Candidate Validation

By Type :

Medicinal Chemistry
Biology Services
Drug Metabolism and Pharmacokinetics

By Drug Type :

Small Molecules
Biologics

By Therapeutic Area :

Oncology
Neurology
Cardiovascular Diseases
Respiratory Diseases
Diabetes and Other Therapeutic Areas

By Region :

North America
Latin America
Europe
Asia Pacific
Middle East & Africa
- FAQs -
From 2022-2032, Drug Discovery Services demand is likely to surge at a 10.1% CAGR
By 2032, the market for Drug Discovery Services is likely to be valued at US$ 50 Billion
By 2032, Fact.MR expects the U.S market for Drug Discovery Services to reach US$ 20 Billion
China is expected to register a 9.7% CAGR with regard to the Drug Discovery Services industry
Japan is expected to document a CAGR worth 8.5% in the Drug Discovery Services market
Medicinal Chemistry will expand the fastest during the forecast period.
By 2022, Fact.MR expected demand for Drug Discovery Services to reach US$ 19 Billion
As of 2021, Fact.MR estimated the Drug Discovery Services market to have reached US$ 17 Billion
From 2015-2021, the Drug Discovery Services market grew at an 8% value CAGR