Airport Runway Foreign Object Debris (FOD) Detection System Market
Airport Runway Foreign Object Debris Detection System Market By Component (Hardware,Services), By End-use Industry (Civil, Military), By Region - Global Market Insights 2021 to 2031
FACT1897MR
Jan-2021

List of Tables : 57

List of Figures : 152

170 Pages
Airport Runway Foreign Object Debris (FOD) Detection System Market Outlook
The global aeronautic sector is increasingly facing a number of safety threats to crews, passengers, and aircraft, owing to foreign object debris (FOD), birds, and growing number of drones operating near runways and ancillary airport areas. According to the European Commission, the aviation sector experiences costs of approximately US$13 billion/year due to FOD and bird-aircraft strikes.
Given the major implications of potential accidents and hazard incidents such as damage to aircraft and loss of lives – the civil and defense aviation sector has invested substantially in the adoption of technologies and best practices to minimize such risks. Today, most airport facilities are reliant on regular vehicle patrols for runway inspections, but such protocols have a number of limitations. Consequently, alternative technological approaches, including AI and radar-based solutions, while being expensive, are gaining increased attention.
Fact.MR's report dives deep into the trends related to the airport runway foreign object debris (FOD) detection systems market, and tracks growth in 20+ high-growth countries. It also details the impact that the COVID-19 pandemic is having on this industry, and what the years ahead will be like.
Interested to Procure The Data
After Erratic Historical Growth, Future Outlook Looks Steady
From 2016 to 2020, the airport runway FOD detect systems market has reflected unstable growth. The industry has been moderately consolidated, and reached its peak of US$ 103 Mn in 2017, while falling sharply in 2020, owing to the COVID-19 pandemic, to US$ 36 Mn, with the Asia Pacific and Middle East and Africa regions reflecting high potential for growth.
However, Fact.MR has forecasted the global airport runway FOD detection systems market to rise at 7.5% CAGR from 2021 to 2031. Resurgence of the civilian aviation sector and increased investments by governments towards air defense infrastructure are key factors that will support adoption of newer, real-time FOD detection systems through the projection period.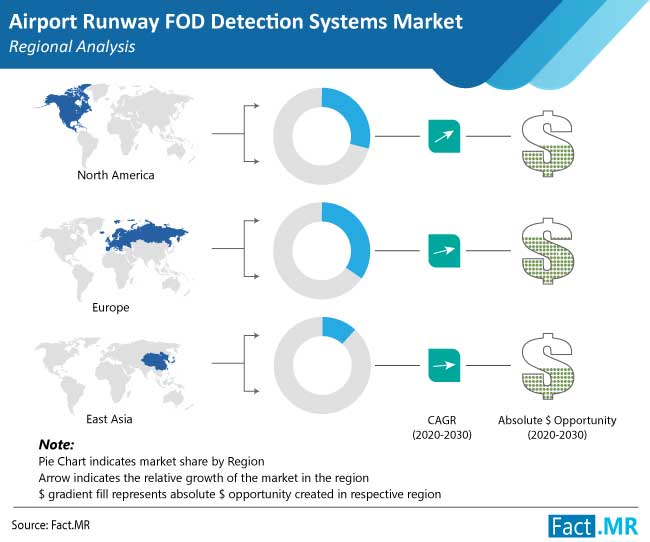 What is the Role of AI in Airport Runway FOD Detection Systems?
According to a study by the Nanjing University of Science and Technology, more than 4,500 incidents of tire damage arising from FOD were noted in China in 2018. Also, the average annual loss caused by FOD for each airline is US$ 7.4 million, making FOD detection systems crucial to developments.
Conventional airport FOD detection technology, in many cases, relies on human observers in screening methods. On the other hand, automatic detection methods not only suffer from poor efficiency, but also a relatively high rate of false positives and negatives. Automated systems are also affected by relatively higher costs. Also, issues in terms of full real-time detection have gained increased attention.
A comprehensive runway foreign object detection and recognition system based on image analysis comprises three key parts - airport runway foreign object detection modules, airport runway image acquisition modules, and airport runway foreign object recognition modules. While independent in operation, they are closely connected in terms of outcome. Artificial intelligence technology has found great potential in the field of FOD detection. Advancements in computer vision algorithms, with the application of image sensors to monitor and scrutinize airport runway images in real time, are key for FOD detection.
The main task of an FOD detection system is to find the FOD target of various sizes and shapes, while providing semantic information in terms of substance type and risk degree of the target. Advancements in AI will contribute to product development significantly in the foreseeable future.
How are Radar Improvements Influencing Developments in Airport Runway FOD Detection Systems?
In recent years, companies have developed automatic FOD detection systems with radar detection and optical video detection technologies. Some of the more prominent products available in the market include Xsight's FODetect, QinetiQ's Tarsier System, and Stratech's iFerret.
Although radar detection allows for relatively longer detection distance and high resolution in imaging, conventional systems cannot provide data on the color properties of the detected objects. Unlike camera-based systems, radar systems cannot produce intuitive video images, which creates challenges to the use of FOD detection systems. Newer radar-based methods of FOD detection rely on milli-meter-wave radar technology in combination with radio transmission and reception data for FOD detection operations.
This type of method allows for significant improvements to high resolution images and better accuracy. These systems are also not affected by weather conditions. Radar-based systems follow the standards of regulatory bodies such as the Federal Aviation Administration (FAA), with stringent testing parameters.
What are the Prominent Challenges Impacting Airport Runway FOD Detection Systems Market Players?
The long-term prospects of the airport runway FOD detection systems market largely remains positive, owing to the commercial importance of the aviation sector. However, the industry will face obstacles, potentially limiting growth in the industry. Older radar-based and camera-based systems are highly vulnerable to weather anomalies, including haze, storms, and ice.
Even in newer models, small FOD target detection in cases with major ground clutter is a key issue for millimeter-wave radar. FOD detection is difficult to achieve using traditional CFAR algorithms. Further, high costs associated with the deployment of FOD detection systems remains a concern, limiting adoption at smaller airfields.
An Adaptive Approach to Modern-day Research Needs
Country-wise Insights
How are Airport Runway FOD Detection Systems Faring in the United States?
According to the Fact.MR report, the United States will account for more than 70% of the Americas market share for airport runway FOD detection systems throughout the assessment period, and is estimated to be a leading regional market for the technology.
Boeing has estimated that FOD causes an estimated US$ 4 billion in damage to engines and aircraft that are forced to be taken out of service annually. The FAA requires airports in the United States with air carrier service or a Part 139 certification to conduct daily self-inspections. The FAA's Advisory Circular (AC) "Airport Safety Self-Inspection" outlines in detail the processes airports have to use to check and remove FOD from runways, aprons, taxiways, loading ramps, and aircraft parking areas.
Boston-based XSight's has released the FODetect system, which uses small detection units containing both, radar and camera units mounted close to the runway edge lights. These units are capable of scanning the area and sending alarm messages to operators when FOD objects are located. The system also sends video images for easier retrieval of debris. The system has already been installed at the Boston Logan International Airport on Runway 9/27.
On a similar note, San Diego -based Trex Enterprise launched its FODFinder mobile detection system that can be mounted to the roof of vehicles. The system provides a radar and video image of the debris, and once objects are retrieved, the system can take photographs of such items, and assign barcodes for inventory purposes.
What are the Commercial Prospects of Airport Runway FOD Detection Systems in the United Kingdom?
Currently, the U.K. has third-largest aviation network in the world, and is also home to the second-largest aerospace manufacturing sector. The country's aviation sector has a turnover of over £60 billion, contributing over £22 billion to U.K.'s GDP, and almost one million U.K. jobs are directly or indirectly supported by it.
According to data from the Civil Aviation Authority, passenger count of major airports in the U.K. in 2019 accounted for 292,981 people, an increase over the 284,846 figure for 2018. The CAA collects statistics from more than 60 U.K. airports. The country is the largest market for airport runway FOD detection systems, as per Fact.MR data.
U.K.-based QinetiQ's Tarsier Radar uses tower-mounted radar units that continuously scan pavement services, and alarms and sends a message identifying the location of the FOD. The system has been adopted at the Heathrow and Gatwick airports, which account for more than 40% of the country's air traffic.
Why is Turkey Displaying High Potential for Airport Runway FOD Detection Systems?
According to the Fact.MR study, MEA is expected to reflect high potential for growth, accounting for a leading market share by the end of the assessment period in 2031, at more than 28%. Across the Middle East and Africa region, Turkey is the leading contributor to the airport runway FOD detection systems market, accounting for close to half of the MEA market share from 2021 to 2031.
According to a European Commission report, Turkey's Air Transportation industry accounted for 517.000 units in 2017. This recorded a decrease from the previous number of 540.000 units for 2016. However, the number of aircraft data has largely averaged 315.500 units from 2002 to 2017.
Further, military tensions in the region have continued, creating key opportunities for airport runway FOD detection system manufacturers for potential defense contracts in the region.
Category-wise Insights
What are the Commercial Prospects of Airport Runway FOD Detection Systems Hardware?
Airport runway components are broadly classified on the basis of hardware and services. Hardware can be further segmented into stationary and mobile variants, while services can be divided into training and certification, installation, and support & maintenance.
According to the Fact.MR report, revenue for hardware sales in the industry will reflect a relatively larger share, with stationary systems remaining highly sought-after. The segment will account for more than US$ 22 Mn in 2021. However, support and maintenance services are expected to gain increased traction over the forecast period, especially with the resumption of air travel post the COVID-19 pandemic.
Why is Civil Aviation a Leading Contributor to Airport Runway FOD Detection Systems?
Airport runway FOD detection products find use in both, civil and military air travel settings. On the whole, civil aviation remains the leading and fastest-growing contributor of revenue to the airport runway FOD detection systems industry, accounting for close to 60% of the market share in 2020.
In the past decade, the number of airports has risen from around 10,000 to approximately 40,000 on a global scale, including airfields, strips, and heliports, as per IATA data, with a majority accounting for civilian operations. This is the primary factor behind growth in demand for FOD detection systems, and the trend is likely to remain unchanged for the foreseeable future.
Competitive Landscape
The airport runway FOD detection systems market is moderately consolidated in nature, with leading players contributing to majority market share. Major manufacturers are largely focused on gaining contracts with government-based aviation authorities around the world, in addition to research in product development efforts, for long-term growth prospects.
ArgosAI Technology unveiled the A-FOD, a real time, artificial intelligence-based debris detection system, which is capable of operating in multiple weather conditions to minimize the risk of injuring employees in ground operations, or alternatively damage to aircraft.
Dyer & Butler, a leader in multi-specialty engineering services, completed runway infrastructure improvements and maintenance operations in September 2020 at the Gatwick airport, including new FOD and Instrument Runway Visual Range system (IRVR) systems.
In February 2019, Schwarze unveiled the A7 Tornado, a multi-purpose FOD solution vehicle for airport surface cleaning requirements, including litter removal, road sweeping, and ramp debris removal, through catch basin vacuum, air blast cleaning, and glycol removal functionality.
Report Scope
Report Attributes

Details

Forecast Period

2021-2031

Historical Data Available for

2016-2020

Market Analysis

USD Million for Value

Key Regions Covered

Americas
Europe
Asia Pacific
Middle East & Africa

Key Countries Covered

US
U.K.
Germany
France
Greater China
Japan
Singapore
Malaysia
India
Vietnam
UAE
Turkey
Israel

Key Segments Covered

Key Companies Profiled

ArgosAI Technology
Arither
The Stratech Group Ltd.
Rheinmetall Italia S.p.A.
Moog Inc.
Trex Aviation Systems
Xsight Systems Inc.
Hitachi Kokusai Electric Inc.
Pavemetrics Systems Inc
Others (indicative list)

Report Coverage

Market Overview
Key Market Trends
COVID-19's Impact
Demand Analysis
Market Background
Segmental Analysis
Regional Profiling
Market Structure Analysis
Competition Analysis

Customization & Pricing

Available upon Request
Key Segments Analysis
Component

Hardware
Services

Installation
Support & Maintenance
Training & Certification

End-use Industry

Region

Americas (U.S., Rest of Americas)
Europe (U.K., Germany, France, and Rest of Europe)
Asia Pacific (Greater China, Japan, Singapore, Malaysia, India, Vietnam, Rest of APAC)
Middle East & Africa (UAE, Turkey, Israel, and Rest of MEA)