Polyphenylene Sulfide (PPS) Resins Market
Polyphenylene Sulfide (PPS) Resins Market Size, Share Analysis by Application (Electrical & Electronics, Automotive, Aerospace & Defence, Industrial, Filters & Filter Bag) & Regional Forecast 2021-2031
FACT2473MR
Nov-2021

List of Tables : 66

List of Figures : 151

170 Pages
Polyphenylene Sulfide (PPS) Resins Market Outlook
The global polyphenylene sulfide (PPS) resins market to progress at a CAGR of 6.7% and be valued at US$ 2.2 Bn by 2031. Currently, PPS resins account for close to 1% of the global engineering thermoplastics market.
Polyphenylene sulfide resin production in 2021 is estimated to surpass 120 KT, with approximately 50% being consumed in the APEJ region, states Fact.MR, a market research and competitive intelligence provider. Overall polyphenylene sulfide (PPS) resin consumption is set to reach 199 KT by the end of 2031.
Amongst the prominent applications of polyphenylene sulfide resins (automotive, industrial, electrical & electronics, aerospace & defence, coatings, filters & filter bags and others), its use as a lightweight and heat-resistant (PPS) resin in the automotive sector generates approximately 45% of overall market revenue.
Moreover, polyphenylene sulfide resin application in the industrial and aerospace & defence sectors is set to gain nearly 228 BPS and 62 BPS by end of 2031, respectively.
| | |
| --- | --- |
| PPS Resins Market Size in 2020 | US$ 1 Bn |
| Consumption Forecast for PPS Resins by 2031 | US$ 2.2 Bn |
| Global Market Growth Rate (2021 to 2031) | 6.7% CAGR |
| Share of Top 5 Manufacturers of PPS Resins | 77% |
Polyphenylene sulfide resin polymers industry research performed by Fact.MR delves on key insights such as current and speculative production capacity, capacity utilization rates of each producer, current and speculative pricing, price optimization strategy across value chain, techno-economic analysis of PPS resin production, and much more.
Avail customized purchase options for your needs
Historical Analysis Vs Future Sales Projections for Polyphenylene Sulfide Resins
According to Fact.MR, over the past half-decade, global volume consumption of polyphenylene sulfide resins increased a CAGR of around 6.2%. Global volume consumption stood at around 102 KT by 2020-end, of which, automotive, as an end-use application, accounted for around 50% of total consumption.
Additionally, projections are that the advanced properties of PPS resins, such as high flame retarding properties, have made them a valuable coating material for the electronics industry.
Attributed to technological advancements of polyphenylene sulfide resins in recent years, positive growth of around 7.6% CAGR is being projected for the APEJ region. Further, use of polyphenylene sulfide resins in electrical & electronics applications is expected to expand 1.6X by 2031-end.
Moreover, use of PPS resin as a thermoplastic polymer in a wide range of applications, ranging from coating, filters, and films, among others, is expected to cover significant volume of global consumption, standing at around 13 KT at present.
The COVID-19 pandemic had an impact on revenue generation capability of companies as production facilities were shut down and the demand-supply chain was directly affected in a negative manner. As such, a dip in PPS resin production was experienced in the market.
Why Have Newer Grades of PPS Compounds Gained Immense Traction and Bolstered Demand for Polyphenylene Sulfide (PPS) Resins?
PPS resin polymers are widely used in electronics, automotive, mechanical, and various other industrial applications. All these applications and conventional types of end uses offer extreme pressure and temperature conditions. Therefore, it became quite important for PPS resin manufacturers to provide sustainable grades of polyphenylene sulphide (PPS) resins.
PPS resin manufacturers now aim to develop and offer magnetic, conductive, and low-wear capability-rich PPS resins. These newer grades are expected to heighten the consumption of PPS resins in numerous end-use applications.
Furthermore, with advancements in technology, newer grades can now be blow moulded or extruded. A hike in global demand and newer grades of PPS resins collectively underpin the hub of immense futuristic opportunities for market players.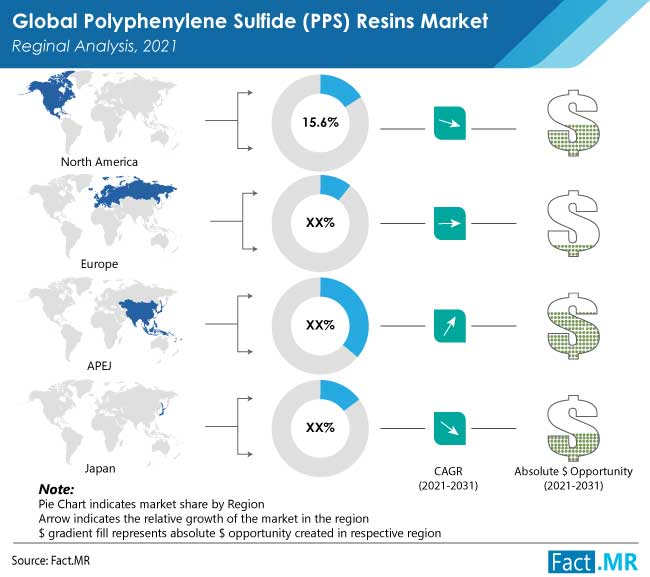 Country-wise Analysis
Why is China Expected to Proliferate in the PPS Resins Space?
The (Asia and Pacific except Japan) APEJ polyphenylene sulfide resins business accounts for significant market share as compared to other prominent regions. China holds high possibilities for future growth opportunities in the region. As such, it will remain the main target for manufacturers, specifically in the domain of the automotive industry.
This regional market accounts for just over 50% of global revenue share and is anticipated to expand at an impressive CAGR of over 8%, due to strong growth in industrial production and favourable government stance for use of PPS filter bags in coal thermal plants.
Moreover, demand for PPS resins in North America and Japan has reached maturity, and producers from these regions are expected to market their products aggressively in faster-growing markets such as China. Thus, manufacturers from China should expect more intensified foreign competition. On the other hand, PPS demand in MEA and Latin America is mainly met through imports.
Attributed to the above-discussed factors, it is projected that consumption of polyphenylene sulfide resins in China will be around 88 KT in terms of volume, increasing at a CAGR of around 8.4% over the decade.
What is the Scenario for Polyphenylene Sulfide Resin Sales in Japan?
Polyphenylene sulfide resin sales in Japan are projected to be mainly driven by increased demand for PPS resins in automotive and electronic applications. Moreover, Japan has an ambitious plan to make electric applications such as connectors, switches, circuit breakers, sockets, relays, packaging (transistors, capacitors, multichip modules, potting cups, and power converters) and encapsulation as the epicentre for the demand for PPS resins.
Thus, rise of the electrical and electronics industry in Japan is poised to provide lucrative opportunities for polyphenylene sulfide resin manufacturers. Attributed, to these factors, Japan is projected to provide an absolute $ opportunity worth US$ 124 Mn over the forecast period.
Japan sustained itself to be a dominant manufacturer of PPS resins by accounting for around 20% revenue share in 2020. PPS demand in Japan is anticipated to increase at a CAGR of 4.3% over the assessment period. The country is the largest exporter of PPS in the world, and also the second-largest consumer of PPS, after China.
Key PPS manufacturers include DIC Corporation and Toray Industries, who mainly operate through these regions. Key Japanese PPS manufacturers have also invested outside Japan: Kureha Corporation has increased its production capacity by entering a joint venture with a U.S.-based company, and Toray started a new production line in South Korea.
An Adaptive Approach to Modern-day Research Needs
Category-wise Analysis
Which Type of Polyphenylene Sulfide Resin is Projected to Witness High Demand?
Polyphenylene sulfide is a highly demanding raw material for industrial filtration and filter bags. After extensive chemistry-emphasized research accomplished on PPS resins, sulphide-based substrate was designed, which is useful in high-temperature applications where alkaline and chemical resistance is required.
PPS filter bags and substrates are strong, durable, and built to last temperature conditions higher than 150°C. Most common PPS filtrates are predominantly installed to protect equipment and increase the efficiency of purification. PPS-incorporated filters significantly reduce maintenance costs and downtime at power and heat generation plants.
Owing to high focus on the above aspects, PPS compounds have been a prominent support material in industrial filtration. Demand for PPS filters in the industrial and manufacturing market will observe a significantly growing trend.
Attributed to the above-discussed factors, PPS resins are projected to provide a notable absolute $ opportunity in filtration & filter bags, while growing at a CAGR of around 6% over the decade.
Which Application is Projected to Dominate Polyphenylene Sulfide (PPS) Resins Revenue Share?
PPS resins are widely known for their lightweight and heat-resistant features. These features are highly embraced by the automobile industry. The level of PPS utilization in hybrid electric vehicles (HEVs) ranges between 4-5 kg, which gives clear insights that an increase in the number of hybrid electric vehicles will increase PPS resin consumption by 4X to 5X.
As with this rapidly increasing trend of demand for electric and hybrid automobiles, the most effective results will occur for manufacturers looking to target the EV market, especially in China.
PPS resins are highly needed for electric auto parts that require high-temperature stability, such as motor coils, insulating films, wires, and other electrical parts. In addition, high thermal resistance ability helps withstand temperatures up to 2,000°C, and this leverages demand in electric and hybrid automobile production.
How Has COVID-19 Impacted Revenue Generation from PPS Resins?
The COVID-19 pandemic left no industry affected and impacted sales of polyphenylene sulfide resins as well. Y-O-Y revenue growth saw a dip of 0.8% in 2020 when compared to 2019.
Contraction can be attributed to decrease in PPS demand from industrial sectors along with a dip in the sales of automotive components.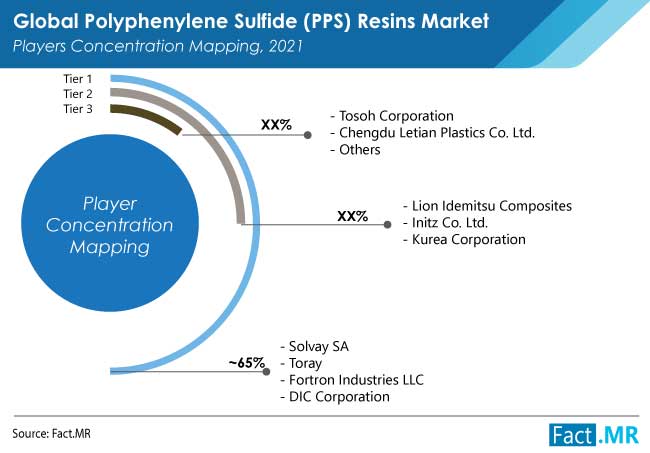 Top Companies in the Polyphenylene Sulfide Resins Industry
Market players in the PPS resins business have mainly opted for organic growth strategies such as capacity expansion, product development, and innovation. These strategies are helping PPS resin key players expand their regional footprint and garner market share, thus providing them with a competitive advantage.
In September 2018, Toray Industries Inc. publicized the investment of US$ 89.3 Mn to increase polyphenylene sulfide resin output capacity at its Gunsan plant in South Korea
In September 2017, DIC Corporation expanded its polyphenylene sulfide production lines in Japan and invested US$ 7.2 Mn to increase annual PPS production up to 3,500 metric tons.
In October 2018, Solvay launched all new polyphenylene sulfide extrusion grades through the trade name Ryton®, primarily designed for cooling line assemblies in the automotive sector.
Similar, recent developments related to companies offering in polyphenylene sulfide (PPS) resin business have been tracked by the team at Fact.MR, which are available in the full report.
Fact.MR has provided detailed information about the price points of top manufacturers of polyphenylene sulfide resins positioned across regions, sales growth, production capacity, and speculative production expansion, in the recently published report.
Interested to Procure The Data
PPS Resins Industry Report Scope
Forecast Period
2021-2031
Historical Data Available for
2016-2020
Market Analysis
Value in US$ Mn, Volume in KT
Key Regions Covered

North America
Latin America
Europe
East Asia
South Asia
Oceania
Middle East Africa

Key Countries Covered

U.S.
Canada
Brazil
Mexico
Argentina
Germany
France
Italy
U.K.
Spain
BENELUX
Russia
China
Japan
South Korea
India
Thailand
Indonesia
Malaysia
Australia
New Zealand
GCC Countries
Turkey
South Africa

Key Market Segments Covered
Key Companies Profiled

Solvay SA
Toray Industries
Kureha Corporation
Forton Industries LLC
DIC Corp.
Initz Co, Ltd.
Tosoh Corporation
Zhejiang NHU Special Materials Co, Ltd.
Chengdu Letian Plastics Co, Ltd.
Lion Idemitsu Composites

Pricing
Available upon Request
Key Segments Covered in PPS Resins Industry Research
By Application

Electrical & Electronics
Automotive
Aerospace & Defence
Industrial
Filters & Filter Bag
Coatings
Others