Barge Transportation Market Outlook
Fact.MR has recently published a report on the market for barge transportation. According to the study, the market is valued at US$ 123.29 Billion in 2021, up from US$ 119.92 Billion in 2020, representing a Y-o-Y increase of 3.4%.
The outlook seems even more optimistic, with the industry expected to reach US$ 191.45 Billion by the end of the 2021-2031 assessment period. The projected compound annual growth rate for the aforementioned period is 4.5%.
Report Attributes

Details

Market Size Value in 2021
US$ 123.29 Billion
Projected Market Forecast Value by 2031
US$ 191.45 Billion
Global Growth Rate (2021 to 2031)
4.5% CAGR
Growth Rate of the U.S (2021-2031)
5% CAGR
Key Companies Profiled

American Commercial Barge Line LLC.
INGRAM Marine Group
Kirby Corporation
SEACOR Holdings Inc.
Campbell Transport Company
Heartland Barge
Bouchard Transportation
Canal Barge
Magnolia Marine Transport
Marquette Transportation
Don't Need a Global Report?
Save 40% on Country & Region specific reports
Barge Transportation Revenue Analysis from 2016-2020 Vs Outlook 2021-2031
According to Fact.MR, market research and competitive intelligence provider, from 2016 to 2020, the global market for barge transportation has grown at a CAGR of almost 3%. A surge in trade of crude oil and dry commodities has caused them to experiment with multiple capacity systems and inland waterways, boosting trade in recent years.
Sales were negative impacted during the peak of the COVID-19 pandemic, with global maritime trade slipping by 4.1% throughout 2020. This was majorly an outcome of the imposition of strict border closures and lockdowns to prevent the spread of the virus. However, as 2021 dawned, vaccination drives across key countries began to be implemented, causing a fall in infection rates, prompting resumption of all economic activity. This brought about a positive turn in global sea trade, restoring said growth projections for barge transportation.
The domestic processing of commodity crops has decreased the importance of waterways over the last thirty years. With the growing popularity of the oil and gas trade, the global barge market is expected to grow in the future. As new routes have been proposed to reduce traffic on land and water, the shipping industry has increased its demand for transportation by inland waterways. Therefore, the market is likely to surge at a CAGR of 4.5% from 2021-2031.
How is the Overall Development of Maritime Trade Fueling Barge Transportation Growth Prospects?
Increased demand for cargo shipping has led to an increase in the demand for barge transportation. The increasing cost-effectiveness of these conveyance facilities has driven up the market demand for these boats. Export and import of oil and gas have increased the demand for barge transportation.
Growing infrastructure activities for inland waterways are increasing the demand for these transportation facilities in the market. The rise in demand for petrochemicals across the globe has propelled the market demand for barge transportations. Increasing investments in research and development programs have contributed to an increase in demand for barge transportation.
The advent of new routes and improved transportation systems has increased the use of barges in transportation. Technological innovations and government funding in the marine industry have led to the increasing demand for barges as a mode of transportation in various parts of the world. With the rise of the demand for shipments of coal and fuel along with the waterways systems, barge transportation is becoming more prevalent on the market.
With the increase in population and the consumption of both food and energy resources, the market has experienced an increase in the trade demands for these commodities. With less fuel consumption and greater cargo capacity, CO2 emissions in the environment have decreased. This has led to increased demand for barge transportation.
More Insights, Lesser Cost (-50% off)
Insights on import/export production,
pricing analysis, and more – Only @ Fact.MR
Increasing Need for Streamlining Cargo Flow Prompting Developments in Barge Transportation?
Waiting times for barges in big container ports have negatively affected barge reliability. Considering these challenges, a study was performed to examine the causes of barge congestion and poor port operations to determine if there are any possible solutions. To achieve these objectives, a quantitative approach was used in the study through the implementation of agent-based models that analyzed the scenarios. The impact assessment of each scenario was conducted to determine which solution would lead to the least congestion and handling issues associated with container barging.
Another issue relates to the inadequate planning of terminals and cranes for inland barging concerning sailing schedules. The research was conducted using a logical bender paired with a large neighborhood search to simulate a coordination model. Comparing the results of the simulation with the centralized approach, the model could serve as a short-term solution to reduce the round trip time of inland barges. Further testing showed that a coordinated approach could reduce the time spent in the port by 10–15% for barges and the delays at the terminals by 24–35% for inland barges.
A two-phase approach was used in the study to evaluate inland vessel operations in large seaports. To develop rotation plans for inland vessels, they used mixed-integer programming and constraint programming. First phase approaches were addressed using mixed-integer programming, followed by constraint programming for the second phase approaches. Based on the simulation, both vessel operators and terminal operators could benefit from the proposed two-phase approaches.
Country-wise Analysis
Burgeoning Demand for Bulk Commodities Increasing Barge Transportation Uptake in the U.S?
As production volumes of dry bulk commodities increase, barge transportation of dry cargo on inland waterways is in high demand in the U.S. In addition to building new barges, manufacturers also build new tugboats to keep pace with the expected level of future demand for these services. With existing rates at a high level, the industry builds more barges to capitalize on the strong market. The construction of barges is also encouraged by investment credits that provide barge owners with tax benefits in these regions.
Approximately 60% of US grain exports are moved by barge, a service that generates US$ 8.5 billion in exports, allowing American farmers to compete more effectively against foreign competitors. 79% of all domestic water-borne freight is transported by barges, serving 87% of all major US cities. The waterways industry produces more than US$ 5 billion in annual GDP while giving the U.S access to one of its biggest natural assets.
Supply and demand drive the barge industry, which is affected by many things, including regional weather patterns, navigation patterns, local and international trade, agricultural production, government policies, and steel prices. All these factors are influencing the overall demand for barge transportation in the market. An expansion rate exceeding 5% is projected for the U.S market by Fact.MR.
Know thy Competitors
Competitive landscape highlights only certain players
Complete list available upon request
Extensive Waterways Infrastructure Development Bolstering Barge Transportation Prospects across India?
India is expected to emerge as one of the most opportunistic market for barge transportation, attributed to extensive focus on developing inland and offshore waterways infrastructure. A CAGR of 5% is anticipated for the country across the 2021-2031 assessment period.
According to the Ministry of Ports, Shipping and Waterways, India possesses more than 15,400 kilometers of navigable inland waterways, representing 47.13% of navigable length. Also, the India Brand Equity Foundation projects that more than US$ 274.31 million of revenue will be generated from construction of seven ports on a PPP basis in FY2022. Around 95% of India's trading by volume and 70% of value is done via maritime transport.
As a result, several barge transportation companies have taken root across the country. Recently, in order to promote the domestic shipbuilding industry, the Indian Government is directing all major ports to procure or charter tug boats manufactured within the country.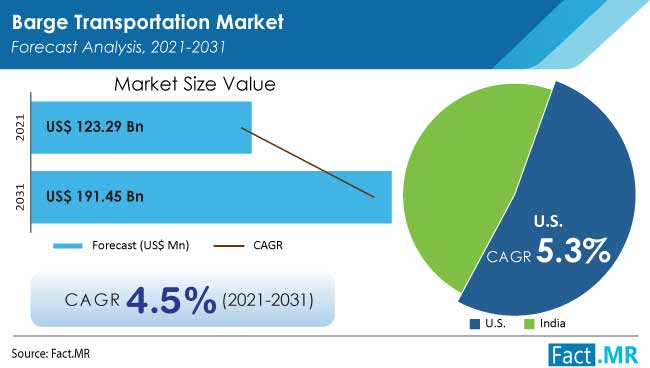 Category-wise Insights
Why are Dry Bulk Cargo Barges Acquiring Prominence?
Dry bulk cargo barge transportation accounts for the largest share, yielding nearly 55% of global revenue. Dry cargo barges, or hopper barges, carry solid cargo commodities such as grain, coal, sugar, sand, and gravel throughout the world. A dry cargo barge either is covered or open, based on the cargo.
With consumers and companies paying greater attention to 'green' operations and reducing their carbon footprints when buying goods, demand for green barge transportation practices is growing rapidly. The increase in demand for coal, grains, and the construction industry has led to a rise in the demand for dry bulk cargo barges on the market.
Surging Petrochemicals Transportation Widening Tank Barge Prospects?
Due to increasing demand for crude oil and petroleum products, the need for tank barge transportation in the inland has increased. Nearly 90,000 barrels per day are being shipped by barge from the Midwest to the Gulf Coast. As a result, crude oil shipment along the Mississippi River and other inland waterways has increased significantly.
To meet demand, tank barges have been constructed at an unprecedented pace. Tank barges captured almost 30% of the barge transportation market share in 2021. An increase in chemical and petroleum imports and exports throughout the world fueled the market for tank barges.
How is Short Sea Shipping Driving Demand for Inland Barge Transportation?
A growing interest in short sea shipping in ocean transportation is being fueled by the emergence of hub ports to move containers from one port to another, both within and between economies. Consequently, there is an increase in interest in expanding the efficiency of the movement of containers from inland ports to ocean ports and hub ports by shipping over short distances.
Transport by inland waterways is a highly economical alternative to trucking and rail transportation. Furthermore, inland transportation consumes about 17% of the energy of road transport per km/ton of goods transported, and 50% of the energy of rail transport per mile/ton of goods transported. Hence, Fact.MR predicts the segment to surge at a CAGR of 6% expected for this segment.
Competitive Landscape
Strategic collaborations enable manufacturers to increase production and meet consumer demand which will increase revenue and market share. Trade will become more efficient and seamless by using new ports and technologies. The result of a strategic collaboration can help the company to increase its production capacity.
In August 2021, SEACOR Holdings Inc. announced the completion of its acquisition of U.S Shipping Corp- a privately owned, leading provider of long-haul marine transportation for chemical and petroleum cargo, rendering it as one of the largest Jones Act tanker operators, with a fleet of 15 coastwise vessels ranging from 150,000-300,000 barrels of capacity
On September 28th, 2021, Taiwan-based Franbo Lines announced that it would be acquiring three bulk carriers as part of its fleet expansion. In addition, it will also purchase you two newly-built bulk carriers: one 40,000 ton bulk carrier acquired from a Japanese firm and one 20,360 ton bulk carrier acquired from a Panamanian company.
Key Segments Covered
Barge Type

Dry Bulk Cargo Barge
Liquid Cargo Barge
Car-Float Barge
Power Barge
Construction Barge

Vessel Type

Open Barge
Covered Barge
Tank Barge

Voyage

Propulsion

Towed Barge
Self-Propelled Barge