Bio banking equipment are equipment used in the biorepository, which stores biological samples for research purposes. Using biobanking equipment, researchers conduct tests, or perform analysis on specimens stored in a biobank. Along with equipment, consumables, software and services play an important role in helping researchers to study various types of diseases.
A major factor driving growth of the biobanking equipment market is growing demand for personalized medicine, which can be attributed to high unmet medical requirements for developing effective therapies. Personalized medicine implies treatments based on preferences, needs, and characteristics of patients. Individuals across the globe have been witnessed to bank their tissues and stem cells, in case any future treatment is required. Development of personalized medicine critically needs individual samples with annotated pathological and clinical data. Several research organizations are focusing on exploring ways for developments in personalized treatments with the help of biological samples. For example, in the previous year, Illumina signed 4 deals, related to biobanking, with the Vanderbilt University, Partners HealthCare, the Montreal Heart Institute, and the University of Colorado, with an aim of developing personalized medicines, and improving the overall healthcare system. This will positively impact growth of the global biobanking equipment market. Other factors influencing the market growth include growing need for discovery and development of cost-effective drugs, rise in private as well as government funding for supporting research on regenerative medicine, surging genomics research activities to study diseases, and advancements in biobanking.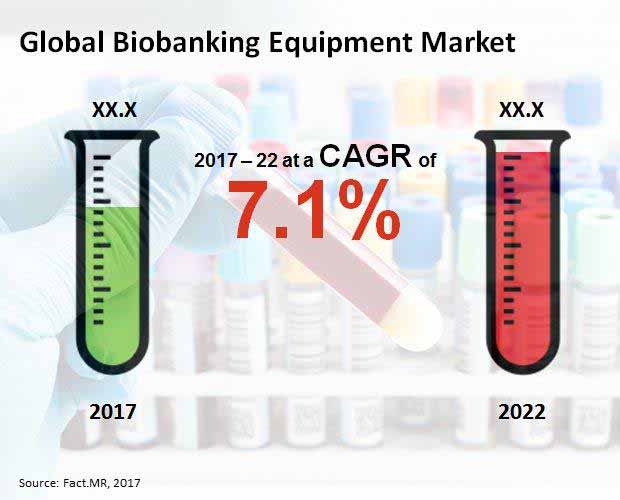 A prevalent trend being witnessed in the global biobanking equipment market is conservation of newborns' cord blood stem cells. The market for biobanking is highly fragmented, owing to presence of various small and large vendors. Owing to similarity between products available in the market, vendors are focusing on differentiating their services based on value-added services, and automation of existing technology, for thriving in this highly competitive market. According to Fact.MR's recent research, the global market for biobanking equipment is expected to exhibit a high-single digit CAGR throughout the forecast period 2017 to 2022. Sales of biobanking equipment worldwide are estimated to surpass US$ 2,000 Mn in revenues by 2022-end.
Market Taxonomy
| | | | |
| --- | --- | --- | --- |
| Product | Storage Type | Application | Sample Type |
| Equipment | Manual Storage | Regenerative Medicine | Blood |
| Consumables | Automated Storage | Life Science Research | Tissues |
| Software & Services | | Clinical Research | Nucleic Acids |
| | | | Others |
(Additional information, including cross-sectional data and country-wise analysis & forecast is available in the report)
Regenerative Medicine - Largest Application of Biobanking Equipment
Although regenerative medicine is projected to remain the largest application of biobanking equipment, sales for application in clinical research will exhibit the highest CAGR through 2022. Sales of biobanking equipment for application in life science research will remain relatively lower over the forecast period.
Manual storage are poised to remain sought-after in the global biobanking equipment market. However, automated storage is expected to register the fastest expansion in the market through 2022.
North America will remain the most attractive market for biobanking equipment, expanding at 7.6% CAGR through 2022. In addition, the markets in Japan and Latin America are estimated to witness a parallel expansion, exhibiting similar CAGRs through 2022.
Blood will Remain Most Lucrative Sample in the Market
Blood is expected to be the most lucrative sample in the market, with sales expanding at the highest CAGR and accounting for the largest revenues through 2022. In contrast, sales of tissues are anticipated to exhibit the lowest CAGR through 2022, based on sample type.
On the basis of product, equipment will remain dominant in the market, with sales poised to exceed US$ 1,300 Mn in revenues by 2022-end. Between consumables, and software & services, the latter is projected to register a comparatively faster expansion through 2022.
Competition Tracking
The report has profiled key players operating in the global biobanking equipment market, which include Becton, Dickinson and Company, Brooks Automation, Inc., Chart Industries, Inc., Greiner Holding AG, Hamilton Company, Merck KGaA, Panasonic Healthcare Holdings, Promega Corporation, Tecan Trading AG, Qiagen N.V., Thermo Fisher Scientific Inc., and VWR Corporation.
Note: The insights mentioned here are of the respective analysts, and do not reflect the position of Fact.MR
Rising number of research activities related to genomics to study nature of diseases, along with the advancements in biobanking are expected to impact growth of the global biobanking equipment market. This Fact.MR report analyzes the expansion of global biobanking equipment market till date, and provides key insights on the growth of the market during the forecast period, 2017-2022.
Scope
The scope of Fact.MR's report is to analyze the global biobanking equipment market for the forecast period 2017-2022 and provide readers an unbiased and accurate analysis. Medical device manufacturers, research institutes, and raw material suppliers in the global biobanking equipment market can benefit from the analysis offered in this report. This report offers a comprehensive analysis, which can be of interest to leading trade magazines and medical journals pertaining to biobanking equipment.
Summary
The report commences with a brief information of the global biobanking equipment market. This executive summary sets the tone for the rest of the report, providing users the scope of the report. The executive summary includes important facts and statistics on the global biobanking equipment market.
Overview
The next section offers an overview of the global biobanking equipment market. This comprises an introduction to the market, along with a standard definition of the product – biobanking equipment. In this section, market value and year-over-year growth is offered to the readers. Year-over-year growth provides readers with a broader view of growth patterns over the forecast period.
The report's succeeding section focuses on drivers, restraints and key trends from macroeconomic, demand, and supply perspectives. Impact analysis of weighted average model-based growth drivers is contained in the report for better provision of decision-making insights to clients.
In order to offer readers with up-to-date information about the latest advancements in the global biobanking equipment market, the report provides updates about market opportunities, which can benefit leading manufacturers of biobanking equipment. With continuous evolution of the healthcare sector, keeping a record of latest developments and trends is fundamental for biobanking equipment manufacturers to formulate key business strategies. Detailed insights about raw material sourcing, supply chain, regulatory approvals, pricing analysis, list of distributors, and cost structure are provided in this section.
The Fact.MR report offers segment-wise analysis & forecast to cover the broad scope of the global biobanking equipment market. The global biobanking equipment market is segmented on the basis of product, sample type, application, storage type, and region. This segmentation analysis provided is comprehensive, with a detailed country-wise forecast offered across all key market parameters.
The report's last section comprises of the global biobanking equipment market competitive landscape, to provide readers with the dashboard view of company analysis and market players. This competitive intelligence is based on the providers' categories across value chain, and their presence in the global biobanking equipment market.
Research Methodology
Fact.MR is committed to offer unbiased and independent market research solutions to its clients. Each market report of Fact.MR is compiled after months of exhaustive research. We bank on a mix of tried-and-tested and innovative research methodologies to offer the most comprehensive and accurate information. Our main sources of research include,
Primary research
Secondary research
Trade research
Focused interviews
Social media analysis
Fact.MR offers custom research services that help clients to get specific research solutions
We are committed towards customer satisfaction and quality service.
---
Our Clients

Biobanking Equipment Market Forecast, Trend Analysis & Competition Tracking – Global Market insights 2017 to 2022