Critical Care Equipment Market Outlook (2022-2027)
The global critical care equipment market has reached a valuation of US$ 5.6 billion. As per this detailed study, global sales of critical care equipment are expected to increase at a CAGR of 6% and reach a market valuation of US$ 7.5 billion by 2027.
Global demand for patient monitors & ventilators has been quite high in recent years due to the outbreak of COVID-19. Sales of patient monitors and ventilators across the world are predicted to increase at high CAGRs of 6.5% and 6.1%, respectively, from 2022 to 2027.
Report Attributes

Details

Critical Care Equipment Market Size (2022E)

US$ 5.6 Billion

Forecasted Market Value (2027F)

US$ 7.5 Billion

Global Market Growth Rate (2022-2027)

6% CAGR

China Market Value (2027F)

US$ 1.3 Billion

China Market Growth Rate (2022-2027)

5.5%

Share in Medical Devices Market (2022)

1.08%

Key Companies Profiled

AKAS Medical
B. Braun Melsungen AG
BPL Medical Technologies Pvt., Ltd.
Dragerwerk AG & Co. KGaA
Fresenius Kabi AG
General Electric Company
Koninklijke Philips NV
MAQUET Holding B.V. & Co. KG
Medtronic PLC
Nihon Kohden Corporation
Skanray Technologies Pvt. Ltd.
Smiths Medical
Know thy Competitors
Competitive landscape highlights only certain players
Complete list available upon request
Revenue Analysis of Critical Care Equipment (2017-2021) Vs. Market Projections (2022-2027)
The highest level of patient care and therapy for critically sick patients with possibly treatable life-threatening diseases is intensive care. The intensive care unit, which is a separate, self-contained space within a medical facility outfitted with cutting-edge specialist facilities, provides intensive care for patients.
A team of specialists works together on monitoring patients who need critical care. Vital signs monitoring plays an important role during the treatment of patients with serious injuries or disorders.
The rising rate of the elderly population, along with chronic illness prevalence and new health concerns such as the coronavirus, are boosting the demand for critical care medical equipment.
For instance, Philips announced in March 2020 that it would increase the production of essential medical equipment to aid in the diagnosis and treatment of those who have the new coronavirus disease. By the third quarter of 2020, it had doubled hospital ventilator manufacturing and increased them by a factor of four.
In 2020, 2.4 million children worldwide passed away within the first month of life, according to WHO. About 6700 newborns die per day, which represents 47% of all children under the age of five and it's an increase from 40% in 1990.
Among the most difficult tasks is newborn monitoring. The treatment of neonatal health concerns has remained dependent on developing better devices. To meet the rising demand for neonatal monitoring equipment, especially thermoregulation devices, manufacturers are investing significantly.
According to Fact.MR, a market research and competitive intelligence provider, the global critical care equipment (CCE) market is expected to increase from US$ 5.6 billion in 2022 to US$ 7.5 billion by 2027.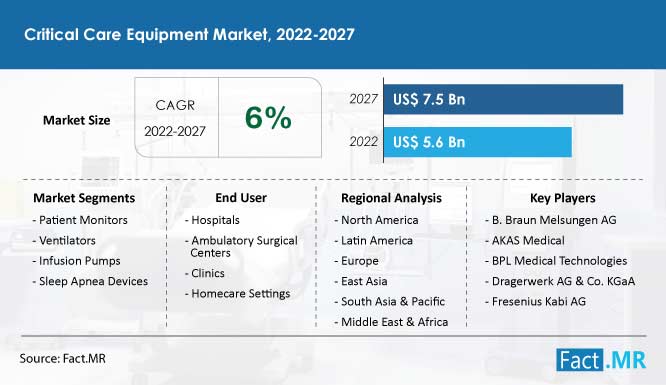 What Dynamics are Positively Influencing Global Sales of Critical Care Equipment?
"Rise in Serious Wound & Surgical Cases Driving Sales of Critical Care Equipment"
Surgical procedures become necessary when a potentially fatal medical emergency happens. The following are some instances of medical conditions where operation is required: Some causes of abrupt respiratory collapse necessitate invasive resuscitation and surgery.
Cardiopulmonary resuscitation (CPR) refers to the use of chest compressions & artificial ventilation to maintain circulatory flow & oxygenation after cardiac arrest. Serious injuries related to the head, chest, abdomen, and extremities.
Surgery could be necessary to repair damaged organs that, if left untreated, might be fatal or life-threatening. The depth of a burn is crucial to determining its severity in cases of severe burns so that care can be planned for the burn wounds. First-degree burns hurt and don't blister; second-degree burns are distinguished by mottled red skin and flash burns brought on by contact with hot liquids.
In the United States, there are around 450,000 burn injuries per year that need medical attention. Approximately 3,500 people every year experience fatal burn or fire injuries.
Each year, 45,000 patients with burn injuries are admitted to hospitals. 25,000 of those who are admitted to hospitals are admitted to specialized burn facilities.
Children are especially prone to burns from many different sources.
Dark, leathery, and dry skin are the hallmarks of third-degree burns, which can be brought on by fire, electricity, lightning, as well as continuous contact with hot substances. Patients may benefit from plastic or reconstructive surgical procedures to help them recuperate over time.
By administering an electric pulse or shock to the heart, defibrillators are utilized in cardiovascular problems such as cardiac shock, heart attacks, and cardiac arrhythmia to restore a normal heartbeat.
In cases of severe disease, it may be more important to maintain the patient's critical functions than, at least initially, to make a precise diagnosis.
Thus, the demand for critical care equipment such as neurologic monitoring, brain function monitoring, hemodynamic monitoring, defibrillators, medical ventilators, and others is increasing.
"Increasing ICU Admissions & Prevalence of Chronic Diseases"
Chronic conditions are common across the globe, including cancer, neurological, cardiovascular, and respiratory ailments.
For instance, the Centers for Disease Control and Prevention estimate that around 133 Americans are living with at least one chronic illness. They need constant observation or care, which necessitates prolonged hospitalization and acute care.
As a result, there are now more patients being admitted to the intensive care unit as a result of the rising prevalence of chronic diseases, which is expected to fuel market expansion. Thus, sales of ICU room equipment are increased.
For instance, in 2019, in the U.S., the probability of critical care unit readmission and re-hospitalization among COPD patients was 44% within five years of their discharge, according to a study published in the National Center for Biotechnology Information (NCBI).
Also, due to several variables, including obesity, smoking, and alterations in lifestyle, the burden of respiratory disorders is increasing internationally. Furthermore, abrupt respiratory failure at advanced stages of respiratory disorders often necessitates hospitalization to an intensive care unit.
Around 2.1 million patients are transferred to intensive care units each year in Germany, and of those, an estimated 42% required mechanical ventilation, according to a study by the National Center for Biotechnology Information (NCBI).
Thus, it is projected that the expansion of the intensive care unit equipment market will be aided by the rising demand for critical care equipment as a result of the increase in the number of critical admissions in both developed and developing nations.
More Insights, Lesser Cost (-50% off)
Insights on import/export production,
pricing analysis, and more – Only @ Fact.MR
What Hurdles are Restraining the Sales of Critical Care Equipment?
"High Cost of Critical Care Equipment Limiting Market Expansion"
The high cost of critical care devices is one of the main impediments for them. Higher equipment expenses translate into more expensive patient admissions in the intensive care unit.
For instance, the expense per patient hospitalization in the ICU ranges from around US$ 1,783 to US$ 78,435, according to the economic analysis.
As a result, the overall cost of care in the ICU is a private burden in developing nations, which inhibits market expansion.
Many healthcare professionals working in developing nations rely on buying refurbished equipment for their institutions due to the high cost of critical care equipment. The market's expansion is substantially hampered by this aspect. For instance, mid-sized private hospitals, which make up over 90% of all healthcare facilities in India, are unable to purchase pricey technologies such as ventilators and patient monitoring devices.
As coronavirus infection had increased sharply, the Union Ministry of India relaxed its import regulations in March 2020 and authorized the import of used ventilators through September 2020.
Thus, higher import taxes on cutting-edge equipment are also anticipated to have a substantial negative influence on market expansion throughout the forecast period.
Which Factors Should New Market Entrants Focus On?
"Adoption of Advanced Technologies in Critical Care Equipment Will Allow New Companies to Innovate Accordingly"
The field of critical care has experienced a particularly rapid phase of technological development over the last few decades. One of the most recent market trends in every country is the use of artificial intelligence (AI) in ventilators.
For instance, an India-Dutch start-up called LEVEN Medical created smart ventilators that are incorporated with AI and machine learning (ML) in August 2020, when ventilators were essential for treating severe coronavirus patients.
Technological innovations are also occurring in beds, such as wireless beds that offer higher service and functional levels, including caregiver and patient help, real-time monitoring, data logging, and automated functions and positions.
For instance, Stryker declared the global release of ProCuity, the first and only fully wireless hospital bed in the critical care equipment industry, in October 2020. This smart bed was created to decrease in-hospital patient falls across the board, increase nurse productivity and safety, and assist in bringing down hospital expenses. It is the only bed on the market right now that can wirelessly connect to nurse call systems.
Therefore, it is projected that the global market for ICU equipment would rise over the forecast period as a result of such ongoing technical developments.
Which Region is Most Lucrative for Critical Care Equipment Manufacturers?
"Presence of Key Manufacturers & High Prevalence of Various Chronic Disorders in North America"
North America is dominating the global critical care equipment market and is predicted to do the same during the forecast period. Due to the impact of COVID-19, the market in this region has experienced extraordinary growth. To fulfil the growing demand, numerous machinery and equipment manufacturers have started producing various ventilators and other intensive care equipment.
Thus, the presence of key manufacturers and the prevalence of various chronic disorders also boost the demand for medical equipment.
The development of the critical care equipment market in the Europe region is projected to be led by developed nations such as Germany, the U.K., and France. The region's market growth is mostly attributable to the ageing population and the patient population's increased awareness regarding treatment procedures. The growing concern over the COVID-19 pandemic and these nations' incredibly quick increase of the critical care unit capacity has added to the growth stimulus.
The critical care equipment market's size is expected to expand at the fastest rate in the Asia Pacific region. The region's market expansion is probably going to be aided by the region's growing chronic disease patient population and developing healthcare infrastructure.
Due to a refurbished market and a smaller penetration of technologically modern equipment in these regions, Latin America and the Middle East & Africa are predicted to experience slower-to-moderate market growth during the next 5 years.
Country-wise Analysis
What is the Outlook for Critical Care Equipment in the U.S.?
"Rise in Cardiovascular Disorders Boosting Demand for Intensive Care Devices"
The United States dominates the North America critical care equipment market.
According to CDC, in the United States, cardiovascular disorders are the leading cause of mortality for both sexes in the United States.
Cardiovascular disease claims one life in the United States every 34 seconds.
In the United States, cardiovascular disorder claimed the lives of almost 697,000 people in 2020, accounting for 1 in 5 fatalities.
Other significant factors contributing to the U.S.'s dominance in the North America market are the growing elderly population, the higher frequency of chronic diseases, and the country's well-developed healthcare system.
For instance, the population of Americans 65 and older is expected to reach 83.7 million in 2050, which is more than double the country's predicted geriatric population in 2012. This projection comes from a study conducted by the U.S. Census Bureau.
How is Demand for Critical Care Equipment Evolving in China?
"Rising Rate of Senior Population & Expanding Medical Tourism"
The market for critical care equipment in China is expanding as a result of several technological developments in the field, growing government backing, rising private sector investments in the healthcare sector, and an expanding patient population.
Another important reason creating growth potential for competitors in the critical care equipment market is the high development rate of critical care devices. Other key factors include China's expanding medical tourism industry and the development of multi-parameter monitors.
Additionally, a growing geriatric population, an increase in chronic and respiratory illnesses, a rise in local manufacturers, and an increase in super-specialty hospitals are all contributing to the expansion of the China market for critical care equipment.
Sales of critical care equipment are predicted to progress at a CAGR of 5.5% from 2022 to 2027 and will reach US$ 1.3 billion by 2027.
Category-wise Analysis
Why is Demand for Patient Monitors and Ventilators So High?
"Patient Monitors Helpful in Keeping Track of Patients' Movements"
Based on product, the market for critical care equipment is segmented into patient monitors, ventilators, infusion pumps, sleep apnea devices, anesthesia machines, blood warmers, and others.
Devices for patient monitoring are used to keep track of a patient's functional symptoms and any associated issues. With the use of such gadgets, it is crucial to keep an eye on factors such as body temperature, blood pressure, oxygen saturation, degree of consciousness, discomfort, pulse, and urine output.
These tools accurately compile and consistently present physiology data from patients with diverse disorders, such as diabetes and cardiovascular conditions, enabling medical professionals to act swiftly and precisely. Furthermore, due to developments in wireless technologies, these gadgets can be utilized to remotely monitor the patients' physical characteristics.
Over the next 5 years, it is projected that the demand for patient monitors would increase due to an increase in the incidence of chronic diseases brought on by changes in lifestyle, the ageing population, and the preference for remote monitoring systems.
Sales of patient monitors are expected to expand at a CAGR of 6.5% from 2022 to 2027 and will reach US$ 2.4 billion by 2027.
How is the Ventilators Segment Faring?
"High Fear of Contagious Infections Driving Sales of Ventilators"
Demand for ventilators is expected to progress at a CAGR of 6.1% during the next 5 years.
In 2020, the ventilators segment retained the largest market share. The dominance is linked to an increase in the number of patients needing ventilation due to severe COVID-19 symptoms.
For instance, the Northwell Health COVID-19 Research Consortium reports that in April 2020, 14% of the 2,634 COVID-19 patients hospitalized between March 1 and April 4 at facilities under Northwell Health's management required invasive mechanical ventilation, and 12% of the admitted patients in the critical care unit required kidney replacement therapy.
Don't Need a Global Report?
Save 40% on Country & Region specific reports
Competitive Landscape
Koninklijke Philips N.V., B. Braun Melsungen AG, GENERAL ELECTRIC COMPANY, and Medtronic are some of the key players in the critical care equipment market.
Major requirements adopted by these firms to retain their strategic position in the market include many product releases, expansion of their product portfolios through organic and inorganic methods, and expanding research and development in this sector.
Additionally, a significant focus on collaborations and acquisitions to boost their critical care segment is anticipated to contribute to the intensive care unit equipment market experiencing faster growth.
Developments in the Critical Care Equipment Industry
For instance, Ford partnered with 3M and GE Healthcare in March 2020 with the goal of accelerating the production of ventilators for patients amid the coronavirus pandemic.
Critical Care Equipment Industry Research Segmentation
By Product :

Patient Monitors
Ventilators
Infusion Pumps
Sleep Apnea Devices
Others

By Type :

Hemodynamic Monitoring
Vital Signs Monitoring
Neurologic Monitoring
Brain Function Monitoring
Others

By End User :

Hospitals
Ambulatory Surgical Centers
Clinics
Homecare Settings
Others

By Region :

North America
Latin America
Europe
East Asia
South Asia & Oceania
MEA