Biobanking Industry Outlook (2022-2032)
The global Biobanking market is likely to be valued at US$ 43.9 Billion in FY 2022, up from US$ 41 Billion in 2021. During the past year, the industry registered a Y-o-Y increase worth 7.2%. From 2022 to 2032, Biobanking sales are poised to flourish at a CAGR of 7.25% to reach a value of US$ 88 Billion by the end of 2032.
Report Attributes

Details

Anticipated Base Year Value (2021)

US$ 41 Billion

Expected Market Value (2022)

US$ 43.9 Billion

Projected Forecast Value (2032)

US$ 88 Billion

Global Growth Rate (2022-2032)

7.2% CAGR

Growth Rate of the U.S Market (2022-2032)

8.5% CAGR

Expected Market Value of China (2032)

US$ 88 Million

U.K Market Expansion Rate (2022-2032)

~8% CAGR

Key Companies Profiled

Thermo Fisher Scientific Inc.
Tecan Group Ltd.
Qiagen N.V.
Hamilton Company
Brooks Automation
TTP Labtech Ltd
VWR Corporation
Promega
Worthington Industries
Chart Industries
Becton Dickinson and Company
Merck KGaA
The global market for biobanking is poised to yield absolute dollar growth worth US$ 88 Billion until 2032. Demand for Incubators & Centrifuges will continue to thrive, with a documented CAGR of 8% during the 2015-2021 historical period of assessment, while demand for biobanking for therapeutics burgeoned at a rate of 8.1% during the same time period. The U.S will dominate the global market, registering a growth opportunity worth US$ 1,530 Million from 2022 to 2032.
Don't Need a Global Report?
Save 40% on Country & Region specific reports
2015 to 2021 Biobanking Market Revenue Analysis vs. Market Outlook 2022-2032
Historically, the demand for biobanking flourished at a CAGR of 7% during the 2015-2021 historical period, as per research conducted by market research and competitive intelligence provider Fact.MR.
As the prevalence of rare and deadly diseases like cancer increases across the globe, there has been an upsurged demand for storing and preserving the biospecimen and the development of new drugs. Thus, the global demand for biobanking equipment has also increased for conducting research and innovation in the pharmaceutical sector.
With the growing need for genetic testing and customized medicine, prominent manufacturers have been investing in the development of biobank equipment like Temperature Control Systems, alarms, and monitoring systems biobanking, which has impelled the sales revenue of the biobanking market worldwide.
More Insights, Lesser Cost (-50% off)
Insights on import/export production,
pricing analysis, and more – Only @ Fact.MR
Key Drivers Stimulating Biobanking Industry Expansion
Demand for Temperature Control Systems to Gain Strength in Biobanking Market
The growing trend of personalized medicines to reduce mortality rates caused by chronic diseases is fuelling demand for biobanks for the effective storage of numerous biospecimen, ranging from blood to tissues, cells, and nucleic acids.
Since major manufacturers are focusing on the launch of freezers & refrigerators, cryogenic storage systems, and other equipment for the storage of biobank samples, this segment is likely to witness increased emphasis on temperature control systems, this, in turn, stimulates the demand for biobanks globally. An upsurge in the number of biobanks in several countries and demand for advanced biobanking equipment in biobanks are the key drivers of the equipment segment.
Reformative Medicine Applications for the Biobanking Market will push the Demand
Biobanking plays a pivotal role in enhancing biomedical and translational research, by the stocking and preservation of biological samples, such as blood, tissues, and nucleic acids, which are then made available for usage in research to determine disease-relevant biomarkers; this is later used for diagnosis, prognosis, and foreseeing drug responses. An advance in the number of research activities in this section outlines a prominent driver for the market.
The availability of government subsidies for reformative medicine, stem cell therapeutics, and cell & gene therapy is backing research activities in this sector. Despite this, the upward trend of cord blood banking will also support the growth of this market segment.
Know thy Competitors
Competitive landscape highlights only certain players
Complete list available upon request
Key Challenges to Biobanking Industry Expansion
High Operational Cost Concerns Portend Limited Adoption of Biobank Products
According to the study, technological advancements present a crucial challenge associated with cost. Integration of advanced technology means a high cost of equipment and consumables, which, in turn, increases the operational costs of biobanks.
For instance, in France and the Netherlands, the annual operational cost of a biobank ranges from US$ 220,000 to US$ 880,000. Besides this, the cost associated with infrastructure, equipment, human resources, and supplies further make it an expensive working model. The high operational cost of biobanks reflects the increasing price of storage for end-users, which is leading to a low adoption rate of biobanks.
Country-wise Analysis
How Opportunistic are Growth Prospects across the U.S Market?
Swelling Investment in Biobanking for Drug Discovery & Development Likely to Boost Sales revenue in the U.S Market
Fact.MR anticipates the Biobanking industry across the U.S to experience maximum growth, at a CAGR of 8.5% from 2022 to 2032. The market is anticipated to yield a dollar opportunity worth US$ 575 Million to reach a value of US$ 1,530 Million through 2032. Growth is attributed to the advancements in regenerative medicine through stem cell technology.
Technical advancements in drug discovery and increased investment in personalized and regenerative medicine in the United States have opened a plethora of growth opportunities for manufacturers in the biobanking industry. The mounting occurrence of cancer, cardiovascular, and infectious diseases is enhancing the growth of the market in the province.
A large number of clinical trials associated with COVID-19 and snowballing usage of stem cell therapies for the treatment of various chronic diseases are also pushing the demand for biobanking products.
Increasing necessity to stash and preserve biological samples such as nucleic acids, tissues, and blood which are in demand for research activities for developments in biomedical research and to recognize disease-relevant biomarkers. The rise in the number of research activities is considered the principal driver for the forecast period.
Why are Biobanking Providers Venturing into China?
Asia Pacific Biobanking Market Surge Driven by China
As the demands for scientific research and application for specimens increase rapidly, biobanks in China have been springing up over recent years. As per the white paper published by Cambridge University, Presently, hospitals and research organizations in China establish and operate most biobanks, gathering human specimens to support clinical and scientific research by using Biobanking software and services.
With the swelling support from the Chinese government, biobanks are flourishing across the country. The APAC market evaluated nearly US$ 510 Mn in 2021 and is expected to expand to reach approx. US$ 1,130 Mn, flourishing at a CAGR of 7.5% throughout the forecast period.
A significant thrust to the Asia Pacific biobanking market is offered by China, on account of ongoing advancements in the pharmaceutical industry, which is likely to increase demand for biospecimen for producing therapeutics.
Country-wise Value CAGRs for Biobanking (2022-2032)
| | |
| --- | --- |
| U.S | 8.5% |
| U.K | 8.2% |
| China | 7.5% |
| Japan | 7.6% |
| South Korea | 7.3% |
Category-wise Insights
Which Biospecimen Category is Most Preferred in the Biobanking Market?
Biobanking Incubators & Centrifuges to Offer Superior Facility for Storing Human Tissue
According to Fact.MR's recent analysis, the human tissue biobanks segment is projected to witness robust growth, projecting annual growth of nearly 8% throughout the assessment period. Human tissue biobanks are different from other institutes that allow and store tissue and blood for direct patient care, such as organ or blood transplantation. These biobanking incubators and centrifuges are explicitly used for research purposes.
An expansion in disease research, particularly rare diseases in humans, developments in regenerative medicines, and increasing adoption of automated storage systems in Biobanking are driving the growth of the human tissue biobanking services sector. On account of market contribution, the augmented trend of storing human tissue in biobanks for research purposes is anticipated to hold nearly 32% through 2032.
By Application, which Biobanking is expected to Dominate?
Therapeutics to Grow as Leading Application in Biobanking Market
There has been a shift in the healthcare sector from chemicals towards biospecimen for the development of therapeutics to treat chronic and rare disorders. This is gradually boosting demand for blood products, tissues, and human cells for the development of precision and regenerative medicines.
On account of this shift, therapeutics are expected to account for a 38% share of the biobanking market by 2032. This segment is estimated to expand at a Y-o-Y growth rate of nearly 8% in the projected period.
However, as healthcare professionals are looking at a preventive rather than a curative approach, the use of biospecimen for Clinical Diagnostics is likely to increase at a CAGR of around 7% during the forecast period. Several research institutes help clinics by studying cell structures to determine the root of chronic diseases, which is projected to strengthen sales from the clinical diagnosis of biospecimen.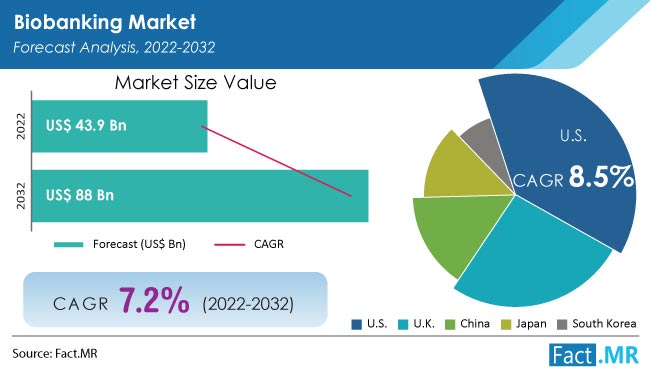 Competitive Landscape
Prominent Biobanking providers are reliant on partnerships, collaborations, acquisitions, and new software launches so as to stay afloat in the global market. Constant innovations to ensure a seamless client-customer relationship are the main focus of prominent market players.
In Nov 2021, Merck successfully completed the acquisition of Acceleron Pharma Inc. Acceleron is focused on harnessing the power of the transforming growth factor (TGF)-beta superfamily of proteins that are known to play a central role in the regulation of cell growth, differentiation, and repair.
In Dec 2021, Thermo Fisher Scientific Inc., the world leader in serving science, completed its acquisition of PPD, Inc., a leading global provider of clinical research services to the biopharma and biotech industry, for $17.4 billion.
Key Segments Covered in the Biobanking Industry Survey
Biobanking by Storage

Manual Biobanking
Automatic Biobanking

Biobanking by Application

Biobanking for Therapeutics
Biobanking for Clinical Diagnostics
Biobanking for Drug Discovery & Development
others

Biobanking by Biospecimen

Biobanking for Blood Products
Biobanking for Human Tissues
Biobanking for Cell Lines
Biobanking for Nucleic Acids
Biobanking for Others

Biobanking by Product

Biobanking Equipment

Temperature Control Systems
Freezers & Refrigerators
Cryogenic Storage Systems
Thawing Equipment

Biobanking Incubators & Centrifuges
Biobanking Alarms & Monitoring Systems
Biobanking Accessories & Other Equipment
Biobanking Consumables

Cryovialsand Cryomolds
Tubes
Others

Biobanking by Region

North America Biobanking Market
Latin America Biobanking Market
Europe Biobanking Market
Asia Pacific Biobanking Market
Middle East & Africa Biobanking Market