Interesterified Fats Market
Interesterified Fats Market Analysis By Interesterification Process (Chemical, Enzymatic), By Source (Soybean Oil, Palm, Groundnut, Coconut, Rapeseed, Sunflower, Cottonseed, Others), By End-user Industry (Food Processing, Food Service, Bakery & Confectionery, Pharmaceuticals, Cosmetics & Personal Care) - Global Insights 2023 to 2033
Analysis of Interesterified Fats Market Covering 30 + Countries Including Analysis of US, Canada, UK, Germany, France, Nordics, GCC countries, Japan, Korea and many more
Interesterified Fats Market Outlook (2023-2033)
In 2023, worldwide sales of interesterified fats are expected to rake in a revenue of US$ 242 million and increase to a market valuation of US$ 387 million by 2033-end. This is because the consumption of interesterified fats is expected to increase at a steady CAGR of 4.8% over the next ten years.
The world has witnessed a substantial increase in the prevalence of lifestyle disorders in recent years and this is expected to be a prominent factor driving demand for interesterified fats over the coming years. Consumption of trans-fats and other saturated fat products has led to increased obesity, diabetes, and cardiovascular disorders in the world, which have now become public health issues.
Governments and regulatory bodies across the world are implementing new mandates to regulate the use of fats in foods and beverages that lead to the aforementioned health complications and issues. These regulations are expected to be the backbone of interesterified fat demand over the next ten years and beyond.
The Food Safety and Standards Authority of India (FSSAI) announced the capping of trans fatty acids in oils and fats to 3% for the year 2021 and 2% for the year 2022 through an amendment to the Food Safety and Standards (Prohibition and Restriction on Sales) Regulations which had a permissible limit of 5%.
In November 2022, the Philippines government announced a ban on all prepackaged foods that contain high amounts of trans-fat level as part of their mission to eliminate the presence of trans-fats by the end of 2023.
Rising consumer awareness for health and fitness, growing demand for tropical fats in bakery products, increasing use of interesterified fats in food processing, regulatory bans on the use of trans-fats, and growing demand for healthy fatty food alternatives are other factors that are expected to influence consumption of interesterified fats throughout the forecast period.
Fast food chains and food service restaurants are expected to spearhead the demand for interesterified soybean oil, interesterified palm oil, and other types of interesterified oils in the future.
Europe and North America are anticipated to be the top regional markets in the global landscape for interesterified fat manufacturers owing to the rising incidence of lifestyle disorders and implementation of stringent norms banning the use of trans-fats.
More detailed regional and segmental insights have been provided in this revised interesterified fats industry research by Fact.MR, a market research and competitive intelligence provider.
Report Attributes

Details

Interesterified Fats Market Size (2023E)

US$ 242 Million

Projected Market Value (2033F)

US$ 387 Million

Global Market Growth Rate (2023-2033)

4.8% CAGR

Europe Market Growth Rate (2023-2033)

5% CAGR

Palm Oil Segment Market Share (2022)

~25%

Enzymatic Interesterification Segment Market Growth Rate (2023-2033)

6% CAGR

Key Companies Profiled

Cargill Incorporated
Willowton Group
Bunge (Loders Croklaan)
AAK KAMANI Pvt. Ltd.
FUJI OIL CO. LTD.
Archer-Daniels-Midland Co.
Wilmar International Limited
Novozymes
Adams Group
Oleofinos
Know thy Competitors
Competitive landscape highlights only certain players
Complete list available upon request
How Could New Companies Reshape the Global Interesterified Fats Marketplace?
"Start-ups Investing in Innovation & Development of Novel Interesterified Fat Products"
Plant-based meat manufacturers are expected to lead the innovation charge for the global interesterified fats industry landscape as the use of interesterified fats creates juicy and low-saturated fat content products that are high in demand in the marketplace.
Cubiq Foods, a Barcelona-based start-up has developed a new mechanical process that converts liquid oils into semi-solid or solid structured fats to reduce saturated fat levels without using interesterification or hydrogenation. The company achieves this by adding up to 40% water and other clean-label food additives to its products and then putting them through its innovative mechanical process.
Motif Foodworks, a food technology company founded in 2019 is working on developing high-impact protein ingredients for plant-based meats. The company is also working fats with Dr. Alejandro Marangoni, a leading lipids researcher. Although the company claims to not be using interesterification, the developments it could make could change the future of the interesterification industry.
Live Yum Foods, a Bengaluru-based food brand focused on vegan and cruelty-free offerings is providing products made from interesterified vegetable fats and other clean label ingredients.
Aspiring interesterified fat-producing companies could target the plant-based and vegan products market to create an impact without having to battle out established players.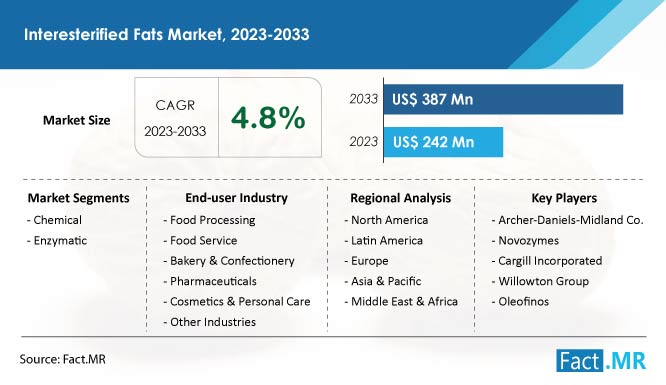 Country-wise Insights
What Makes the U.S. a Highly Opportunistic Market?
"High Incidence of Obesity to Drive Interesterified Fat Shipments"
Consumption of fast foods and high-cholesterol foods is extremely high in the United States and this has led to a grave obesity issue in the general population of the country. Since obesity has now become a public health issue in the U.S., the government and regulatory authorities in the country are focusing on regulating the permissible limit of trans-fats in foods.
These regulations coupled with increasing consumer awareness of the benefits of interesterified fats are expected to propel market growth in the United States across the forecast period. Rising investments in research and development of interesterified fats are also anticipated to drive market development and provide new opportunities for interesterified fat suppliers through 2033.
Should Interesterified Fat Producers Invest in Japan?
"Efforts to Reduce Trans-fats in Products by Japanese Food Establishments"
The food habits of Japanese people are largely healthy and the population in the country is well within the recommended trans-fat intake range of the World Health Organization (WHO). Demand for interesterified fats in Japan is expected to rise at a slow pace throughout the forecast period owing to the healthy eating habits of the Japanese people. On the other hand, increasing western influence and growing demand for fast foods could create new opportunities for interesterified fat manufacturers and distributors in the future.
Similar trends are observed in Korea where people have stuck to their standard diets and have a low trans-fat consumption level as compared to other countries. Increasing globalization and the establishment of new fast food joints in the country are expected to create a demand for interesterified fats over the coming years.
What is the Interesterified Fat Demand Outlook in Europe?
"Increasing Investments in Food Innovation & Stringent Regulatory Norms"
European food companies are constantly innovating to keep up with the changing consumer preferences and food safety standards. European people have become increasingly aware of their health and fitness in recent years and this has resulted in high demand for healthy food and organic ingredients. Governments in the European region have also taken the initiative and banned trans-fats in certain countries, which has resulted in heightened demand for interesterified fats in the region.
Moreover, increasing investments in the modernization of the interesterification process and enforcement of stringent laws against the use of trans and saturated fats in foods are also expected to drive interesterified fat consumption in European countries such as the United Kingdom, Germany, and France.
Don't Need a Global Report?
save 40%! on Country & Region specific reports
Category-wise Insights
Why Do Most Companies Opt for Enzymatic Interesterification?
"Simple & Efficient Nature of Enzymatic Interesterification"
Based on the interesterification process, the market for interesterified fats is segmented into chemical and enzymatic.
Fats produced from enzymatic interesterification use a specific lipase catalyst to catalyze the reaction between a raw material such as palm oil and results in the production of triacylglycerols such as stearoyl-oleoyl-stearoylglycerol (SOS) and Palmitoyl-Oleoyl-Stearoylglycerol (POS) in interesterified fats. These interesterified fats are considered healthy alternatives to regular vegetable oils that cause many health complications such as high cholesterol and cardiovascular disorders. Interesterified fats produced through this process are free from waste by-products, simple to process, and cost-effective in nature.
Whereas, interesterified fats produced from chemical interesterification have changed physical properties such as crystallization capabilities and melting points. The process changes the composition of fats and hence is not as widely used as enzymatic interesterification by interesterified fat manufacturers. Demand for enzymatic interesterified fats is anticipated to rise at a healthy 6% CAGR through 2033.
Which Source Will Be Preferred for Interesterified Fat Manufacturing?
"Palm Oil to Account for Major Market Share"
Based on source, the interesterified fats market is segmented into soybean oil, palm oil, groundnut oil, coconut oil, rapeseed oil, sunflower oil, cottonseed oil, and other vegetable oils.
Interesterified fats with healthy ingredients are gaining traction across the world and this is expected to promote the use of palm oil for the production of interesterified fats. Omega-3 and Omega-6 can be added to interesterified fats by using raw material techniques such as palm oil blending while using lipozyme enzyme as a biocatalyst to retain omega contents in fats after the interesterification process. Demand for palm oil-sourced interesterified fats accounted for around 25% of the global market share in 2022.
Competitive Landscape
Leading interesterified fat suppliers are focusing on taking advantage of the ban on trans-fats and the negative publicity that is associated with them by fueling innovation and launching new products that could eliminate the use of trans fatty acids in food products.
In December 2021, Cargill, a private American food organization announced its intent to eliminate the use of industrially-produced trans-fatty acids (iTFAs) from its global edible oil product portfolio. The plans would also be in accordance with the new standards recommended by the World Health Organization (WHO) that will allow a maximum of 2 grams per 100 grams of oil/fats by 2023-end.
Key Segments of Interesterified Fats Industry Research
By Interesterification Process:

By Source:

Soybean Oil
Palm Oil
Groundnut Oil
Coconut Oil
Rapeseed Oil
Sunflower Oil
Cottonseed Oil
Other Vegetable Oils

By End-user Industry:

Food Processing
Food Service
Pharmaceuticals
Cosmetics & Personal Care
Bakery & Confectionery
Other Industries

By Region:

North America
Latin America
Europe
APAC
MEA
- FAQs -
In 2023, worldwide demand for interesterified fats stands at US$ 242 million.
Shipments of interesterified fats are expected to account for a market value of US$ 387 million by 2033.
Over the next ten years, consumption of interesterified fats is anticipated to increase at 4.8% CAGR.
Enzymatic interesterification demand is projected to increase at 6% CAGR through 2033.
Archer-Daniels-Midland Co., Cargill, Novozymes, Adams Group, and Oleofinos are key interesterified fat suppliers in the market.