Snus Sales to Soar, Set to Generate Absolute $ Opportunity of More than US$ 1 Bn
Smokeless tobacco products are soaring in popularity as convenient alternatives to cigarettes. Stringent government rules and regulations with regard to smoking and environmental contamination has given an upswing to demand for smokeless products such as snus among end users. This trend has been further given impetus by the imposition of taxes on cigarettes globally. Snus market is expected to garner significant traction and is set to generate an absolute $ opportunity of more than US$ 1 Bn during the forecast period.
North America Poised to Grow Double its Current Value in Snus Market
North America snus market is still in its nascent stages of development. Conducive market environment has been created for domestic as well as foreign manufacturers introducing smoking alternatives like snus and chewing tobacco. As a result, investments in United States have intensified and are expected to increase during forecast period. Efforts of United States Government to reduce smoking by granting permission for usage of tobacco and nicotine alternatives is expected to further increase adoption of snus. Owing to these changes in United States and an increase in efforts of snus manufacturers, North America is projected to grow double its current value during forecast period.
Flavored Snus to Generate Highest Revenue Share in Snus Market
Flavored snus accounts for a majority share in the snus market and has been rapidly adopted. New snus consumers have been at the forefront of this surge. Flavored snus has also been preferred by new users owing to value priced products. Asia Pacific market is one of the top markets for flavored snus, where flavor offerings such as 'paan' among others are highly preferred by consumers. The budding market for snus in North America is expected to present prominent opportunities for snus manufacturers offering flavored variants. Owing to the added demand for flavored snus, the segment is expected to grow 1.5X by 2029 over 2019.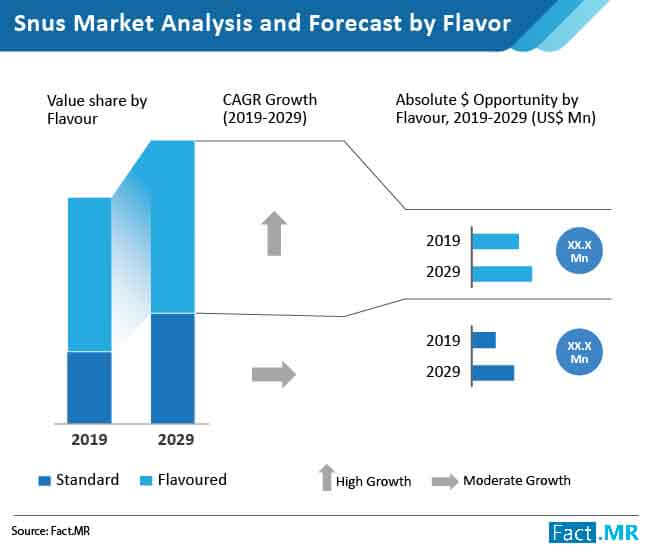 Get the best and latest flavor insights on snus market by requesting for a report sample here
Snus Market Leaders Focus on Portfolio Expansion
Snus market is consolidated with 4 companies holding more than 70% share in the global market. Competition in snus market is high with companies trying to gain an edge over others through rapid developments. Companies like Swedish Match AB have maintained their hold in the market with acquisitions to optimize their portfolio and increase investments in United States. Other companies like Altria Group, Inc. have also entered the snus market through acquisitions. Investments of snus manufacturers are expected to intensify in North America.
In 2019, Altria Group, Inc. announced a payment of $372 million in order to acquire 80% share in Burger Söhne Holding AG. This acquisition was aimed to enter snus market and complement the existing oral tobacco portfolio through nicotine pouches among other products.
In 2019, Swedish Match AB got an approval from Food and Drug Administration (FDA) for labeling general snus as a safe alternative for smoking. Swedish Match is the only company working in United States to receive this approval.
In 2018, Swedish Match acquired Gotlands Snus AB. The acquisition was aimed to enhance the snus product portfolio and increase share in the domestic market.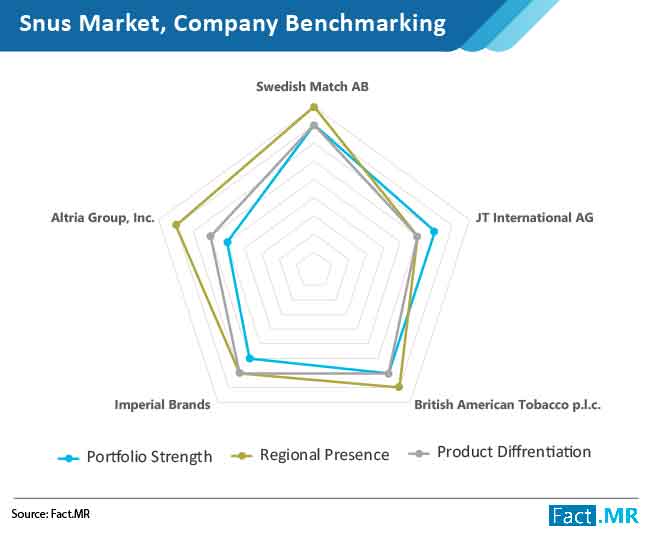 Get access to our intuitive market solutions on snus market by asking an analyst here
Global Snus Market – Scope of the Report
The snus market is anticipated to observe significant growth in the forecast period of 2019 to 2029, according to a Fact.MR study. The study propounds key trends that are currently shaping the growth of the snus market. This newly published and insightful report sheds light on the key dynamics, which are expected to transform the future of the snus market. This, in turn, is creating flourishing avenues for prominent companies as well as emerging players associated with the manufacturing of snus.
The snus market study is a sinuous market intelligence on key drivers, challenges, industry trends and opportunities, which are likely to influence growth trajectory of the snus market. The report initially imparts an overview of the snus market, considering current and future prospects in growth, to unveil attractive facets pertaining to the adoption of snus across key regional markets.
An in-depth assessment on few of the snus manufacturers offered in the report enables the report readers to gain detailed insights that are derived from snus manufacturers across regional markets. A list of key companies operating in the snus market provided in the report adds to the credibility of this exhaustive research study.
Global Snus Market: Opportunity Analysis
The report offers a detailed study on different factors influencing demand, sales, and revenue generation in the Snus market around the world. The opportunity analysis included in the report is beneficial for readers to better understand opportunities in the snus market, which in turn, is likely to trigger the adoption of snus. An elaborated cost structure analysis provides the report with an innate completeness, and analysis offered on the cost structure involves all the regional markets incorporated.
A detailed forecast on the global snus market has also been offered by experts, who have categorized market forecasts into a likely scenario, a conservative scenario, and an optimistic scenario regarding adoption and involvement of the global market during the forecast period. Analysis and assessment of price point by region has also been included in this study. The study also exerts details on aspects impacting strategies of manufacturers within the global snus market.
Global Snus Market: Segmentation
Segmentation table of the global snus market has been provided below on the basis of product type, flavor, packaging, sales channel, and region.
| | | | | |
| --- | --- | --- | --- | --- |
| Product Type | Flavor | Packaging | Sales Channel | Region |
| Portion Snus | Standard | Films and Wraps | Specialty Stores | North America |
| Regular | Flavored | Cans | Online Retail | Latin America |
| White regular | Fruit | Pouches | Modern Trade | Europe |
| Strong | Herbal | Others | Others | Asia-Pacific |
| Loose Snus | Mint | | | Middle-East and Africa |
| Regular | Other Flavors | | | |
| Strong and extra strong | | | | |
| Others | | | | |
This taxonomy and the detailed table of content prepared are confidential and intended exclusively for the individual or entity with whom it is being shared. Reading, disseminating, distributing, or copying this to any party other than addressee(s) is unauthorized and prohibited.
Global Snus Market: Analysis on Market Size Evaluation
Market valuation at the global and regional scale for global snus market is offered in terms of "US$ Mn." A Y-o-Y growth comparison on the key snus market segments, along with the market attractiveness assessment quantifies insights delivered in the report. Metrics mentioned above are also tracked based on consumption across several regions where snus is witnessing growing demand.
Global Snus Market: Scrutinized Assessment on Regional Segments
Weighted chapters have been included in the report on the global snus market, which imparts a forecast on the regional markets recognizing the regional macros (business, economic and political environment outlook), which are expected to have an impact on the growth of the global snus market in the near future.
Country-specific assessment on the demand for snus has also been provided for each regional market, along with the market size valuation, price point assessment, price index, and impact analysis of key regional and country-wise dynamics. Y-o-Y growth projections have also been offered on all regional markets that are incorporated in the report.
Global Snus Market: In-depth Analysis on Competitive Landscape
The report concludes with a weighted chapter on the competition landscape considering up-to-date and essential developments related to market players, who are predominantly engaging in the production and distribution of snus, along with company's strategies, identification, and analysis. Market share comparison and analysis of these market players offered in the report enables readers to devise strategies for their businesses.
The intensity mapping of the market players operating in the global snus market provides readers with actionable intelligence, which helps in understanding the current market status and prospects determining the competition levels in the global snus market.
Fact.MR offers custom research services that help clients to get specific research solutions
We are committed towards customer satisfaction and quality service.
---
Our Clients

Snus Market Forecast, Trend Analysis & Competition Tracking - Global Market Insights 2019 to 2029