Patient Engagement Solutions Market
Patient Engagement Solutions Market By Delivery Mode (Self-Hosted, Software-as-a Services Patient Engagement Solutions), By End-User (Patient Engagement Solution for Hospital, Healthcare payer & Pharma Companies) By Region - Global Insights 2022 - 2032
Analysis of Patient Engagement Solutions market covering 30 + countries including analysis of US, Canada, UK, Germany, France, Nordics, GCC countries, Japan, Korea and many more
Patient Engagement Solutions Market Outlook (2022-2032)
The global patient engagement solutions market, the market is gaining traction steadily, rising at an 8.6% CAGR through 2032, exceeding a valuation of around US$ 29 Billion by 2022. As of the end of 2032, the market is expected to reach US$ 66.4 Billion.
Report Attributes

Details

Base Year Value (2021)

US$ 24.1 Billion

Expected Current Market Value (2022)

US$ 29 Billion

Projected Forecast Value (2032)

US$ 66.4 Billion

Global Growth Rate (2022-2032)

8.6% CAGR

Growth Rate of U.S Market (2022-2032)

10.2% CAGR

Expected Performance of Japan (2022-2032)

14.6% CAGR

Market Value of China (2032)

US$ 6.7 Billion

Key Patient Engagement Solutions Providers

McKesson Corporation
Allscripts Inc.
Medecision Inc.
Cerner Corporation
IBM Phytel
Axial Exchange
Orion Health
Emmi Solutions LLC
Athenahealth Inc.
GetWellNetwork Inc.
The future of patient engagement lies in artificial intelligence. A number of tools are available to identify and predict patient trends, to better communicate, to simplify scheduling, to identify risks, etc. By utilizing AI, healthcare providers can create tailored experiences for patients. The ability to stay one step ahead of the customer's needs allows healthcare providers to deliver tailored customer experiences.
These trends can include the frequency with which the patient interacts, the number of appointments that are needed, and the type of routine care that must be completed. Patients are better engaged, resulting in a positive experience, when providers connect with them.
Companies in the life sciences industry are focusing on making their organizations, people, processes, and platforms more engaging for patients so they can optimize their therapy compliance and health outcomes. This mission remains steadfast, but the addition of factors such as patient data and security, patient marketing, global operations, and organization impacts continue to drive patient engagement strategies to continue to evolve.
As brands and companies seek to deliver patient marketing, communications, and support services in a seamless and informed manner, they are struggling to determine how the continuous, informed, and humanistic approach will best serve patients and their families throughout the continuum of diagnosis, therapy, recovery, and wellness.
Don't Need a Global Report?
save 40%! on Country & Region specific reports
Revenue Analysis of Patient Engagement Solutions 2015-2021 vs. Market Outlook for 2022 to 2032
As per Fact.MR, historically, from 2015 to 2021, the market for patient engagement solutions increased at around 20.3% CAGR, and the key factor facilitating this growth was their efficiency compared to various traditional methods, such as record-keeping and telephone consultations.
The COVID-19 pandemic provided an unprecedented opportunity for patient engagement solutions, given the highly contagious nature of the disease, which encouraged major healthcare stakeholders to deploy AI and cloud-based patient care solutions in the market. There are a great deal of innovations in the world of telemedicine, electronic medical records and virtual monitoring of patients that are gaining tremendous traction in the market.
The expansion prospects of the company will be affected by the necessity to streamline operational workflows regardless of the economic downturn. Hospitalization rates are increasing as the global healthcare industry expands, placing tremendous pressure on the medical community. Thus, manual processes are being replaced with automated ones, resulting in an 8.6% CAGR between 2022 and 2032.
How are Positive Outcomes driving the deployment of Patient Engagement Solutions?
With the emergence of the Internet, both patients and doctors are able to communicate with each other, which leads to an increased level of interest and improved diagnostic accuracy. Through the use of patient engagement solutions, patients have become able to communicate with their doctors in a much easier and more efficient manner.
With increasing the number of chronic diseases like diabetes and cancer, information and technology firms are developing solutions to engage and manage patients within hospitals and healthcare facilities. The Apollo Hospitals Group in India, for example, has developed a system that keeps patients and doctors updated on their data and files in real time. These systems also enable patients to connect with physicians in emergency situations. In addition to this, patients have direct access to doctors for health-related issues, without having to wait in a queue.
Apart from providing numerous benefits, patient engagement solutions make it possible for governments and healthcare providers to track patient details, which in turn facilitates them in understanding the patient's history and prescribing appropriate treatment to patients. In recent years, remote monitoring of patients has been able to help reduce hospital stays significantly. By ensuring better health outcomes and enhancing patient experience, patient engagement services are redefining healthcare solutions in the healthcare industry.
In the immediate aftermath of COVID-19, many patients are uneasy about their health status and the treatment options that are available to them. As a result, improvements in health outcomes and improved patient outcomes continue to fuel the global market for patient engagement solutions. Further, technologies like IoT, AI, HIT solutions, and patient engagement technology are enhancing the performance of patient engagement solutions.
The rise in the adoption of wearable devices has propelled access to telemedicine and improved patient engagement tools. Fitness trackers or Fitbit, smart watches, smart clothing, and wristbands have more than doubled in terms of space from USD 325 Million in 2016 to USD 722 Million in 2019. This further was anticipated to cross a valuation of 1 Billion by 2022.
Patient opposition is the sector's biggest obstacle to overcome. The patients don't want to use the remote monitoring gadgets, which could make them less interested. Both doctors and patients must actively participate in digital health. The uptake of digital tools among elderly patients is hindered by a lack of user informatics. Online check-ups are frequently avoided because of privacy and security precautions.
Medical tourism is also an emerging application area for patient engagement tools. The field was valued at USD 54.4 Billion in 2020 and is forecasted to surpass the valuation of USD 200 Billion by end of 2027. Despite the hurdle imposed by the Pandemic period, this market is likely to recover drastically in the forecast period where novel strategies for patient engagement will make a mainstay.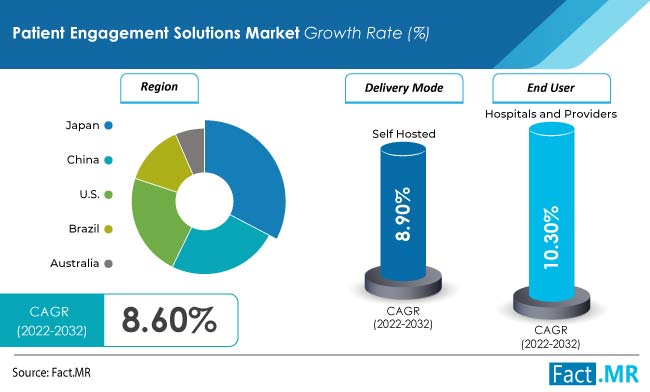 Why are Solutions Providers focusing on Health Tracking Software?
As health disorders become more prevalent, health tracking is on the rise. The availability of information in today's technologically driven world has enabled patients to receive more personalized care, as well as access to effective health monitoring for chronically ill patients. The number of people tracking their health data has grown exponentially, and many people share this information with their health coaches and physicians for monitoring purposes.
Additionally, fitness and health monitoring devices are also a factor which is driving the market growth, as they are in very high demand in the current market. For instance, in October 2021, Apple announced the release of its latest Apple Watch Series 7, which features a blood oxygen sensor and an ECG app as well as an electrical heart sensor.
Besides new workout types and a new Mindfulness app, WatchOS 8 has new accessibility features, better access with Apple Wallet, and the ability to customize the Home app, as well as improvements to Apple Messages and Photos. Hence, tracking health data contributes to the demand growth for patient engagement solutions.
More Insights, Lesser Cost (-50% off)
Insights on import/export production,
pricing analysis, and more – Only @ Fact.MR
Country-wise Analysis
How will China perform in the Global Patient Engagement Solutions Market?
In Asia, patient engagement solutions are seeing a notable spike, with Japan, China, India, and Australia among the most attractive locations. As health care facilities are being used more effectively for treating chronic and infectious diseases, such as the COVID-19 pandemic, implementation of advanced patient engagement systems has greatly increased.
With a predicted CAGR of 11%, the Chinese market for patient engagement solutions will have the largest market share during the forecast period. The market is predicted to reach US$ 6.7 billion during the forecast period. In the past year alone, robots and artificial intelligence are being deployed to offer in-house patient care to combat the highly contagious nature of the disease.
There is also a high probability that growth will continue at a rapid pace due to a large number of companies and potential clients in the region. For instance, in China, Hangzhou Join Health Technology Co. Ltd. launched an AI tracking platform to identify people most infected with the disease during the height of the pandemic. For high risk populations, such as those who have travelled out of Wuhan and been in close contact with an infected individual or were isolated at home or have a fever, the application provides self-registration and crowd management modules.
How is Japan expected to contribute to the Growth of Patient Engagement Solutions Services?
The Japanese market for patient engagement solutions is expected to grow at the fastest CAGR of 14.6% during the forecast period. Japan's Patient Engagement Solutions have progressed steadily over the past few years. Drug companies and patients who hadn't realized its value have now had more chance to have discussions about clinical trials, and DIA is helping to foster those discussions in the market. In order to increase patient insight into their protocols, pharmaceutical companies have been trying to integrate informed consent forms into their databases. Meanwhile, there are still a number of challenges that must be overcome in order to promote these activities.
With the COVID-19 pandemic causing the environment to change, pharmaceutical companies and patients have had the opportunity to communicate. It is common in Japan for medical institutions to have their own template for informed consent forms (ICFs). Consequently, it is essential that all clinical sites explore ideas for implementing patient-friendly ICFs.
For instance, as part of their new patient engagement strategy, Japan's Agency for Medical Research and Development (AMED) has published their Patient and Public Involvement (PPI) Guidebook, which details communication methods. COVID-19 has also led to increasing online interaction between rural/remote patients or patients with mobility problems, increasing opportunities to engage in these activities. Consequently, patient and pharmaceutical company communication opportunities have increased, which in turn leads to some more effective pharmaceutical industries in this region.
How is the U.S. Market Leveraging Patient Engagement Solutions?
In the United States, the market size for patient engagement solutions is expected to reach US$ 18.8 Billion by 2032. Market size is projected to grow at an exponential rate of 10.2% from 2022 to 2032. Growing geriatric populations and the prevalence of chronic conditions are among the factors driving this growth.
In spite of the availability of several effective therapies, chronic illnesses are also on the rise in the U.S. According to the U.S. Centers for Disease Control and Prevention (CDC), Chronic illnesses are the leading cause of disability and death in the United States and the largest contributor to its USD 3.8 trillion annual health care costs. In addition to highlighting the importance of remote care, the COVID-19 outbreak has made digital solutions essential in the global market.

The US companies allow patients to choose mediums of communication among several digital channels such as Emails, Phone, Web portals, Live chats, Video chats, and others. Among these about 83% of people preferred phones, while 41% preferred web portals. Only 4 % of people were comfortable in connecting with healthcare insurance firms via video calls. This highlights the adoption of digital channels by healthcare service providers as well as consumers.
As hospitalization rates rise, healthcare providers are now leveraging the latest monitoring technologies to improve patient care in this region. In a survey of over 600 nurses, it was found that 82% of respondents believed that new technology and equipment innovations would benefit patient care. In order to provide quality patient care, a combination of artificial intelligence and human intelligence is crucial to its dissemination in the healthcare industry. As mobile platforms become more prevalent, coupled with improved 3G and 4G networks, the use of mobile health is rapidly increasing. Utilization of mobile phones and the internet has increased dramatically among doctors in the U.S., which has facilitated the development of mobile health solutions in this region. Apps have made it really easy to spread awareness about chronic diseases, manage health, communicate with doctors, and keep track of health. These things are likely to spur the market to grow in the coming years.
How is Brazil likely to benefit in the Patient Engagement Solutions Industry?
According to the forecast, Brazil is expected to reach a market value of US$ 1.6 billion during the forecast period. Market growth is estimated to be 6% over the forecast period. Chronic diseases and high populations suffering from geriatric illnesses and obesity pose a challenge to the market's ability to offer services. In the healthcare industry, the use of smartphones and online scheduling, portals, virtual visits, secure messaging, patient-centric communication, and outreach capabilities are driving market growth.
Brazilian patient engagement solutions are booming as the electronic medical record market expands rapidly in this region. Approximately 27% of the population suffers from chronic hypertension, which is likely to favor market growth by requiring more accessible healthcare services. Brazil's growing obesity rate and aging population are contributing to an increase in online consultations for treatment services, as well as an increase in sales of patient engagement solutions. Social trends such as online tools for searching for medical information, mobile apps, and wearable devices are affecting healthcare services for patient engagement in Brazil, according to Medicare services.
In order to deal with the growing number of medical tourists, patient engagement provides new strategies in the form of online scheduling, visual representations around the clock, reducing hospital readmissions, and keeping track of patients' recovery. Guidance to market growth shows a tremendous impact when followed step by step. The market is registering higher growth due to growing IT service demand for software components.
Category-wise Insights
What is the Market Opportunity for Self-Hosted Patient Engagement Solutions?
By delivery mode, the patient engagement solutions market is segmented into self-hosted, Software-as-a-Service and application managed services. Patient engagement solutions powered by self-hosted platforms are growing at the fastest rate in the market. It is expected that the self-hosted market will grow at a CAGR of 8.9% during the forecast period.
Users have increasingly preferred self-hosting delivery options to other delivery modes. By deploying large-scale patient engagement portals in large-scale hospitals, tremendous revenue potential has been generated by the adoption and application of these tools.
The key customer propositions behind the demand for patient engagement solutions are the high level of security and ease of access options. A new income stream will emerge in the near future through patient engagement solutions that combine a high level of functionality and scalability.
Hospitals and Healthcare Providers end-users will reign supreme in the future?
By end-use type, the patient engagement solutions market is segmented into hospitals and providers, healthcare payers, pharmaceutical companies. Patient engagement solutions will drive growth for hospitals and providers in the forecast period. According to the forecast, the market is forecast to grow at a CAGR of 10.3% during the forecast period.
The digital revolution is leading to various improvements in the management of patient health in global healthcare. With the increased influx of patients, disbursing adequate in-house care in hospitals and other commercial settings is becoming a major challenge.
Know thy Competitors
Competitive landscape highlights only certain players
Complete list available upon request
Competitive Landscape
Major market players are investing heavily in developing and launching new products in order to gain competitive advantage and grow their customer base. Therefore, market players are increasing their R&D spending in order to launch new products in the market. Furthermore, both acquisitions & mergers, collaborations, and regulatory approvals are also crucial components of effective growth.
In January 2022, Ashfielf Engage announced the acquisition of Medaxis, a company that provides healthcare professionals and patients with patient engagement services. In addition, the firm is adding 40 Medaxis employees to its workforce in Canada. Ashfield Engage and Medaxis have already collaborated on several projects and the strategic partnership will allow Ashfield Engage to provide tailored solutions to customers across the country.
In March 2022, in collaboration with Well-Beat, an Israeli company bringing the human touch to healthcare using behavioral AI, UST and Well-Beat will launch a first-of-its-kind digital patient engagement SaaS platform. Digital solutions provide clinicians with personalized conversational guidelines that are tailored to the patient's motivational factors at the point of care. Over 1,400 factors are evaluated in this tool, including the progression of a disease state, in order to deliver direct and indirect behavioral nudges. Through short surveys, medical records, and connected devices, communication is dynamically adapted to facilitate intelligent interventions and provide customized experiences for patients.
Key Market Segment Covered in Patient Engagement Solutions
By Delivery Mode :

Self-Hosted Patient Engagement Solutions
Software-as-a Services Patient Engagement Solutions
Application Managed Service Patient Engagement Solutions

By End User :

Hospitals and Providers
Healthcare Payers
Pharmaceutical Companies

By Region :

North America
Europe
Asia Pacific
Latin America
Middle East & Africa
- FAQs -
The global patient engagement solutions market size is worth US$ 29 Billion at present.
It is expected to reach a CAGR of 8.6% by 2032 in the global patient engagement solutions markets.
The patient engagement solutions market is expected to reach nearly US$ 66.4 billion by 2032.
The growth of self-hosted delivery modes in patient engagement solutions will be 8.9% during the forecast period.
As the adoption of health application solutions grows, chronic diseases become more prevalent, and supportive strategies are launched by market stakeholders, those factors are driving the global patient engagement solutions market.
Hospitals and providers are expected to grow at a CAGR of 10.3% during the forecast period.
According to the market, patient engagement solutions had an absolute dollar growth of US$ 37.4 billion.
Patient engagement solutions demand is expected to rise by 11% CAGR in China through 2032.
The market for Japan is estimated to grow at a CAGR of 14.6% during the forecast period.
North America is likely to account for 38% revenue share by 2022 end