Millets Market
Millets Market Analysis By Product Type (Pearl Millets, Finger Millets, Proso Millets, Foxtail Millets), By Application (Flour, Direct Consumption, Bakery Products, Alcoholic Beverages, Non-alcoholic Beverages, Fodder), By Distribution Channel (Supermarkets/Hypermarkets, Traditional Grocery Stores, Online Stores), & By Region - Global Market Insights 2023 to 2033
Analysis of Millets Market Covering 30+ Countries Including Analysis of US, Canada, UK, Germany, France, Nordics, GCC countries, Japan, Korea and many more
Millets Market Overview (2023 to 2033)
The global millets market size is valued at US$ 14.22 Billion in 2023, and is projected to reach US$ 23.83 Billion by 2033, growing at a compound annual growth rate (CAGR) of 5.3% during the forecast period from 2023 to 2033.
Millets are a group of small-seeded grains and are an important staple food in many regions of the world, particularly in Asia and Africa. They are known for their ability to grow in diverse and challenging environments, including regions with low rainfall and poor soil quality. Millets are valued for their nutritional content and are often considered a healthy and sustainable food choice.
The nutritional benefits of millets include their gluten-free nature, fiber, vitamins, and mineral richness. Millets are used in a variety of dishes, including porridge, bread, flatbreads, and cereals, and as an ingredient in various recipes. They are gaining popularity as a part of a healthy and balanced diet.
Some of the types of millets are pearl millets, finger millets, proso millets, and foxtail millets. Fact.MR's study states that the demand for pearl millet is increasing at a rapid pace.
Pearl millet (Pennisetum glaucum) is renowned for its ability to withstand drought. In many regions of Asia and Africa, it is a staple dietary source. Demand for pearl millet is high for several reasons, reflecting both its nutritional value and adaptability to various agricultural and dietary needs. Pearl millets are highly nutritious grains. They are rich in essential nutrients such as iron, calcium, magnesium, and B vitamins, particularly niacin (vitamin B3). These nutrients make pearl millets a valuable addition to diets, especially in regions where malnutrition and micronutrient deficiencies are prevalent.
Several millet product producers are focusing on launching new varieties of pearl millet flour to cater to the growing demand for gluten-free and nutritious alternatives to wheat flour. Some companies are introducing organic and non-GMO pearl millet flour options.
In response to the increasing demand for healthy snacks, some companies are launching ready-to-eat pearl millet-based snacks. These snacks are marketed as gluten-free and nutritious options for consumers looking for on-the-go, guilt-free snacking choices. Varieties include pearl millet-based chips, puffs, bars, and more.
'Immunit Pearl Millet Pasta' is a unique and innovative product by Immunit that combines the nutritional benefits of pearl millets with the popular and versatile form of pasta. This product represents a fusion of traditional grains with modern dietary preferences, catering to consumers who are seeking healthier and immunity-boosting food options.
Report Attributes
Details
Millets Market Size (2023E)
US$ 14.22 Billion
Forecasted Market Value (2033F)
US$ 23.83 Billion
Global Market Growth Rate (2023 to 2033)
5.3% CAGR
Key Regional Market
Asia Pacific
Key Companies Profiled

Archer Daniels Midland Company
Cargill Inc.
Bayer Crop Science AG
Wise Seed Company Inc.
E.I. DuPont De Nemours and Company
Brett-Young Seeds Limited
Ernst Conservation Seeds
Roundstone Native Seed Company
Glanbia Nutritionals Inc.
Mayoora Foods
Navan Foods, LLC
Sydler India Pvt. Ltd.
Nestle S.A.
Don't Need a Global Report?
save 40%! on Country & Region specific reports
Which Market Factors are Leading to Increased Millet Production?
"Rising Awareness of Gluten-Related Disorders and Focus on Health & Wellness"
Increasing awareness of gluten-related disorders and growing preference for gluten-free diets are significantly contributing to the popularity of millets, particularly pearl, sorghum, and finger millets, as gluten-free alternatives to wheat and other gluten-containing grains. This trend reflects a broader shift in consumers' dietary choices and a growing emphasis on health and wellness.
Gluten, which is frequently found in grains such as barley, rye, and wheat, causes the immune system to overreact and harm the small intestine in people with celiac disease, an autoimmune disorder. People with celiac disease must adhere to a strict gluten-free diet to manage their condition.
Millets are naturally devoid of gluten. This intrinsic gluten-free nature makes them a safe and nutritious choice for individuals with celiac disease or gluten sensitivity, as well as for those who choose to follow gluten-free diets for other health reasons.
The rich nutritional profile of millets makes them a popular choice among health-conscious individuals. They contain essential nutrients such as dietary fiber, vitamins, minerals, and antioxidants. These grains offer a valuable source of nutrition for individuals who might otherwise be limited in their grain choices due to gluten restrictions. As consumers continue to prioritize health-conscious choices and dietary inclusivity, millets are likely to remain a prominent feature in the gluten-free food market.
"Demand for Healthy Ready-to-Eat Snacking Options Driving Production of Millet-based Snacks"
The food industry is positively responding to the increasing popularity of millets and the demand for healthier and more diverse food options by introducing a wide range of millet-based products. These innovative offerings cater to various consumer preferences and dietary needs, contributing to the broader acceptance and incorporation of millets into modern diets.
Millet flour, such as pearl millet flour, sorghum flour, and finger millet flour, are gaining prominence as versatile gluten-free alternatives to wheat flour. These flours are used in baking and cooking to create a variety of dishes, including bread, pancakes, muffins, and traditional flatbreads such as roti and dosa.
Manufacturers of millet-based food items are introducing an array of ready-to-eat snacks to meet the growing demand for convenient, healthy snacking options. These snacks include millet-based chips, puffs, crackers, and bars, often seasoned with various flavors to appeal to different taste preferences. Millet-based cereals are also emerging as nutritious breakfast options. They can be found in various forms, including millet flakes and millet-based granolas. These cereals are often fortified with vitamins and minerals, enhancing their nutritional profile.
Millet pasta is a notable innovation that combines the familiarity of traditional pasta with the nutritional benefits of millet. These pasta varieties are available in different shapes and sizes, making them suitable for various pasta-based dishes. Millets are also often incorporated into energy bars and snack mixes, providing a gluten-free, energy-packed option for fitness-conscious individuals.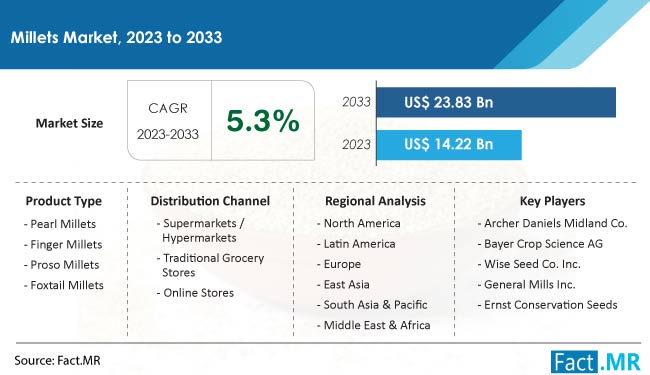 What Can Affect the Profit Margins of Millet Producers?
"Lack of Standardized Processing Techniques Lowering Quality of Millet Production"
Processing millets into convenient forms and products poses several challenges, and can also hamper the wider adoption of millets as a staple food source. One significant negative aspect is the lack of standardized processing techniques.
One of the primary challenges in processing millets is their small size and hard outer layers. The grains can be challenging to de-husk and mill effectively, which can result in low yield and high processing time and costs. This difficulty in processing can deter food manufacturers from incorporating millets into their products, as it may not be as cost-effective or efficient as processing other grains such as wheat or rice.
Lack of standardized processing techniques for millet can also lead to inconsistencies in the quality and texture of millet-based products. This can result in variations in taste and texture that may not meet consumer expectations. Inconsistencies in product quality can undermine consumer confidence and limit the widespread acceptance of millet-based products.
More Insights, Lesser Cost (-50% off)
Insights on import/export production,
pricing analysis, and more – Only @ Fact.MR
What Approaches Should Start-ups Take to Enhance Their Market Position?
"Emphasis on Organic Sourcing and Clean-label Packaging"
New companies in the market can employ several effective strategies to establish their presence and earn more. Newcomers can set themselves apart by developing innovative millet-based products that cater to specific consumer needs or preferences. This may include introducing unique flavor profiles, incorporating millets into traditional or ethnic recipes, or creating convenient, ready-to-eat millet snacks.
Many consumers nowadays are concerned about the environmental impact of their food choices. Start-ups can differentiate themselves by emphasizing sustainable and ethical sourcing practices, such as supporting local farmers, practicing responsible water usage, and promoting biodiversity in millet cultivation.
Obtaining certifications such as organic, non-GMO, or gluten-free can help build trust with consumers who prioritize such labels. Ensuring consistent product quality through rigorous quality assurance measures is also essential to gain and maintain consumer confidence.
Country-wise Analysis
According to the detailed study by Fact.MR, a market research and competitive intelligence provider, millet sales are growing significantly in India, the United States, and Germany due to factors such as supportive government policies, health consciousness, gluten-free trends, and versatile culinary applications. Each market poses its unique dynamics and drivers, but the common thread is the recognition of millet as a nutritious and sustainable grain option.
Why is India a Major Producer of Millets?
"Supportive Government Initiatives Boosting Millet Production"
In India, millets have a long history as a traditional staple, especially in areas with challenging agro-climatic conditions. The revival of interest in traditional and nutritious foods is a significant driver for the global millets market growth.
The Indian government has been actively promoting millet cultivation through programs such as the National Mission on Sustainable Agriculture and The Millet Mission. These initiatives encourage farmers to cultivate millets and contribute to market growth. The government of India notifies millets as nutri-cereals due to their high nutritional value.
In November 2022, the Indian government unveiled a five-year strategic initiative aimed at bolstering the global presence of millets. This comprehensive plan encompasses the active engagement of Indian diplomatic missions worldwide and major global retail giants such as Carrefour, Walmart, Al Ruya, and the Lulu Group. The primary objective is to significantly boost millet exports from India and extend the global reach of this nutritious grain.
How is Demand for Millet Products Progressing in the United States?
"Increasing Adoption of Gluten-free Diets"
Millets are gaining traction in the United States due to the increasing awareness of gluten-related disorders and the popularity of gluten-free diets. Millet-based products are widely consumed by health-conscious Americans.
Food manufacturers in the United States are introducing innovative millet-based products, such as gluten-free millet flour, ready-to-eat millet snacks, and millet-based cereals, to cater to consumer preferences for convenient and healthy foods.
Why are Millets Widely Consumed by Germans?
"Preference for Sustainable Foods and Diverse Culinary Landscape"
Germans are known for their preference for organic and sustainable food products. Millets can be cultivated using organic farming practices, making them a suitable choice for environmentally conscious consumers.
Germany's diverse culinary landscape allows for the incorporation of millets into various dishes, including bread, porridge, and salads, making them versatile and appealing to different tastes.
Know thy Competitors
Competitive landscape highlights only certain players
Complete list available upon request
Category-wise Analysis
As per Fact.MR's analysis, the choice of distribution channel can depend on factors such as consumer preferences, geographical location, and the level of urbanization. In urban areas, retail stores and online platforms dominate due to their convenience, while in rural areas, local markets and direct farm sales may be more prevalent.
Why are Supermarkets and Hypermarkets Prime Distribution Channels for Millets?
"Supermarkets and Hypermarkets Facilitating Broad Millet Availability with Convenience"
Retail stores, including supermarkets and hypermarkets, are major distribution channels for millets in urban and suburban areas. Consumers can conveniently purchase millets along with other groceries.
Retail outlets typically offer a wide variety of millet products, including whole millet grains, millet flour, and an array of millet-based packaged foods. Shoppers can choose from different millet types, brands, and product forms, catering to diverse consumer preferences.
Competitive Landscape
Archer Daniels Midland Company, Cargill Inc., Bayer Crop Science AG, Wise Seed Company Inc., Nestle SA, General Mills Inc., and Kellogg Company are some of the prominent players in the millets market. These companies are globally recognized as dominant food product companies having substantial market influence across several countries. They have a diverse portfolio of millet-based products, encompassing cereals, snacks, and beverages among their offerings.
Collaborations with other food industry players, including suppliers, retailers, and restaurants are helping millet producers expand their market reach and product distribution. These partnerships can lead to cross-promotions and innovative product offerings.
In August 2023, Nestle India intensified its commitment to ready-to-make millet-based offerings. The company is well-known for its products such as Ceregrow grain selection featuring Ragi, Koko Krunch breakfast cereals incorporating millet and Jowar, and Milo Cocoa Malt enriched with Bajra.
Key Segments Covered in Millets Market Research
Product Type :

Pearl Millets
Finger Millets
Proso Millets
Foxtail Millets

By Application :

Flour
Direct Consumption
Bakery Products
Alcoholic Beverages
Non-alcoholic Beverages
Fodder

By Distribution Channel :

Supermarkets/Hypermarkets
Traditional Grocery Stores
Online Stores

By Region :

North America
Latin America
Europe
East Asia
South Asia & Oceania
MEA
- FAQs -
The global millets market stands at US$ 14.22 billion in 2023.
Sales of millets are projected to reach US$ 23.83 billion by 2033.
Global demand for millet products is set to increase at a CAGR of 5.3% from 2023 to 2033.
Archer Daniels Midland Company, Cargill Inc., and Bayer Crop Science AG are some of the leading millet processing companies.
India, the United States, Russia, and France are some of the leading exporters of millets.
Key market players are introducing ready-to-eat millet products such as cereals, beverages, and more.