Highly variable small-seeded grasses, millets are widely grown across the globe, as grain and cereal crops for both feedstock and food. On the back of its short growing season and high productivity under high-temperature conditions, millet crops are becoming more favorable. Various types of millet crops produced around the world include pearl millet, finger millet, proso millet, and foxtail millet.
According to Fact.MR's recent research report, the global market for millets will register a steady expansion during the forecast period (2017 to 2022). Over US$ 13,500 Mn worth of millets are estimated to be sold across the globe by 2022-end.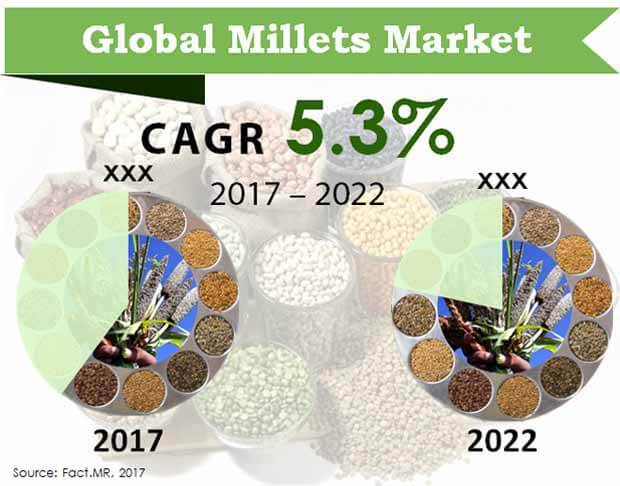 Market Taxonomy
| | | | |
| --- | --- | --- | --- |
| Region | Product Type | Distribution Channel | Application |
| North America | Pearl Millet | Modern Trade | Flour |
| Latin America | Finger Millet | Speciality Stores | Direct Consumption |
| Europe | Proso Millet | Convenience Stores | Bakery products |
| Japan | Foxtail Millet | Traditional Grocery Stores | Alcoholic Beverages |
| APEJ | Others (Japanese barnyard millet, Kodo millet, etc.) | Online store | Non Alcoholic Beverages |
| MEA |   | Other Distribution | Breakfast Foods |
|   |   |   | Fodder |
|   |   |   | Other Application |
(Additional information, including cross-sectional data and country-wise analysis & forecast is available in the report)
Pearl Millets to Remain Preferred Among Products by Consumers
Pearl millets are expected to remain preferred among products by consumers, and their sales will register a steady expansion through 2022. Over US$ 8,000 Mn revenues are estimated to be gathered by sales of pearl millets by 2022-end. Sales of finger millets and proso millets are projected to collectively account for nearly one-fourth share of the market in 2017. However demand for these two product variants of millets will witness a decline by 2022-end. Although foxtail millets currently account for a very low revenue share of the market, sales are projected to register the highest CAGR through 2022.
Non-alcoholic beverages are anticipated to be the fastest expanding application of millets throughout the forecast period. Sales of millets for application in alcoholic beverages will account for a comparatively larger revenue share of the market than in non-alcoholic beverages, although projected to register a relatively lower CAGR through 2022. Application of millets will remain the largest in preparation of flour, with sales estimated to surpass US$ 2,500 Mn in revenues by 2022-end.
Modern Trade and Specialty Stores – Most Lucrative Distribution Channels for Millets
Modern trade and specialty stores are anticipated to remain the most lucrative distribution channels for millets throughout the forecast period. However, specialty stores will account for a relatively lower revenues share of the market than modern trade in 2017. By 2022-end, modern trade and specialty stores will witness a slight decline in sales of millets, while online stores will gain an upsurge to exceed revenues worth US$ 1,500 Mn. Traditional grocery stores will continue to be the second fastest expanding distribution channel for millets during the forecast period.
North America is anticipated to retain its position of being the largest market for millets, closely followed by Asia-Pacific excluding Japan (APEJ) in terms of revenues. Revenues from sales of millets in North America and APEJ will hold more than one-third share of overall market during the forecast period. Europe will also remain a lucrative market for millets, with sales projected to ride on a similar CAGR as that of in APEJ through 2022. Latin America will exhibit a steady expansion in the global millets market, although sales in the region are anticipated to hold a low market revenue share.
Competition Tracking
Fact.MR's report identifies key player contributing to expansion of the global millets market, which include Archer Daniels Midland Company, Cargill, Inc., Bayer Crop Science AG, Wise Seed Company, Inc., E.I. DuPont De Nemours and Company, Brett-Young Seeds Limited, Ernst Conservation Seeds, and Roundstone Native Seed Company.
Note: The insights mentioned here are of the respective analysts, and do not reflect the position of Fact.MR
With its properties such as high productivity in dry and hot climatic conditions, millets are becoming a favored crop across the globe. Several companies in the market are conducting programs for providing farmers with knowledge and sources to increase millet cultivation. This report, published by Fact.MR, provides in-depth analysis of the global millets market for the forecast period 2017-2022, and offers key insights about future market direction.
Scope
The scope of Fact.MR's report is to analyze the global millets market for the forecast period 2017-2022 and provide readers an unbiased and accurate analysis. Millet manufacturers, stakeholders, and suppliers in the global food & beverage sector can benefit from the analysis offered in this report. This report offers a comprehensive analysis, which can be of interest to leading trade magazines and journals pertaining to millets.
Summary
The report commences with a brief information of the global millets market. This executive summary sets the tone for the rest of the report, providing users the scope of the report. The executive summary includes important facts and statistics on the global millets market.
Overview
The next section offers an overview of the global millets market. This comprises an introduction to the market, along with a standard definition of the product – millets. In this section, market value and year-over-year growth is offered to the readers. Year-over-year growth provides readers with a broader view of growth patterns over the forecast period.
The report's succeeding section focuses on drivers, restraints and key trends from macroeconomic, demand, and supply perspectives. Impact analysis of weighted average model-based growth drivers is contained in the report for better provision of decision-making insights to clients.
In order to offer readers with up-to-date information about the latest advancements in the global millets market, the report provides updates about market opportunities, which can benefit leading manufacturers of millets. With continuous evolution of the food & beverage sector, keeping a record of latest developments and trends is fundamental for millets manufacturers to formulate key business strategies. Detailed insights about raw material sourcing, supply chain, pricing analysis, list of distributors, and cost structure are provided in this section.
Considering the wide scope of the global millets market and to offer in-depth insights, Fact.MR's report provides segment-wise analysis and forecast. The millets market has been categorized on the basis of product type, distribution channel, application, and region. This segmentation analysis is comprehensive, coupled with a detailed country-wise forecast provided on all parameters.
The report's last section comprises of the global millets market competitive landscape, to provide readers with the dashboard view of company analysis and market players. This competitive intelligence is based on the providers' categories across value chain, and their presence in the global millets market.
Research Methodology
Fact.MR is committed to offer unbiased and independent market research solutions to its clients. Each market report of Fact.MR is compiled after months of exhaustive research. We bank on a mix of tried-and-tested and innovative research methodologies to offer the most comprehensive and accurate information. Our main sources of research include,
Primary research
Secondary research
Trade research
Focused interviews
Social media analysis
Fact.MR offers custom research services that help clients to get specific research solutions
We are committed towards customer satisfaction and quality service.
---
Our Clients

Millets Market Forecast, Trend Analysis & Competition Tracking – Global Market insights 2017 to 2022