Steviol Glycosides Market
Steviol Glycosides Market Analysis By Type (Steviolbioside, Stevioside, Rebaudioside A, Rebaudioside B), By Processing Method (Fermentation-based Production, Farming-based Production), By End Use (Food & Beverages, Medicines, Chemicals) & By Region - Global Market Insights 2023 to 2033
Analysis of Steviol Glycosides Market Covering 30+ Countries Including Analysis of US, Canada, UK, Germany, France, Nordics, GCC countries, Japan, Korea and many more
Steviol Glycosides Market Outlook (2023 to 2033)
Worldwide demand for steviol glycosides is forecasted to increase at a CAGR of 5.5% from 2023 to 2033. According to Fact.MR's analysis, the global steviol glycosides market stands at US$ 5.06 billion in 2023 and is projected to reach US$ 8.64 billion by 2033-end.
Steviol glycosides are natural compounds found in the leaves of the stevia rebaudiana plant, commonly known as stevia. These compounds found in the stevia plant deliver a remarkable level of sweetness without adding any calories and are gaining popularity as a zero-calorie sweetener or low-calorie alternative to sugar in various food and beverage products. They are often consumed by people who are looking to reduce their sugar intake or manage chronic medical conditions such as diabetes.
Steviol glycosides are considered safe for consumption by many regulatory agencies, including the United States Food and Drug Administration (FDA) and the European Food Safety Authority (EFSA), when used within specified limits. They are used in a variety of products such as food & beverages, bakery products, dairy products, and tabletop sweeteners. Stevia glycoside powder and stevia glycoside liquid are two product forms.
One notable recent development related to stevioside is the exploration of its potential health benefits beyond its use as a sugar substitute. Several research studies have investigated its potential role in areas such as diabetes management, antioxidant properties, and its effects on gut health.
Thus, stevioside has major applications in food & beverages as well as in medicine development.
Some of the commonly known steviol glycosides are steviolbioside, stevioside, rebaudioside A, and rebaudioside B. Stevioside is one of the major natural sweet-tasting compounds found in the leaves of the Stevia rebaudiana plant. It is a type of steviol glycoside, which is responsible for the intense sweetness of the stevia plant. Stevioside, like other steviol glycosides, is used as a natural sugar substitute due to its sweet taste without contributing to calories or impacting blood sugar levels.
Stevioside is one of the first steviol glycosides to receive regulatory approval for use as a sweetener in many countries, including the United States and the European Union. Its early regulatory acceptance is paving the way for its widespread use and adoption.
Report Attributes
Details

Steviol Glycosides Market Size (2023E)

US$ 5.06 Billion

Forecasted Market Value (2033F)

US$ 8.64 Billion

Global Market Growth Rate (2023 to 2033)

5.5% CAGR

Leading Regional Market

North America

Emerging Regional Market

Asia Pacific

Key Companies Profiled

Cargill, Incorporated
PureCircle
Tate & Lyle
FUJIFILM Wako Pure Chemical Corporation
Sweegen
Layn Corp.
Sunrise Nutrachem Group
Ingredion Incorporated
Sunwin Stevia International Inc.
Kerry Inc.
Evolva
Koninklijke DSM N.V.
Archer Daniels Midland Company
PureCircle, GL Stevia
Morita Kagaku Kogyo Co. Ltd.
GLG Life Tech Corp.
Zhucheng HaoTian Pharm Co.Ltd.
Stevia Extraction Technology
Don't Need a Global Report?
save 40%! on Country & Region specific reports
Which Market Trends are Contributing to the Demand Growth for Steviol Glycosides?
"Rising Shift towards Natural & Clean Label Food Ingredients"
According to a new study by Fact.MR, a market research and competitive intelligence provider, consumers are increasingly seeking natural and minimally processed ingredients in their food and beverages. This trend is significantly influencing the food & beverages industry, enabling a shift towards cleaner and more transparent labelling practices.
This shift is being driven by various factors, including concerns about health, environmental sustainability, and a desire for greater control over what goes into the products they consume. Steviol glycosides, derived from the stevia plant are perfectly aligned with this demand for clean-label products.
Steviol glycosides are often listed on ingredient labels by their names (e.g., stevioside, rebaudioside A, rebaudioside D), which is providing transparency and allowing consumers to identify the specific sweetening component used in a product. This level of detailing is enhancing trust and supports informed purchasing decisions.
"Rising Cases of Health Conditions Such as Diabetes and Obesity"
Increasing health concerns such as obesity and diabetes are prompting consumers to adopt healthier dietary habits. Steviol glycosides offer sweetness without calories and have a negligible impact on blood sugar levels, making them appealing to health-conscious individuals seeking to manage their weight and sugar intake. Thus, growing health concerns are increasing the intake of natural sweeteners such as steviol glycosides.
Respective governments and various health organizations are implementing several initiatives to reduce sugar consumption due to its link to various health issues. The use of steviol glycosides as a sugar substitute is aiding food and beverage manufacturers to meet sugar reduction targets while maintaining product sweetness and taste.
"Steviol Glycosides Gaining Traction as Plant-based Sweetener among Vegan Population"
Surging popularity of plant-based diets and the widespread adoption of vegan lifestyles are reflecting a broader shift in consumer consciousness toward ethical, environmental, and health considerations. As individuals seek to align their dietary choices with these values, there is a growing demand for food products that not only exclude unhealthy ingredients but also embrace plant-based alternatives that are sustainably sourced, natural, and healthful.
Steviol glycosides, extracted from the leaves of the stevia plant, uniquely cater to this burgeoning trend by offering a plant-derived, zero-calorie sweetening solution, which attracts plant-based and vegan consumers. Plant-based diets and vegan lifestyles often stem from concerns about animal welfare, environmental sustainability, and reducing one's carbon footprint.
Many individuals adopting plant-based/vegan diets are health-conscious and prioritize nutritious options. Steviol glycosides offer a sugar alternative that allows them to indulge in sweet flavours without compromising their dietary goals. Moreover, steviol glycoside's potential health benefits such as their minimal impact on blood sugar levels are contributing to their appeal within health-conscious communities.
What is Restraining the Sales of Steviol Glycosides to Some Extent?
"Strict Regulations and High Cost Limiting Market Growth of Stevia Sweeteners"
Despite advancements in reducing bitterness, some consumers still perceive a slight aftertaste when using steviol glycosides as a sweetener. This can affect consumer acceptance, especially among those who are sensitive to taste nuances or who compare steviol glycosides to the taste of traditional sugar.
Regulatory frameworks vary across regions and some countries have specific limitations or restrictions on the use of steviol glycosides. Inconsistent regulations can create barriers for steviol glycoside manufacturers aiming to launch products in different markets. Additionally, labelling requirements may also differ, impacting the product's marketing and consumer preferences.
Achieving the right balance of sweetness, texture, and taste in various food and beverage products can be challenging when formulating with steviol glycosides. Depending on the application, manufacturers need to invest more time and resources to optimize formulations, which could potentially slow down stevia glycoside production and launch.
Steviol glycosides face competition from a wide range of sweetening options, including traditional sugars, high-fructose corn syrup, and other natural and artificial sweeteners. The choice of sweetener often depends on factors such as taste, cost, availability, and regulatory approval.
More Insights, Lesser Cost (-50% off)
Insights on import/export production,
pricing analysis, and more – Only @ Fact.MR
What are the Strategies Adopted by Start-ups to Establish Themselves in the Steviol Glycosides Industry?
"Focus on Product Innovations and Partnerships to Reach Wider Consumer Base"
Developing innovative and unique steviol glycoside-based products help newcomers to stand out in the market. These products include blends of steviol glycosides with other natural ingredients, or the creation of specialized formulations such as high-purity steviol glycosides for different applications such as beverages, confectionery, and bakery products.
Consumers are increasingly seeking clean labels and natural products. Highlighting the natural origin of steviol glycosides and their low-calorie properties attracts health-conscious consumers looking for alternatives to traditional sugar.
Collaborating with food and beverage manufacturers to incorporate steviol glycosides into their products provides a strong entry point for new companies. Partnerships help in advancing distribution networks and manufacturing capabilities. While steviol glycosides are often associated with premium products due to their natural and health benefits, newcomers might consider strategies to offer competitive pricing to make their products more accessible to a wider range of consumers.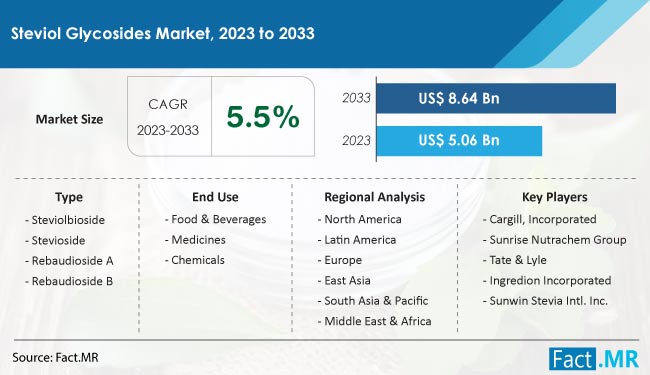 Country-wise Analysis
What's Pushing Up the Sales of Steviol Glycosides in the United States Market?
"Rising Fitness Trend and FDA Approval Stimulating Steviol Glycoside Demand"
Growing demand for healthier and low-calorie alternatives in the United States is boosting the popularity of steviol glycosides, natural sweeteners extracted from the leaves of the stevia plant. As consumers are becoming more health-conscious, the preference for products containing steviol glycosides is also increasing. Steviol glycosides are considered a safer alternative to traditional sweeteners such as sugar.
The United States is exhibiting significant growth in the use of steviol glycosides in various sectors, particularly in beverages and snacks. Beverage manufacturers are incorporating these sweeteners into a wide range of products such as soft drinks, flavoured water, and ready-to-drink tea. This trend is aligning with the increasing popularity of low-sugar and reduced-calorie beverages.
Another influencing factor is the regulatory environment. The FDA's approval of steviol glycosides as a Generally Recognized as Safe (GRAS) ingredient has opened doors for its incorporation in a broader range of food products, driving its adoption in the food industry. This is further leading to collaborations between steviol glycoside producers and food manufacturers to create innovative, better-for-you products.
Why is Germany a Profitable Market for Steviol Glycoside Producers?
"Go Clean Label Trend and Increasing Demand for Plant-based Products"
In Germany, sales of steviol glycosides are influenced by the country's strong emphasis on organic and natural products. Consumers are increasingly seeking alternatives to traditional sugar, driven by concerns over obesity and diabetes. This is leading to a surge in demand for steviol glycosides as a plant-based, zero-calorie sweetener.
German consumers, known for their affinity toward health and wellness, are showing a growing preference for foods and beverages that align with their dietary goals. As a result, products featuring steviol glycosides are positioned as a wholesome choice that caters to consumer demand. The 'clean label' movement is also significantly influencing market dynamics. Germans emphasize transparent labelling and avoiding artificial additives, and steviol glycosides fit well within this framework as a natural, plant-derived ingredient.
What is Fueling the Demand for Steviol Glycosides in Japan?
"Steviol Glycosides Meeting Tastes of Traditional Food Lovers"
Japan's steviol glycosides market is expanding at a healthy pace due to its unique blend of traditional and modern food preferences. The country's aging population and growing health awareness are contributing to the rise in demand for reduced-sugar and low-calorie products, with steviol glycosides as a relevant solution.
One key trend is the incorporation of steviol glycosides into traditional Japanese foods and beverages. As consumers are seeking healthier versions of their beloved treats, manufacturers are reformulating products such as traditional sweets, tea, and snacks to include these natural sweeteners. This blending of tradition with innovation is enabling steviol glycosides to carve a niche in the Japanese market.
Know thy Competitors
Competitive landscape highlights only certain players
Complete list available upon request
Category-wise Analysis
Why Does Steviol Glycoside Find Extensive Application in the Pharmaceutical Industry?
"Use of Steviol Glycosides as Healthy Sweetener in Medicines"
Steviol glycosides have high consumption in the food and beverages industry but their use in the pharma sector is expected to increase at a rapid pace over the next 10 years. As steviol glycosides are non-caloric and have a minimal impact on blood sugar levels, they are considered suitable for pharmaceutical formulations targeting diabetes and obesity management. These compounds are used to sweeten medications without contributing to the caloric or glycemic load of patients.
Some medications and supplements have unpleasant tastes or aftertaste. Steviol glycosides' intense sweetness is utilized to mask these flavours, making products more palatable to patients, especially in the case of pediatric or geriatric formulations.
The pharmaceutical industry often produces nutraceutical and dietary supplements in its product lines. Steviol glycosides, being a natural sweetening option, are included in these formulations to enhance the taste of supplements and make them more appealing to consumers.
Competitive Landscape
Key players in the steviol glycosides market are investing in research and development initiatives to innovate new steviol glycoside products with improved taste profiles, solubility, and stability. Diversifying the product portfolio is helping them to cater to various customer preferences and applications, expanding market reach. Collaborations with others are also aiding them in joint research and development efforts.
Cargill is a major producer of food and beverage products, including the production of steviol glycosides under the brand EverSweet. EverSweet is a non-caloric sweetener made through fermentation and is commercialized as being closer to the taste of sugar than other stevia-based sweeteners.
Key Segments of Steviol Glycosides Industry Research
By Type :

Steviolbioside
Stevioside
Rebaudioside A
Rebaudioside B

By Processing Method :

Fermentation-based Production
Farming-based Production

By End Use :

Food & Beverages
Medicines
Chemicals

By Region :

North America
Latin America
Europe
East Asia
South Asia & Oceania
MEA
- FAQs -
The global steviol glycosides market stands at US$ 5.06 billion in 2023.
Sales of steviol glycosides are projected to reach US$ 8.64 billion by 2033.
Global demand for steviol glycosides is forecasted to rise at a CAGR of 5.5% from 2023 to 2033.
Cargill, PureCircle, and Tate & Lyle are some of the leading steviol glycoside producers.
Sales of steviol glycosides are increasing rapidly in North America due to their high use in the food & beverage sector.