Cocoa Market
Cocoa Market By Type (Cocoa Ingredients, Chocolates), By Application (Food & Beverages, Cosmetics, Pharmaceuticals, Others) & By Region (North America, Europe, Asia Pacific) – Global Market Insights 2022 to 2032
Analysis of Cocoa Market Covering 30+ Countries Including Analysis of US, Canada, UK, Germany, France, Nordics, GCC countries, Japan, Korea and many more
Cocoa Market Outlook (2022 to 2032)
The value of the global cocoa market is US$ 48.3 billion in 2022, which is projected to reach US$ 79 billion by 2032-end, increasing at a CAGR of 5% between 2022 and 2032.
Theobroma cacao seeds are completely dried and fermented to derive cocoa beans or cocoa. 'Food of the gods' is the literal meaning of Theobroma. Further, cocoa was used originally as a ritual beverage in a lot of South American cultures.
A noticeable increase in the demand for cocoa is owing to its rising use as a fundamental ingredient in chocolate. Around 4.6 million tons of cocoa are used in the production of chocolate around the world each year. In addition to chocolate, cocoa is also used at a high rate in the production of confectionery products, cocoa mass, cocoa powder, and cocoa liquor. Compared to natural cocoa, Dutch-flavored cocoa is estimated to experience higher sales opportunities. The revenue share of this type of cocoa reached US$ 11.9 billion in the year 2021.
Retail chocolate shelves are experiencing the presence of a wide variety of chocolates that include drinking chocolate, dark chocolates, milk chocolates, and other beverages. Consumers around the world are experimenting with novel variants of cocoa, which is further predicted to give rise to the demand for flavored cocoa. The growing use of cocoa to produce chocolates is likely to create higher demand prospects for cocoa over the coming years.
In recent years, there has been a noticeable increase in the discretionary income of people, which has further enabled them to invest more to purchase different food items; for example, chocolates were previously considered a luxury item. Furthermore, increasing demand for chocolates across emerging economies is likely to present lucrative opportunities for cocoa product manufacturers.
Cocoa is also used at a significant rate in the nutraceutical, pharmaceutical, healthcare, and cosmetics industries as a coloring and flavoring agent. Furthermore, cocoa is utilized for the manufacturing of toiletries due to its excellent flavor and aroma. Thus, increasing use of cocoa across various industry verticals is likely to serve as a noticeable factor propelling the sales opportunities in the cocoa market.
The industry of cocoa is showcasing noticeable growth because of the robust growth trajectory of the industry of chocolate confectionery. There is a noteworthy increase in the share of global grindings that has bolstered the consumption of ingredients that are based on cocoa. The development of new products in various food industry sectors is also likely to facilitate growth opportunities for cocoa suppliers.
Chocolate has remained a key flavor in product launches in confectionery, bakery, and beverage items. It also serves as one of the commonly used ingredients in the sweets and beverages sector, all of which is favoring market expansion.
Report Attributes

Details

Cocoa Market Size (2022)

US$ 48.3 Billion

Estimated Market Value (2032)

US$ 79 Billion

Anticipated Growth Rate of Global Market (2022-2032)

5% CAGR

Value of European Market (2021)

US$ 20 Billion

Expected CAGR of North American Market

6.7%

Key Companies Profiled

Barry Callebaut AG
Blommer Chocolate Company
Cargill Inc.
Olam International Ltd.
Dutch Cocoa BV
JB Foods.
Know thy Competitors
Competitive landscape highlights only certain players
Complete list available upon request
How are Growth Opportunities in the Cocoa Market Evolving?
"Varied Benefits of Cocoa Serving as Market Driving Force"
There are a lot of benefits of cocoa that are predicted to serve as the driving force to increase the count of developments that are taking place in the market. The benefits of cocoa are identified with the rising use of it in different industries, such as pharmaceuticals, sweet products, baking, and so on. Further, the market has ample opportunity for applications in cosmetics and personal care products.
People are gaining awareness related to the health benefits of consumption of dark chocolate which is further estimated to increase its prospects. These factors are likely to increase the demand for cocoa. Various new kinds of chocolates are gaining popularity among consumers for their different flavors.
The reputation of various chocolates is growing due to their easy availability. Thus, the easy availability of these products is predicted to make the market accessible to a larger consumer base across the globe.
In recent years, there is a noticeable increase in the cases of cancer, diabetes, blood pressure, and heart disease. These growing medical issues lead to an increase in the adoption of natural food products which is likely to work effectively to alleviate these conditions. Cocoa contains a high level of antioxidants and it is used effectively to increase insulin sensitivity, decrease HDL, and dilates blood vessels to relieve blood pressure.
Healthcare providers or medical experts also favor the intake of dark chocolate as it contains no or minimal sugar. Further, the manufacturers from the confectionery industry are making a shift to natural alternatives due to the rising demand for clean-label food products.
For instance :
Barry Callebaut has launched a cocoa powder named 'Bensdorp Clean'. It is formulated with the use of baking soda instead of using alkalizing agents which makes the brand more suitable and marked it as clean-label.
These abovementioned factors mentioning the importance of cocoa in human life are anticipated to propel demand opportunities in the global market.
"Increased Demand for Chocolate Confectioneries across Regions"
Chocolate confectionery is gaining popularity at present, which is further expected to increase the demand for chocolate and cocoa. Further, the increasing demand for chocolate confectioneries across emerging economies has presented a positive trend in recent years owing to growing consumer expenditure on different indulgent confectionery products, i.e. chocolate confectioneries.
Cocoa butter, brownies, cocoa powder, dark chocolate, and milk chocolate are some popular types of chocolates that are available across the world and are experiencing increased demand from consumers. The rising demand for countline and molded chocolates across developed markets is likely to put a positive impact on the growth opportunities in the global market.
Coffee, vanilla, mint, and others are some popular flavors that are readily available in the global market and are adding new sources to market revenues. Furthermore, the manufacturers are taking efforts to develop and launch innovative and novel types of foodstuffs, which include, avocados, kiwifruits, blackberries, various almonds, and some other cereals.
Expanding population and rapid industrialization in developed countries have also been expected to propel the demand for cocoa in the years to come. The addition of new types of chocolates such as ruby chocolate and dark chocolate in the portfolio of some prominent manufacturers is projected to bolster growth opportunities in the market. Further, the trend of gifting chocolates at the time of festivals is likely to aid in the development of the confectionery market and thus create demand opportunities for cocoa.
"Demand for Specialty Chocolate Products Leading to Innovation & Development"
Escalating demand for specialty or premium chocolates, especially from developed markets, for instance, Germany, the United States, Belgium, and France is observed in recent years.
Increased consumer preference to know the origin of the ingredients that are used in chocolates is serving as a noteworthy driver. This is occurring due to various reasons, for example, allergy to any specific components that include vegan preference and lactose. Further, the rising demand for products that are made from specialty beans is also predicted to contribute to the demand for cocoa.
The recent trend of using organic and clean-label products to maintain overall wellness and health has further increased the demand for sugar-free and dark chocolates. Rising awareness related to labor welfare is also likely to propel the demand for fair-traded cocoa in the coming years.
Which Factors are Projected to Limit the Sales Opportunities for Cocoa Suppliers?
"Requirement for Additional Investments to Maintain Sustainable Growth"
There is a persistent increase in the popularity of cocoa ingredients and flavors due to their penetration in the majority of products from the food and beverages industry. But, there is a crucial requirement to maintain sustainable growth in the global market. So, there arises a crucial requirement for additional investments to meet these requirements of the industry.
The manufacturers of cocoa are investing an additional amount to receive the certification of approval to distribute their cocoa products in the global market for the expansion of their footprints. Thus, increased investments by these manufacturers finally result in an increased price of respective products and thus limit the adoption of the same.
Increasing prices of cocoa are also adding economic uncertainties in the global cocoa market and thus creating challenges for growth opportunities of the industry in the years to come.
"Dwindling Agricultural Production Threatening Persistent Growth of Cocoa Market"
The dwindling conditions against agricultural production in some leading cocoa production regions have been threatening the constant growth in the production of cocoa during the estimated future.
On the flip side, the initiatives by some standard bodies to improve the quantity, as well as the quality of cocoa, are likely to provide promising growth opportunities in the market.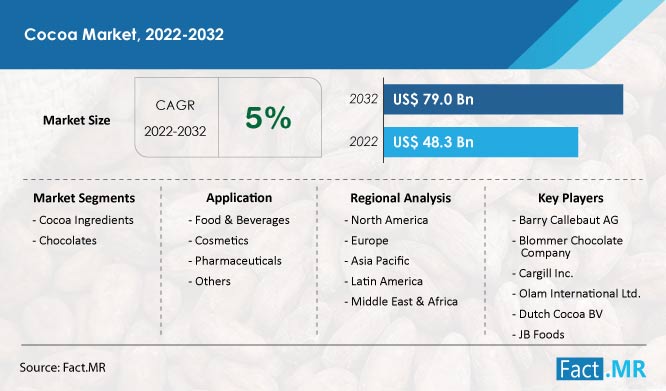 More Insights, Lesser Cost (-50% off)
Insights on import/export production,
pricing analysis, and more – Only @ Fact.MR
Which Regional Market Dominates the Global Cocoa Landscape?
"North America Accounts for Highest Consumption of Cocoa Products"
Among other regional areas, the European market held a dominating position in the global market. The regional market stood at US$ 20 billion in 2021. Europe is considered the hub for the production of chocolate as various key producers of chocolates are based in Switzerland, Germany, Netherlands, and Belgium.
The region is a key producer as well as the largest customer of chocolate products and chocolate. Furthermore, the European cocoa market is diverse in nature as the buyers in the region source cocoa beans of different origins and qualities to meet the requirements of chocolate and cocoa companies.
The European region imports cocoa beans on a larger scale. The contribution of Europe is around 62% in global imports. The rising awareness related to sustainable cocoa production in the regional market is predicted to increase demand for sustainable produced chocolate and thus contribute to market growth there.
Further, the North American market is estimated to grow at a noteworthy speed to meet the domestic requirements coming from the confectionery manufacturing sector. Industrial chocolates with a higher portion of cocoa extracts have been emerging as a preferable and popular indulgence. The North American market is likely to progress at a CAGR of 6.7% through 2032.
The regional population is gaining awareness related to the health benefits of cocoa which are further predicted to stimulate the consumption of dark chocolates in the regional market.
Country-wise Insights
Will Switzerland Provide Lucrative Business Opportunities for Manufacturers of Cocoa?
"Traditionally High Consumption of Cocoa in Switzerland"
Based on the consumption of cocoa, the European market is leading in the global market. Among other consumers, people from Switzerland top based on their consumption capacity of chocolates. Further, people from the UK, France, and Germany are also estimated to serve as the key chocolate consumers.
The cocoa industry of Germany is estimated to expand at a CAGR of 7.4% through 2032. In addition, Mexico's cocoa market is also anticipated to progress at a CAGR of 6.9% through 2032. The cocoa industry in Japan and Korea is also likely to grow at a noteworthy pace.
Category-wise Insights
Which Type of Cocoa Accounts for High Revenue Generation?
"Cocoa Powder Highly Demanded Due to Huge Popularity of Chocolates"
Owing to the rising popularity of chocolate goods across bakery and confectionery industries, cocoa powder is becoming more popular across the globe. Besides hot chocolate mix and chocolate milk, cocoa powder is used in a lot of food and beverage products. Various eateries use them including new startup establishments, big restaurants, and even home bakers at an increased rate.
The consumption of cocoa powder is gaining popularity because of the various health benefits that are associated with it. Further, cocoa powder contains some antioxidants and its benefits to the brain and heart have been proven.
The cosmetic industry is adopting cocoa as the natural ingredient as it helps in the improvement of skin hydration and microcirculation. In the past few years, the increasing demand for industry products across different regions throughout the world is likely to fuel growth opportunities in the market.
Why is Cocoa Butter Becoming Popular across Regions?
"Rising Use of Cocoa Butter Due to its Therapeutic Benefits"
Rising demand for cocoa butter across the global market is owing to the increasing consumer requirements for chocolate products such as milk chocolate, sweet chocolate, and dark chocolate. Big brands as well as novel start-ups around the world use cocoa butter extensively which is further predicted to propel growth opportunities in the global market.
The cosmetic industry is also using cocoa butter at a significant rate that is further likely to bolster expansion opportunities in the global market. This growing application is owing to the ability of cocoa butter to reduce wrinkles, scars, and other marks on human skin. Furthermore, cocoa butter also offers certain health benefits, for example, reducing chronic fatigue syndrome, decreasing hypertension, and protecting against sunburn.
There are a lot of therapeutic benefits of cocoa butter, including the treatment of hair loss, skin irritations, and other health concerns. Along with monounsaturated oleic acid, cocoa butter also contains unsaturated fats as these are healthy not only for hair but also for the skin.
Owing to easy access to cocoa butter across different platforms, that include online sales channels and modern trade, the global market is likely to experience novel expansion opportunities.
How is the F&B Industry Evolving as an End-use Sector?
"Increasing Usage of Cocoa Ingredients for Production of Chocolates"
As a ubiquitous flavor, cocoa has been gaining popularity in the food and beverage industry in recent years. Humongous consumption along with the production of chocolates presents a rising appetite for cocoa and makes it the most commonly consumed flavor in the food and beverage industry.
Owing to rising popularity, the manufacturers serving in the food and beverage industry are using flavored or fine cocoa in various traditional recipes and food products for the expansion of their consumer base.
In recent years, there is an intensified increase in the demand for cocoa liquor in the food and beverage industry. This rising demand is against the backdrop of the growing preference for cocoa flavor around the world. An optimistic outlook for the demand for cocoa liquor in the future is predicted to bode well for cocoa.
Why is Organic Cocoa Gaining Huge Traction in the Market?
"Rising Incidence of Lifestyle-related Health Diseases Driving Consumers to Opt for Organic Products"
In recent years, there is a noticeable increase in healthcare incidences due to unhealthy lifestyles that have prompted consumers to become more proactive and health-conscious in their purchase of different food products. Thus, there is a growing demand for low-fat cocoa powder and cocoa that is gained from organic sources.
Consumers nowadays are looking for organic products as they seek to avoid the consumption of food products that come with harmful chemicals. As there is an increase in cases related to gluten sensitivity around the world and thus demand for gluten-free products is increasing at a noticeable pace. Not only sensitive consumers but also health-conscious consumers are also looking for products that are not harmful if consumed.
The manufacturers of cocoa are aiming at the consumer base who are more health conscious. They focus to deliver healthier and innovative cocoa products with lesser sugar content. Further, the delivery of gluten-free and organic products is also one of the key priorities of these manufacturers.
The producers of cocoa are also predicted to attract health-conscious consumers by manufacturing cocoa liquor products that too with the use of non-GMO material.
In recent years, a lot of incidences have also been encountered in which consumers are quitting the consumption of cocoa. So manufacturers dip their toes into new production methods of gluten-free and organic products. Thus, based on these novel initiatives, the growth trajectory of cocoa is likely to grow rapidly during the forecast period.
Don't Need a Global Report?
save 40%! on Country & Region specific reports
Competitive Landscape
To win in the cut-throat competition, emerging as well as existing market players are leveraging different business strategies. Some of the key strategies include acquisition, collaboration, novel product launches, portfolio expansion, agreements, partnerships, and some others that are adopted by these players to gain a competitive edge in the global cocoa market.
Some key manufacturers of cocoa include Barry Callebaut AG, Blommer Chocolate Company, Cargill Inc., Olam International Ltd., Dutch Cocoa BV, and JB Foods.
Some of the prominent initiatives that are taking place in the industry include :
Barry Callebaut, in March 2022, announced the expansion of its factory in Australia, Melbourne, and Campbell field. This initiative by the company is likely to expand the geographical footprints of the company in the Asia Pacific while creating high-quality and safe products. Further, the facility is likely to serve the entire sector in Australia, from local and global manufacturers to professional and artisanal chocolate users.
Blommer Chocolate Company is a subsidiary of Fuji Oil Co., Ltd. in January 2022, it announced the opening of an R&D application lab in downtown Chicago. With improved and new ways to support the business, the newly developed space represents the expansion of the company's R&D capabilities.
Segmentation of Cocoa Industry Research
By Product Type :

Cocoa Ingredients

Cocoa Butter
Cocoa Liquor
Cocoa Powder

Chocolates

By Application :

Food & Beverages

Confectionery
Dairy
Bakery
Others

Cosmetics
Pharmaceuticals
Others

By Region :

North America
Europe
Asia Pacific
Latin America
Middle East & Africa
- FAQs -
The global cocoa market is valued at US$ 48.3 billion in 2022.
The cocoa industry is anticipated to reach a valuation of US$ 79 billion by the end of 2032.
Worldwide demand for cocoa is expected to increase at a CAGR of 5% through 2032.
The North American market for cocoa is likely to expand at a CAGR of 6.7% through 2032.
Barry Callebaut AG, Blommer Chocolate Company, Cargill Inc., Olam International Ltd., Dutch Cocoa BV, and JB Foods are key manufacturers of cocoa.