Customer Data Platform Market Outlook (2022-2032)
Increasing expenditure on marketing and advertising activities by organizations is projected to be the key player in spiking the revenue of customer data platform market from US$ 1.5 Billion in 2021 to US$ 1.9 Billion in 2022.
Report Attributes
Details

Anticipated Base Year Value (2021)

US$ 1.5 Billion

Expected Market Value (2022)

US$ 1.9 Billion

Projected Forecast Value (2032)

US$ 7.2 Billion

Global Growth Rate (2022-2032)

14%

CAGR of the U.S Market (2022-2032)

13.8%

Estimated Market Value of U.K

US$ 299.1 Million

Expected CAGR of China (2022-2032)

US$ 522.9 Million

Projected Market Size of South Korea (2032)

US$ 246.5 Million

Key Players in the Global Customer Data Platform Market

ActionIQ
Adobe
AgileOne
Ascent360, Inc.
BlueConic
Lytics Inc.
mParticle Inc.
NGDATA Inc.
Oracle Corporation
Salesforce
SAP SE
Tealium
The customer data platform industry is estimated to reach US$ 7.2 Billion while recording a healthy CAGR of 14% during the assessment period from 2022 to 2032.
Established players are augmenting their investments in developing competent customer data platform. Also, customers are demanding real-time services, encouraging companies to implement their strategies. In an occurrence, in April 2021, Fulcrum, a player that provides personalization software, announced its Customer Data Platform.
The organization's CDP collects customer data in real-time. It offers visibility on interactions, touchpoints, intent, and behavior. The CDP integrates AI into its various functionalities.
Don't Need a Global Report?
Save 40% on Country & Region specific reports
Customer Data Platform Revenue Analysis 2015-2021 vs. Future Outlook 2022-2032
The global customer data platform expanded at a CAGR of 28.1% during the time span of 2015 to 2021. Proliferation of customer channels is expected to be a salient factor that expanded the market size during the aforementioned time period.
As per Fact. MR, the market is expected to record a CAGR of 14% during the forecast period from 2022 to 2032. Expansion of the market during the forecast period can be attributed to the rising governments and other stakeholders' investment in digitization to augment their business operations. End-users are expected to show an inclination for real-time data to enhance ROI during the work from home culture.
From 2022 to 2032, the global customer data platform market is expected to grow by 4x. Growing demand for omnichannel experience and the changing outlook of customer intelligence are anticipated to spur the demand for customer data platform in the assessment period. Also, the satisfaction of customer has become the priority of every organization, which is fuelling the market expansion.
Principal Reasons Driving the Global Customer Data Platform Market
Increasing Importance of Real-Time and Personalized Engagement to Boost the Market
Real-time and personalized data analysis provided by CDM is expected to boost the market in the forecast period. The platform gives estimations and observations about the customer and their preferences when the data is stored. This helps organizations to understand their customers in better way.
Owing to such benefits, players in the market adopt various strategies to strengthen the market position. For instance, in May 2021, Salesforce upgraded its customer data platform solution to assist organizations in prioritizing first-party data and offer more personalized interaction with customers.
CDP helps enterprises in collecting important information and data about customers before implementing the marketing strategy. Initially, the data was stored in a decentralized system, which made it difficult and tedious to collect data in a single frame and analyze it.
CDP stores data in single platform from where an absolute analysis is performed. The moment data is stored into CDM, it offers various analysis about the customer and its preferences. This helps in expanding customer engagement and develop a suitable customer experience strategy.
As per an analysis, by 2030, 69% of decisions made during customer engagement will be accomplished by machines. The automation and agility is likely to drive the market in the forecast period. As the need for real-time automated decision making is increasing, CDP solutions with people-based marketing, cross-channel real-time engagement capabilities will evolve.
The platform enhances the relationship between vendors and customers through transparent and targeted interactions. This is expected to strengthen the customer data platform market growth in the forecast period. Also, with players taking several efforts to expand their reach, the market size is likely to bolster. For instance, in January 2020, Tealium, Inc. and Invoca Inc. disclosed a partnership to assist enterprises with customer data and real-time analytics.
Increasing Importance of Customer Satisfaction and CRM in BFSI Sector to Strengthen the Customer Data Platform Market
BFSI is witnessing a rise in online client interaction over the last few years. The increasing availability and affordability of internet has motivated customers to use various online channels to interact with insurance, banks, and other institutions.
The BFSI sector is making heavy investments in customer engagement strategies, customer relationship management and approach to strengthen their partnership. Also, with rising pressure of online engagement, the BFSI sector is focusing to offer personalized experience across all channels.
In addition, banking sector is taking several initiatives to avail benefits of CDM. For instance, on May 4th, 2022, Marble Financial Inc., an AI-based FinTech company, announced that it had entered into a licensing agreement with thirdstream to offer Marble's innovative financial technology solutions to more than 50 banks, financial services and insurance enterprises on thirdstream's platform. Thirdstream has more about 50 BFSI clients.
As per reports by Federation of Indian Chambers of Commerce & Industry, by 2030, 80% of traditional financial firms would cease to exist and firms that would be yet to adopt the modern technology would lag behind in the competition. CDM has helped the banking sector understand their customers' preferences through integrated systems, security standards, self-service capabilities and availability of live agents and experts, and the omnichannel banking. Owing to aforementioned factors, CDM is expected to gain significant popularity in the BFSI sector in the coming time.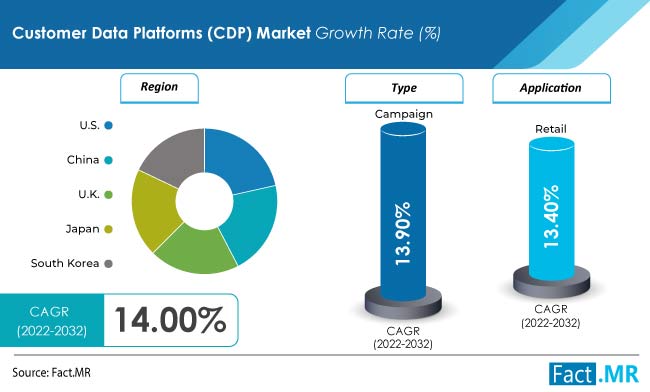 Factors Limiting Growth of the Global Customer Data Platform Market
Privacy Concerns Associated with the Platform to Hamper the Market Growth
Customer data platform market is expected to be majorly hindered by the privacy concerns associated with it. The platform is highly vulnerable to breaches and cyberattacks. For instance, in May 2022, Heroku, the popular cloud platform owned by Salesforce, revealed that it was compelled to reset some user passwords in response to a security breach, which also invited wave of criticism.
Europe's General Data Protection Regulation was implemented to safeguard the customers' private data. As per the law, enterprises do not have any rights on their customer's data. Also, the customer has all rights to know how his personal data is being used. This has acted as a significant counter to the impeding cause, thereby, propelling the market growth.
However, with increasing investments by players and growing number of start-ups are expected to counter the hampering effect and support the market growth in the forecast period. Also, advent of automated smart machinery to enhance customer experience is projected to act as a lucrative opportunity to the market in the forthcoming period.
More Insights, Lesser Cost (-50% off)
Insights on import/export production,
pricing analysis, and more – Only @ Fact.MR
Region-wise Analysis
What are Growth Prospects in North America for the Global Customer Data Platform Market?
Rapid Technological Development in the Region to Boost the Market in North America
As per the analysis, the market in North America is likely to be led by the U.S from 2022- to 2032. The U.S is estimated at US$ 2.6 Billion while recording a CAGR of 13.8% during the prior mentioned time period. Domination of the U.S can be attributed to the rapid technological development of the region. Also, with the presence of established players such as Oracle, Salesforce, and others, the market in region is likely to flourish.
In addition, players in the region take up various activities and initiatives that strengthens their position in the market, and also augments the market size. For instance, in February 2020, Salesforce announced completion of acquisition of Evergage, a Massachusetts based company. The initiative will assist Salesforce to expand its portfolio with the help of advanced solutions.
Sectors in the U.S, such as; BFSI, healthcare, and eCommerce, among others are rapidly adopting the platform at a higher pace owing to the growing inclination towards customer satisfaction and offer better-personalized experiences. The U.S bank announced its partnership with Salesforce to enhance its relationship with customers' and also to offer personalized services.
In another instance, in October 2021, ActionIQ, the U.S based CDP for marketers, analysts, and technologists, announced to expand its CDP into the healthcare sector by accomplishing their compliance audit for Health Insurance Portability and Accountability (HIPAA) Type 1 standards. Such initiatives by players in the region are likely to drive the market in North America in the forecast period.
In addition, players of the market are aggressively involved in developing their products, investing hefty amounts in R&D, alliances, collaborations, and other strategic initiatives. For instance, in March 2022, Salesforce rolled out its new services for healthcare sector, known as "Patient Data Platform". Thus, with continuous efforts by player for developing the product, the region is expected to flourish in the forecast period.
Why is APAC Estimated to be the Most Opportunistic Region for the Global Customer Data Platform Market?
Rising Internet Penetration in the Region to Benefit the Market
As per Fact. MR, the market in APAC is likely to grow significantly during the forecast period. Owing to the presence of developing countries such as; China, Japan, India, and South Korea, the regional market is likely to flourish. China, Japan, and South Korea are estimated at a market value of US$ 522.9 Million, US$ 431.3 Million, and US$ 246.5 Million, respectively.
Rapid growth of retail, e-commerce, BFSI, and healthcare sector across the region is expected to play salient role in boosting the market in the forecast period. Developing countries are projected to make the most significant participation in developing the market in the forecast period.
For instance, in May 2022, Niyo Solutions, India's fastest-growing consumer neo-banking platform, boarded Clootacks's AI-driven, real-time customer experience platform. Cooltrack will allow Niyo to aggregate data seamlessly from first and third-party touchpoints to observe granular customer priorities for obtaining significant insights.
With rapid digitalization, implementation of Big Data, and Data Analytics, players in the market find it convenient and opportunistic to invest in the industry, thus, benefitting the market in the forecast period. Also, with implementation of stringent rules and laws to safeguard the interest of consumers', which is predicted to expand the market size in the assessment period.
For instance, in Novemner 2021, China implemented the Personal Information Protection Law (PIPL). Data privacy laws are experiencing a stringent implementation in other developing countries of APAC, such as; India. Such favorable initiatives taken by government of emerging economies are expected to benefit the market in the forecast period.
| | |
| --- | --- |
| Country | Projected CAGR |
| U.S | 13.8% |
| U.K | 12.9% |
| China | 13.4% |
| Japan | 12.6% |
| South Korea | 11.5% |
Category-Wise Analysis
What are the Market Projections based on Type?
Based on type, the global customer data platform market can be segmented into analytics, access, and campaign. As per the analysis, the campaign segment is expected to lead the market by exhibiting a CAGR of 13.9% from 2022 to 2032. The analytics segment is expected to exhibit a significant growth in the coming time.
The analytics offer granular insights into customer behavior, which help in observing customer segmentation. The segment has witnessed significant investments from various organizations.
What is the Market Forecast based on Application Segment?
Based on application, the global customer data platform market can be segmented into Retail, Discrete Manufacturing, Healthcare, Travel, Banking, Financial Services, and Insurance (BFSI), Travel, Telecom, Media, and Technology (TMT), and Others. Among all, retail segment is anticipated to lead the market by exhibiting a CAGR of 13.4% from 2022 to 2032.
Retailers aid in enhancing customer experience with the help of advanced solution. CDP help retailers in having a competitive edge and offer unified brand views.
Know thy Competitors
Competitive landscape highlights only certain players
Complete list available upon request
Competitive Landscape :
Players in the global customer data platform market are focusing to offer enhanced services and provide innovative products which would give them a competitive edge in the market. Recent developments in the industry include:
In June 2021, Adobe introduced an AI-based live search for Adobe Commerce. Adobe Commerce merchants can offer their shoppers with personalized search results as per their demand.
In May 2021, Salesforce CDP announced its new update that helps organizations' prioritize first-party data that would make every customer interaction personalized.
Key Segments Profiled in the Global Customer Data Platform Market
Global Customer Data Platform Market by Type :

Customer Data Platform by Access
Customer Data Platform by Campaign
Customer Data Platform by Analytics

Global Customer Data Platform Market by Application :

Customer Data Platform in Retail
Customer Data Platform in Banking, Financial Services, and Insurance (BFSI)
Customer Data Platform in Telecom, Media, and Technology (TMT)
Customer Data Platform in Travel
Customer Data Platform in Healthcare
Customer Data Platform in Discrete Manufacturing
Customer Data Platform in Others

Global Customer Data Platform Market by Region :

North America Customer Data Platform Market
Europe Customer Data Platform Market
Asia Pacific Customer Data Platform Market
Middle East & Africa Customer Data Platform Market
Latin America Customer Data Platform Market