A recently developed Fact.MR study foresees the data center market to record a splendid 12.0% CAGR over the period of forecast, 2018 to 2028. Installation & construction services will continue to account for bulk share of the data center market, albeit growing at a slightly lower CAGR than consulting & integration services. Revenues from installation & construction data center are poised to exceed US$ 145,000 Mn by 2028-end.
Ubiquity of technologies including broadband and cloud has driven demand for higher IT capacity for enhancing existing capacity of data centers. Rise of third-platform technologies, coupled with the developments in the IoT and cloud computing, has led the requirement for enhanced level of computational data and networking sources. This has resulted in scaling up of existing infrastructure to make it more flexible and modular. Transforming current hardware-defined infrastructure to one that is software-defined has triggered expansion of the hyperscale data centers. These data centers provide superior efficiency, and will continue to record an impressive rise in the near future.
Current and future prospects of the data center market are likely to remain significantly influenced by dynamic economic scenario across developed and developing markets, along with several macroeconomic aspects. Progressive technological advancements in the IT industry and fluctuating economy result in demand for solutions with high computational power and flexibility in the data center industry, leading to outsourcing activities as a consequence.
Internet of things (IoT) has gained traction as the backbone of advancements, thereby creating the need for managed services across commercial sectors. This has remarkably spurred demand for efficient deployment of software for effective management & storage of data. Additionally, the trend of green data center has gained increased momentum against the backdrop of the incessant requirement for energy and cost savings. Enhanced efficiency and sustainability are top agendas emphasized in the green data center development.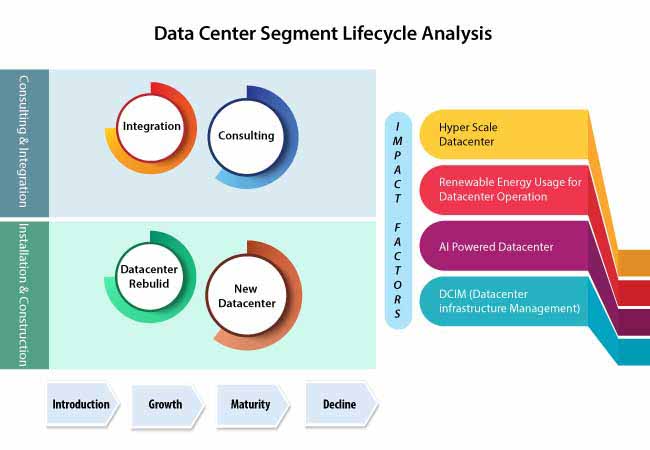 The report envisages North America to reign supreme in the data center market, with Europe following the suit. Albeit Asia-Pacific excluding Japan (APEJ) stands at the third lucrative position for data center market, revenue growth in the region is foreseen to register a relatively higher rate through 2028.
Data Center Market: Third-Party Providers to Observe an Upward Trend
With rising adoption of cloud technologies for supporting the internet economy, coupled with the acceleration of digital content-driven consumption, an uptake of the third-party data centers has been observed since the recent past. The trend falls in line with the growth of the cloud-managed service sector. As clouds are soaring in prominent markets, enterprises continue to introduce new software as a service (SaaS), and platform-as-a-service (PaaS), meanwhile focusing on reducing the cost and dependence on Infrastructure as a service (IaaS). This will further impact growth prospects of the data center market.
With corporations increasingly taking efforts to make innovations with new product launches, marketing initiatives, and business models, demand for a flexible infrastructure is on the rise. Most organizations are shifting their focus from managing their own infrastructures toward leveraging a service provider data center for shared and dedicated cloud offerings. This is further expected to result in the gradual retirement and consolidation of the existing data centers.
Data Center Market: Changes in Operational Processes and IT Staff Shortage Confining Growth Prospects
Transformations in technology and data center network have meant that reorganizing and updating operational processes apropos of software and hardware has become imperative. Changes in operational processes have necessitated overall upgradation of the management process in organizations. This further entails challenges such as substantial implementation time, which in turn results in project delays against the backdrop of process re-engineering.
Proliferation of digitization and technological advancements in the data center market have propelled demand for skilled IT professionals for the management and handling of software-defined and connected services. However, shortage of IT staff in lucrative areas such as crisis management, operational efficiency, IoT and software-defined networking, Big Data, cloud computing, and mobility has led to varying uncertainties in solutions, This has further increased the probability of system errors or functional failures, thereby confining growth of the data center market.
Data Center Market: International Regulations on Data Sovereignty Influencing Location Decisions of Stakeholders
Rapid evolutions in the international regulations on data sovereignty, which mandates data to be housed within the country where it is assessed, have been impacting data center location decisions of stakeholders. Domestic data centers aid data protection, while necessitating new investment, thereby enabling prominent data center operators and developers to rapidly expand their international reach. This further aids these operators to meet evolving demand, while helping the users to remain compliant with regulations.
Climate change is another factor affecting location strategies, as data center users evaluate their performance based on financial, environmental, and socially responsible perspectives. This, coupled with efforts of providers to curtail utility consumption through implementation of less resource-intensive powering and cooling strategies, will continue to impact growth of the data center market. Access to water and renewable energy sources have therefore become more important considerations for stakeholders in the data center market.
Note: The insights mentioned here are of the respective analysts, and do not reflect the position of Fact.MR
The data center market has been foretold to record an impressive 12.0% CAGR over the period of forecast (2018-2028), according to a recent Fact.MR report. A comprehensive analysis on the data center market has been propounded in the report, which is supposed to help clients to retain their competitiveness by attracting potential customers. The report aids the readers in better understanding the competitive landscape of the data center market, while delivering evaluations on the competition intensity attractiveness of the data center market. Leading business strategists can leverage the intelligence provided in the report to decide future business direction.
Referred to a centralized repository or a facility, a data center provides physical or virtual infrastructure for managing and storing data procured from an organization. A data center can also be referred to a room comprising multiple servers in combination with a patch panel for networking purposes. For established and large organizations, data center is considered the foremost centralized environment, which includes huge IT systems, and solutions to support large and connected applications.
Data Center Market: In-Depth Assessment on Key Growth Dynamics
The report imparts in-depth assessment and accurate forecast on the data center market for the forecast cast period between 2018 and 2028. This report is a distinct source of intelligence on data with regard to recent dynamics, ongoing industry trends, product innovation, technological developments & advancements, and potential markets for the data center market. The report also engulfs an exhaustive coverage on key regional markets for the data center industry.
Data center market continues to witness increased visibility in North America, in light of increased investments by companies coupled with availability of enhanced IT infrastructure. The region has witnessed increased proliferation in the United States with respect to both absorption and construction.
According to the Economic Report, Northern Virginia is expected to reflect a significant growth potential for data center market. In addition, albeit prevalence of earthquakes and expensive real estate costs, San Francisco Bay Area has become the third largest data center market in United States, with Washington DC and Dallas to lead. Bay Area has around 120 data centers, 335 service providers with nine network fabrics.
Data Center Market: Comprehensive Segmentation Analysis
A detailed analysis on the data center market has been delivered by the report in terms of segmentation analysis. The data center market has been branched into 2 major segments, namely, component and region. The component segment is further categorized into consulting & integration and installation and construction. Key application sectors, including IT & telecommunication, healthcare, BFSI, and government, apropos of installation and construction component of the data center have been elucidated in the report. In-depth assessment has been offered on all the aforementioned segments, engulfing market forecasts and estimates at regional and country level.
The segmentation analysis rendered on the data center market is imperative for the report readers for understanding potent opportunities as well as lucrative regions for growth of the data center market. All the market segments illuminated in the report have been systematically represented in the form an image titled "Market Taxonomy". The report classifies the data center market, on the basis of regions, into North America, Middle East & Africa (MEA), Europe, Asia-Pacific excluding Japan (APEJ), Latin America, and Japan.
Scrutinized Analysis on Competitive Landscape of Data Center Market
A weighted chapter on the competitive landscape of the data center market has been incorporated in the report, which quantifies the revenue share of the prominent stakeholders in the data center market. This chapter offers an in-depth analysis and imperative insights on key companies operating in the data center market. The report further offers an elaborated assessment on the market players elucidated in the report, which includes intelligence with regard to their company overview, recent & impending developments, key financials, and product overview.
A SWOT analysis is delivered on the market participants profiled, which illuminates the strengths, weaknesses, opportunities and threats to these players in the data center market over the upcoming years. Additionally, the report renders intelligence on the expansion strategies employed by the market participants, such as new product developments, mergers & acquisitions, collaborations, and partnerships between them. The scope of the report is to deliver its readers with authentic knowledge as well as accurate insights on the data center market. This will further enable the report readers to make better impactful plans and fact-based decisions for the businesses.
Research Methodology
A robust research approach has been adhered by the analysts at Fact.MR for contemplating key industry dynamics, which in turn has enabled offering a precise and an authentic market intelligence. Intrinsic amalgamation of primary as well as secondary research has been used by the analysts for reaching at the estimates and forecast on the data center market. Initial phase of this methodology involves secondary research, which includes extensive information mining, and referring up-to-date and verified data resources that include government & regulatory published material, technical journals, and latest independent analyses. This forms the base for evaluating estimations on the market.
All the market estimations and forecast delivered have been verified via an exhaustive primary research, which involves comprehensive interviews with prominent market participants and leading industry experts. These brief primary interviews aid validation of the information procured, which in turn facilitates evaluation of the industry estimations, and insights.
Fact.MR offers custom research services that help clients to get specific research solutions
We are committed towards customer satisfaction and quality service.
---
Our Clients

Data Center Market Forecast, Trend Analysis & Competition Tracking - Global Market insights 2018 to 2028