Data Annotation Tool Market to Grow Seven-Fold
Consumerization of the internet of things (IoT), artificial intelligence (AI), and machine learning (ML) heightens the need for data annotation tools that help tag/label and analyze various types of data sets. The global data annotation tool market exhibits a meteoric 15.1% CAGR during the forecast period (2020 - 2030). The stupendous growth trajectory is accredited to high digitization of consumer products and services. From online lending services to smartphone facial recognition, every step towards digitization impels the demand for data annotation tools for advanced products and services. Training AI programs with the help of data annotation tools will witness an uptake in demand as the consumer demand for automated homes increases.
Manual Annotation to Expand Revenue Pools
Based on annotation type, data annotation tools can be categorized into manual, semi-supervised, and automatic. Manual annotation of data garners maximum revenue and holds a lion's share of over 76% of the total market value. Factors such as accuracy, integrity, and enhanced insights of manual annotation of datasets drive growth of this segment. This annotation type requires constant human inputs which makes it an expensive tool. However, as an alternative to this resource intensive activity, automatic annotation tools will exhibit the highest growth trajectory. Automatic annotation tools will multiply at an astounding 17% CAGR during the forecast period. Penetration of AI programs as a basis of smart products and services bolster growth in this annotation type segment.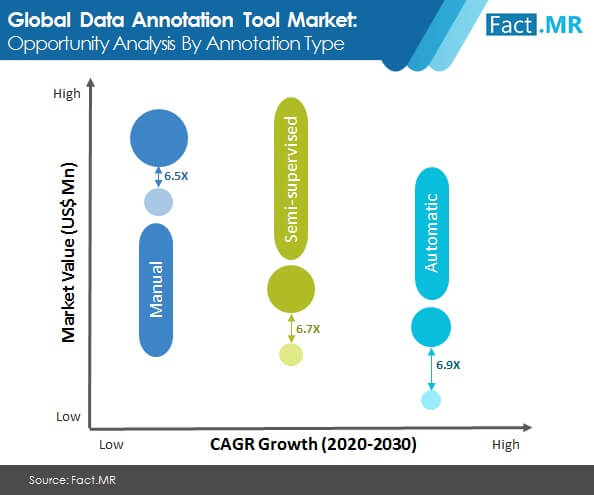 Access out cutting-edge market insights on the data annotation tool market by requesting for a report sample here
North America Leads Global Sales
North America maintains its hegemony as an early adopter region with a majority share of 32% of global sales. The United States, Mexico, and Canada are home to prominent players in the data annotation tools market. When coupled with the presence of high-disposable income consumers; North America will continue to generate demand for smart products and services that employ data annotation tools. The region will grow at a double digit 13% CAGR through 2029. South Asia & Oceania presents the most remunerative opportunities with the highest growth rate of over 18% CAGR during the projection period. Digitization across Indonesia, Malaysia, and Australia, will create rampant demand for data annotation tools. Government support to develop modern automotive, healthcare, financial services, and public infrastructure creates demand for big data analysis. Since data annotation tools play a major role in big data analysis, the region will continue to offer gainful opportunities.
Tech-Drive Advancements to Spur Sales of Data Annotation Tools
The competitive landscape is fairly fragmented consisting of new entrants, and small & medium incumbents. Research and development of data annotation tools that provide comprehensive analysis of real life data is a top priority among organizations. Trends such as digitization of banking and financial services in developing countries is a prime target for market players. Fundraising and talent acquisition are top business strategies adopted by market players. Another prominent strategy is client-based expansion where organizations forge strategic partnerships with clients to give out advanced AI programs by developing disruptive data annotation tools. Major players in the global data annotation tools market are, but not limited to, Annotate.com, Appen Limited, CloudApp, Cogito Tech LLC, Labelbox, Inc, Playment Inc, Tagtog Sp. z o.o., Clickworker GmbH, CloudFactory Limited, Alegion, Amazon, Mechanical Turk, Inc., and Google LLC.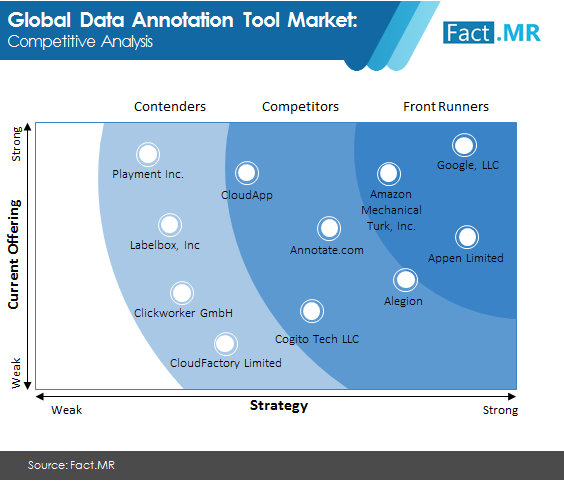 Get strategic insights on the data annotation tool market, by asking an analyst here
COVID-19 Impact
Doctors, scientists and other experts use artificial intelligence and machine learning to minimize COVID-19's effect. New technologies, like machine learning and artificial intelligence are significantly used, to defeat the virus. Market is gaining impressive traction due to coronavirus pandemic. Companies especially ones that deal in healthcare, are looking forward to building a strong prediction tool for the coronavirus which will steers the market toward profitable future in short-term forecast period.
Many companies in the data annotation tool landscape are launching landing pages for resources related to COVID-19. For instance the UCSC Genome Browser team recently posted a genome assembly on its browser and has now announced the release of COVID-19 annotation data. The data would include gene annotations and variant data. Lung datasets are also being added in order to study the impact of the disease on the lungs. Such initiatives will help researchers to study the data minutely and accelerate methods to detect, contain and treat people suffering from coronavirus. Thus the data annotation tool market is headed on a meteoric growth trajectory in the near term
Global Data Annotation Tool Market – Scope of the Report
The following report provides forecast and analysis of the global data annotation tool market along with the historical data of 2015, estimated data 2020 and forecast data up to 2030 in terms of value (US$ Mn), according to a Fact.MR study. The research propounds critical trends that are currently influencing growth within the global data annotation tool market along with several macro-economic indicators. This newly published and insightful report on data annotation tool sheds light on key dynamics, and their impact on the overall value chain from suppliers to end-users, which are expected to transform the future of the global data annotation tool market.
The report also comprises the study of current issues with end users and opportunities for data annotation tool. It also contains value chain analysis, including the key market participants. To provide users of this report with a comprehensive view of the market, we have included a detailed competitive analysis about the key players involved in the market and strategic overviews. The dashboard included in the report provides a detailed comparison of data annotation tool manufacturers on parameters such as total revenue, product offerings, and key strategies. A list of key companies operating in the data annotation tool market provided in the report adds to the credibility of this exhaustive research study.
Global Data Annotation Tool Market: In-Depth Assessment on Key Segments
The global data annotation tool market is segmented on the basis of data type, annotation type, vertical, and region.
| | | | |
| --- | --- | --- | --- |
| Data Type | Annotation Type | Vertical | Region |
| Text | Manual | IT | North America |
| Image/Video | Semi-supervised | Automotive | Latin America |
| Audio | Automatic | Government | Europe |
| | | Healthcare | East Asia |
| | | Financial Services | South Asia & Oceania |
| | | Retail | Middle East & Africa |
| | | Others | |

This taxonomy and the detailed TOC prepared are confidential and intended exclusively for the individual or entity with whom it is being shared. Reading, disseminating, distributing, or copying this to any party other than addressee(s) is unauthorized and prohibited.
Country-specific assessment on demand for data annotation tool has been provided for each regional market, along with the market size valuation and forecast price point assessment, price index and impact analysis of key regional and country-wise dynamics, which were obtained through quotes from numerous data annotation tool manufacturers, experts, and suppliers. Y-o-Y growth projections have also been offered on all regional markets incorporated in the report. Moreover, future trends, growth prospects, and other possibilities related to the market have been answered in the report.
The report provides company-level market share analysis, which has been derived on the basis of the company's annual sales and segmental revenue in all the target end-use industries. The market has been forecasted based on constant currency rates. The report provides detailed competitive and company profiles of key participants operating in the global data annotation tool market. Some of the major competitors operating in the data annotation tool market are Annotate.com, Appen Limited, CloudApp, Cogito Tech LLC, Labelbox, Inc. Playment Inc., Tagtog Sp. z o.o., Clickworker GmbH, CloudFactory Limited, Alegion, Amazon Mechanical Turk, Inc., Google, LLC and others.
Global Data Annotation Tool Market: Research Methodology
A number of primary and secondary sources were consulted during the course of the study. Secondary sources include Factiva, Morningstar and Hoovers, and company annual reports and publications. Comprehensive interviews have been conducted by our analysts, and the intelligence and insights obtained have been used for validating the information gained through secondary research. The report also includes a description of assumptions and acronyms utilized for research purposes. Data gathered has been validated using the triangulation method to offer useful quantitative and qualitative insights into the data annotation tool market.
A short market viewpoint offered in the report elucidates the macro-economic aspects that influence the growth of the data annotation tool market, which includes global GDP growth rate, IT, automotive, healthcare, financial, services, retail and others. This report serves as an authentic resource of intelligence on the data annotation tool market, enabling the readers to take fact-based decisions on the future direction of their businesses
Fact.MR offers custom research services that help clients to get specific research solutions
We are committed towards customer satisfaction and quality service.
---
Our Clients

Data Annotation Tool Market Forecast, Trend Analysis & Competition Tracking - Global Market Insights 2020 to 2030