Growing Pipeline Networks to Stimulate Oil & Gas Gaskets Market
Extraction of natural gas, such as shale gas and soaring prices of oil are increasing inter-regional trade in natural gas. Hence, transport and storage volumes of gas and oil are rising. Stringent environmental norms and an uptick in consumption of natural gas & oil is expected to fuel the growth of pipelines. These developments will lead to high demand growth of gaskets in pipelines. Gaskets are used in pipelines as mechanical seals which fills the space between two or more mating surfaces and prevents leakage from joined objects under compression. Thus, rising number of greenfield and brownfield pipeline projects have driven the global oil and gas gaskets market.
Oil & gas gaskets are estimated to create an absolute dollar opportunity worth US$ 377.7 Mn and are foreseen to cross the US$ 1.5 Bn mark by the end of the forecast period (2019-2029). However, spiral wound gaskets are foreseen to grow around 3X faster than the kammoprofile gaskets during the forecast period.
Downstream Segment Estimated to Capture Major Chunk of Oil & Gas Gaskets Demand Pie
These gaskets are used in compound and petrochemical enterprises like refineries for high-pressure framework applications such as channeling frameworks, joint associations, and ribs. Global refinery capacity is expanding steadily, as most of new capacity demand is being developed in the Asia-Pacific and the Middle East. In an attempt to capitalize on Asian oil demand, refineries are investing in larger refineries and expanding the existing ones, particularly in China and South Asia. China is increasing its refining capacity by 27 million tons to reach 887 million tons in 2020, to push exports of natural gas by 18%. Thus, with the rapid expansion in refineries it is estimated that global oil & gas gaskets market is poised to see an upward trend in the coming years.
Owing to an increase in the capacity of new refineries, the downstream segment is expected to cross US$ 1 Bn mark by the end of the decade by contributing over 65% in the overall value opportunity. On the other hand, the midstream segment is estimated to create an absolute dollar opportunity worth US$ 88 Mn and is expected to capture a market share of 21% by the end of the forecast period.
China to Lead with three-fourth Share, with Heightened Investment in Pipeline Infrastructure
China imports a large quantity of natural gas because of insufficient domestic production. China's reliance on natural gas imports are rising sharply with the rapidly growing import volume of natural gas. China is building long distance natural gas pipelines to facilitate the transportation and allocation of natural gas. Construction of six pipeline networks in eastern, western and northern parts of Guangdong has started and is planned to be completed by 2020. Increase in pipelines networks for importing natural gas will raise the demand of gaskets as it is used as mechanical seals to prevent leakage.
East Asia is estimated to create an absolute dollar opportunity worth US$ 118.9 Mn, through the forecast duration. Furthermore, owing to the optimistic outlook, import of natural gas in China Japan and South Korea, the region is forecasted to account for over 26% in the overall value opportunity created in the global oil & gas gaskets market.
Expansion: Key Growth Influencer within Oil & Gas Gaskets Services Market
Industry leaders are continuously focusing on expansion to increase their geographic presence, and business operations and their share within the market
In 2019, the Flexitallic expanded its operation in Aberdeen, which enabled it to provide increased support to its consumers in North American. Flexitallic Group also aims to expand its gasket stockholding and workshop capabilities.
In 2018, Garlock opened a new office named Garlock & Technetics Group in Suzhou, China. With this expansion, the company strives to build a better relationship with Chinese customers in the fields of energy, steel, chemical, and pulp & paper.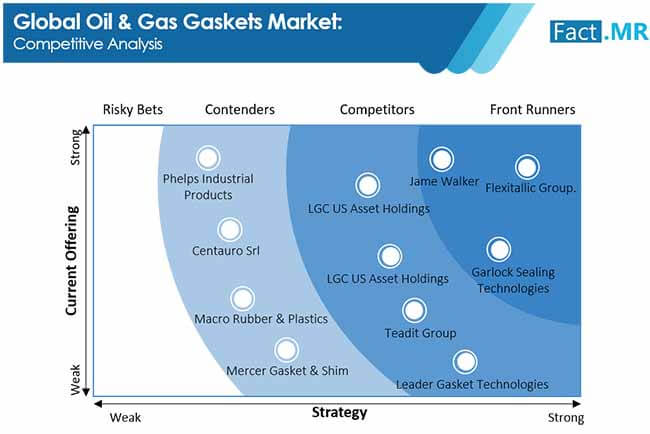 Global Oil & Gas Gaskets Market - Scope of the Report
Fact.MR recently published a market study on the global market for oil & gas gaskets. The study provides a detailed assessment on the key market dynamics, including drivers, trends, opportunities, restraints, and detailed information about the oil & gas gaskets market structure. The market study presents exclusive information about how the Oil & Gas Gaskets market will grow during the forecast period of 2019-2029.
Key indicators of market growth, which include Year-on-Year (Y-o-Y) growth of the market, value chain, supply chain analysis, and Compounded Annual Growth Rate (CAGR) are explained in Fact. MR's study in a comprehensive manner. This information can help readers understand the quantitative growth prospects of the oil & gas gaskets market in the forecast period.
The study is relevant for stakeholders in the oil & gas gaskets market, including manufacturers, suppliers, distributors, and investors, and can help them in developing appropriate strategies to grow in the market. Stakeholders in the oil & gas gaskets market, investors, industry experts, researchers, and journalists, as well as business researchers can leverage the information and data presented in the Fact.MR study.
The study also includes statistics as well as facts related to macro as well as microeconomic factors that are impacting developments in the oil & gas gaskets market. It also offers actionable insights based on future trends in the oil & gas gaskets market. Furthermore, small businesses and new entrants in the oil & gas gaskets market too can make use of the information presented in this study, based on which, they can make appropriate business decisions in order to gain momentum in the market.
Key Segments of the Oil & Gas Gaskets Market
Fact.MR's study on the oil & gas gaskets market offers information divided into four key segments— product type, material, application, end use and region. This report offers comprehensive data and information about important market dynamics and growth parameters associated with these categories.
| | | | | |
| --- | --- | --- | --- | --- |
| Kammoprofile | Non-Metallic | Diesel Generators | Downstream | Europe |
| Ring Joint Gaskets | | Heat Exchangers | | East Asia |
| Corrugated Gaskets | | Valves | | South Asia & Oceania |
| Jacketed Gaskets | | Manifold, Wellhead and Christmas Tree | | Middle East & Africa (MEA) |
| Others | | Others | | |
Key Questions Answered in Fact.MR's Oil & Gas Gaskets Market Report
Which regions will continue to remain the most profitable regional markets for oil & gas gaskets market players?
Which factors will induce a change in the demand for oil & gas gaskets during the assessment period?
How will changing trends impact the oil & gas gaskets market?
How can market players capture the low-hanging opportunities in the oil & gas gaskets market in developed regions?
Which companies are leading the oil & gas gaskets market?
What are the winning strategies of stakeholders in the oil & gas gaskets market to upscale their position in this landscape?
Oil & Gas Gaskets Market: Research Methodology
In Fact.MR's study, a unique research methodology is utilized to conduct extensive research on the growth of the oil & gas gaskets market, and reach conclusions on future growth parameters of the market. This research methodology is a combination of primary and secondary research, which helps analysts ensure the accuracy and reliability of conclusions.
Secondary resources referred to analysts during the preparation of the oil & gas gaskets market study include statistics from governmental organizations, trade journals, white papers, and internal and external proprietary databases. Analysts have interviewed senior managers, product portfolio managers, CEOs, VPs, marketing/product managers, and market intelligence managers, who have contributed to the development of this report as a primary resource.
Fact.MR offers custom research services that help clients to get specific research solutions
We are committed towards customer satisfaction and quality service.
---
Our Clients

Oil and Gas Gaskets Market Forecast, Trend Analysis & Competition Tracking - Global Market Insights 2019 to 2029