Carbon Capture and Storage Market
Carbon Capture and Storage Market Analysis Report By Type (Direct Air, Bioenergy Carbon Capture and Storage), By Technology (Pre-combustion, Oxy-fuel Combustion, Post-combustion Capture), By Service Type, By End-use, By Region - Global Insights to 2031
FACT6943MR
Oct-2021

List of Tables : 70

List of Figures : 202

170 Pages
Carbon Capture and Storage Market Outlook
The carbon capture and storage market, demand is anticipated to surge at a CAGR of 13.4% through 2031, with the global market reaching a valuation of US$ 10.2 Bn, owing to continued investment by governments intending to reduce their overall carbon footprint by the end of 2040.
According to the Global CCS Institute's 2019 Status Report, manufacturing facilities, either operating or being developed currently, capture and store close to 40 Mn metric tons of CO2 each year. For instance, the United States alone discharged approximately 5 Bn MT of CO2 in 2018, which showcases the high potential of this market.
World decarbonisation efforts without CCS could be twice as expensive, according to the UN's Intergovernmental Panel on Climate Change (IPCC). According to the International Energy Agency, CCS has the potential to reduce global emissions by 15% by 2040.
This study on the carbon capture and storage (CCS) market by Fact.MR, a market research and competitive intelligence provider, sheds light on pricing, market risks, in-depth analysis of economies of scale, techno-economic strongholds, and other business elements.
Key Points Covered in Carbon Capture and Storage Industry Survey:
Market Estimates and Forecasts (2016-2031)
Manufacturing Capacity Analysis of Prominent Manufacturers
Carbon Capture and Storage Pricing Analysis
Product Pricing Optimization Strategy
Carbon Capture and Storage Market Size
Demand for carbon capture and storage (CCS)
Carbon Capture and Storage Market Growth 2021
Key Drivers and Restraints Shaping Market Growth
Segment-wise, Country-wise, and Region-wise Analysis
Competition Mapping and Benchmarking
Market Share Analysis
COVID-19 Impact on CSS Demand and How to Navigate
Recommendation on Key Winning Strategies
Demand Analysis of Carbon Capture and Storage from 2016 to 2020 Vs Market Outlook for 2021 to 2031
Greenhouse gas (GHG) concentrations have been rising since around 1750, and this has been entirely caused by humans. CH4 and N2O concentrations in the atmosphere have increased at an alarming rate.
Over the past four decades, there has been steady and consistent change in global temperatures, with each year becoming hotter than the previous one. As per current climate models, temperatures are anticipated to rise by 1.5°C, subjected to the continuing of human activities at the current rate.
This is well-realised by manufacturers across developed countries who are continuously adapting to this change in climate conditions and have been establishing CCS facilities across the world. As of 2020, there are over 51 CCS facilities spread across the world, with ten being present in the U.S. alone. Moreover, existing CCS systems, according to the Global CCS Institute (GCCSI), can collect 31 million tons of CO2 per year.
These factors are poised to keep the global carbon capture and storage market growing at a rapid rate of 13.4% CAGR over the next ten years.
Why is Usage of CCS the Need of the Hour?
At present, CCS is the only available method for reducing emissions from large industrial facilities. It has the potential to be a game changer in the fight against global warming. CCS has the ability to generate 'negative emissions,' which remove CO2 from the environment when used in conjunction with bioenergy technologies for power generation (so-called BECCS – bioenergy with carbon capture and storage).
In order to meet the Paris Agreement's aim of keeping global temperature rise under 2°C, many scientists and politicians feel that this is essential. By 2025, according to the International Energy Agency, CCS capacity needs to have increased tenfold, and the Global CCS Institute suggests that, over 2,500 CCS facilities throughout the world will need to be operational by 2040, each absorbing around 1.5 million tons of CO2 per year.
Thereby, it has become the need of the hour to implement CCS technology, especially in those countries that are leading emitters of CO2, such as China and the U.S. This would, in turn, bode well for the global carbon capture and storage industry in the long term.
Avail customized purchase options for your needs
Which are Some of the Effective Techniques of CO2 Removal?
GHG emissions, notably CO2, are the primary cause of climate change, especially rise in global temperatures. Human activities such as fuel combustion, agricultural practises, transportation, and industrial operations are prime contributors to CO2 emissions.
There are a number of CO2 removal technologies available that can help mitigate the potentially severe impacts of continuing CO2 emissions into the environment. For example, adsorption methods use solid adsorbents to remove CO2 from gas mixtures, which is a promising technique.
Use of biochar, ocean fertilisation, enhanced weathering, DACCs and bioenergy carbon capture and storage (BECCS), and have all been studied as possible solutions. The cost, danger, co-benefits, and trade-offs of each of these techniques of carbon capture and storage technology are vastly different, as is the length of time they have been accessible for public usage.
Owing to this reason, adoption of CCS technology has been on the rise across several developed countries, which has boosted the carbon capture and storage (CCS) market during the past half-decade.
What are the Important Applications of Carbon Capture and Storage?
CO2 capture and storage is the technique of preventing carbon dioxide from entering the environment by capturing and storing it during power generation and industrial activities. Application of carbon capture and storage technology has the potential to significantly reduce CO2 emissions from energy systems.
As the name suggests, carbon capture and storage facilities are primarily used to capture CO2 emitted from the industrial sector, agricultural sector, as well as in EOR processes in the oil & gas industry. Out of these three applications, EOR has been on the rise, owing to the efficiency with which it reduces greenhouse emissions in oil & gas industry.
Moreover, application of carbon capture and storage in the industrial sector has been escalating, as it is most suited for large-scale industrial activities such refineries, biofuel production, iron manufacturing, cement manufacturing, ammonia production, and chemical pulp production.
Additionally, application of carbon capture and storage in the agricultural sector is on the rise, where biomass-to-energy conversion and storage systems (BECCS) use biomass as a source of energy to remove CO2 from the atmosphere. This showcases the greater growth potential of bioenergy carbon capture and storage (BECCS).
These applications are poised to give a definite push to the overall carbon capture and storage service market and keep it growing at a rapid pace.
An Adaptive Approach to Modern-day Research Needs
Why is North America the Most Important Market for CCS?
The global market was dominated by the North American region. Usage of carbon capture and storage technology is expected to increase in nations such as the United States and Canada, as demand for clean technology and CO2 usage in EOR practises continue to rise. This has led to an increase in the demand for CO2-EOR techniques.
EOR operations in the United States consume 75% of the world's carbon capture capacity, approximately 30 metric tons annually. Moreover, FUTURE Act was introduced under 45Q section to give incentives for the capture of carbon dioxide in industrial and power sectors for EOR use (furthering capital carbon capture, utilization, technology, and underground storage and reduced emissions).
Besides, as shale gas processes improve and the new government shows more interest in carbon capturing, the market for CCS is predicted to grow at a moderate rate in the region. As a result, demand for carbon capture and storage in the EOR process in the U.S. is poised to grow at a rapid pace over the decade.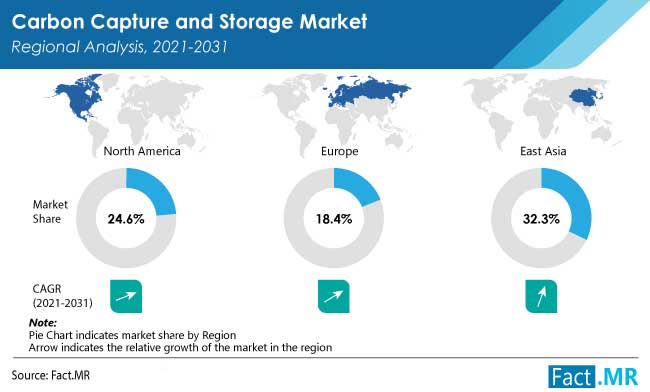 Countrywide Analysis
Being a Large CO2 Emitter, What is the Role of the U.S. in the Market for CCS?
As of 2019-20, the U.S. remained the second-largest emitter of CO2, second to only China. It accounted for nearly 15% of the global CO2 emissions in 2019. This amounted to over 5 Bn tons of CO2 emissions. This has been the primary reason for increase in the deployment of carbon capture and storage technologies in the U.S.
Moreover, out of the 51 large-scale CCS facilities active or under construction as of 2020 across the world, there are eleven significant facilities in the U.S. These are power plants that collect at least 800 KT of CO2 per year and other industrial facilities that capture at least 400 KT of CO2 per year, according to the Global CCS Institute.
Besides, in the U.S., application of carbon capture and storage in the EOR process is on the rise, with oil producers using this technique to efficiently reduce greenhouse emissions.
Moreover, as a presidential candidate, Biden had talked about a plan to put an end to carbon emissions from U.S. manufacturing plants by 2035, and had proposed broader public investment in developing green infrastructure, including US$ 2 trillion that is slated to be invested in clean energy projects.
Owing to all these facts, the United States carbon capture and storage market is poised to see greater growth opportunities over the coming years.
How has CCS Demand been Shaping across Established & Evolving Markets?
U.K.: While a US$ 1.1 Bn competition to develop CCS was cancelled in 2015, the U.K. government's clean growth strategy of October 2017 appears to reaffirm a commitment to the technology, with projected spending of up to US$ 117 Mn.
Besides, the Scottish government will fund a feasibility study on CCS in the North Sea, while in November 2017, the European Commission approved the Tees Valley proposal to establish a transportation and storage network to store CO2 from all around Europe. This would, in turn, escalate demand in the U.K post-combustion carbon capture and storage service market.
Germany: The government adopted its 2030 Climate Action Program, which claimed that carbon capture technology offers a relatively low-cost reduction opportunity for unavoidable emissions from industrial operations. A financing directive for the commercialisation of carbon capture technologies was issued in Germany in January, while possibilities for CO2 transport infrastructure were being scoped.
Second-stage funding for major demonstrations is mentioned in the directive as well. This has led to escalation in demand for carbon capture, utilization, and storage in Germany. This opens up newer avenues for players operational in the Germany pre-combustion CCS technology market.
China: In the next four years, China, the world's top producer of carbon dioxide, could more than double its capacity to absorb and store greenhouse gases that contribute to global warming, according to Fact.MR's industrial study.
It is predicted that income from the government's carbon trading programme will be critical in maintaining the scheme's long-term growth. Eight large-scale carbon capture, utilisation, and storage (CCUS) facilities might be established in mainland China by 2025, adding to the 14 presently in operation, with a total annual capacity of 2.1 million tons.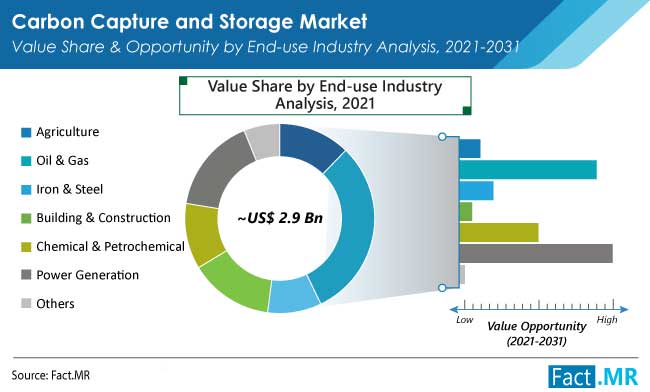 Category wise Analysis
Why is Oil & Gas the Most Attractive Sector in the CCS Market?
The oil & gas industry is using carbon capture and storage (CCS) to reduce greenhouse gas emissions. The oil & gas sector has developed CCS systems for enhanced oil recovery to store carbon dioxide in deep geological formations, whether they are onshore or offshore.
Carbon dioxide is insoluble in oil, and therefore, addition of carbon dioxide raises a reservoir's pressure, aiding in driving the oil out of the production well. For nearly three decades, carbon dioxide had been used in Texas (the U.S.) for EOR activities. Enhanced oil recovery accounts for more than 20% of Texas' total oil production, with some fields recovering 70% of their initial oil.
Besides, the Kyoto Protocol's clean development mechanism is mostly used by OPEC countries that favour carbon capture and storage. For example, the Abu Dhabi National Oil Company has reduced gas flaring from roughly 1,500 million cubic feet per day in the early 1980s to less than 200 million cubic feet per day at present. As a result, air pollution was reduced, and more gas was available for export or domestic usage.
Owing to the aforementioned factors, oil & gas is anticipated to remain the most attractive sector in the carbon capture, utilization, and storage (CCUS) market, which is anticipated to expand at a CAGR of 13.4% during 2021-31.
Which Technology is Anticipated to Account for Substantial Growth?
CO2 can be captured at the source (the facility releasing the CO2) using a variety of technologies. There are three types: post-combustion carbon capture (the principal technology used in existing power plants), pre-combustion carbon capture (primarily utilised in industrial processes), and oxy-fuel combustion systems.
CO2 is extracted from combustion exhaust for post-combustion carbon capture. There has been an increase in the use of CCS technology to reduce industrial CO2 emissions. Industrial facilities have commercially viable pre-combustion capture technology in place, which has led to the development of pre-combustion CCS technology market.
However, pre-combustion capture technology used in power plants is still in the early phase. This process involves turning a fuel into gas and then removing the CO2. Even though it's less expensive than other solutions, pre-combustion capture can only be put into new plants because retrofitting an old facility would be prohibitively expensive. Thereby, demand for pre-combustion carbon capture and storage services has been on the rise only from newer plants that are being constructed.
Besides, combustion of oxy-fuel occurs in a nearly pure oxygen environment rather than with ordinary air, resulting in highly concentrated CO2 emissions that are easier to absorb. As soon as the CO2 is gathered, it is compressed and sent to a storage facility through pipelines, ships, and on rare occasions, trains or other vehicles.
Considering the higher cost of installing pre-combustion capture as well as oxy-fuel combustion systems, adoption of post combustion carbon capture & storage technology is poised to escalate in future.
Thereby, demand for post-combustion carbon capture and storage services is anticipated to rise at a higher CAGR of 14.5% through 2031.
Interested to Procure The Data
Competitive Landscape
In the United States and China, most large-scale carbon capture and storage projects have already been created or are in the planning stages. Furthermore, European countries want to take advantage of new technologies and storage ways. Royal Dutch Shell, Exxon Mobil Corporation, Mitsubishi Heavy Industries, Ltd. and Air Liquide are some of the vital carbon capture & storage service providers.
These players have been investing into collaborative researches for technological advancements in carbon capture & storage to gain a competitive advantage.
In September 2021, Chevron teamed up with energy services firm Enterprise Products Partners to examine carbon capture, storage, and use in the United States.
Companies such as Calpine, Chevron, Dow, and LyondellBasell have committed to begin studying options that might lead to the capture and secure storage of up to 50 million TPY of CO2 by 2030 and around 100 million TPY by 2040.
Such initiatives have opened up newer growth opportunities for carbon capture and storage providers, which, in turn, is driving the adoption of CCS technology.
CSS Industry Report Scope
Attribute

Details

Market size value in 2021

USD 2.6 Billion

Market forecast value in 2031

USD 10.2 Billion

Growth Rate

CAGR of 13.4% from 2021 to 2031

Forecast Period

2021-2031

Historical Data Available for

2016-2020

Market Analysis

Value in US$ Bn

Key Regions Covered

North America
Latin America
Europe
East Asia
South Asia & Oceania
Middle East Africa

Key Countries Covered

U.S.
Canada
Mexico
Brazil, Mexico
Argentina
Germany
Italy
France
U.K.
Nordic
Spain
Japan
China
India
Malaysia
Thailand
Australia
GCC Countries
South Africa
Turkey

Key Market Segments Covered

Type
Technology
Service Type
End-use Industry
Region

Key Companies Profiled

Air Liquide
Aker Solutions
Dakota Gasification Company
Exxon Mobil Corporation
Halliburton
Hitachi
Honeywell International
JGC Holdings Corporation
Linde PLC
Mitsubishi Heavy Industries, Ltd.
NRG Energy
Occidental Petroleum Corporation
Royal Dutch Shell
Schlumberger Limited

Pricing

Available upon Request
Key Segments Covered in Carbon Capture and Storage Industry Research
By Type

Direct Air Carbon Capture and Storage
Bioenergy Carbon Capture and Storage

By Technology

Pre-combustion Capture
Oxy-fuel Combustion Capture
Post-combustion Capture

By Service Type

Capture
Transportation
Utilisation
Storage

By End-use Industry

Agriculture
Oil & Gas
Iron & Steel
Building & Construction
Chemical & Petrochemical
Power Generation
Others
Need an Exclusive Report for your Unique Requirement?
- Our Clients -

- Evaluate How Fact.MR's Report Can Help. -
Is the market research conducted by Fact.MR?
Yes, the report has been compiled by expert analysts of Fact.MR, through a combination of primary and secondary research. To know more about how the research was conducted, you can speak to a research analyst.
What research methodology is followed by Fact.MR?
Fact.MR follows a methodology that encompasses the demand-side assessment of the market, and triangulates the same through a supply-side analysis. This methodology is based on the use of standard market structure, methods, and definitions.
What are the sources of secondary research?
Fact.MR conducts extensive secondary research through proprietary databases, paid databases, and information available in the public domain. We refer to industry associations, company press releases, annual reports, investor presentations, and research papers. More information about desk research is available upon request.
Who are the respondents for primary research?
Fact.MR speaks to stakeholders across the spectrum, including C-level executives, distributors, product manufacturers, and industry experts. For a full list of primary respondents, please reach out to us.
Is a sample of this report available for evaluation?
Yes, you can request a sample, and it will be sent to you through an email.