Cognac Market
Cognac Market Forecast, Trend Analysis & Competition Tracking: Global Market Insights 2019 to 2027
FACT4051MR
Mar-2022

List of Tables : 134

List of Figures : 108

170 Pages
Cognac Market- The Finest Premium Spirit Continues to Stand Tall
global cognac market to grow at a value CAGR of ~ 6.5% during the assessment period. For the past few centuries, Cognac has gained universal recognition as one of the finest spirits which are distilled from grapes. Qualities of cognac in terms of intensity, warmth, and subtlety, remain incomparable, which have strengthened its identity as a 'symbol of the elite'. Cognac was named after the town of Cognac in France and eventually, this brandy type started evolving, adapting to the modern tastes and appealing to newer demographics.
Similar to the case of champagne, cognac continues to be protected by law and remains subjected to strict production criteria.
Consumption of cognac is anticipated to increase America, Europe, and Asia have emerged to be three of the most lucrative markets for cognac over the course of time.
The concept of cognac is certainly not new for consumers in the aforementioned regions, but the recent surge in demand for premium liquor experiences has upended the scenario and brought in new avenues for the cognac industry in terms of value as well as volume growth. However, it would be interesting to see how the prominent brands active in cognac space will continue to innovate and lighten the way for new entrants to boost their market standing.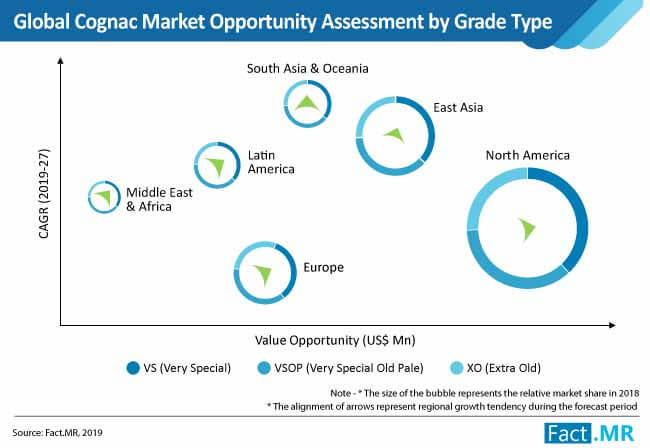 Cognac Market - Decoding the Value Equation in North America
North America stands firm as the leading market for cognac and is estimated to see impressive growth in the next 10 years. According to the recent studies, the US topped the list of the 10 leading cognac export markets in 2018 and demonstrated nearly 5% rise in volume terms, to 86.5 million bottles.
Export volumes of the US were equal to the combined volume of other nine countries featured in the list, namely Singapore, China, the UK, Germany, France, Latvia, Hong Kong, South Africa, and the Netherlands.
Historically, the Black Americans were among the first ones who were introduced to the spirit and, hence, accounted for a significant proportion of the purchasers. However, in the recent past, concerted efforts of influential advertising by the cognac brands have evoked a wave of interest among the white consumers in North America.
In addition to that, the patterns of cognac consumption in the chief regions of North America, in the US and Canada, remain largely influenced by cultural considerations and economic sentiments of the consumers across these regions.
Occasions wherein cognac varieties are being served and savored are also changing considerably. From being a traditional digestif and a casual drink at special occasions, it appears that cognac varieties are successfully making their way into regular drink cabinets of the North American consumers.
Avail customized purchase options for your needs
Cognac Market – What are the Trends Shaping Demand, and How?
The demand for premium liquor continues to be on a tear, for the fact that premium alcohol varieties are not only infused with high-quality ingredients but also subjected to exhaustive distillation processes. Premium liquors are well popular for their fine-tuned viscosity & texture, which is a key reason they are perceived as investments worth the spending.
This massive skew toward premium liquor is likely to give tailwinds to the sales of cognac in the coming years, with VS (very special) and VSOP (very superior old pale) being two of the 'in-demand' varieties. In addition, consumer interest in 'experiential drinking' is also a key reason boosting consumption of cognac, on the grounds that the new-age consumers value experiences over products.
Apart from the trend of premium drinking that has long been the core strengthener of cognac market revenues, budding appetite for brandy-based cocktails has benefited cognac sales by a wide margin.
An increasing number of foodservice chains are promoting their redecorated menus with addition of new brandy-based cocktails, which is a part of their strategy to boost in-store footfall. Cognac, by far, remains one of the top-most choices for preparation of brandy-infused cocktails, given that cognac offers a window of opportunities for the foodservice operators in terms of flavor and aesthetic experiments.
Craft alcohol is emerging as the next big thing grappling consumer appeal, as crafts spirits are produced by licensed distilleries and come with the attestation of 'reliability'. Experts foresee an optimistic growth of craft spirits in future with a strong opinion that the craft spirit sales can perform as well as, or even better than that of craft beer.
Leading market players are hopping on the 'craft spirit' bandwagon and are developing new products to satiate this ever-evolving demand. The transition toward craft spirits is likely to further intensify in the coming future, adding new possibilities to the near-term outlook of global cognac market.
How are Market Players Winning over the 'New-Age' Consumers?
The global cognac market space reflects a fair degree of consolidation, with the top players accounting for a hefty chunk of the global market share. The top five players - Jas Hennessy & Co., the Rémy Cointreau Group, Courvoisier, Martell, and Otard (Chateau de Cognac) – command for nearly 75-80% of the global market share and remain highly focused on vertical integration.
Hennessy, the cognac brand of Jas Hennessy and Co., is likely to continue being 'chart-topping' with a series of impressive sales recorded in both 2017 and 2018. The mid-level and emerging players in the global market space - Camus Cognac, Thomas Hine & Co., ABK6, and Delamain to name a few – continue to focus on geographical expansion strategies and boost their product pipeline with newer additions of cognac.
Growing number of cognac producing companies are focusing on experimenting with 'non-traditional' methods of producing and marketing their products. The major objective behind this strategic move is to change the 'pre-conceived' image of cognac i.e. either a fusty 'after-food' drink or a status symbol.
With upsurge in demand for cognac, leading players operating in the global cognac market are introducing lifestyle events as a means of extending the brand's reach and enhancing consumer interaction. Market players are also making use of social media channels as their key marketing arsenal, given that consumers are heavily relying on social media advertisements for making pragmatic purchase decisions.
An Adaptive Approach to Modern-day Research Needs
Segmentation
Segmentation of the global cognac market has been provided in the form of a taxonomy table in the report.
Based on Grade, the Global Cognac Market is segmented into:
VS (Very Special)
VSOP (Very Special Old Pale)
XO (Extra Old)
Based on Buyers Type, the Global Cognac Market is segmented into:
Household & Residential Buyers
Institutional Buyers
Restaurants & Pubs
Based on Distribution Channel, the Global Cognac Market is segmented into:
Direct and Institutional Sales
Modern Trade
Convenience Stores
Online Retailers
Modern Grocery Retail Stores
Specialty Stores
Liquor Stores
Based on Region, the Global Cognac Market is segmented into:
North America
Latin America
Europe
East Asia
South Asia & Oceania
Middle East & Africa (MEA)