Honey Market
Honey Market Analysis By Nature (Organic Honey & Conventional Honey) By Product (Clear, Varietal, Manuka, Sourwood, Buckwheat, Rosemary, Dandelion & Eucalyptus Honey) By Packaging (Honey in Glass Jars, Plastic Containers & Bulk Packaging) By Sales Channel, Forecast 2021 to 2031
FACT4076MR
Nov-2021

List of Tables : 80

List of Figures : 160

170 Pages
Honey Market Outlook (2021-2031)
The global honey market was valued at USD 9.2 billion in 2020, and it is projected to reach USD 15.2 billion by the end of 2031, registering a CAGR of 5.1% during the forecast period 2021-2031.
The sales of honey are expected to exceed US$ 15.2 Bn by registering a positive CAGR of 5.1% during the forecast period 2021-2031.
Attribute

Details

Market size value in 2020

US$ 9.2 Billion

Market forecast value in 2031

US$ 15.2 Billion

Growth Rate

CAGR of 5.1% from 2021 to 2031

Forecast Period

2021-2031

Historical Data Available for

2016-2020

Key Companies Profiled

Valeo Foods
Uren Food Group
Hain Daniels Group
Miller Honey Farms Inc.
Beechworth Honey Pty Ltd.
Paynes Bee Farm Ltd.
Wholesome Sweeteners Inc.
Wedderspoon Organic Inc.
Dabur India Ltd.
Capilano Honey Ltd.
Pastili Limited
Adee Honey Farms LP
Royal-Bees EOOD

Pricing

Available upon Request
The demand for organic honey and flavoured honey has increased the sales of honey in various regions.
In addition, the health benefits of honey have proved to be an alternative for other sweeteners. The use of honey in various food and beverage products is driving the sales for honey.
Interested to Procure The Data
Honey Consumption Analysis 2016-2020 in Comparison to Future Outlook 2021-2031
Historically, between 2016 and 2020, honey sales reached nearly US$ 9 Bn by the end of the aforementioned period, clocking a CAGR of 4%. Manufacturers are capitalizing on imbuing flavors with multifunctional nutrients, given the paradigm shift observed in consuming healthy food products.
According to Fact.MR- a market research and competitive intelligence provider- global honey sales inclined significantly amidst the COVID-19 pandemic. A series of studies conducted during the tumultuous year concluded that honey possesses numerous healing and immunity boosting properties, capable of imparting resistance to several bacterial, viral and fungal infections.
Moreover, the rising usage of natural sweeteners in the organic confectionary and bakery products is expected to leave an optimistic impression on the honey market. Attributed to these trends, honey sales are expected to observe positive growth, reaching US$ 15.2 Bn from 2021 to 2031, registering a CAGR of 5.1%.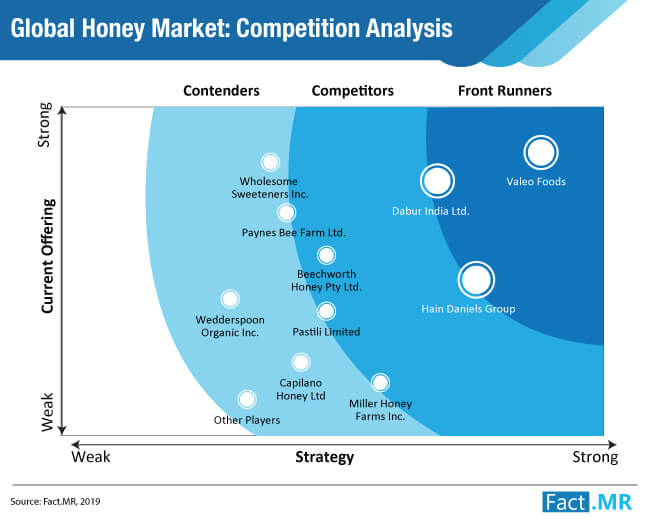 How is the Healthcare Sector Spurring Demand for Honey?
With sedentary and hectic lifestyle of consumers across the world becoming ubiquitous, consciousness about maintaining healthy lifestyles is inclining significantly. Hectic lifestyles have taken time away from exercise, thus compelling consumers to opt for low sugar food items.
The belief that every organic and natural food is good and safe for health is prominently influencing the thought process of consumers across the world. Research has concluded that honey possesses high levels of antioxidant, antimicrobial and apoptotic activity inducing compounds, rendering their uptake high for various pharmaceutical applications.
Furthermore, scientists have found that honey can decrease the upward flow of undigested food and stomach acids with the help of stomach lining and oesophagus. Scientists have proven that honey can reduce the risk of gastrointestinal reflux disease (GERD).
An Adaptive Approach to Modern-day Research Needs
How are Prominent Manufacturers Leveraging Existing Opportunities?
The onset of healthy diets has also extensively impacted the consumption of sugar products as consumers prefer low carb sugar products. Consequently, people are increasingly switching towards honey consumption, generating a plethora of opportunities for prominent manufacturers.
Companies are emphasizing on the production of monofloral honey, as it is touted to offer a broader range of benefits, containing the highest level of minerals (4060 mg/kg). For instance, Gale's Honey is specially recognized for providing honey products. The company sells Gale's honey mainly in 300g jars to capture the retail market in the European region.
Likewise, Miller Honey Company sells its products through various local retail stores and even through online retail channels to reach last mile customers in the region. The local retail stores include Echo Valley Ranch, Newcastle Produce, and Placer Farm Supply.
Country-wise Analysis
What Growth Prospects Abound in the U.S Market?
The U.S is anticipated to emerge as a highly opportunistic market for honey and honey products. According to Fact.MR, the region is expected to register a CAGR of 6% from 2021 to 2031.
According to the U.S Department of Agriculture, honey consumption continues to increase, with an average of nearly one pound (0.9 pounds) being consumed as of 2016, compared to 0.5 pounds per capita as of 1990. It further discovered that consumption of all caloric sweeteners has been declining for the past 15 years.
Additionally, the apiculture industry contributes over US$ 14 billion to overall U.S crop production. Also, by 2017, overall honey consumption rose to 596 million pounds, or about 1.82 pounds per person. This increase is attributed to the major health benefits associated with its consumption.
Why is Honey Gaining Traction in the European Market?
As per Fact.MR, Europe comprised of the largest revenue share, exceeding 33% in 2020. According to the European Commission, nearly 3/5th of the honey consumed is produced domestically.
A considerable number of European consumers from Germany and France prefer to purchase honey labelled as "natural" and "organic", reflected in the form of increased shelf space across major sales channels for honey and honey-based products.
Furthermore, manufacturers are investing massively in maintaining production and supply chain. In January 2018, Turkey-based honey producer, Alt?parmak, received almost US$ 5 million in funding from the European Bank for Reconstruction and Development to develop and advance its in-house value chain
Why is Asia Attracting Honey Manufacturers?
Asia is a highly opportunistic market, with bulk of the consumption arising in China. In the recent past, China has been actively focusing on growing its beekeeping industry with an objective of the growing domestic demand as well as expanding its honey export footprint. Besides, the use of honey in food and beverage applications, China uses them significantly in modern medicines.
For instance, honey reduces the free oxygen radicals which in turn increases immunity and reduces the risk of cardiovascular diseases. Natural honey also has flavonoids which along with phenolic acids work together to provide antioxidant effects in the body. A revenue share of 30% is projected for the Asian market.
How is the Honey Industry Growing in Middle East and Africa?
Famous for its thickness consistency, sweet taste, and medicinal properties, honey produced in some of the Middle Eastern countries as well as some African countries is considered to be of the best quality.
Middle Eastern countries, especially Turkey, Lebanon, and Yemen, are leading the honey market in the MEA region with consistently increasing production and demands for honey, over the past few years. This had led to the honey industry gaining profit in sales in upcoming years. Thus, the honey industry is expected to surpass 20% in the forecast period.
Avail customized purchase options for your needs
Category-wise Insights
Why is Food & Beverage the Dominant Sales Channel?
According to Fact.MR, honey sales through food & beverage channels accounted for 70% of total revenue in 2020, and is likely to retain this dominance across the assessment period.
Extensive applications across bakery products, non-alcoholic and alcoholic beverages and instant foodstuffs has led to extensive uptake in the food & beverages domain.
Why the Inclination towards Organic Honey?
By nature, consumption of organic honey is mushrooming to a major extent since the past several years. An increasing tilt towards consuming naturally sourced food products amid rising health consciousness is driving adoption.
According to estimates by Fact.MR, organic honey is likely to be valued at approximately US$ 150 Mn by 2022. Various types include clover, manuka, sourwood and buckwheat among others.
Competitive Landscape
Valeo Foods Group is a prominent market player and covers prominent share in the market with the wide range of honey and honey based products. The company has produced more than 26,000 Metric Tons of honey each year. In 2018, the company acquired Tangerine Confectionary to support its confectionary business division.
Uren Food Group Ltd. is a one of the prominent market players focusing on providing various types honey and honey products. Uren's Mono-floral honey comes with distinctive flavours and other qualities such as smell colour and, texture.
Key Segments Covered
Nature

Organic Honey
Conventional Honey

Product

Clear Honey
Varietal Honey
Manuka Honey
Sourwood Honey
Buckwheat Honey
Rosemary Honey
Dandelion Honey
Eucalyptus Honey
Other Honey

Packaging

Honey in Glass Jars
Honey in Plastic Containers
Honey in Bulk Packaging

Sales Channel

Honey Sales via Business to Business Channels
Honey Sales via Food & Beverage Channels
Honey Sales via Cosmetics & Personal Care Channels
Honey Sales via Pharmaceutical Channels
Honey Sales via Business to Consumer Channels
Honey Sales via Modern Trade Channels
Honey Sales via Convenience Stores
Honey Sales via Online Retailers
Honey Sales via Other Channels